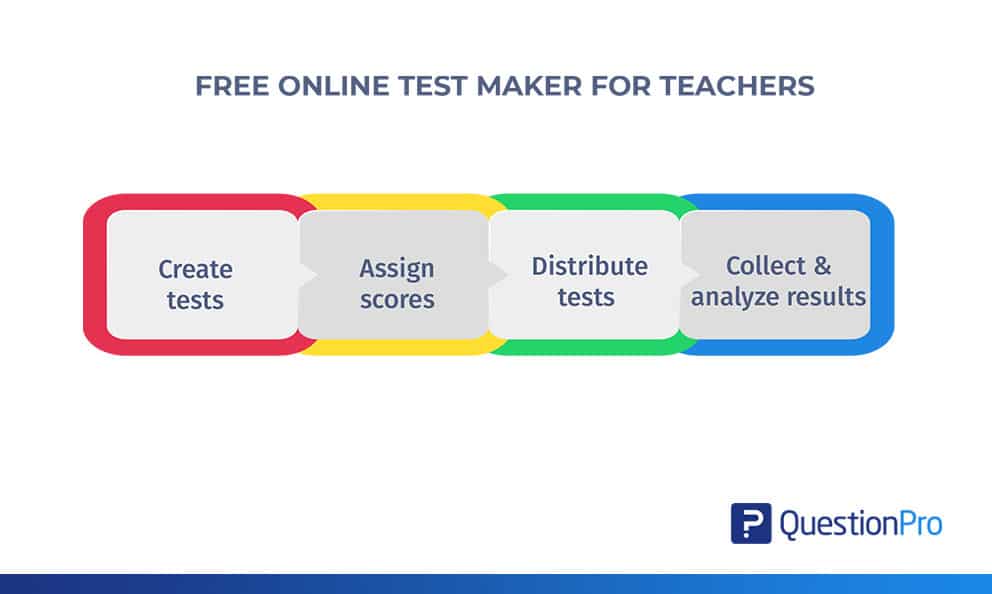 An easy test maker offers an easy-to-use interface for data collection in an interactive and engaging way. Sometimes it's hard to run and manage a test, but it gets easier when you have a great design and a powerful test maker.
Whether you are planning to conduct cross-sectional studies, independent sample studies, longitudinal studies, or want to build a questionnaire, this tool makes the process easy by putting at your disposal various types of questions, logic, and everything you need to design your survey questionnaire easily.
What is an easy test maker?
An easy test maker or a test creator is an automated tool for conducting tests that help you create, generate, and manage automated tests online. The tool comes with different questions types like multiple-choice questions, matching questions, short answer, and true or false, among others.
As you create an online test, the tool allows you to add instructions, add scores to each question, and divide the test into multiple sections. Overall, the easy test maker makes it easier to format and design an online test and publish it.
How does an online test maker ease work for teachers?
Teachers and education industry professionals have frequently been using test maker tools for a long time. These free online test makers make the work process and life more comfortable at the workplace. Here's how using easy test makers assist teachers in creating simple, yet robust tests:
Teachers use easy test makers to create evaluation tests and quizzes for their students.

Advanced logic allows them to assign scores to each question.

Teachers can then analyze and download the reports to see how many students answered the test, which items they answered correctly, and how much they scored.

Use a multiple-choice test maker and enhance online tests' experience by adding images, audio clips, and videos to answer choices.

Pre-embedded mathematical symbols make it easier for teachers to create numerical tests, statistical tests, and science tests.

The easy test maker calculates scores and automatically graded online tests.

If a teacher wants a student to know their score, they can release the information to students.
Online question papers are not only easy for creating web-based exams but also save you time. Additionally, students can easily track their scores after completing each section in the test.
Example of an online test created with this test maker
Why must you use an online test maker to test students?
Putting together questions to make a challenging yet fair test is a complicated task, even for experienced teachers. You have to consider the types of questions to choose, tone of the questions, and insert appropriate charts, graphs, and images in the test creator.
An online test maker makes the teacher's job easy by offering all the needed elements and features in one convenient program. Use free question templates to refer to and assist you in creating engaging questionnaires. Everything you need to create a test is available in a simple-to-use tool – from automatic scoring to sample test questions.

LEARN ABOUT: Powerful Survey Generator
Advantages of using a free online easy test maker
Educators are now shifting towards online test makers due to these four significant advantages:
Ease of use:

The whole process of creating a test to look at results is effortless. The online easy test maker has a user-friendly interface guided by a steady approach. Choose the question type, enter the question, specify the total time, create your email list, and distribute the free test. Students access the quiz on desktops, tablets, or mobile devices. The process saves you from the hassles of manual work.

Multiple options:

Use the test creator to create a wide variety of question types like single-select, multi-select questions, open-ended questions, fill in the blanks for starters. Assign marks/points for specific questions depending on the type of the question. Create blocks of questions and randomize each question or question block as required. Use branching and skip-logic to route the questions based on the student's answers.

Keep records:

Use a multiple-choice test maker and create tests anytime and anywhere and save the test securely online. Access the test from anywhere or collaborate with other faculty members. If given access, other teachers can help build the test and access student results via a highly informative dashboard. It saves the teachers from the hassle of safekeeping of the physical answer papers. All the scores and records can be printed directly from the tool if necessary.

Automatic scoring:

Teachers need not go through the hassle of going through every answer sheet to grade students. The free test maker tool automatically captures answers and grades the students based on the response in real-time. This is an accurate, fool-proof system where the chance of human error is taken away from the equation. Educators can look at the individual scores of each student or can have a look at each question and understand how the students performed on each question. The students can be shown their score on completion of the test, but that is a call that the teacher must take.
How to create online tests with QuestionPro
Follow these steps to create quick online tests and quizzes:
1. Go to www.questionpro.com and sign up for free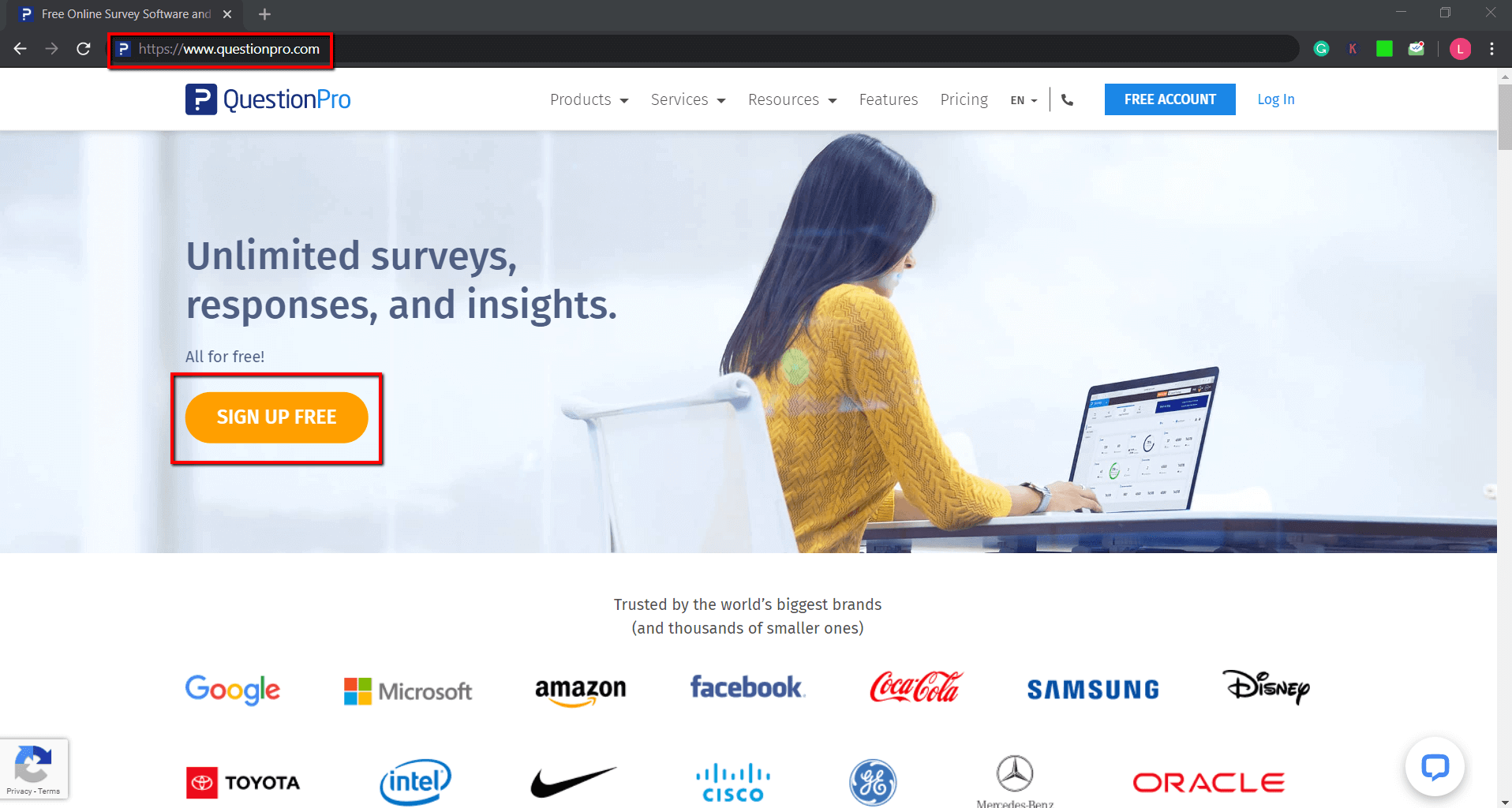 2. Enter the title of your test and hit Create Survey.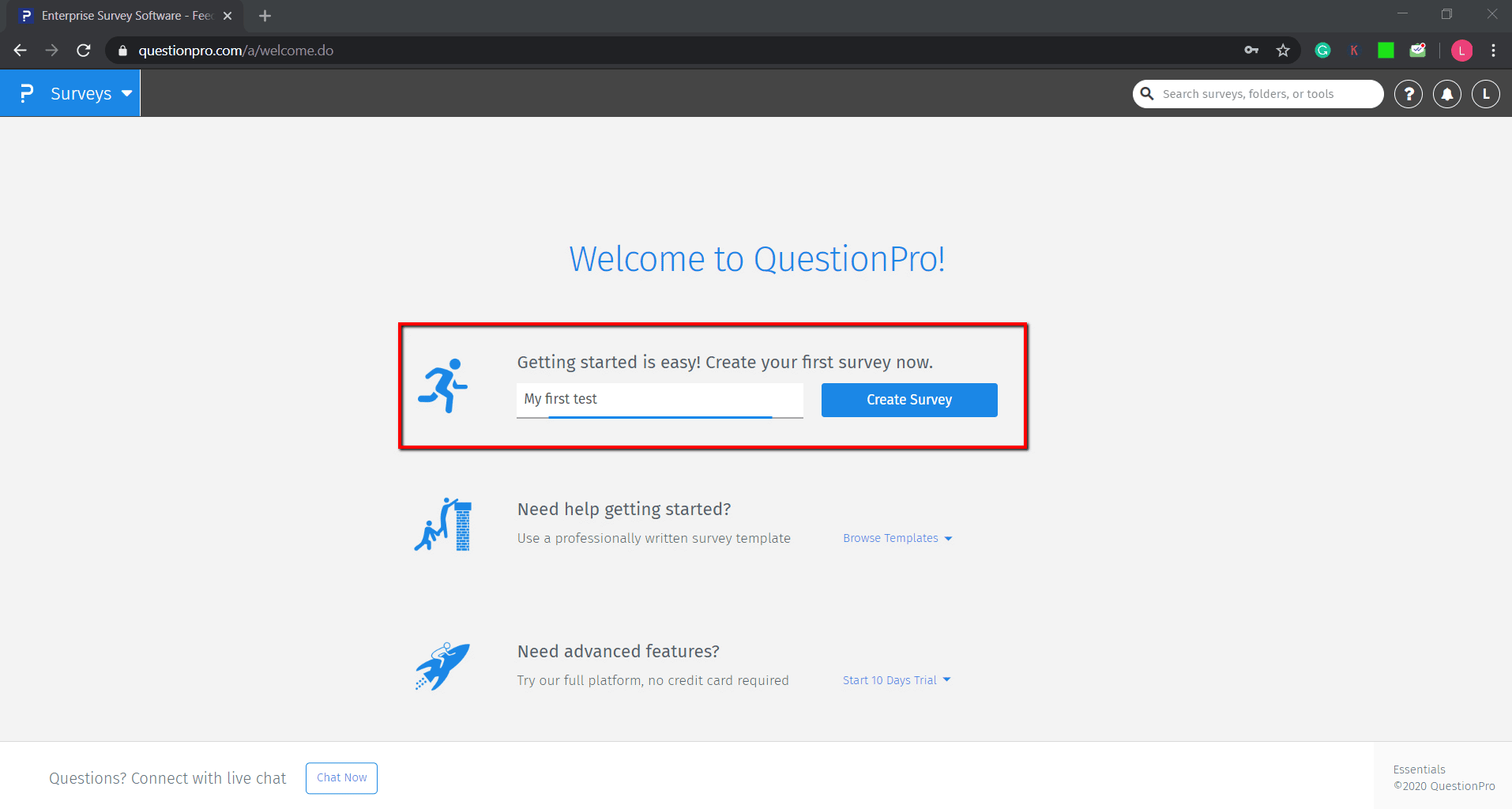 3. Add an intro to the test to explain its rules to the students or start adding questions directly. Alternatively, import your questionnaire directly from MS word.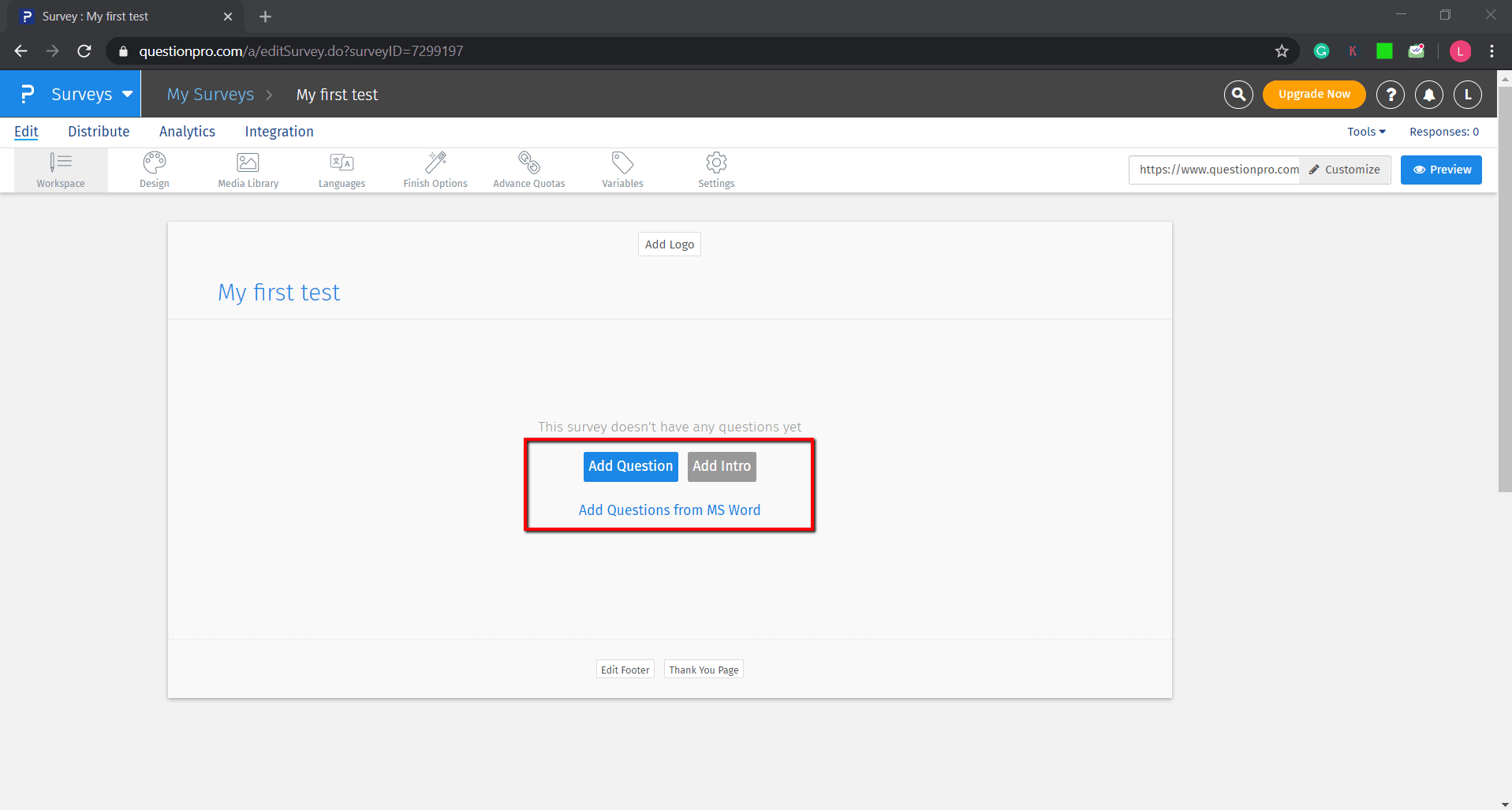 4. Type in your intro text and lay down the rules of the test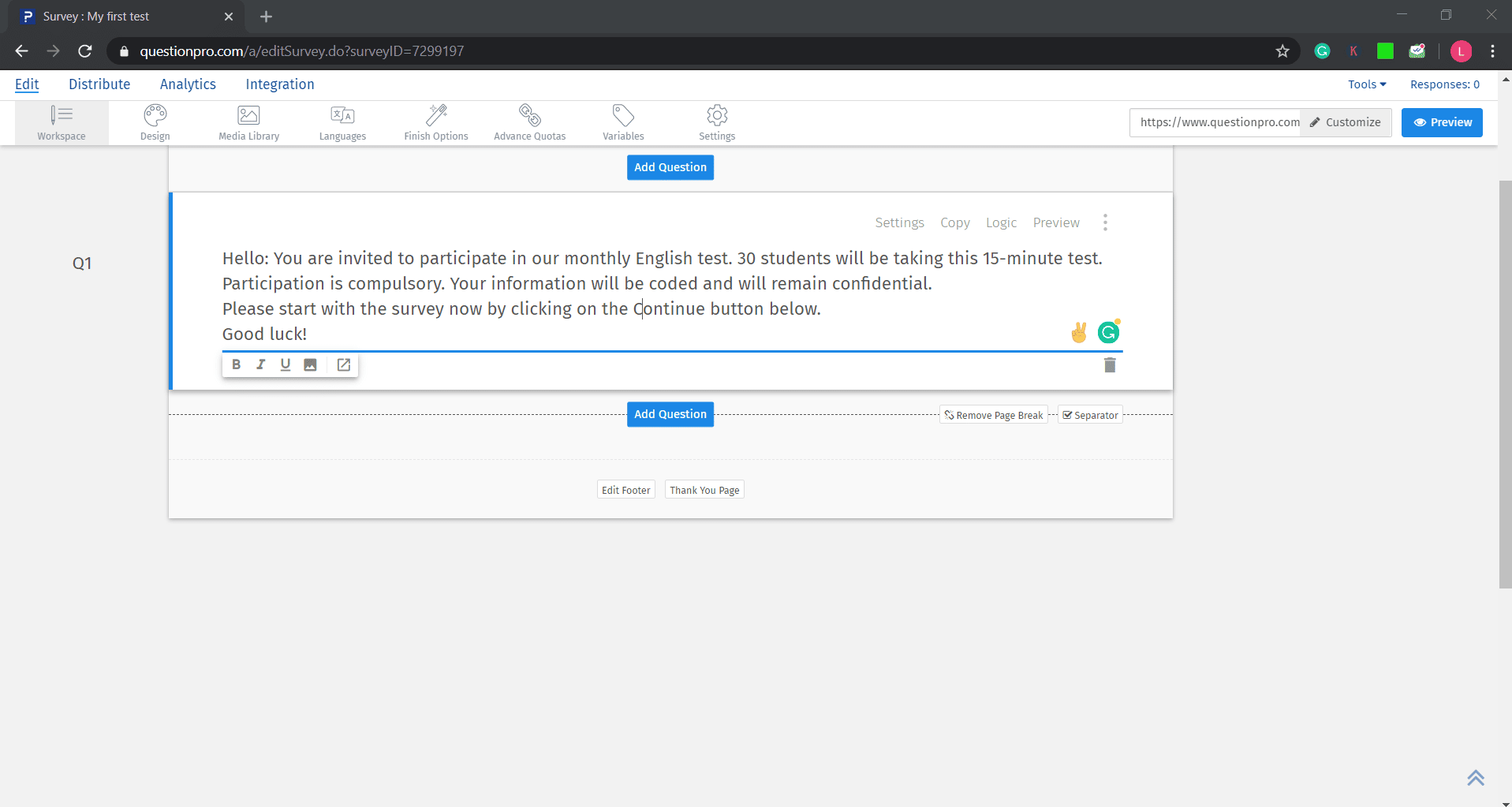 5. Add questions. Choose from 25+ question types.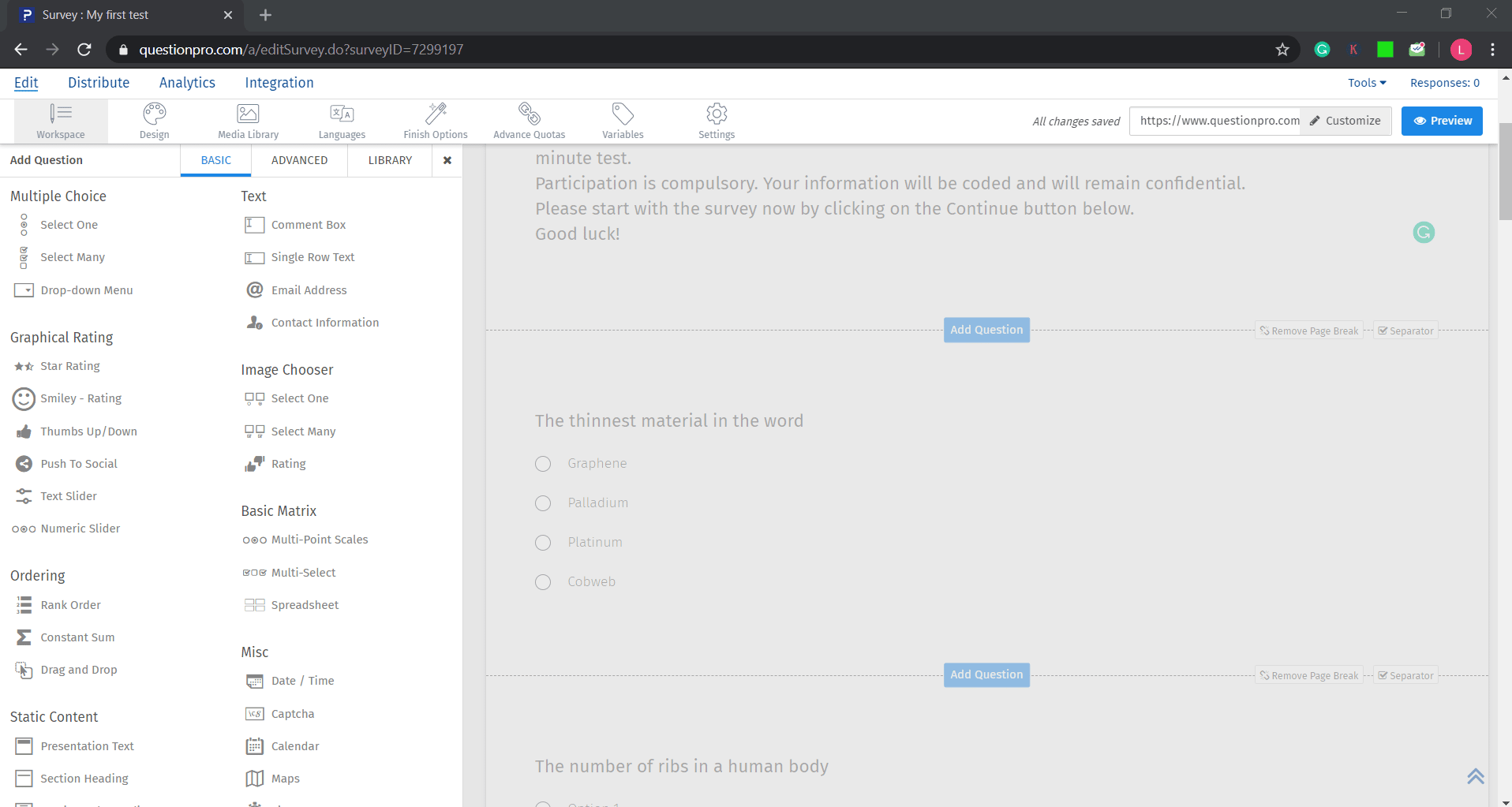 6. Click the distribute tab to distribute the test to your email list: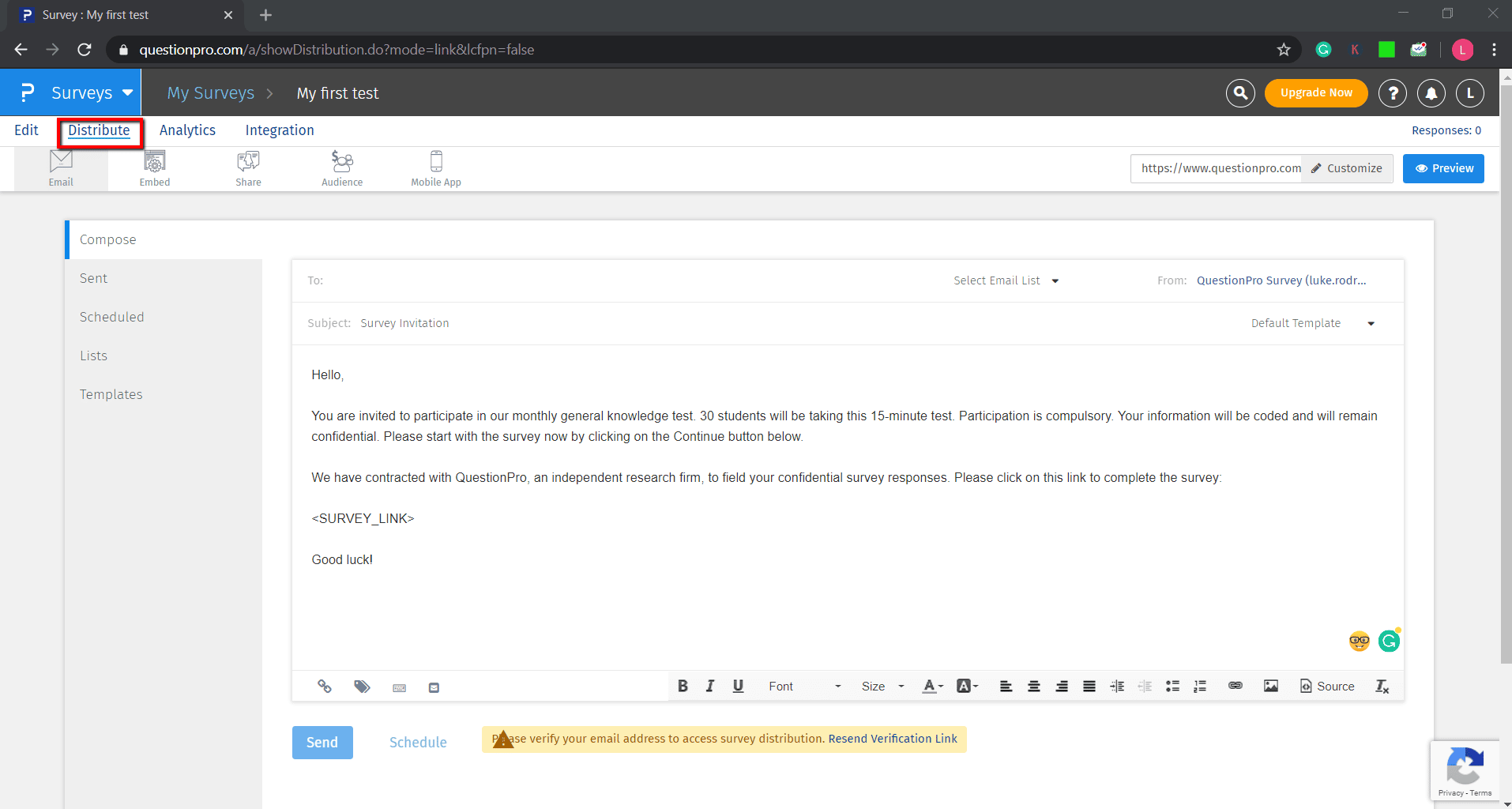 Features of an easy test maker
Teachers use free online test makers to assist them in their jobs because they are effortless to use, yet very handy to create question papers with accuracy. Here are the features of an easy test maker:
Assorted question types:

 A secure test platform supports an array of question types, including multiple-choice, fill-in-the-blanks, true/false, short answer, rank order, and open-ended questions.

Easy advanced test creation:

Online programs can easily incorporate mathematical equations and scientific symbols to create and distribute advanced tests.

Free online test templates:

Multiple pre-designed templates can create tests online free of charge. These templates can be further customized to fit the exact needs of teachers.

Add your own questions to templates:

You can increase your test creation efficiency by combining existing questions on the template with your question bank.

Fully customizable tests:

Change almost every aspect of your test design, including text size, fonts, and alignment.

Capture student information:

Using simple questions available in the free online test maker makes it easier for teachers to collect student information.

Unlimited questions:

Create as many questions as your tests need with the test creator. Our online test program has no limit to the maximum number of questions.

Smart scorekeeping:

Assign scores to each question and correct answer, then decide whether to disclose the score after each question, between questions, or at the end.

Schedule, distribute, and time tests:

You can schedule tests and share them via SMS, email, or link. Set a time limit for online tests and quizzes.

Supports mobile devices and tabs:

All the online tests will be mobile optimized. It gives students the freedom to take the test from their mobile phones or tablets.

Quick analytics:

The online test generator comes with integrated analytic tools. Utilize these tools to track the progression of the test for individuals or all the students in real-time.

Informative dashboard:

Teachers and supervisors can access dashboards for accessing real-time information in one place.

Anonymous responses:

Use anonymous responses to help encourage students to try again. It will remove fear from the students and allow them to take the test multiple times to enhance their score and increase their understanding of the subject.
An online test gives you the power to customize your test and engage your students. You can use numerous free online test makers to evaluate your students' knowledge or help them retain a lesson. Do not hesitate to take advantage of our test maker tool to create online tests that benefit the student, the teacher, and the educational institution.