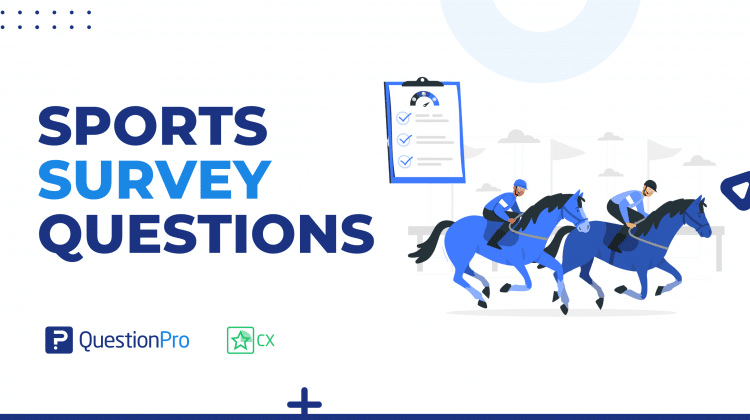 It is critical for a sports organization to stay in touch with its fans and give them an excellent experience. Sports survey questions are an effective way to gather feedback from fans and make data-driven decisions.
Asking the correct questions about the fan experience will help you learn where your team is succeeding and where it could use some work. Sports survey questions cover a wide range of subjects that can help you better understand your fans and increase their satisfaction.
So why not start making your business better right now by making your own sports survey questions? Read on to learn more.
LEARN ABOUT: Event Surveys
What are Sports Survey Questions?
Sports survey questions are just a bunch of questions that ask people about their thoughts and feelings on sports.
It is one of the most important ways for a coach, a sports institution, or a management agency to find out what traits a sportsperson has. These qualities have to do with how well they understand a sport, how they think in general, what they value, and how strong their minds are.
You may also check out this guide to learn how to build your own Customer Journey Map.
Sports businesses can better understand their audiences, customize their services to match their needs, and make strategic decisions that align with their aims and objectives using the insights gathered through sports survey questions.
LEARN ABOUT: Structured Question & Structured Questionnaire
The Importance of Sports Survey Questions
Tailoring your sports survey questions to the specific data you need from respondents is important. For example, some survey questions are intended to determine whether or not a respondent meets the physical requirements for participation in a specific sport.
Here are some of the important reasons why sports survey questions are important: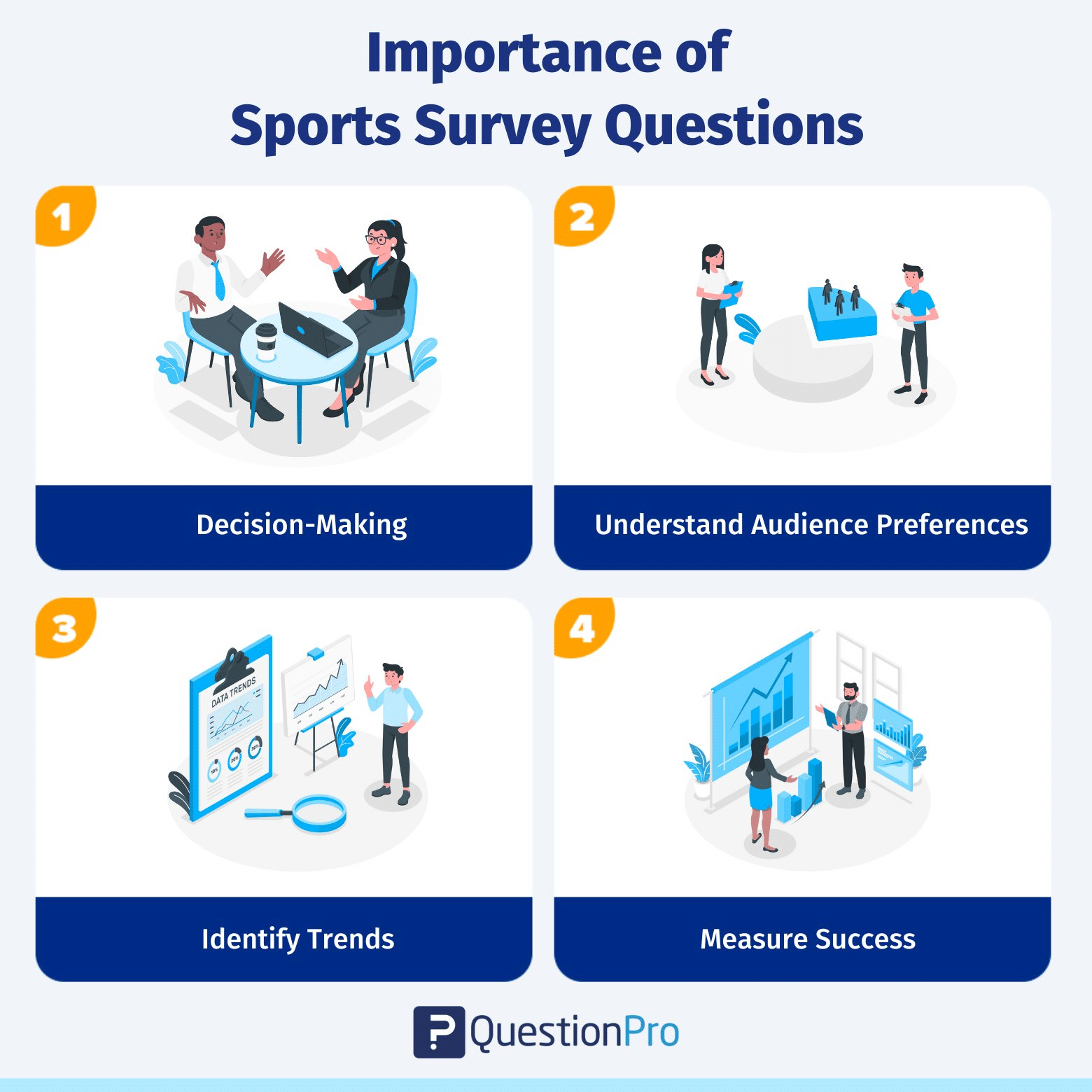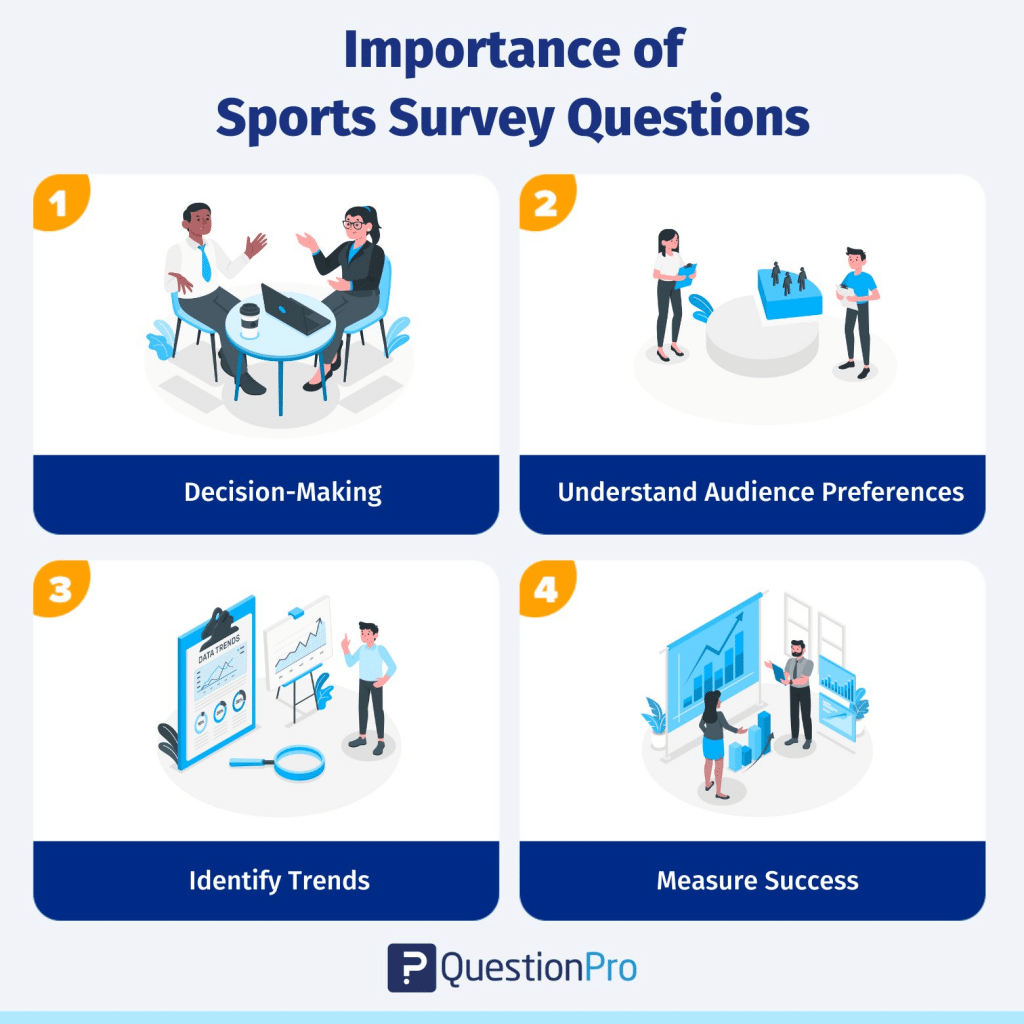 Sports survey questions offer a way to collect qualitative and quantitative data about sports engagement, preferences, and attitudes. This data can be used to help make decisions about sports broadcasting, marketing, and even policy.
To Understand Audience Preferences
Sports surveys allow you to learn about the preferences and demands of a certain audience. A sports group, for example, might undertake a poll to understand which sports are most popular among their fans or what types of events they are most interested in attending.
Sports survey questions can assist in identifying trends and changes in sports participation over time. This can assist sports organizations in remaining competitive and adapting to changing audience wants and preferences.
Sports survey questions can be used to assess the success of various initiatives or programs. For example, a sports club could conduct a post-game survey to measure fan happiness and highlight areas for development.
How to Create Effective Sports Survey Questions?
It's crucial to keep your goals and objectives in mind when creating sports survey questions, as well as your target audience. Start by making a list of possible questions based on the purpose of your survey and who will be taking it.
Make sure that your questions are easy to understand, clear, and to the point. Think about using a variety of question types to get both qualitative and quantitative data. Here are some guidelines for developing good sports survey questions:
Focus on asking questions that are relevant to the objectives you've outlined. Avoid including questions that aren't directly relevant to the survey's objective.
Your questions should be clear and to the point. Otherwise, the main value of it might be lost.
In order to obtain more accurate results, questions and hints should include rating scales or a variety of response options. However, to make it simpler to assess, you should try to narrow down your options.
Decide which questions to ask first and last
It is in your best interest to structure your survey in such a way that it follows a predetermined order, with easy questions coming first and more in-depth questions being answered at the end.
This would imply that the language of each question should be kept straightforward so that everyone may understand it. You do not want to obtain insufficient data simply because your questions were tough for the respondents to understand.
Use a mix of various question types
Use open-ended and closed-ended questions to collect quantitative and qualitative data. Open-ended questions allow respondents to express their thoughts and opinions in their own terms, while closed-ended questions offer definite answers.
Avoid asking questions that direct respondents to a specific response. This can lead to biased survey results.
Learn more about why understanding your Customer Journey transforms your CX program.
Examples of Sports Survey Questions
With the right sports survey questions, you can learn what supporters want and need and make data-driven decisions to better your sports organization. Here are some examples of sports survey questions that might help you develop your own survey questions and get fan feedback.
Demographic Questions
How old are you?
What is your gender?
What is your current employment status?
How is your income?
Participation Questions
How frequently do you engage in sports or physical activities each week?
What kinds of sports or physical activities do you enjoy?
How long have you been involved in your favorite sport or physical activity?
Have you ever played a competitive sport?
Preferences Questions
Which sport do you love watching the most?
Which sport do you find the most enjoyable to participate in?
Do you prefer team sports or individual sports?
Sports survey questions about the sports facility
How pleased are you with the quality of your community's sports facilities?
How easy is it for you to get to the sporting facilities?
How secure do you feel when using athletic facilities?
Questions about sports events
In the next six months, will you attend a sports event?
Are you satisfied with your sports event experience?
At sports events, how important is a variety of food and drinks?
Specific Sports Survey Questions
Tell us what your current bests are in a variety of events.
How significant is a sportsperson's public identity?
On a scale of 1 to 10, How much of an impact does social media have on an athlete's performance?
Football Survey Questions
How frequently do you watch or attend football games?
On a scale of 1 to 10, how excited are you for the World Cup?
How satisfied are you with the situation of football in your country right now?
Basketball Sports Survey Questions
Which NBA league do you follow most?
Which basketball games are most crucial to watch or attend?
Adventure Sports Survey Questions
Which adventure sport is your favorite?
Do you prefer to do adventure sports alone or in a group?
Have you ever visited another country to take part in an adventure sport?
Indoor Sports Survey Questions
How frequently do you engage in indoor sports?
What drives your interest in indoor sports?
What time of day do you like to participate in indoor sports?
How do you feel about the level of competition in indoor sports in your area?
How does QuestionPro CX Fan Experience help in the sports survey?
QuestionPro CX Fan Experience may be helpful to the Sports Survey by offering important insights into how fans feel about their experiences attending or watching sporting events. The software allows you to design customized surveys and collect feedback from fans on their experiences, covering everything from stadium atmosphere to service quality.
You can use Fan Experience to ask specific questions about various parts of the sporting event, such as game-day experience, parking, crowd control, seating, food and beverage options, merchandise, and other services provided by the venue.
The acquired data can assist sports organizations, teams, and venues in identifying areas for improvement and making data-driven decisions to improve the overall fan experience.
Here are some of the most useful features of QuestionPro CX Fan Experience for Sports Surveys:
QuestionPro CX enables you to design customized surveys that are suited to your specific needs. You might add questions about the stadium atmosphere, refreshments, parking, seating, and other aspects of the fan experience.
Multi-Channel Data Collection
Fan Experience allows you to collect feedback through a variety of channels, including email surveys, mobile surveys, and social media. This means you may reach out to fans via their chosen medium, increasing response rates.
Fan Experience offers real-time feedback, which means you can receive and analyze data as it comes in. This enables you to rapidly detect issues and take steps to improve the fan experience.
Fan Experience analyzes comments and identifies the sentiment underlying responses using natural language processing. This tool assists you in comprehending the emotions underlying criticism and provides insight into areas that want improvement.
QuestionPro CX Fan Experience provides practical insights that assist you in identifying critical areas for improvement. This enables you to make data-driven decisions that enhance the fan experience and build loyalty.
Why wait? Would you like to make your Fan Experience even better? Start creating your sports survey questions and get valuable feedback from your fans and partners.