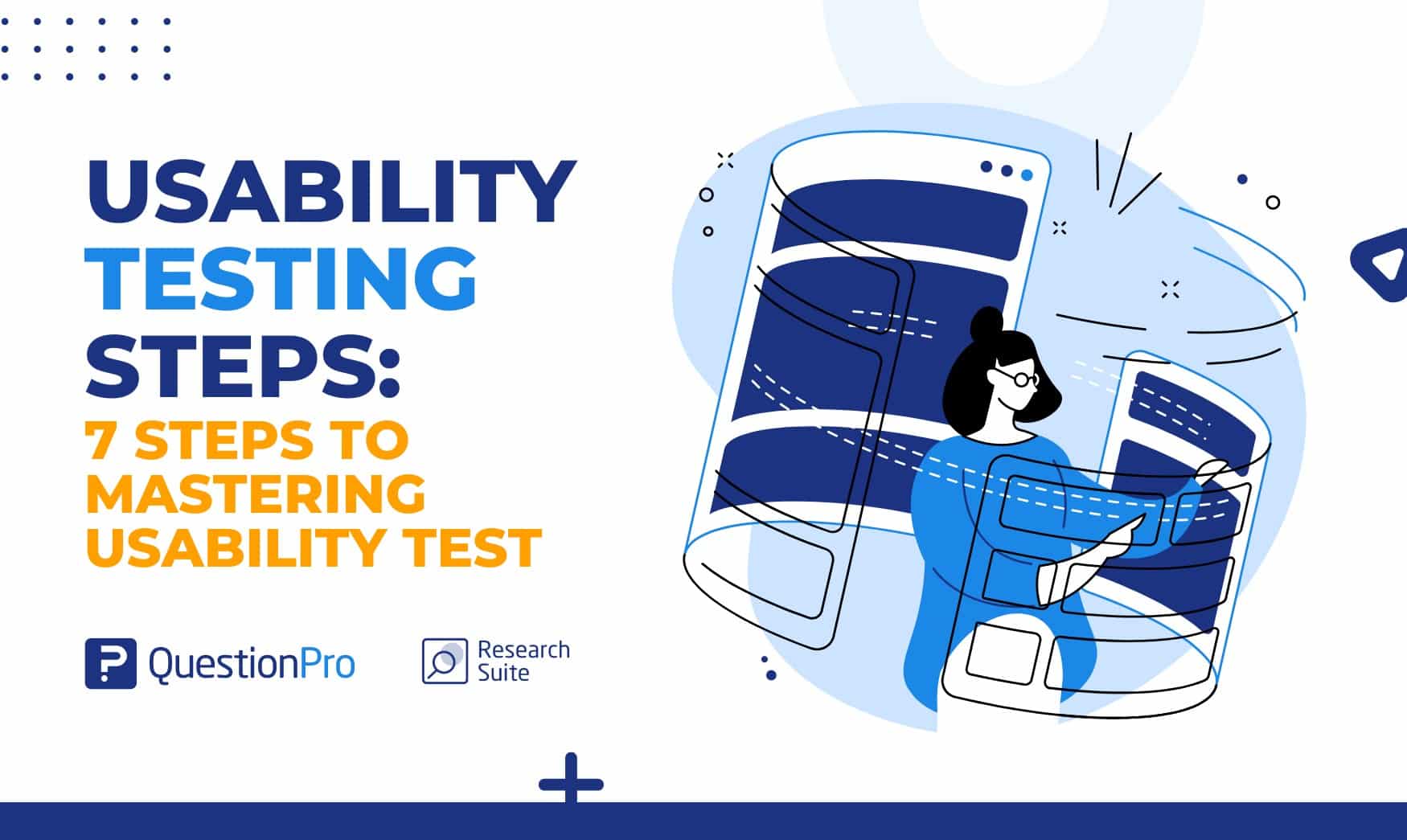 Creating products that actually engage with users is now essential, not an option. Usability testing steps are the guide that highlights the way to create excellent user experiences and develop your products.
In this blog, we will explore the 7 usability testing steps involved in a usability test, guiding you through each stage of this transformative process.
What is Usability Testing?
Usability testing is a technique to evaluate how usable a product, system, or interface is. It involves observing and gathering feedback from real users as they engage with the interface and perform certain tasks.
Three main factors are required for effective usability test planning. A skilled facilitator, well-defined usability testing tasks, and representative participants can help your businesses to discover usability issues and make informed design decisions to improve the user experience of your products or systems.
When participants get a specific usability testing task to perform, the facilitator or researcher observes their behavior, collects feedback, and documents any challenges or problems they experience.
7 Usability testing steps for mastering the process
Usability testing is a necessary phase in the user-centered design process. The purpose of this test is to evaluate a product's effectiveness, efficiency, and overall user experience. If you want to conduct successful usability tests, following a structured approach is essential. Here are the seven key usability testing steps involved in conducting usability tests: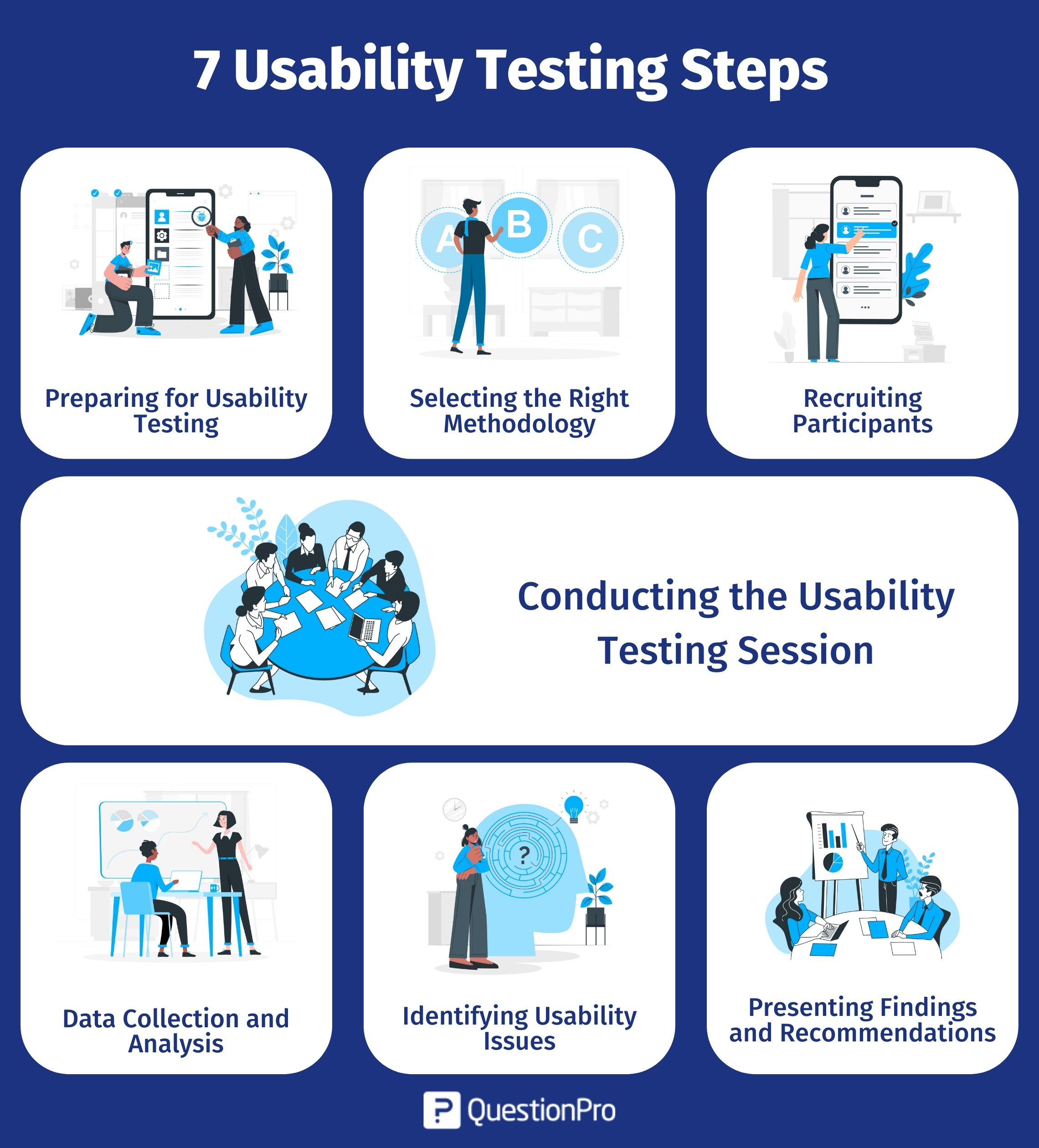 Step 1: Preparing for Usability Testing
Preparing completely for the testing sessions is essential to establish a solid foundation. This preparation step ensures that the testing process is well-organized, focused, and aligned with the project's objectives.
In this section, we'll look at the most important aspects of preparing for usability tests.
Setting Clear Goals and Objectives
The first and most important step to preparing for usability tests is to define specific goals and objectives. Without well-defined goals, your testing process may lack direction. To establish clear goals and objectives, you should:
Understand the Purpose: You need to understand the main goal of the usability testing. The purpose could be to identify usability problems, evaluate the efficiency of a specific feature, or gather feedback on a new design.
Define Measurable Outcomes: Then clearly identify the results you want from the testing. For example, completion rates, reduce errors, or enhance user satisfaction.
Consider Stakeholder Input: Also, consider everyone's insights and perspectives who are involved in the goal-setting process, such as designers, developers, and product managers.
Identifying Target Users
Identifying your target audience is one of the crucial phases in the preparation steps. The appropriate participants would ensure that the gathered feedback reflects the actual user base.
Create detailed user personas that represent various segments of your target audience. Use these user personas to guide your recruitment step. Look for participants who share your target users' characteristics, such as age, experience level, and familiarity with similar products.
Creating a Usability Testing Script
A well-structured usability test script serves as a road map for conducting systematic and in-depth usability tests. It allows you to collect useful user feedback and identify areas for development, which results in a better user experience. When creating a usability test script:
Create Testing Scenarios and Tasks: Outline particular tasks and scenarios that participants will be asked to execute based on the goals and objectives during the testing.
Include Probing Questions: Include specific questions and tasks to let participants express their thoughts, feelings, and issues when interacting with the product.
Test Flow and Order: Arrange the tasks logically, considering the natural flow of the user's interactions with the product.
Step 2: Selecting the Right Methodology
Once you have prepared the groundwork for usability testing, the next crucial step is to choose the appropriate methodology that aligns with your testing goals and resources. Each testing method provides distinct advantages and considerations.
Let's explore various usability testing methodologies so that you can select the appropriate method for your testing.
Comparative Usability Testing
A comparative usability test allows you to evaluate the usability of two or more versions of a product or design to see which one performs better. When you have many design options or product variations and need to identify which version works better, use a comparative usability test.
The following are the main characteristics of comparative usability testing:
Controlled Comparison: Test participants are separated into groups, and each group interacts with a different version of the product.
Identifying Design Preferences: You can use this testing method to identify which design version is preferred by users, and it offers significant data for design decision-making.
Efficiency and Resource Management: It tests the features that differ across the versions.
Explorative Usability Testing
Explorative usability testing discovers how customers interact with a product or interface without specific tasks or scenarios. This method is useful in the early phases of product development or when experimenting with completely new features.
The following are important features of exploratory usability testing:
Observational Insights: It provides useful observational data by identifying user behavior, patterns, and unknown concerns.
Iterative Feedback: It can help collect iterative feedback early in the design process, which can be used later to customize and enhance the product before official testing.
Natural User Behavior: This methodology identifies usability issues that could otherwise go unreported in structured tasks. As a result, you may use this strategy to investigate the product in a way comparable to its natural usage patterns.
In-Person vs. Remote Usability Testing
In-person usability testing involves working with participants in an actual location, whereas remote usability testing is performed online using video conferencing or remote testing tools.
In-Person: In-person testing tests usability with participants in a physical location, such as a usability lab or the user's natural environment. Researchers can directly observe test participant interactions, collect qualitative feedback, and capture nonverbal signals. When you need to monitor closely, choose in-person testing.
Remote: Remote usability testing allows testers to perform usability tests with participants remotely worldwide. This practice has various advantages, particularly when in-person testing is challenging or impractical.
Moderated vs. Unmoderated Testing
You can conduct usability testing with or without the presence of a moderator (moderated or unmoderated). Each strategy has its own benefits:
Moderated: Moderated testing involves a moderator leading participants through the testing procedure, asking questions, and clarifying when necessary. You can use this method when you need real-time engagement with participants and more in-depth comprehension of their feedback.
Unmoderated: In unmoderated testing, participants execute the testing independently, without direct supervision. They follow the activities and instructions from a usability test script.
Step 3: Recruiting Participants
Recruiting the right participants is an important step in usability tests. In this stage, you need the following essential considerations to recruit test participants for your usability testing sessions efficiently.
Effective Participant Screening
Effective participant screening is critical to ensuring that the chosen participants reflect your target audience's characteristics. The screening process identifies people who represent your user base and can provide useful feedback. Here are some tips for effective participant screening:
Use targeted demographics based on your product's target audience, such as age, gender, location, education, or relevant interests.
Recruit participants with relevant experience with similar products or technologies.
Consider user persona criteria created during the preparation phase to guide the participant screening process.
Incentives and Compensation
You can significantly improve recruitment and increase participant engagement by offering incentives or compensation to participants. It shows appreciation for participants' time and work and encourages them to provide more insightful feedback.
You can offer various types of incentives such as gift cards, cash payments, discounts on products, or free access to the product being tested. You must ensure the incentive is appealing enough to encourage participation without being unnecessarily expensive.
Step 4: Conducting the Usability Testing Session
In this step, you will conduct the real usability testing session, where significant insights will be gathered through direct interactions with participants. Conduct the session carefully to get practical, smooth, and consistent results.
Setting Up the Testing Environment
Creating a comfortable testing environment is essential for making participants feel at ease during the usability testing session. Here are some things you need to consider when setting up the testing environment:
Choose a quiet, comfortable, and distraction-free location.
Ensure that the testing environment remains consistent across all sessions.
Set up appropriate audio and video recording equipment to capture the interactions and facial expressions of the participants.
Choosing the Right Tools and Equipment
You need to choose the correct usability testing tools and equipment to perform smooth and productive usability testing sessions. Consider the following tools and equipment:
Usability Testing Software: Select user-friendly usability testing software that enables you to effectively create tasks, track user interactions, and record participant sessions.
Screen Recording Software: Use screen recording tools to record participants' interactions with the product or interface.
Camera and Microphone: Ensure the camera and microphone are high quality and working perfectly.
Prototyping Tools: If you use prototypes, ensure they work properly and that participants can engage with them easily.
Moderator's Role and Responsibilities
The moderator plays a crucial role in facilitating the usability testing session. They need to ensure that participants feel at ease throughout the process. The moderator's responsibilities include:
Starting the session with a warm introduction.
Explaining the usability testing scenario and task to participants clearly.
Using probing questions and encouraging participants to think aloud.
Maintaining a neutral and non-biased attitude during the testing.
Allowing participants to explore freely and gently guiding them back on track when necessary.
Taking comprehensive notes during the testing session.
Step 5: Data Collection and Analysis
In usability testing, data gathering and analysis are crucial in usability testing steps. These processes involve collecting significant feedback from testing participants and transforming it into usable insights.
Capturing Observations and Feedback
Capture your test participants' observations and feedback systematically. This can be achieved through a combination of methods, such as:
Encouraging participants to verbalize their thoughts and actions.
Conducting post-testing surveys to gather more in-depth feedback.
Documenting participants' actions, comments, and any observed usability issues.
Qualitative vs. Quantitative Data
Combine both qualitative and quantitative data to ensure a comprehensive understanding of the product's usability and user experience.
Qualitative: Qualitative usability testing focuses on gathering qualitative data such as user experience insights, interesting tales, and in-depth feedback. Qualitative data will help you analyze how customers interact with a product, identify hidden pain points, and improve the user experience.
Quantitative: Quantitative usability testing focuses on acquiring numerical data on numerous usability parameters to quantify and understand user activities. Quantitative data collection collects quantifiable data such as success rates, completion times, error rates, and satisfaction ratings.
Analyzing Usability Metrics
Analyzing usability metrics refers to evaluating data gathered during usability tests to develop relevant findings and actionable insights. You can take the following steps to analyze usability metrics effectively:
Review the collected data to identify recurring usability issues and pain points.
Evaluate the impact of usability issues on user experience and address major issues as soon as possible.
Compare the performance of different design variations or prototypes to determine the most effective one.
Identify aspects of the design that work well.
Consolidate feedback from multiple participants to get a complete overview of the product's usability.
Step 6: Identifying Usability Issues
Identifying usability issues involves thoroughly analyzing the collected data during testing to pinpoint areas where users face challenges and difficulties. You may make informed decisions by identifying these usability issues to improve your product's overall user experience.
Certain difficulties appear consistently across different participants and testing circumstances during usability testing. These typical usability issues frequently harm the user experience.
Once you identify the usability issues, you need to prioritize and classify them according to their severity and influence on the user experience.
Step 7: Presenting Findings and Recommendations
After identifying usability issues, your next and final step is presenting the findings and recommendations to key stakeholders. You need to create a well-structured usability testing report where outlining the testing process, methodologies used, major findings, and actionable recommendations.
Your report can be valuable for stakeholders looking to understand usability issues and the reasons behind suggested improvements. Here is how you can create a usability testing report:
Executive Summary: Provide a brief overview of the testing objectives, methodology, significant findings, and high-level suggestions in the executive summary.
Introduction: Describe briefly the purpose of the usability testing and the product being tested.
Testing Methodology: Describe the testing strategy, including the types of participants, task scenarios, and tools implemented.
Findings: Describe the significant usability issues and successes discovered during testing.
Prioritization: Prioritize the suggested improvements according to their urgency and impact on user experience.
Recommendations: Propose practical recommendations for solving detected usability issues and improve overall user experience.
Implementation Plan: Outline an action plan with responsible stakeholders for implementing the suggested modifications.
Conclusion: Summarize the main points and the significance of fixing usability issues for the product's success.
Using QuestionPro in Usability Testing Steps
QuestionPro is a versatile and easy-to-use online survey and research platform that can be effectively utilized in various usability testing steps. You can use its robust features and tools to gather valuable feedback, conduct surveys, and analyze data. Let's explore what you can do using QuestionPro's features and tools in usability testing steps.
Use QuestionPro to design a pre-testing survey to gather demographic information from potential participants. It helps in recruiting the right target participants for testing.
Create a survey to collect stakeholders' feedback and insights about the specific usability testing goals and objectives.
Use QuestionPro's panel and sampling services to recruit participants from a diverse pool based on specific demographics.
Use multimedia in surveys to create the appearance and interactions with the product and collect real-time feedback.
Use QuestionPro's reporting and analytics features to examine quantitative data gathered throughout usability testing, such as task completion rates, time on task, and satisfaction scores.
Use open-ended question analysis to categorize and analyze qualitative data, including participant feedback and suggestions.
Create surveys with specific questions to identify usability issues and challenges experienced by testing participants.
Use QuestionPro's reporting features to create visually appealing reports and provide stakeholders with usability testing findings and recommendations.
Conclusion
Usability testing is an essential part of product development. Designers and researchers can get useful insights into how users interact with their products, uncover usability issues, and create data-driven improvements by methodically following the usability testing steps.
QuestionPro's platform provides a variety of question types, survey templates, and customization possibilities, allowing it to be personalized to the specific needs of effective usability testing. Its ease of use enables usability researchers to conduct surveys, evaluate data, and effectively communicate insights to stakeholders.
Researchers can simplify the testing process, collect useful data, and make data-driven decisions to improve the user experience of their products by including QuestionPro in the usability testing steps.
Take advantage of QuestionPro's free trial to get a firsthand look at its capabilities and understand the full potential of your usability testing efforts.