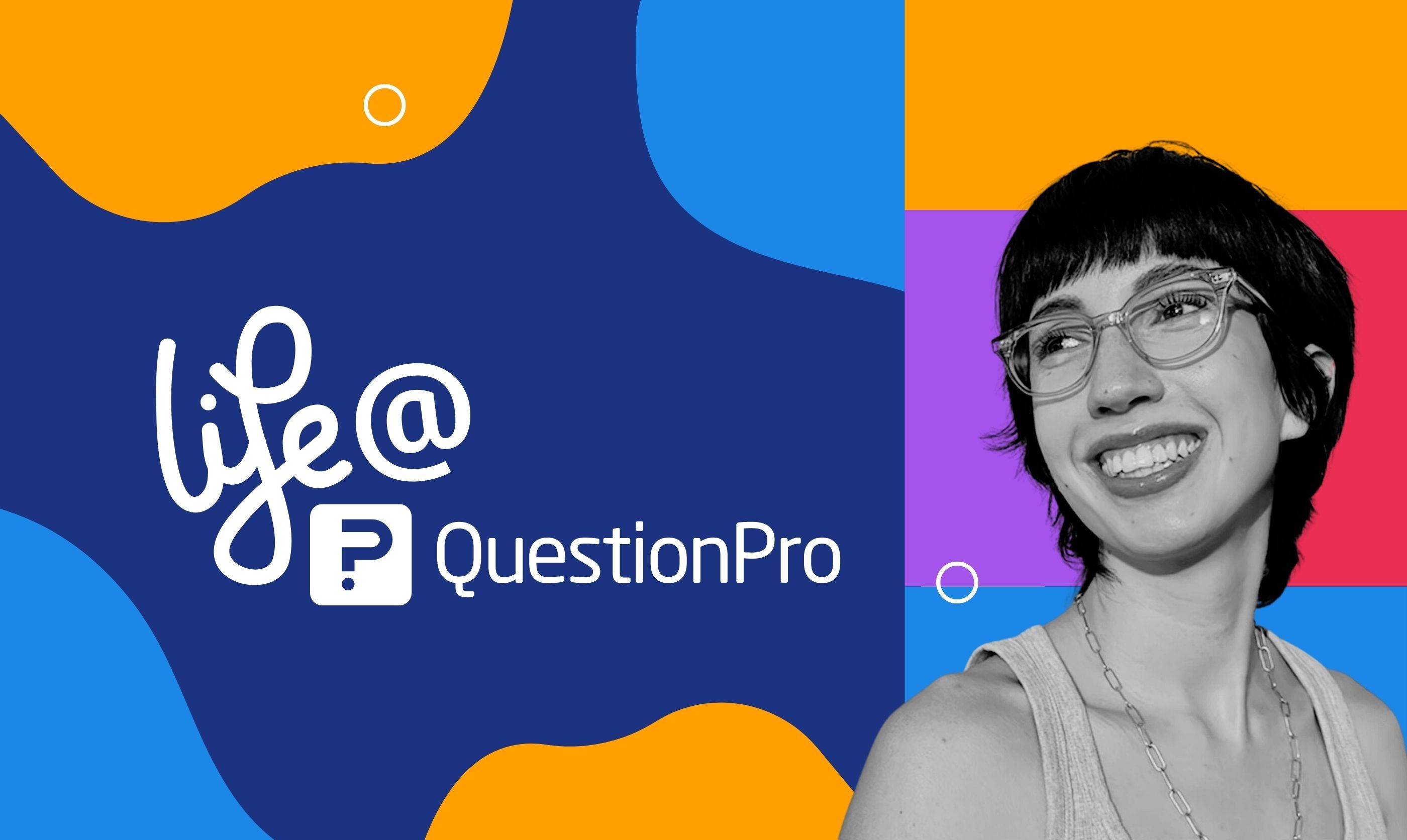 For today's Life@QuestionPro blog, we talked with one of our amazing UX Designers, Monz Sandoval. She's part of QuestionPro's global team, living her best life in Monterrey, Mexico, where she gets to show up as her true self each day QuestionPro.
A fun and exciting fact about Monterrey, Mexico, is that it's often called the "City of Mountains" (Ciudad de las Montañas in Spanish) because of the stunning mountain ranges surrounding the city. Monterrey's unique location adds to the city's charm, perfect for cultivating creative minds like Montz's.
Monz joined the QuestionPro team in September 2021, embarking on a fulfilling journey as part of the UX Team. As she reflects on her path, Monz notes that this role marks her first involvement in UX Design. Her time at QuestionPro has proven to be a valuable learning experience, allowing her to expand her knowledge of how digital products are developed and how to collaborate with diverse teams effectively.
Embracing Remote Work for Optimal Productivity
The switch to remote work has been a game-changer for Monz. She loves the freedom of working from home and enjoying the cozy vibes that it brings while tackling design tasks. Being able to say goodbye to that daily commute to an office space has done wonders for her work-life balance.
Her ideal workday is all about tackling projects and keeping the team vibes strong. She's into achieving big things and teaming up for killer design solutions at QuestionPro.
Monz is on a mission to craft a Design System as ambitious as the company. She is an example of someone who strives for excellence, which shows in her designs and personality. Monz is all about personal growth and keeping her life full of warm and positive vibes.
"Something really cool about QuestionPro is the work-life balance that it provides and the learning and educational opportunities. Being surrounded by extraordinary colleagues feels like a nurturing hub for personal and professional growth."
With her sights set on a bright career path and a strong sense of purpose, she's all in to stay and shine at the company.
Her vision for contributing to the world reflects her commitment to continuous improvement and meaningful connections. She aspires to cultivate a life of purpose, enjoyment, and good relationships.
But wait, Monz isn't just her killer design skills; she also labels herself as a foodie, especially when it comes to homemade miso ramen. This is like her dream combo of soups, miso, and noodles. We can tell that her knack for precise designs definitely spills over into her culinary choices.
This talented designer is also passionate about video games. Right now, she's counting down the days until she can dive into The Legend of Zelda – Twilight of the Kingdoms. And when she's not gaming, you'll find her hitting the gym or taking leisurely walks with her furry sidekick: her dog Nico.
Monz's ride with QuestionPro is a prime example of what makes our global team spectacular – a mix of folks from all walks of life, sparking fresh ideas left and right. Monz's unique journey and fresh perspective add some seriously attractive style to our team, helping us create awesome stuff for our clients.
At QuestionPro, we take immense pride in our diverse and talented team members who contribute their unique perspectives to our dynamic work environment. So, keep an eye out for more profiles on the fantastic folks who make QuestionPro the incredible place it is.
Until next time!