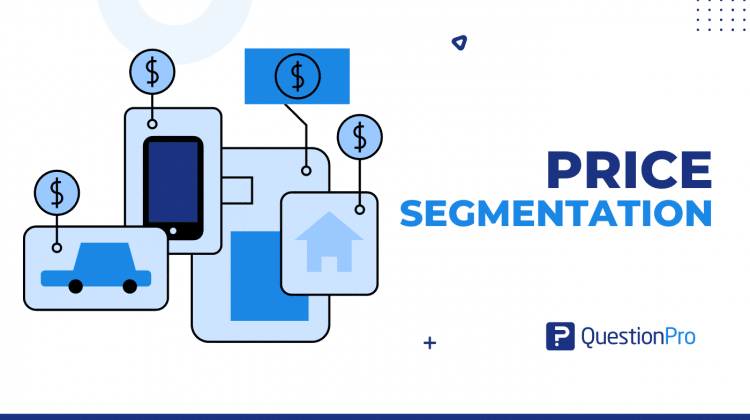 Price segmentation is one of the most effective ways to set prices for your goods or services. Price segmentation can help companies of all sizes build a pricing strategy that works better and gets better results.
In short, price division means giving different groups of customers different prices. For example, kids might pay less for movie tickets, and seniors might pay less for public transportation.
Even though almost every brand has the chance to use segmented prices, many need to learn how to do it right. But figuring out how to use price segmentation to its fullest potential can mean the difference between steady progress and stagnation.
Read this blog to learn how to use price segmentation if you own a small business, a store, a software company, a restaurant, an entertainment company, or any other business that offers to different groups of people.
Content Index:
What is price segmentation?
Importance of price segmentation
Types of price segmentation
Ways of using price segmentation
Advantages and disadvantages of price segmentation
Conclusion
What is price segmentation?
Price segmentation is a pricing approach where customers pay different prices based on their ability and willingness to pay. It lets you make more money from customers who pay the most and less money or even lose money from customers who pay the least.
It is a way for companies to make the most money possible. It works by charging different groups of customers different prices, usually based on how willing they are to buy certain goods or services.
Some goods can be used in multiple ways, so they can be marketed to different groups based on how likely they want or need the product.
Price segmentation can also be affected by things like the season, the area, and the availability of goods.
For example, a heavy, warm coat might be sold for a different price in the summer or in a tropical area than it would be in the middle of winter in the cold.
Importance of price segmentation
Price segmentation is a good way for businesses to improve their pricing plans, serve their customers better, and make as much money as possible. And it is important for several reasons: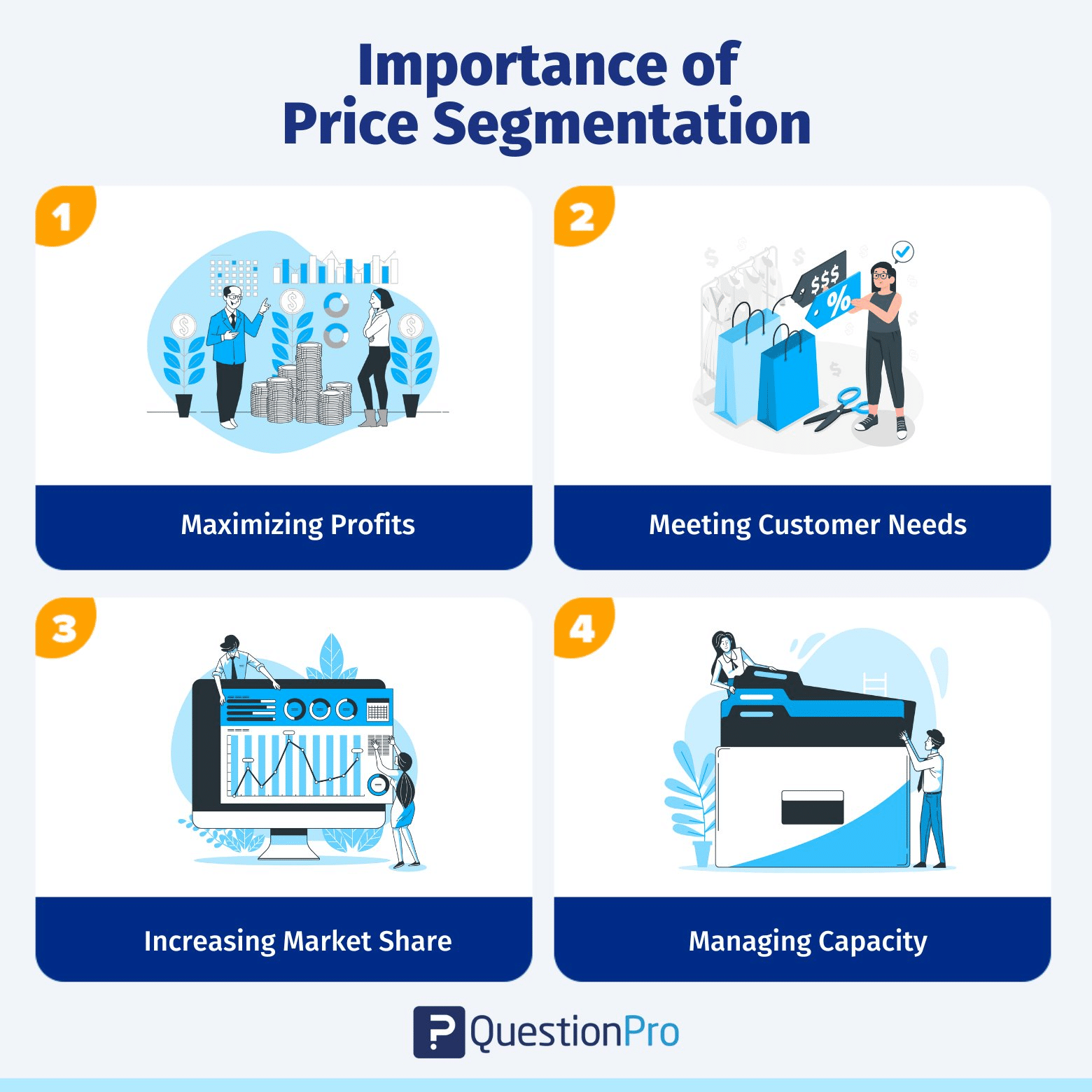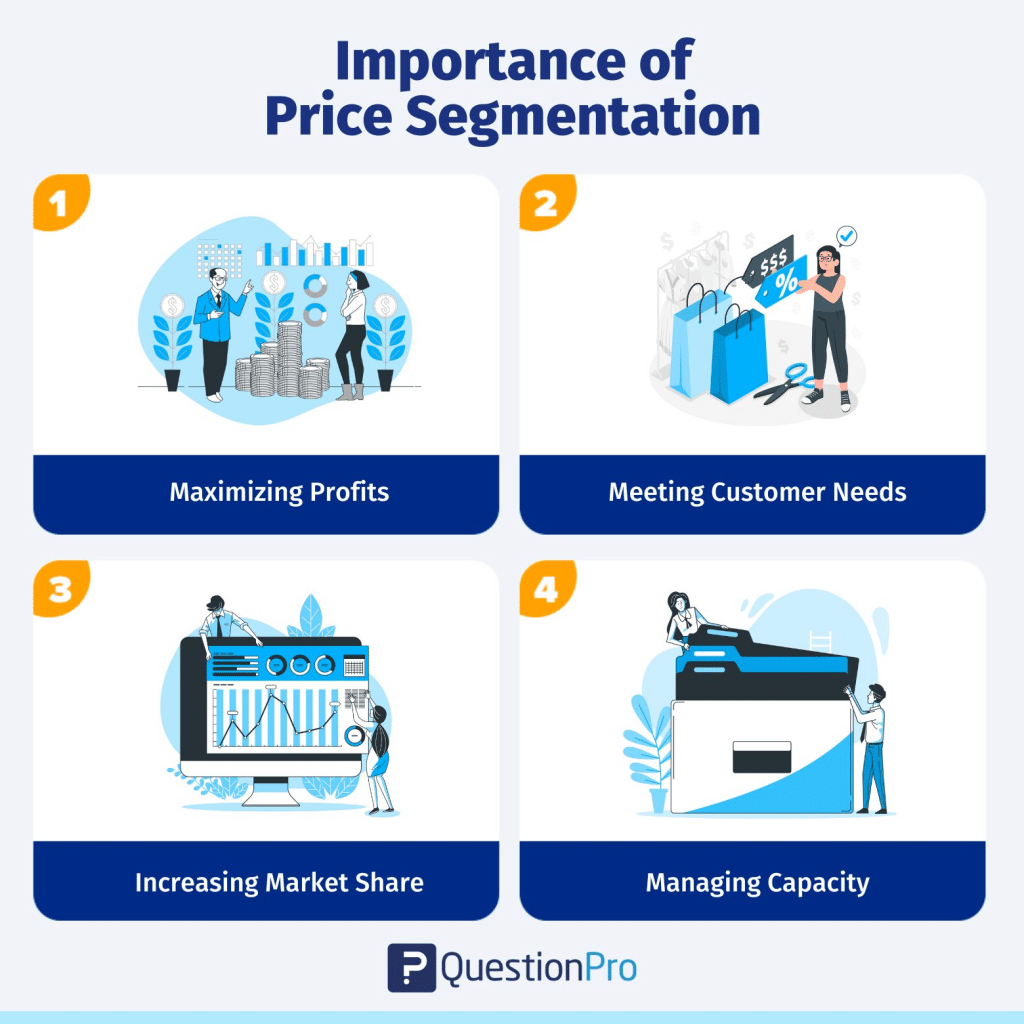 Businesses can make the most money by charging different prices to different types of customers. They can charge more to customers willing to pay more and less to more price-sensitive customers. This can lead to more money coming in and more money being made.
Different customers have different wants and needs, and price segmentation lets businesses adjust their pricing methods to meet those needs. Companies can give more value to their customers and build stronger relationships with them if they charge different prices for different groups of customers.
Businesses can bring in customers who might not buy from them otherwise by charging different prices for different types of customers. This can lead to a more significant share of the market and a better edge over the competition.
Price segmentation can also help businesses manage capacity by encouraging customers to purchase during off-peak periods or incentivizing them to buy higher-margin products or services.
Types of price segmentation
Price segmentation divides the market into segments and charges each section a different price based on how much they are willing to pay. It comes in various types. These are the following:
Customer-based segmentation
This segmentation separates people into groups based on their social and economic standing. The customer is offered a price based on who they are.
In physical shops, a seller puts a customer into a price segment by asking, "How can I help you?" Or what's your budget?
Digital shops are set up with technologies that track how customers act, how much they spend, what they've bought in the past, etc., so they can offer them deals.
Product bundle-based segmentation
Bundles generally cost less than buying each product separately. Product segmentation bundles are made for customers with a lower willingness to pay. Bundling makes buyers more likely to purchase and keeps customers coming back.
Product value-based segmentation
Customers are ready to pay more for products they think are worth it. Businesses can charge more for a product if they add more value.
Businesses can add value by doing things like better packing, fast delivery, etc. You may have seen on e-commerce websites that express delivery costs more than regular delivery. This is an example of price segmentation based on what they offer.
Purchase-time-based segmentation
Prices for products and services change depending on when they are bought. Price segmentation is often done with early bird deals, higher prices during peak times, product auctions, and discounts that happen from time to time. This approach is used to reach out to different groups of customers.
Purchase location-based segmentation
Location-based classification is done by businesses based on where a product is purchased or delivered. If you order food from a place far from where you are, Uber Eats will charge you more.
In addition to government rules, competitors in an area can also affect how prices are set based on location.
Purchase quantity-based segmentation
Some customers expect to pay less for a product if they buy it in large quantities. This group of buyers is more likely to buy if given deals like "buy 2 get 1 free."
Condition-based segmentation
Condition-based segmentation could be about how someone pays or the type of service. In many e-commerce businesses, buyers who pay for an item all at once get a discount compared to those who pay in installments.
Ways of using price segmentation
Price segmentation is a strong way for businesses to improve customer satisfaction, increase profits, and get an edge over their competitors. To be successful, it needs careful planning, analysis, and ongoing monitoring.
Here are some steps businesses can take to use price segmentation effectively:
LEARN ABOUT: Pricing Research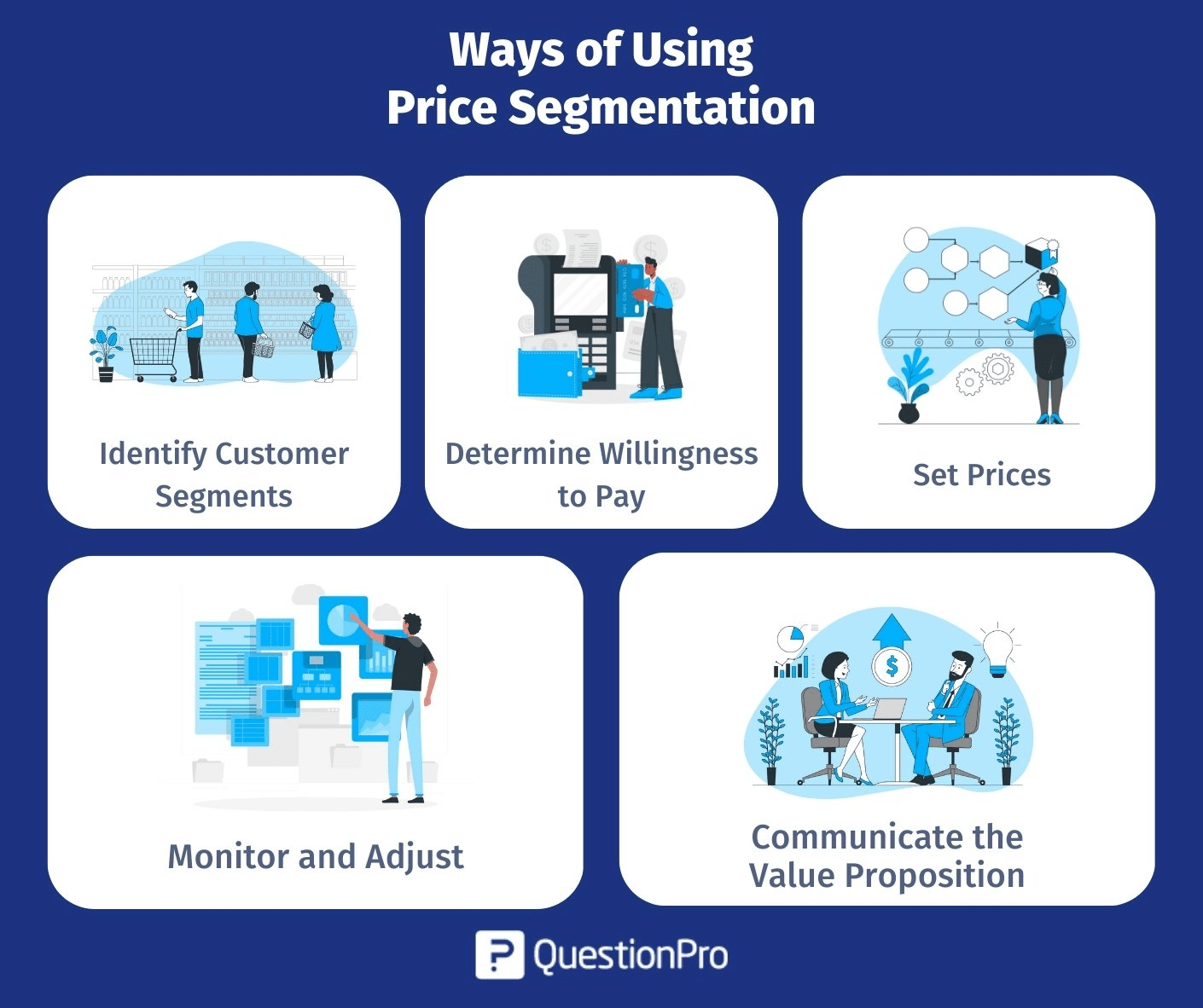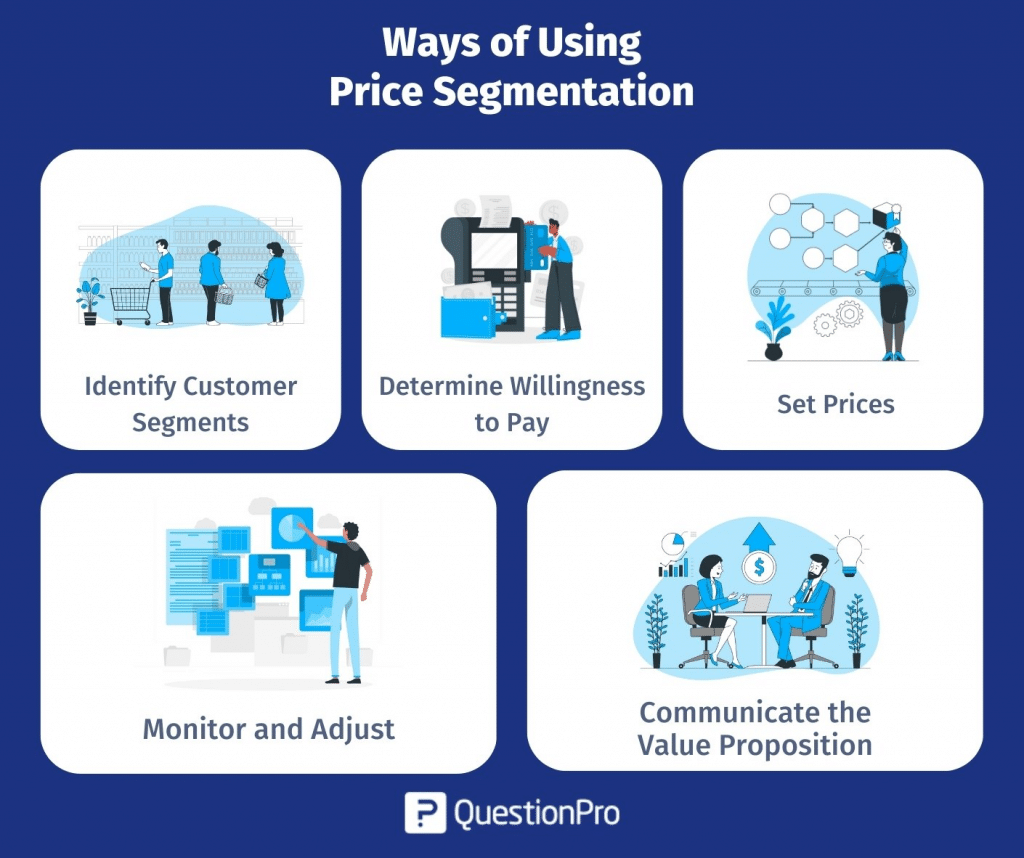 Identify customer segments
The first step in price segmentation is to find customer types based on demographics, psychographics, behavior, and location. This can be done through market study and analyzing customer data.
Determine willingness to pay
Once the customer segments have been discovered, businesses should determine how much each segment is willing to pay. This can be done through surveys, focus groups, or a study of how people have bought.
Set prices
Based on how much each customer segment is willing to pay, businesses can set right prices for each section. This could mean giving discounts, promotions, or different product or service bundles.
Monitor and adjust
It's important to monitor how well the price segmentation strategy works over time and change prices as needed. This could mean changing prices, trying different strategies, or refining the segmentation method based on new data or market trends.
Communicate the value proposition
It is important to explain to customers what the pricing plan is worth. This could mean teaching them about the different pricing choices available, pointing out the benefits of each option, and giving them clear and transparent pricing information.
Advantages and disadvantages of price segmentation
Price segmentation is a common business strategy used to appeal to various customer groups. Let's explore the advantages and disadvantages of this tactic.
Price segmentation Advantages
The following are some advantages of pricing segmentation:
1. Increased profits: Different client segments are targeted via a segmented pricing strategy. As a result, the company benefits from a variety of clientele.
2. A larger market share: The price segmentation strategy offers clients a range of pricing options, which indicates that customers from different demographic groups are prepared to pay for the goods. A company's entire market share may rise as a result.
3. Pricing flexibility: Businesses can examine consumer behavior and adjust prices for sectors that didn't generate a profit. The corporation is not required to alter its entire pricing approach. As a result, it offers versatility.
Price segmentation's disadvantages
The following are some drawbacks of pricing segmentation:
1. Misunderstanding: Management can cause uncertainty and misunderstanding by improperly segmenting the market and failing to communicate the price plan to staff members.
2. Confusion: If prices aren't stated clearly, consumers cannot grasp them. Customers who need clarification steer clear of said businesses.
3. Brand image: Consumers are concerned with their prices and those of their peers. Customer mistrust could damage the brand's reputation. If not done correctly, customers might feel misled and stop buying the product.
Conclusion
Price segmentation can be highly beneficial for your brand strategy if you do it right. With conditional pricing, you can improve your profits and get more market share, change your marketing strategies, and help others.
That being said, remember to manage and keep track of your price segmentation plan. It could keep your business from getting complaints from customers or a price discrimination lawsuit.
Price segmentation is a key pricing technique that businesses can use to make more money and serve their customers better. With the help of advanced poll software tools like QuestionPro, businesses can better divide their customers into groups and figure out how much they are willing to pay.
This can help them set the correct prices for each group, make customers happier, and get a leg up on the competition. Businesses can continue to make the most of their sales and profits over time by keeping an eye on market trends and customer behavior and changing their pricing strategies accordingly.
Price segmentation is a helpful tool that can help businesses reach their goals and do well in a market with a lot of competition.