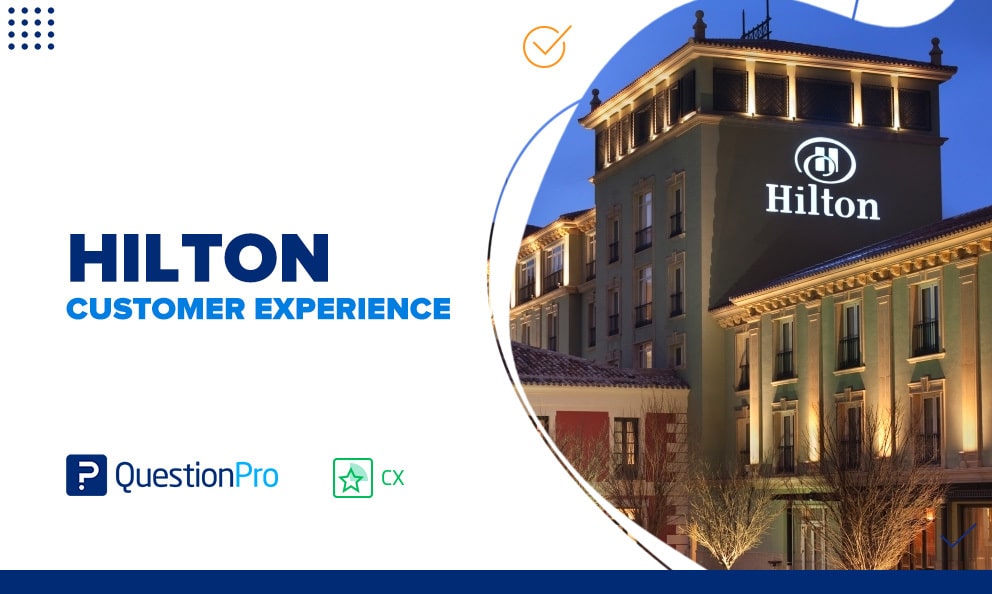 When it comes to satisfaction and its impact on companies, we can't ignore the hospitality and hotel industry, where this aspect plays a critical role in growth.
Hotels have always been known for their extreme focus on guest satisfaction. Years ago, they understood that placing the guest at the center brings multiple benefits. Something that has been developed more professionally in recent years in other industries under the concept of customer experience.
What is Customer Experience?
At QuestionPro, we define Customer Experience as follows:
"Customer Experience includes every interaction that consumers have with your brand. Your customers use these interactions to form perceptions and opinions about your products, services, and brand." Customer Experience: The Complete Guide
The concept of Customer Experience is quite broad. It encompasses a wide range of aspects and elements, making it challenging for some companies to start implementing such strategies in their own industries.
In the hotel industry, competition is fierce and fast-paced. All major hotel chains are constantly seeking new ways to provide memorable guest experiences. In this highly competitive scenario, one brand has positioned itself as a favorite and highly recognized—Hilton Hotels & Resorts—an international chain whose service has earned recognition from its guests as a leader in the field.
Understanding the Customer Experience in the Hospitality Industry
The hospitality industry is all about making people feel welcome and providing them with a memorable experience. This industry revolves around serving and satisfying customers, and this is where Customer Experience (CX) plays a pivotal role.
CX in the hospitality industry refers to how guests feel about their interactions and overall stay at a hotel, restaurant, or any other hospitality establishment.
Customer Experience is the heart and soul of the hospitality industry. It's about making guests feel special, satisfied, and eager to return. A positive CX benefits customers by creating memorable moments and helps businesses drive repeat business, enhance their competitive edge, and boost employee morale. In this industry, success is not just about providing a place to stay or food to eat; it's about creating lasting experiences.
These concepts and ideas have been circulating in the industry for years, probably before they became common in other industries, such as the restaurant industry or technology companies. It's no surprise that this industry is where we find great pioneers and truly revolutionary ideas when it comes to customer attention and experience.
Next, we will analyze Hilton Hotels & Resorts' customer journey map to illustrate these concepts better.
Customer Journey Map of Hilton Hotels & Resorts
In a Customer Journey Map, it's possible to see all the customer touchpoints between a company and its prospects. In the hotel industry, there are often many touchpoints. However, to give you a clear idea of how it would look, we have compiled only the most common ones within the industry and referenced some news from the hotel group to analyze this theoretical Customer Journey Map of Hilton Hotels & Resorts.
It would look like this: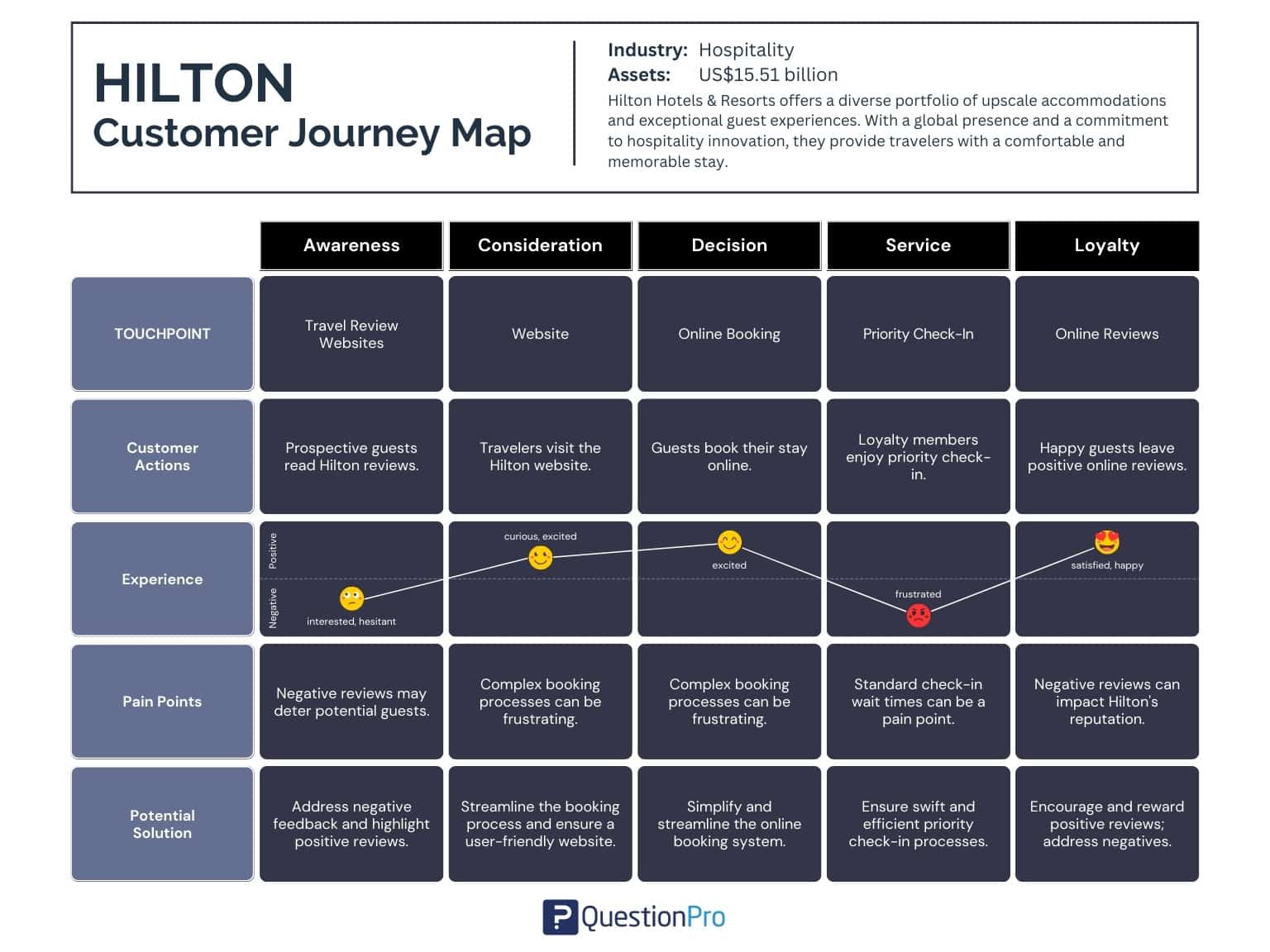 Stage 01: AWARENESS
| | | | |
| --- | --- | --- | --- |
| Touchpoint | Activity | Pain Point | Solution |
| Online Advertising | Potential guests see Hilton ads online. | Competition in the hospitality industry is fierce. | Invest in targeted online advertising campaigns. |
| Social Media Engagement | Hilton engages with travelers on social media. | Establishing a strong initial brand presence can be challenging. | Develop engaging content and actively interact with users. |
| Travel Review Websites | Prospective guests read Hilton reviews. | Negative reviews may deter potential guests. | Address negative feedback and highlight positive reviews. |
Stage 02: CONSIDERATION
| | | | |
| --- | --- | --- | --- |
| Touchpoint | Activity | Pain Point | Solution |
| Website | Travelers visit the Hilton website. | Complex booking processes can be frustrating. | Streamline the booking process and ensure a user-friendly website. |
| Virtual Tours | Guests take virtual tours of Hilton properties. | Lack of understanding of room layouts and amenities. | Enhance virtual tours to provide comprehensive property views. |
| Customer Service | Guests contact Hilton for inquiries. | Long wait times and unhelpful support can be frustrating. | Improve customer service response times and training. |
Stage 03: CONVERSION
| | | | |
| --- | --- | --- | --- |
| Touchpoint | Activity | Pain Point | Solution |
| Online Booking | Guests book their stay online. | Complex booking processes can be frustrating. | Simplify and streamline the online booking system. |
| Mobile App | Hilton's mobile app is used for bookings. | Mobile app crashes or bugs can deter conversions. | Ensure a stable and user-friendly mobile app. |
| Email Confirmations | Guests receive booking confirmations via email. | Delayed or missing confirmations can cause anxiety. | Improve email delivery and notification systems. |
Stage 04: LOYALTY
| | | | |
| --- | --- | --- | --- |
| Touchpoint | Activity | Pain Point | Solution |
| Hilton Honors Program | Guests join the Hilton Honors loyalty program. | Unclear program benefits and rewards can deter participation. | Clearly communicate the advantages of the loyalty program. |
| Personalized Offers | Hilton offers tailored deals to loyal guests. | Offers may not always align with guests' preferences. | Personalize offers based on guest preferences and history. |
| Priority Check-In | Loyalty members enjoy priority check-in. | Standard check-in wait times can be a pain point. | Ensure swift and efficient priority check-in processes. |
Stage 05: ADVOCACY
| | | | |
| --- | --- | --- | --- |
| Touchpoint | Activity | Pain Point | Solution |
| Social Media Advocacy | Satisfied guests share their Hilton experiences on social media. | Limited engagement and interaction can hinder advocacy. | Foster active and meaningful social media interactions. |
| Referral Program | Guests refer friends and family to Hilton. | Incentives for referrals may be lacking. | Reward guests for successful referrals and stays. |
| Online Reviews | Happy guests leave positive online reviews. | Negative reviews can impact Hilton's reputation. | Encourage and reward positive reviews; address negatives. |
Aglunos programas notables del programa de customer experience de Hilton
Some notable programs from Hilton's Customer Experience program include:
Exploring Notable Programs in Hilton's Customer Experience Initiative
HILTON HONORS
Hilton Honors™ stands out as one of the most sought-after Frequent Guest Programs in the United States and around the world. Its success extends globally by fostering loyal customers, enhancing customer satisfaction, and guiding guests to Hilton properties worldwide.
HILTON RESERVATIONS & CUSTOMER CARE
Hilton Reservations & Customer Care (HRCC) takes charge of reservations across the entire Hilton portfolio. Remarkably, HRCC operates on every major continent and communicates in multiple languages, truly making it a global service. Moreover, they offer advanced services and reporting capabilities through the ResMax™ cluster reservations program. This program has the potential to significantly boost efficiency and profitability for owners and operators who opt to participate.
ONLINE SERVICES
In today's digital age, staying ahead in the hospitality industry means excelling online. Hilton's Global Online Services team understands this and leads the way. Leveraging cutting-edge technologies, a global presence, and strategic partnerships, they generate demand, maximize revenue, and cultivate strong customer relationships. The outcome is evident in their success in expanding market shares across Hilton's diverse brand portfolio.
THE RESMAX PROGRAM
This premium reservations service offers hotel owners and operators an unparalleled competitive advantage. When guests call to make direct reservations, these calls seamlessly transfer to our specialized ResMax sales specialists. These specialists handle reservations with the same care and expertise as if they were an integral part of the hotel's team. This seamless partnership ensures a winning experience for guests and hoteliers alike.
Start improving your customer experience!
Hilton's success in the hospitality industry is a great example of how providing an exceptional customer experience and placing customers at the center of your strategies is a great way to increase loyalty among your users and, of course, find the path to growth.
Implementing these strategies is not exclusive to a specific industry, so if you're looking to do so and embark on a similar journey, consider leveraging our tools.
Our customer experience management software, including a powerful ticketing system, can help you boost loyalty and convert detractors into advocates. SuiteCX by QuestionPro offers customizable journey mapping, analytics, and integrated survey data to enhance the customer experience.
Our all-in-one CX dashboard simplifies data sharing and provides insightful reporting, making it easier to collaborate and improve your customer experience strategy.
Elevate your customer experience game. Create memorable journeys for your customers and reap the rewards of increased loyalty and satisfaction.