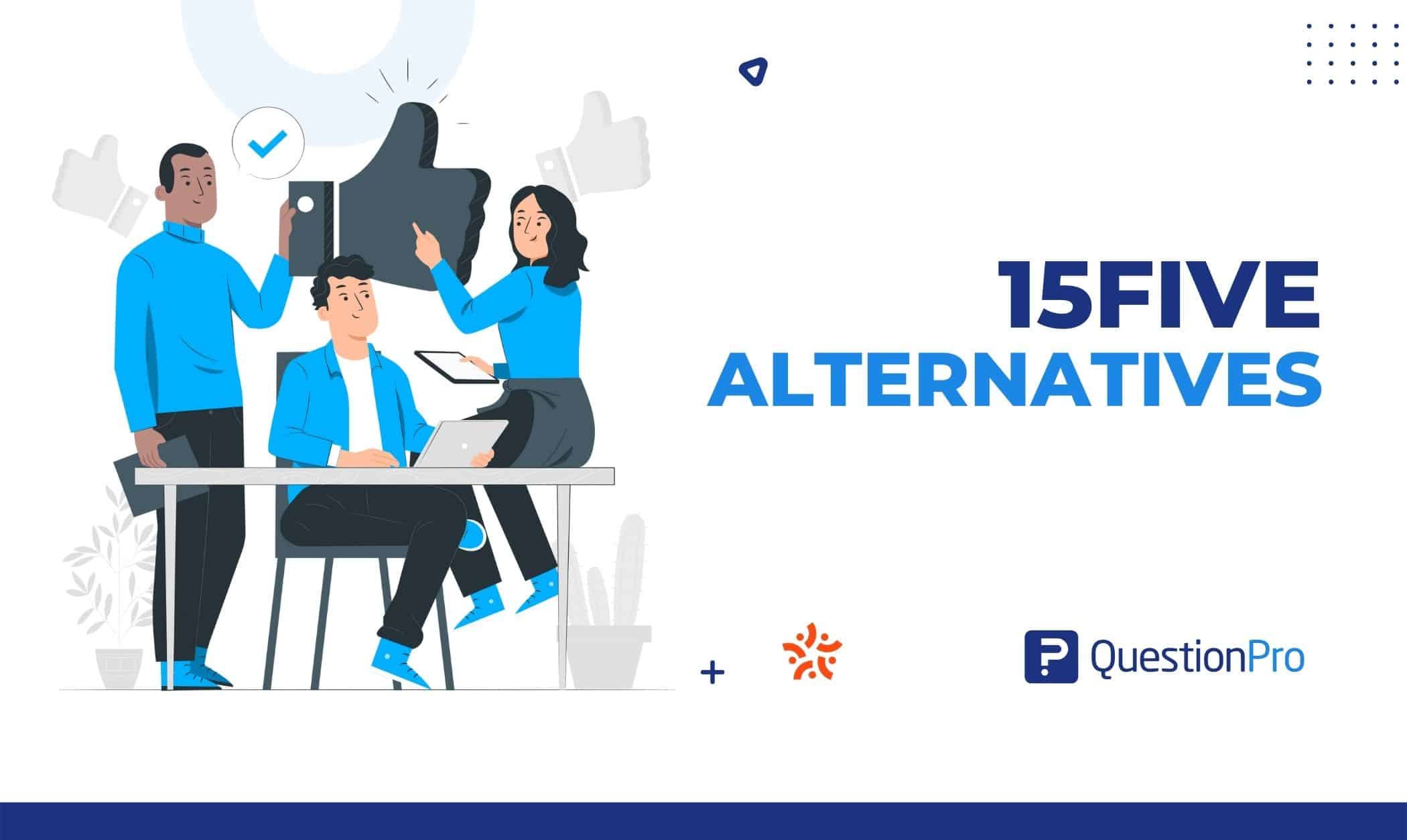 15Five is a performance management platform for managers, employees, and organizations. Is 15Five the right employee engagement and employee performance evaluation management software for you? Find out by taking a look at our top 10 15Five alternatives.
Spend some time looking at 10 other options that provide similar or better services. Compare the features you want from employee engagement and performance management software. Then decide which one will give you the best return on your investment.
Before that, let's look at some shortcomings of 15Five that compelled you to find alternatives for your business:
One big drawback of 15Five is that some questions are hard to answer, and the High Five option can sometimes feel like it's been done before.

15Five doesn't offer a monthly plan. Paying an annual commitment is a big deal to startups.

Last but not least, they have yet to get to the Objectives section, and several employees are having trouble understanding this section's format and submission requirements.
This blog will list the 10 best 15Five alternatives that may fulfill your needs.
10 Top 15Five Alternatives You Should Try
Here is a list of 10 top 15Five alternatives you should check before deciding on an employee engagement and performance management software.
QuestionPro Workforce
QuestionPro Workforce has been called a key Employee Experience management tool. QuestionPro is one of the best 15Five Alternatives. It is an employee experience survey and analytics platform that helps both people and companies succeed. They give you a chance to think about the future of work differently. 
With QuestionPro, you can do employee engagement surveys to give you insights. It will help you build a stronger company culture and a better business.
Best features of QuestionPro Workforce:
All relevant stakeholders have access to a role-based data portal.

Simple organizational culture dashboards.

Employee experience surveys using proven methodology.

Available on the web, tablets, and mobile phones. Use email, SMS, and a portal to send surveys to employees no matter where they are.

Unlimited users, surveys, and responses are included so that you can have meaningful conversations and a streamlined experience.

24/7 customer support.
Pricing
QuestionPro has a free version!

The Premium package begins at $99 monthly.
Lattice
Lattice is a performance management platform that lets you set goals, give feedback, and measure employee performance. Users also love the 1:1 agenda feature, which lets participants write down talking points on the go.
Best features of Lattice:
Set and track company goals every three months using various goal-setting methods.

With executive and manager dashboards, you can track and see the KPIs of your employees.

With executive and manager dashboards, you can track and see the KPIs of your employees.
Pricing
Their paid plan starts from $4.00 per month.
Betterworks
Betterworks is software for managing performance. It lets you set goals, give feedback, and measure your employees' engagement. The platform has two kinds of software:
A self-service platform for managing performance 

A  self-service platform for getting employees involved.
Best features of  Betterworks:
Provide managers with templates and best practices to improve employee conversations.

Set goals for employees, track their progress, add comments, and give them a helpful effort in real-time.
Pricing
Betterworks premium pricing plan starts from $8.00 monthly
Reflektive
Reflektive is software for real-time feedback and performance management that helps you keep getting better. It's one of the best 15Five alternatives for tracking goals and 1:1s. Also, you can easily keep track of your goals, reviews, and feedback from your manager and coworkers.
Best features of Reflektive:
 Integrates with email, Slack, and Outlook

Allow employees to celebrate each other's wins via email, Slack, or Reflektive.

Performance reviews and employee data help you manage talent.
Pricing
Pricing plan is complex. Contact Relektive for detailed information.
CultureAmp
CultureAmp is the solution if your main goal is to build and strengthen your company's culture to make it better. It is popular for measuring engagement rates with pulse surveys and intensive data collection.
Best features of CultureAmp:
It is easy to learn and use.

CultureAmp has features of employee segmentation.
Pricing
Prices start at $3300.00 per user per year. There is also a free trial.
Officevibe
Officevibe is a powerful platform that can help you improve trust, collaboration, and team performance among your office employees. On top of that, if you have a small business or manage a single team, you can use the free basic version, which is suitable for up to 20 employees.
Best features of Officevibe:
Offers practical guidance on how to handle team management difficulties.

Easy-to-use, weekly automated surveys based on their 10 Key Metrics and 26 Sub-Metrics.

Best for small, medium, and large businesses.
Pricing
Their pricing plan is complex. Contact Officevibe for pricing details.
Kazoo
Kazoo integrates reward, performance, and employee engagement with a seamless data flow.  It will help you and your employees stay connected and flourish by creating an inclusive business culture that inspires everyone to do their best.
Best features of Kazoo:
Offer real-time recognition and reward system that includes Peer-to-Peer recognition, nomination, awards, reward catalog, etc.

Interactive dashboard with filters you can change.
Pricing
Pricing plan is complex. Contact Kazoo for pricing details.
Quantum Workplace
Quantum Workplace is one of the best 15Five alternatives. It has a full set of solutions for employee engagement and performance that help organizations improve the success of their employees, teams, and businesses. 
With tools that are easy to understand and use, Quantum Workplace helps leaders connect the dots between engagement and performance.
Best features of Quantum Workplace:
Allows administrators to customize to accommodate their specific workflows.

Offers analytics tools that reveal important business metrics and track progress.
Pricing
Pricing plan is complex. Contact Quantum Workplace to know the current pricing.
AssessTEAM
AssessTEAM could be a good alternative to 15Five if you're looking for a tool that combines an employee evaluation tool with project management software. This tool is in the cloud and can be used on the web or with a mobile app. It lets employees quickly update their job requirements and complete evaluations from any device.
Best features of AssessTEAM:
AssessTEAM's Enterprise edition helps project managers monitor, identify, and fix issues.

The goal-setting feature of AssesTEAM works for both teams and individuals. The manager or the employee can set these goals.
Pricing
AssessTEAM has three types of pricing. Premium pricing plan begins at $4.00 monthly
Leapsome
Leapsome is a platform that connects performance management, employee engagement and learning for forward-thinking companies like Spotify, Northvolt, and Unity.
It is a people enablement tool with features for Goals & OKRs Management, Performance Reviews and 360, Employee Engagement Surveys, Feedback & Praise, Compensation & Promotions, and Meetings.
Best features of Leapsome:
Allow people to set individual goals and align them with team and company goals and OKRs.

Give employees learning suggestions and customizable curriculums based on their job profiles and career paths.
Pricing
Prices for Leapsome start at $8 per user per month.
Conclusion
From the above discussion, we know that 15Five helps measure the employee experience. Even though it will, without a doubt, help you with performance management. But sometimes, it can meet your needs. If 15Five cannot meet your needs, you can go for 15Five alternatives.
We hope our list of alternatives to 15Five helped you to choose the best one. Employee engagement and experience tools have many different features, but it's important to pick one that helps you reach your goals. QuestionPro Workforce can be the best alternative for you. 
So, remember to give QuestionPro a try. Many companies, business owners, and marketers use the tool to improve employee engagement and performance management. So, contact us right now and let us know if you need help with QuestionPro Workforce in any way.