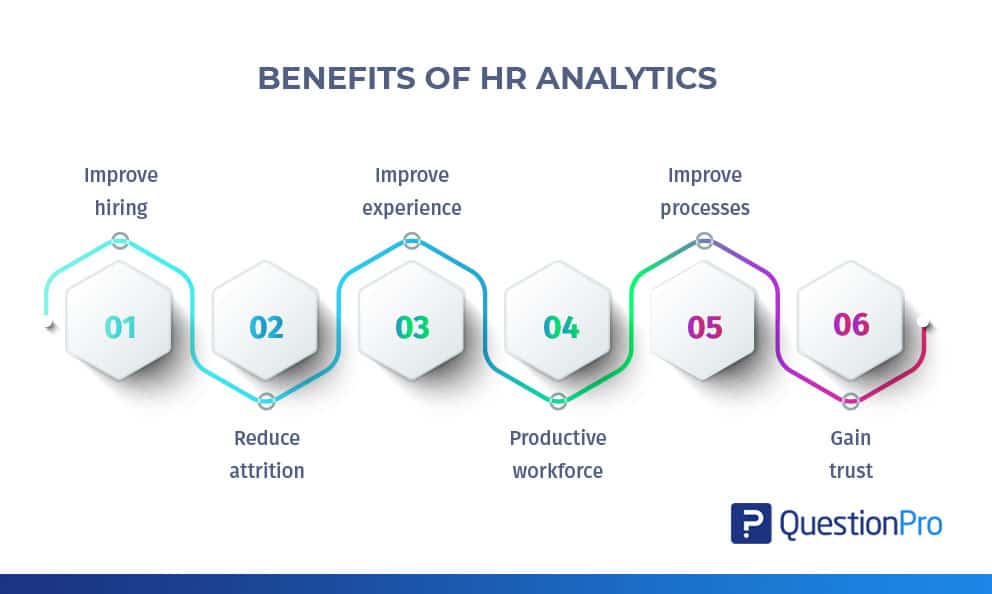 What is HR Analytics
Definition: Human Resource analytics (HR Analytics) is defined as the area in the field of analytics that deals with people analysis and applying analytical research process to the human capital within the organization to improve employee performance and improving employee retention.
HR analytics doesn't collect data about how your employees are performing at work, instead, its sole aim is to provide better insight into each of the human resource processes, gathering related data and then using this data to make informed decisions on how to improve these processes.
LEARN ABOUT: Workforce Planning Model
For example, using HR analytics you can answer the following questions about the organization's HR system:
How high is your employee turnover rate?

Do you know which of your employees will leave your organization within a year?

What percentage of employee turnover is regretted loss?
Most human resource professionals will be easily able to answer the first question for their organization. However, answering the other two questions will be tricky, especially if you don't have a detailed data for it.
In order to answer the other two questions, as a professional, you would need to combine different data and analyze it thoroughly. Data analytics and data analysis are closely related processes that involve extracting insights from data to make informed decisions. Human resources tend to collect a good amount of data but are unaware of how to use this data. Well, here is the answer! Use it now to analyze your human capital and make informed decisions. As soon as an organization starts to analyze their people problems using the collected data, they are engaged in active HR analytics.
Top 5 types of HR Analytics Every Human Resource Manager Should Know
It goes without saying, that employees are an asset and vital to the success of any organization. I can say without a doubt, that any business that can attract the right resources, manage talent acquisition, and utilize their resources to the optimum is setting a long-term path for success.
LEARN ABOUT: Causal Research
Here are the 5 HR analytics every manager must know:
1. Employee Churn: Huge investments are involved when it comes to human resources and this holds true for any business or organization. Employee churn analytics is the process of assessing your workforce turnover rate. Employee churn analytics helps predicts the future and reduces employee churn. Historical employee churn is the data collected from the past and specifies the employee churn rate since the start of employment. Predictive and historical churn data both are important for employee churn analytics.
2. Capability: Undoubtedly, the success of any business to an extent depends on the level of expertise of the employees and their skills. Capability analytics refers to the talent management process that helps you identify the core competencies of your workforce.
Once you know what those capabilities are, you can set them as a benchmark and compare them to the capabilities of your workforce and measure any gaps.
3. Organizational Culture: Culture is not only notorious to pinpoint but also, tough to change. It is often the collective unspoken rules, systems, and patterns of human behavior that make up for the culture of your organization or business.
LEARN ABOUT: Behavioral Competency
Organizational culture analytics is a process of assessing and understanding better the culture at your workplace. When you know what is the culture of your organization, you can then evaluate and keep a track of the changes you might observe. Tracking culture changes helps to understand the early signs if the culture is getting toxic.
4. Capacity: It's true, capacity affects revenue. The aim of capacity analytics is to establish how operationally efficient is your workforce. For example, in an organization that specializes in designing clothes, people are spending too much time on meetings and discussions than spending that time in more profitable work, or are individuals way too casual about their tasks? This behavioral analysis is capacity analytics that determines how much capacity they as individuals have to grow.
5. Leadership: Poor leadership is as good as no leadership at all. Poor leadership costs money, time and employee churn. Employee retention for such an organization becomes extremely difficult and prevents a business to perform at its full potential. Leadership analytics analyzes and unpacks various aspects of leadership performance at a workplace to uncover the good, bad and the ugly! Data can be collected through qualitative research and quantitative research by using a mix of both methods like surveys, polls, focus groups or ethnographic research.
HR Analytics Software
HR Analytics software is essential to keep track of your workforce. It helps in collating and maintaining data across various office locations, departments, roles, etc. Here are some key advantages of using HR Analytics software:
Ease of use: These tools or platforms are very user-friendly and don't require lengthy training sessions or certifications. You can use demo videos or help videos if you run into any issues.
Data analytics: Data is centrally collated and displayed on dashboards. You can look at historical and current data across several parameters such as tenure, roles, reporting, etc. This helps managers in making informed decisions.
New features: These tools or software are frequently updated with new features in terms of usability, security, reporting, etc. You can customize your platform to reflect your brand colors, needs, and requirements. Practical business intelligence relies on the synergy between analytics and reporting, where analytics uncovers valuable insights, and reporting communicates these findings to stakeholders.
HR Analytics Example
To get started with HR analytics, a human resource manager needs to map and collect all the relevant data. For example, consider hypothetically, you want to measure the impact of employee engagement on the financial performance of the organization.
LEARN ABOUT: HR Analytics
You will need employee engagement data and your organization's financial performance data to draw inferences based on these statistical inputs. As an organization makes sure to deploy an employee engagement survey once every year. This will help you collect the most recent data on how engaged your employees are at the workplace.
Key working areas can be analyzed based on the output of this collective data. Imagine what you can do with this kind of data! It is almost impossible to side look when you have a treasure of data that can help you make future predictions accurately.
And this just doesn't stop here, you can make predictions in different performing and non-performing areas of your organization. Whether it is to draw an inference for budget allocation for employee training or predict which new employee will become the best performer. The range is wide!
Learn more: 50+ FREE Employee Evaluation Survey Template
HR Analytics Dashboard
The HR Metrics dashboard is an important part of Human Resource planning and strategy. It is a tool that forms the basis of informed decision making within the organization, specifically for the Human Resources department and other stakeholders. Before we dig any deeper let's cover the basics first. Here are the top 3 functions of an HR dashboard:
1. To monitor human capital: Regular reporting enables HR to keep a track of the activities that are going on in the organization and amongst the employees by tracking the key workforce metrics. New trends can be anticipated and emerging problems can be addressed before they negatively impact the business.
2. Help HR perform better: An HR metric dashboard helps managers perform better at their workplace. The report can inform managers about any significant changes or development within the teams. For example, consider that the accounting department struggles with high employee turnover, managers will be more likely to put emphasis on employee retention and keep in mind the risks time taken to replace an employee if he/she quits.
3. Tackle problem areas: The metrics dashboard also offers a great way to tackle problem areas with greater transparency. In an organization HR will pay greater attention if the system is transparent and known to all, the HR metrics dashboard helps regulate this transparency since the reputation of the HR will be on line.
At QuestionPro we understand the importance of reporting and Tracking.  We offer our customers and clients the next generation workforce analytics. QuestionPro Workforce offers HR Dashboard that is a one-stop solution to all your HR issues. You can track:
Employee activities

Submit Feedback

Managers can perform and submit reviews

And much more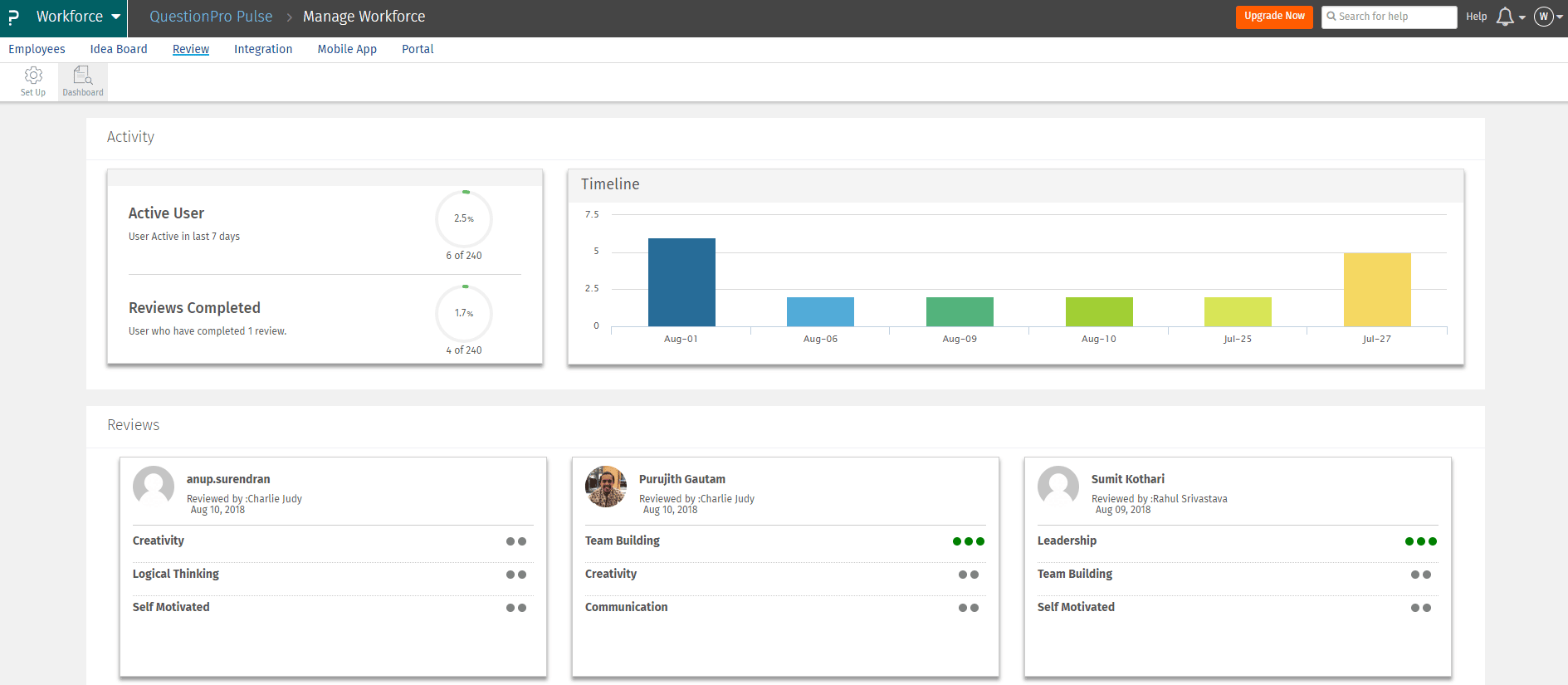 Predictive HR Analytics Trends – 2020
Here are some HR Analytics trends that will be big in 2020:
AI and automation in hiring: With the advent of Artificial Intelligence (AI) and automation in HR, recruitment will go a sea of change. We see chat and voice assistants doing the initial contact and vetting with candidates. It will also be used to identify good applications or resumes from fake ones.
Virtual onboarding and training: Induction programs and training will become more virtual and interactive. This will be primarily due to massive strides in AI and Natural Language Processing (NLP) and Machine Learning (ML).
Performance management: Performance reviews and management will get more detailed and personal due to detailed analytics that HR Analytics tools provide. This will help in not only employee recruitment but also succession planning and career pathing.
Predictive reports: Rich workforce analytics will help in identifying attrition risks and preemptively taking measures to arrest that. Not only that, it will help in identifying the strengths and weaknesses of employees helping in designing better and efficient teams.
Benefits of HR Analytics
HR Analytics helps your organization become more strategic, data helps you tackle current issues and also plan better for future activities. Let's look at some of the benefits that HR HR Analytics offers:
Improve your hiring process
Talent acquisition is a key element of your HR process, it is an all-year-round activity. Be it hiring for a new function, a larger team, or a new role altogether, your TA team is always busy. Finding the right candidate is always a task, and when they do, one can only hope everything goes well and they actually join the organization. How many candidates actually join, how many drop-off at what stage? What job boards work the best for you? How many candidates do you need to reach out to close a position? These are just some questions that you could look at resolving through analytics. This data will help you see the bigger picture and fill in whatever gaps that are causing delays.
Employee retention is becoming harder every day, especially with the younger workforce not afraid of switching jobs frequently. Conduct exit interviews, gather data, look at the reasons, patterns and find a way to arrest the attrition rate. HR Analytics here will go a long way in identifying what are the factors contributing to attrition and what remedial measures can be taken to avoid it in the future.
Improve employee experience
It is imperative for managers and HR reps to meet with employees regularly to understand what factors are affecting employee experiences in positive and negative ways. This is a crucial step in improving employee experience. Many organizations fail to realize that employee experience starts at hiring. Your first interaction with a candidate before hiring is equally important to any other HR-related process. Employee experience is the sum of experiences that an employee feels throughout their journey. Every step, every behavior, and every experience counts.
Make your workforce productive
Productivity levels will always go up and down and there are a host of factors affecting that. This ranges from office infrastructure, work environment, managers and team-mates, and job satisfaction among other things. Gathering data on what's affecting productivity will certain arm you with data to take corrective actions. Employee engagement is a key factor affecting workforce productivity, look at improving engagement. You can start off by implementing a few employee engagement ideas and activities to boost the rate.
Improve your talent processes
Talent processes are not only about pre-hiring, hiring or annual performance reviews, but they are also much more than that. You need to consider training, recreational activities, and counseling among others. While each organization is unique, there are some processes that should be standard, these can be regular one-on-ones, skip-level meetings, etc. HR should always be monitoring their talent processes, identify challenges and bottlenecks if any, and then work on them. It's ideal to meet with employees, however, we understand this may not always be possible or feasible. Conducting employee surveys is a good idea, get their feedback and inputs and work on them, let them know they are being heard. Employee surveys don't always have to only be exit surveys, do it to see what they feel about employee benefits, how employee experience is at your organization, what changes they would like to see for improving it, etc.
Thanks to HR Analytics, you have access to data that lets you see what's happening in the organization and how employees are perceiving it. When you are armed with data, it lets you fix what's supposedly broken and improve future processes. You can clearly see what's working and what's not. When you bring about changes to processes to make them better and introduce new ones, your employees take notice. They know their feedback is valued and the management team will act on it. This is crucial to build and maintain employee trust, a critical element to high employee engagement, employee success, and employee retention percentages.
LEARN ABOUT: Employee Trust
HR Analytics does not mean buying expensive software, setting up a huge team or long processes. You can start small – have conversations with employees, record their responses, add managers in the loop, involve various functions, make a plan, share it with everybody, and commit to it. Sharing the data is crucial to make sure everyone knows it, understands it, and suggest ideas to improve the employee experience. Use the data to drive initiatives, remedy any existing problems, and bring positive changes in the organization. HR Analytics will help you monitor and improve your employee engagement, employee retention, employee wellness, employee productivity, employee experience, and work culture.
LEARN ABOUT: Employee Wellness