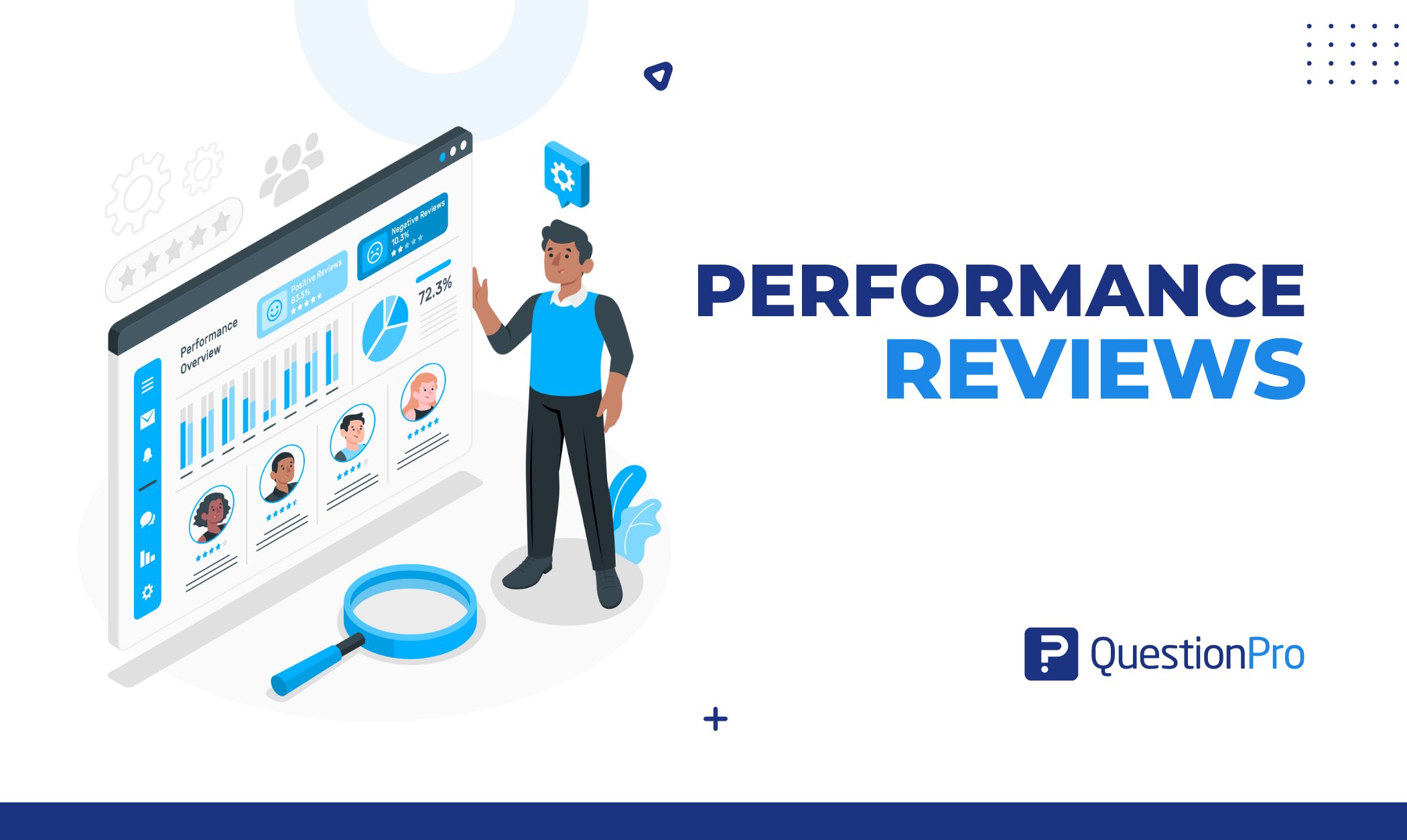 Performance reviews can be stressful for both managers and workers. Conversations that only go one way, messages that don't make sense, and long documents make both sides feel like they're always having the same stressful talk.
Performance reviews provide a structured way to evaluate employee performance, set goals, and give feedback. On the other hand, performance management includes the ongoing processes and strategies used to ensure that individual and team goals align with company goals.
But if you do it right, quarterly or annual performance reviews can be a great way to reinforce good habits, change bad ones, and help your workers grow professionally.
So, in this blog, let's go into some details about performance reviews. What performance reviews are, what needs to be in them, tips for effective performance reviews, and how performance management will be in the future
What are performance reviews?
Performance reviews are official assessments of a worker's work performance. An employee's manager or supervisor often conducts them annually or semi-annually. A performance review's objectives are to give feedback on an employee's performance, establish goals for the following year, and pinpoint improvement areas.
In addition to evaluating the employee's abilities, strengths, and flaws, performance reviews frequently involve an assessment of the employee's duties and performance metrics. These conversations also cover the employee's career goals and chances for professional growth.
The results of performance reviews can be used to decide whether a worker qualifies for a promotion or pay increase and point out any areas that may require more coaching or training. They are crucial for companies and employees to evaluate performance, create objectives, and increase productivity and job happiness.
Importance of performance reviews
Performance reviews are an important way for both workers and managers to measure performance, set goals, and improve job satisfaction and productivity. For the following reasons, performance reviews are important: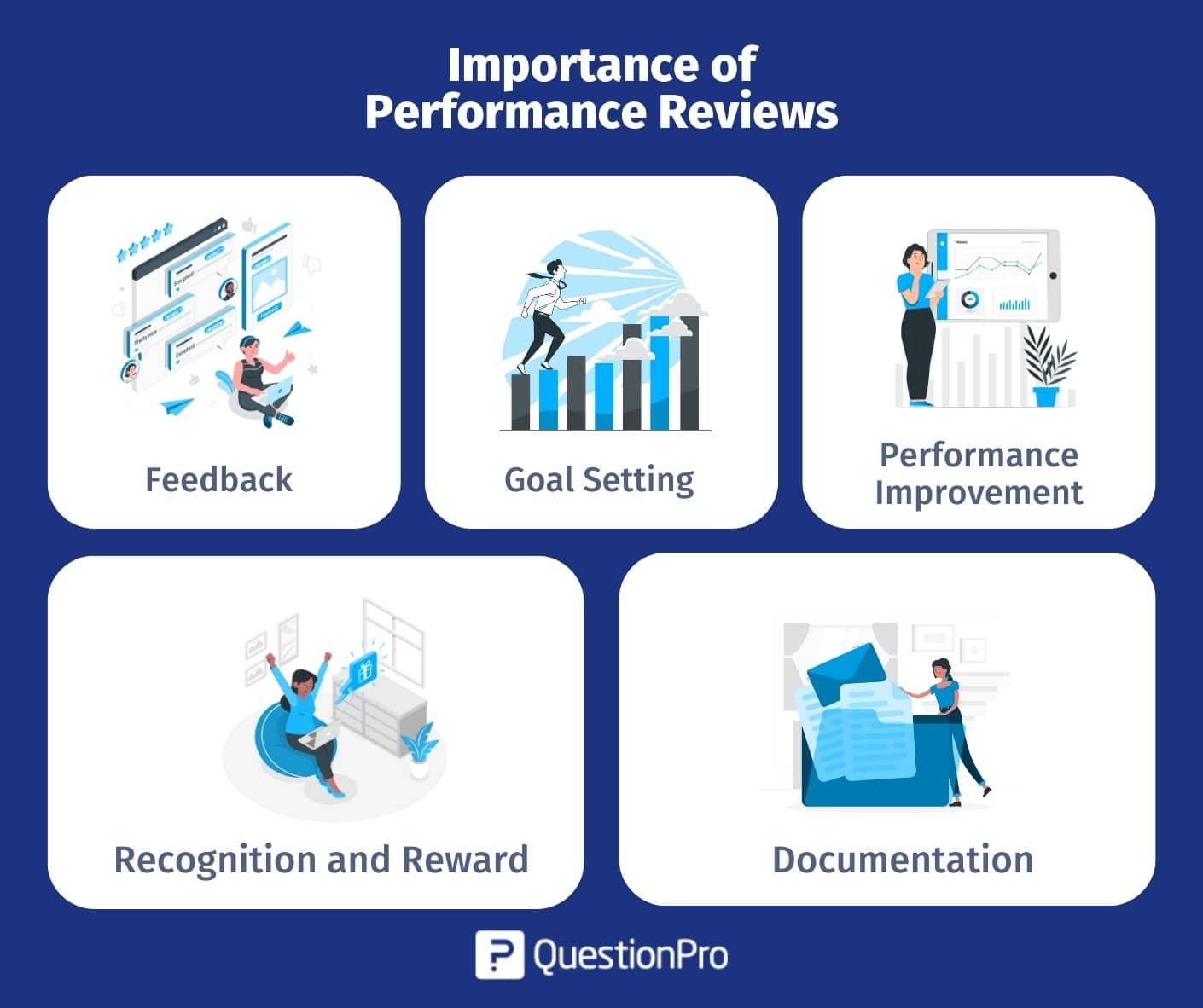 Feedback

Performance reviews give employees valuable feedback on how well they are doing their jobs, which they may use to pinpoint areas of strength and development. Employee engagement and motivation can be increased by this feedback, which in turn can improve work output.
Goal setting

Setting goals for the upcoming year is a chance provided by performance reviews for both managers and staff. As a result, managers may be better able to match employee goals with organizational objectives and keep their team members focused on their top priorities.
Performance improvement

Performance reviews can aid in identifying areas where an individual might want more coaching or training. Managers can assist staff members in enhancing their job performance and providing more effective contributions to the company by focusing on these areas.
Recognition and reward

Performance reviews make recognizing and rewarding employees for their efforts and accomplishments possible. Employee retention will increase, and this will encourage workers to keep up their great future performance.
Documentation

Performance reviews can also be used as evidence of an employee's work performance in the event of a promotion, transfer, or disciplinary action.
Types of performance reviews
Weekly or fortnightly performance evaluation

Performance reviews don't have to be very goal-oriented or collect a lot of data every time. They can be once a week or every two weeks. They help keep track of things and make sure a project, especially one that moves quickly, stays on track from week to week.
Monthly performance appraisals

These are especially helpful for businesses hiring people on short-term contracts or freelancers. They are also helpful for new hires as they move from their job description to how well they do their job. Employee reviews every month also help new projects stay on track and help the company reach its goals. Some employees like monthly check-ins better than annual reviews.
Quarterly performance evaluations

Companies split their business year into four parts called "quarters(Q1, Q2, Q3, Q4)." Each quarter has its own set of goals, targets, and budgets. It makes sense that these are done at the same time as job evaluations.

An employee has enough time to reach their goals and aims and get better at organizing in three months. You can also add up an employee's weekly, biweekly, or monthly reviews every three months to make a record of their progress that is ready for a review meeting.
Annual performance review

Some businesses still do an annual review, but pulse polls and 360 degree feedback reviews are replacing or at least adding to it more and more.

Most of the time, these standard and formal performance reviews were too long and needed more information to be manageable or assess an employee's work fairly. They looked at how people had done in the past instead of how they would do in the future. A year is a long time for workers to go without feedback.

Still, reviews and feedback given throughout the year that are put together into a single 12-month total performance report can be a useful source of information as long as all of the constructive feedback comes with a plan for what to do next.
LEARN ABOUT: 360 Leadership Assessment
Performance reviews process
Performance reviews are conducted on a cyclical basis. It is divided into four phases, each discussed below with performance review examples from the various effective performance review phrases.
For example, these are the four steps of the performance review process:
1. Planning
Setting objectives and benchmarks for the forthcoming performance period is part of this stage. Examples of what might be done during this phase include:
Review the job description and duties with the employee to ensure they know their responsibilities.
Establishing SMART goals—specific, measurable, achievable, relevant, and time-bound—per the employee's responsibilities and the company's general goals.
Creating an action plan that details the measures required to accomplish those objectives.
2. Ongoing feedback and coaching
During this stage, the employee will receive continual coaching and feedback throughout the performance term. Examples of what might be done during this stage include:
Interacting with the employee on a frequent basis to assess their progress toward their goals and offer feedback.
Giving the employee coaching and support to help them achieve better.
Employing a program or performance appraisal form to record the employee's performance.
3. Evaluation
At this stage, the employee's performance at the conclusion of the performance period is assessed. Examples of what might be done during this stage include:
Reviewing the employee's performance review form or software to measure their progress towards their goals.
Meeting with the employee for a performance review to go over their work and offer criticism.
Identifying the employee's strong points and possible areas for development.
4. Performance improvement and development
In this stage, a plan is developed to assist the individual in enhancing their performance on the job and acquiring new abilities. Examples of what might be done during this stage include:
The creation of a performance improvement plan that describes specific steps the employee may take to enhance their effectiveness on the job.
Giving the employee more training or coaching to help them hone their abilities or acquire new ones.
Modifying existing objectives or requirements in light of the employee's performance during the most recent performance cycle.
The performance reviews process aims to assist employees and managers in aligning on goals and expectations, monitoring progress, evaluating performance, and developing improvement and development plans.
Tips for how to write performance reviews
Fewer people than 22% think performance appraisals motivate their performance. It's a challenge for managers who need new methods of conducting the review of performance. Obviously, you're asking yourself what. We have a few performance review strategies to get you started.
LEARN ABOUT: Performance Appraisal Survey
Start with clear expectations

Make sure the employee is aware of the expectations for them during the performance period before you start composing the review. This makes sure that the review is founded on goals and objectives that are precisely specified.
Be specific

Avoid making broad generalizations and ambiguous claims. Instead, use specific examples to highlight the employee's accomplishments and areas for development. The employee gains a better understanding of their strengths and areas for improvement as a result.
Use objective criteria

Assess the employee's performance using objective criteria, such as quantitative data or particular behavioral examples. This makes the review more credible and objective.
Focus on results

Highlight the employee's successes and contributions to the company. Talk about how their efforts have affected the company's aims and objectives.
Balance the positive and negative

Be open and honest about the employee's positives and negatives. Avoid being too harsh or too kind. Instead, give the employee constructive criticism that will help them develop.
Offer development opportunities

Determine the areas where the person needs to improve and make recommendations for development options, such as training or mentoring programs.
Set goals for the future

Establish future objectives with the employee. This ensures they are informed of the requirements for the upcoming performance period and have a clear strategy for improving.
Webinar recap of performance reviews
Once, we hosted The Secret to Better Performance Management webinar with our partners WorkXO. We hope there were some lessons learned from co-founders of WorkXO, Jamie Notter and Charlie Judy, as they were poking some holes in the challenges that Performance Reviews and, generally, the system of Performance Management System face.
Performance Reviews
Do you have a love or hate relationship with Performance Review? From what we hear today, it seems the majority of people have a hate relationship with performance reviews. 90% of performance reviews are painful and ineffective, and 30% of them actually decrease performance. More than half of the employees believe they are inaccurate, and 58% of managers think they are not an effective use of time.
So clearly, there are many problems and challenges with performance reviews. We first need to acknowledge the issues and quickly abandon what we are doing to look for new, better solutions.
The real meaning of any performance management process is ostensibly the feedback that comes from it, followed by the results that come from that feedback, which again should lead to some sort of evolution among people. We instead get so caught up in the system, processes, timelines, and forms that we lose the focus on what this is really about, to begin with.
To set the stage for the discussion, Charlie and Jamie revisited Performance Management System and pointed out what it is like and what it should be broken down into three areas – Construct, Content, and Results.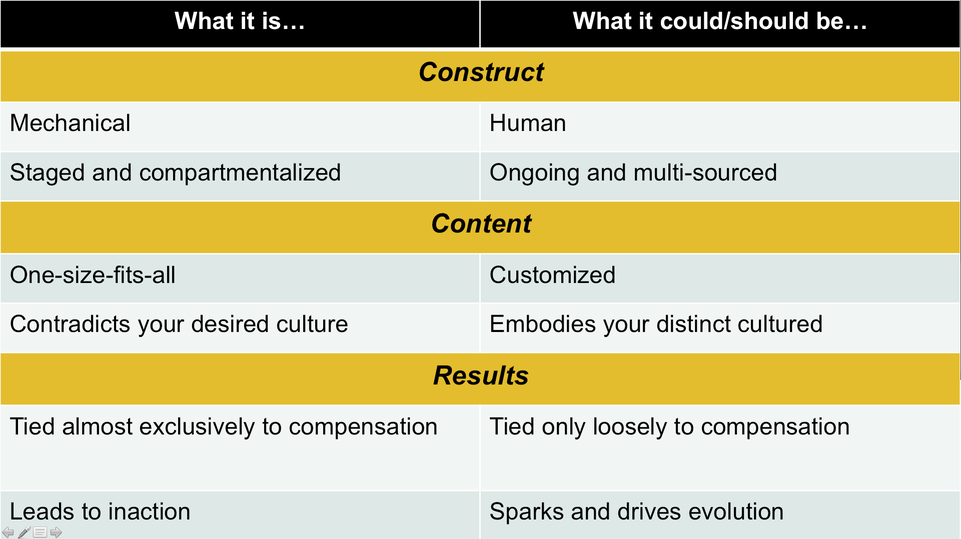 To hear Jamie's and Charlie's advice on how to solve the problem of Performace Management and Performance Reviews, please, follow the slides below and view the full webinar recording. Webinar – The Secret to Better Performance Management from QuestionPro
Also, are you benchmarking your employee surveys?
Watch this space, as we will be doing more webinars with WorkXO in the upcoming months, and we hope to see you there.
Conclusion
Performance reviews and performance management are important for helping employees grow and develop and for the success of the company as a whole. Talent management requires performance reviews and management. Effectively implemented, they boost employee engagement, continuous improvement, and company goals.
Companies may create a high-performance culture, develop employees, and succeed in today's competitive business environment by investing in performance management tools and conducting frequent performance reviews.
QuestionPro makes it easy to make and send surveys tailored to specific job roles and performance metrics. It does this with adjustable survey templates and a complete set of analytics tools. Using QuestionPro for performance reviews can be a very effective and efficient way to get useful employee feedback.
Using QuestionPro, employers can get feedback on their employees' strengths and weaknesses, find places to improve, and make choices based on the data that will help their performance and productivity.
The platform's advanced reporting features make it easy to keep track of progress over time and can help guide long-term plans for staff growth and development. QuestionPro is an excellent tool for companies that want to improve staff performance and streamline employee performance review processes.