Today, we hosted The Secret to Better Performance Management webinar with our partners WorkXO. We hope there were some lessons learnt from co-founders of WorkXO Jamie Notter and Charlie Judy as they were poking some holes in that challenges that Performance Reviews and generally the system of Performance Management System faces. 
Performance Reviews
Do you have a love or hate relationship with Performance Reviews? From what we hear today, it seems the majority of people have a hate relationship with Performance reviews. 90% of performance reviews are painful and ineffective and 30% of them actually decrease performance. More than half of the employees believe they are inaccurate and 58% of managers think they are not and effective use of time.
So clearly there are many problems and challenges with performance reviews, and the first thing we need to do is to acknowledge the issues and quickly abandon what we are doing in order to look for new, better solutions.
The real meaning in any performance management process is ostensibly the feedback that comes from it, followed by the results that come from that feedback, which again should lead to some sort of evolution amongst people. We instead get so caught up in the system, processes, timelines and forms that we lose the focus from what this is really about to begin with.
To set the stage for the discussion, Charlie and Jamie revisited Performance Management System and pointed out what is like and to what is should be breaking in down in three areas – Construct, Content, and Results.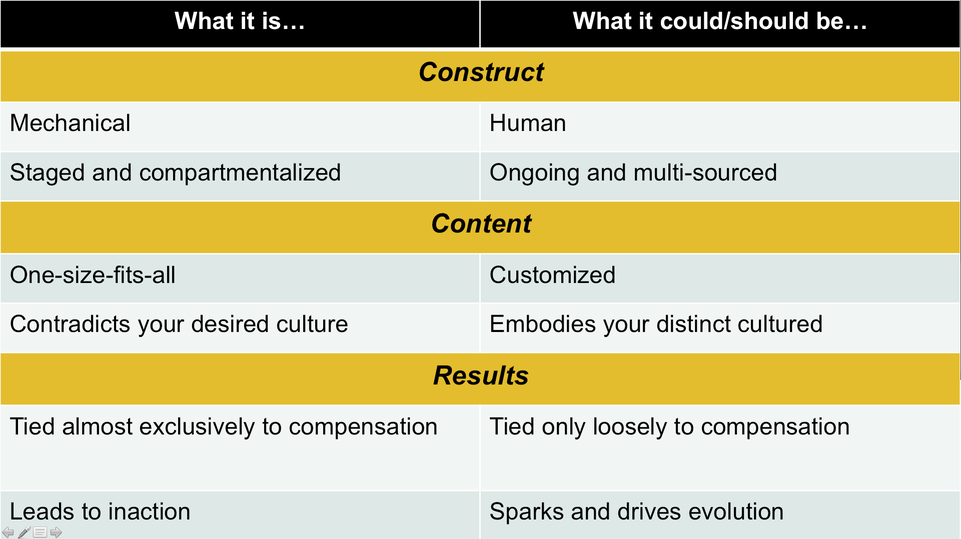 To hear Jamie's and Charlie's advice on how to solve the problem of Performace Management and Performance Reviews, please, follow the slides below and view the full webinar recording.
Watch this space, as we will be doing more webinars with WorkXO in upcoming months and we hope to see you there.