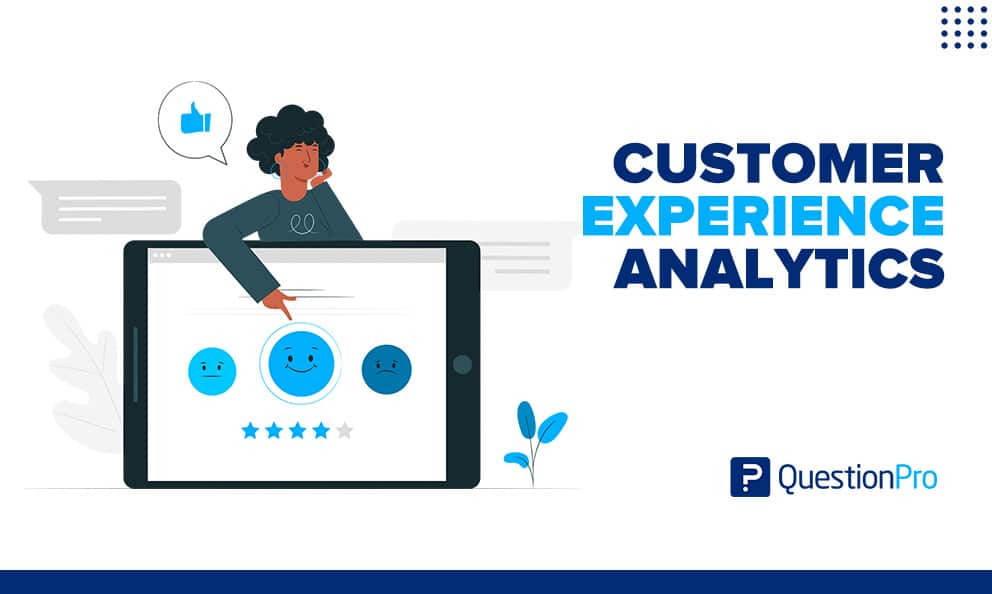 These days, businesses and organizations have a large number of customers. It is essential for any business to be aware of these customers. Customer experience analytics help businesses in developing effective plans by analyzing customer data.
Customer experience is actually a very important aspect of every organization's business. Companies can utilize CX analytics for marketing and advertising, branding, and better customer service.
In the following sections, we will explain what customer experience analytics is and its importance in business. Also a guide on how you can use them to improve your satisfaction level.
What is customer experience analytics?
Customer Experience Analytics is also known as CX analytics. It is the process of doing customer data collection and analysis from several interactions. These can be anything from social media engagements to customer reviews placed on your website. Customer experience covers all interactions, both good and bad, between your company and customers. CX analytics helps to increase the chance of current purchases and future purchases from all of your targeted customers
CX analytics allows you to take proper action on matters that concern customer satisfaction and loyalty. Accessible and presentable solid comprehensive data is one of the keys to providing an excellent customer experience. Let's look at the importance of CX analytics and a proper guide to improve your satisfaction level.
Importance of customer experience analytics
Customer analytics can help in a variety of ways. A clear strategy will help to gain client acquisition, retention, and active involvement. Let's discuss some CX analytics use and their importance.
To get better customer insights
Customer experience analytics helps you to get better customer insights by analyzing customer data. It is one of the major benefits of CX analytics. It helps you to get clear, solid customer data and insights into how your customers actually think about your business.
Getting New Customers
Effective marketing and sales strategies can help in gaining new customers. CX analytics helps you to make effective marketing and sales strategies. It is very simple to create customized and effective marketing campaigns based on the right data and insights about your customers.
To increase customer retention and loyalty
Customer retention is very important in every business. Customer experience analytics helps to plan the customer journey. It identifies trends over time and helps you understand your customer behavior. It helps to understand the result of your actions on issues or possibilities. You can find out your customer's pain points about your brand or service and take action on those to improve customer experience. In this way, you can increase your customer retention and satisfaction.
Use of customer experience analytics to improve satisfaction
The results are the major element of any CX analytics. Outcomes of CX analytics help to improve the overall customer experience and the business's future. Here are some of the most effective and efficient ways of using CX analytics to improve any business.
Identify difficulties based on potential financial benefit
Do not try to take action on every problem instantly. It is very important. Select the easiest one which has revenue-immediate solutions if you have several customer touchpoints. Apply the solutions which have a real impact on the bottom line of your company. As an example, you can automate your customer service process to make it more efficient. This will provide your customer experience with more credibility and manage more challenging issues.
Make customized experiences
Tracking your customer interests and being specific with customer segments are not the same thing. You should use demographic data and their personas to customize the customer experience. Make your adverts, web pages, and material relevant to the demographic you're after.
Customer requirements should be anticipated
A great customer experience operation is both proactive and reactive. Listening to what your customers have to say outside of brand engagements is one aspect of that proactivity. You can determine the best ways to converse over social networking sites using a social listening service. The same information that CX Insights delivers in your customer experience is available through social listening. All of this data is essential for forecasting what customers would like and how to successfully provide that.
Maintain proper pacing of follow-ups
Check to see if your customers are still having a good experience with your brand or service. If you're in a long-term relationship, then you must do that. It is not a bad idea to conduct a survey at this stage in the user journey to get their opinions. Check to see whether you're bothering your customers by checking up too frequently. You can experiment to find the ideal pacing for staying relevant without becoming annoying.
Set yourself apart from others
The true customer experience experts don't only keep track of their own brand. It is also necessary to keep an eye on competitors. If you want to develop a well-functioning customer experience strategy, you should track other brands, and what they are implementing. Sometimes your competitors do something that you would never think of, but their customers appreciate it. It can be a possible chance to improve your business. Perhaps they're doing something incorrectly but you should not do so. Make sure to do it correctly. Staying ahead of the competition is a great approach to ensure your own customer experience is superior.
Reducing customer turnover
All you have to do now is figure out why customers are leaving. The simplest method is to speak with the customer. In this way, you can express that you actually care for them and get to know what happened. Engage with your customers on a regular basis.
You can maximize retention and reduce attrition by providing enough high-quality content or support items. Provide workshops, video lessons, and product demonstrations, if needed. Offer discounts or other incentives to customers that have been identified as being at risk of leaving. This is the most successful strategy for lowering customer turnover.
Conclusion
Customer experience analytics helps to improve your customer experience. You must actively maintain your customer relationships in order to keep them happy and make purchases from you. When you receive customer reviews, CX analytics can help you identify what steps are necessary to take and see the consequences.
The current connection between brands and customers is being changed by technology. QuestionPro CX provides real-time information about customer behavior and engagement. This CX management platform gives you a 360-degree view of the customer experience.
Try QuestionPro CX today to learn how our customer experience surveys and analytics management platform will help you increase customer loyalty and collect valuable consumer insights.