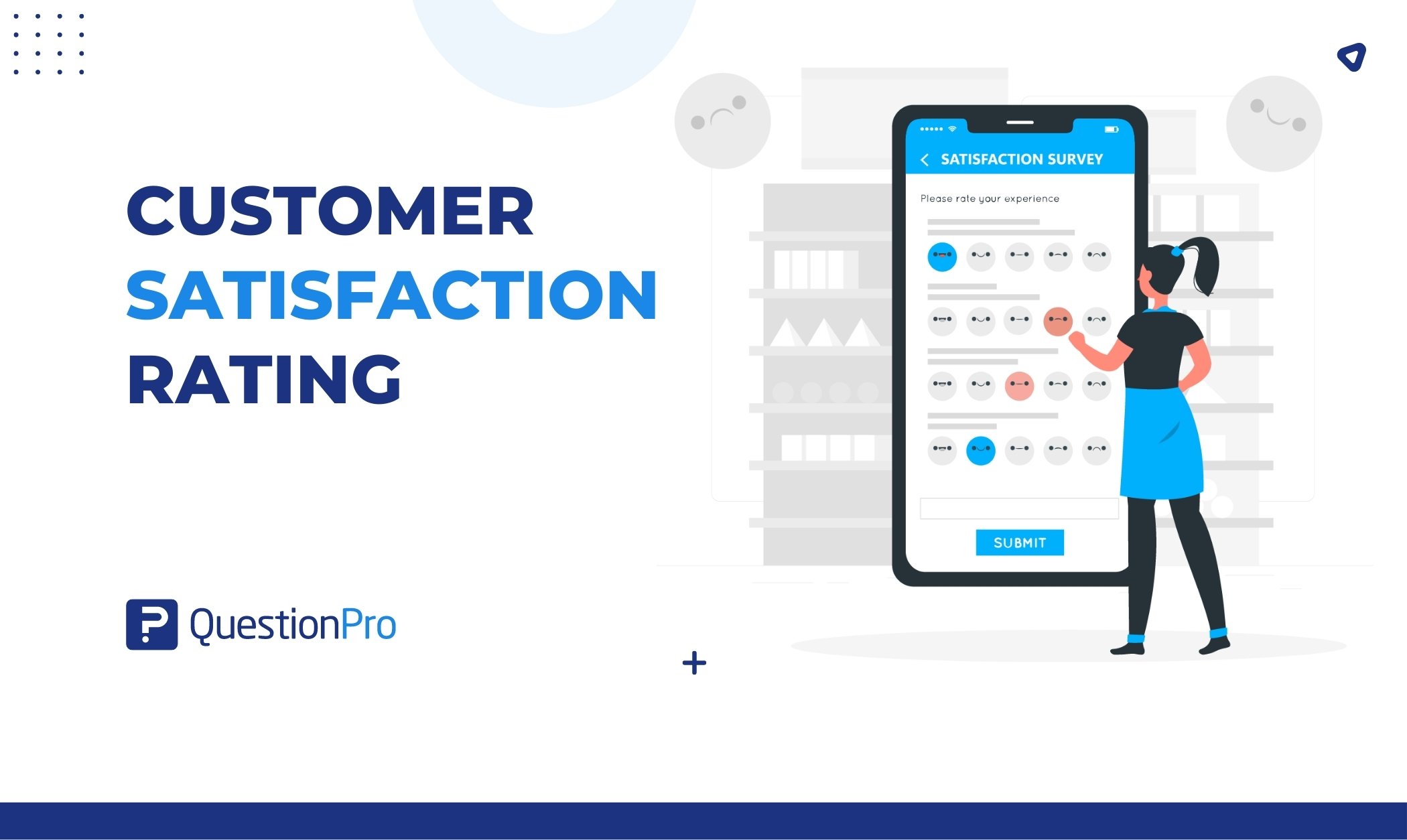 Customer satisfaction rating is frequently used to predict the success or failure of a brand's customer relationship management program.
Customers can submit feedback once their ticket has been resolved by completing a short survey with two options: positive or negative rating. Customers can also write a comment if they want to convey their thoughts.
CSAT rating is an excellent way to assess the effectiveness of your employees and may be properly controlled with a guest satisfaction tracking system.
LEARN ABOUT: Retention Rate
In this blog, we will cover what CSAT is and also learn a complete guide for better understanding.
What is the customer satisfaction rating?
Customer satisfaction refers to customers' overall feelings or level of enjoyment with a company's products, services, or experiences. CSAT rating, or customer satisfaction score, indicates how well your products and services meet expectations.
There are various customer touchpoints in the customer journey; you have before-purchase, during-purchase, and after-purchase touchpoints, making it a challenge to have a smooth customer experience.
Customer satisfaction score is one of the easiest methods for measuring customer satisfaction. It measures customer happiness for purchase experience, quality of interaction, etc. The Net Promoter System created by Fred Reichheld helps you understand how customers feel about your organization and their willingness to endorse it to their friends, colleagues, and loved ones.
Measuring customer satisfaction levels through customized surveys helps in knowing how well your customer support teams are doing. Excellent customer service ensures satisfied customers that stay loyal to your brand. CSAT score questions can be customized to look into different aspects and understand what's working and what's not.
This versatility is why market researchers prefer CSAT questions. It is typically measured by asking your customers, 'How satisfied are you with our services?' or 'How satisfied are you with the purchase experience?' etc. The answer is recorded on a rating scale of either 1 – 3, 1 – 5 or 1 – 10.

Market researchers usually prefer the five-point scale, the ratings being 1 for 'extremely or very dissatisfied' and 5 for 'extremely or very satisfied.' The respondents' selection from the choices is the reported metric. Individual preferences are added and registered as a percentage of the total responses divided by the defined time frame on an aggregate scale.
Why is rating CSAT important?
Collected customer feedback helps you understand what you might be missing out on in providing a great customer experience. CSAT surveys help you do just that. Using CSAT rating in your online surveys is essential as it allows brands and organizations to:
Customer loyalty and retention
High customer satisfaction score shows that customers are pleased with their experiences, which can lead to long-term connections and greater customer lifetime value.
Customers satisfied with a brand's products or services are more inclined to stick with it. They are also more likely to become repeat customers, increasing customer retention rates.
Customer feedback and improvement opportunities
Customer satisfaction ratings provide helpful feedback, showing areas of strength and weaknesses. Businesses can discover specific pain points, solve customer issues, and make focused improvements to improve the overall customer experience by evaluating ratings and understanding customer opinions.
Increased customer engagement
CSAT surveys help to increase brand engagement. Customers who are engaged can become brand advocates, sharing their positive experiences and protecting the brand in the face of adversity. They are more inclined to interact with the brand, submit feedback, join loyalty programs, and participate in positive social media dialogues.
Measuring customer satisfaction ratings assists businesses in being customer-focused. Businesses are dedicated to understanding and addressing customer demands by prioritizing customer happiness. This client-centric strategy strengthens connections, creates trust, and improves overall CSAT.
LEARN ABOUT: Client Management
Check the importance of the CSAT blog to know more about this. Don't forget to check our CX management platform; it provides real-time insights that help you deliver exceptional customer experiences.
Types of customer satisfaction rating scales
Rating scales help measure customer satisfaction KPIs precisely in online customer satisfaction questionnaires. Researchers can use three, five, seven, ten, and eleven-point rating scales. The selection of a rating scale depends on the type and focus of the research undertaken.
This scale is used when there's a constraint on the visual space. It helps captures relevant data from your respondents and is visually appealing.
Cluttered surveys are off-putting and have very low response rates and survey completion rates. Use simple customer satisfaction survey questions to improve response rates and gather maximum customer feedback.
Preferred by many researchers for its reliability, the 5-point scale delivers great results with unipolar scales. This scale comes in handy in gathering customer feedback on customer satisfaction with new products and services.
Preferred equally as the 5-point scale by researchers, this scale works best with bipolar scales. This rating scale is ideal if you measure customer satisfaction for any newly launched products or services.
The 10-point scale works best when the intent is to gather granular data. On this scale, 9 and 10 are indicative of total customer satisfaction. Researchers can further distinguish and deliberate between the two ratings for refining customer processes further.
This rating scale measures CSAT from 0-10 and is used as customers find it simpler to rate their satisfaction. Many organizations and researchers globally use this rating scale as it helps express their satisfaction more precisely.
How does customer satisfaction rating work?
Typically, CSAT rating works by gathering customer feedback and using that feedback to determine their satisfaction. Here's how it usually works: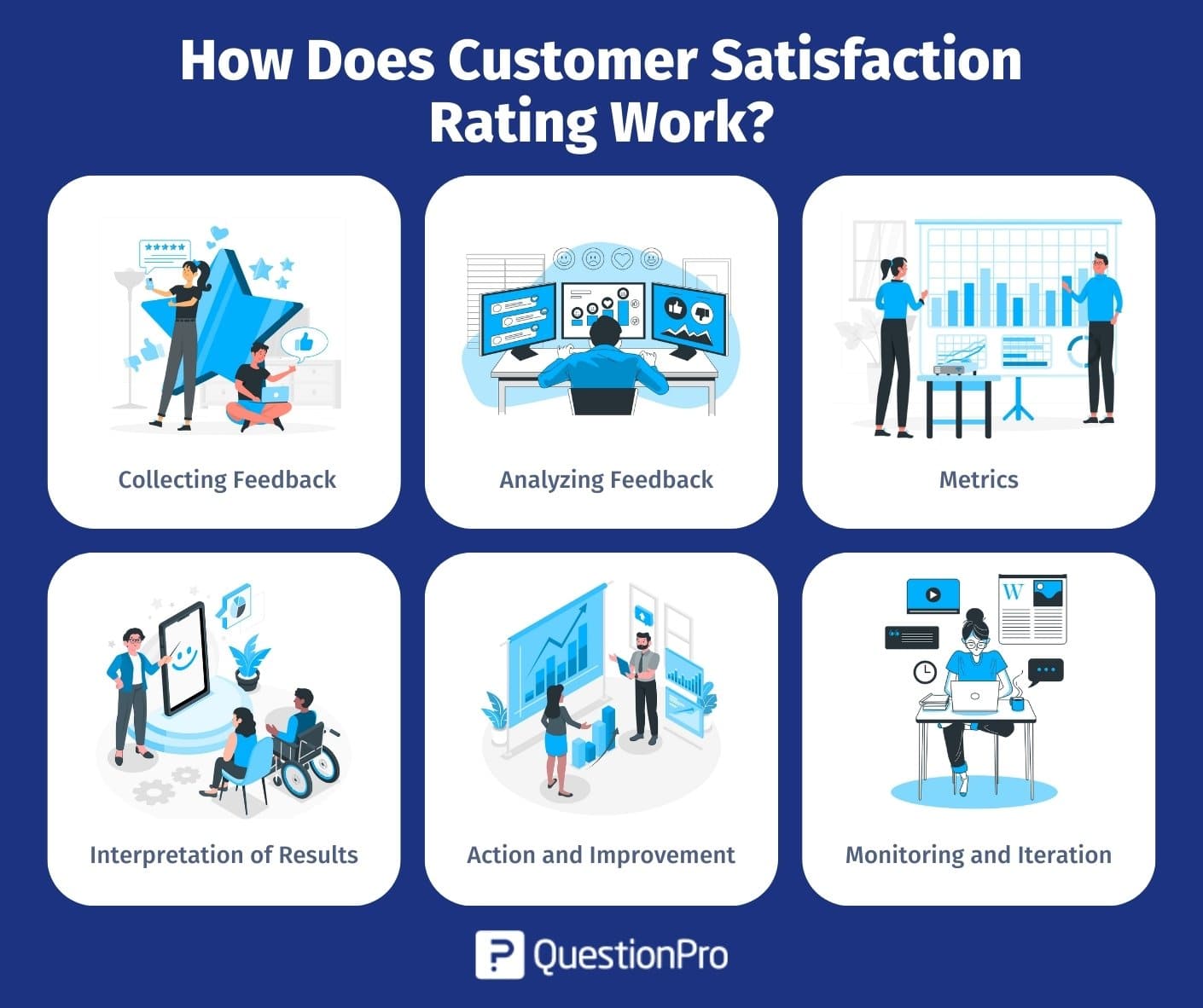 Surveys, feedback forms, online reviews, social media monitoring, and customer support interactions are all used by businesses to collect feedback from customers. Customers can use these feedback channels to communicate their thoughts, experiences, and degrees of satisfaction.
After collecting feedback, customers rate products based on their personal experiences and perceptions. Businesses commonly utilize rating scales to assess satisfaction levels in customer satisfaction surveys.
These scales can be numerical (e.g., 1-5, 1-10) or descriptive (e.g., extremely unhappy, dissatisfied, neutral, satisfied, extremely satisfied).
Businesses analyze customer feedback to measure customer satisfaction. This analysis can calculate average ratings, percentages, or other statistical indicators using rating scales. The purpose is to assess CSAT and uncover feedback patterns.
Net Promoter Score (NPS), Customer Satisfaction Score (CSAT), Customer Effort Score (CES), and other proprietary metrics are commonly used to measure customer satisfaction. Each meter has its methodology and calculation formula to measure quantitative customer satisfaction.
Interpretation of results
CSAT is assessed using data and analytics. To evaluate performance and identify areas for improvement, compare outcomes to benchmarks, industry standards, or previous data.
Businesses can create action plans based on customer satisfaction ratings to improve customer satisfaction. These strategies may include upgrading product features, customer service, operations, or other adjustments to satisfy customer expectations.
Customer satisfaction rating is ongoing. Companies track customer satisfaction over time. It helps them to analyze the impact of improvement initiatives, make further adjustments as needed, and iterate on their strategy to improve CSAT.
Which metrics are commonly used to measure and rate customer satisfaction?
Surveys can be used to measure customer satisfaction, and organizations should focus on improving customer service and being proactive to increase satisfaction ratings. When it comes to measuring CSAT, there are the 7 key metrics:
Customer Effort Score to interact with a company or perform a certain job is measured by customer effort score. Customers are asked to rate their level of customer effort score on a scale (e.g., 1-5 or 1-10).
Net Promoter Score (NPS)
Net Promoter Score assesses customer loyalty and the likelihood that customers will suggest a company to others. Customers are asked to rate their possibility of referring the company on a scale of 0 to 10.
Customer Service Satisfaction (CSS)
Customer service satisfaction (CSS) is a metric that is used to measure and assess CSAT with the customer service they receive. It concerns the level of engagement, support, and assistance customer service representatives or teams provide.
Customer Satisfaction Score (CSAT)
The Customer Satisfaction Score assesses customer happiness with a certain product, service, or interaction. Based on their experience, customers are asked to score their satisfaction on a scale (e.g., 1-5 or 1-10). The average rating determines the CSAT score, which indicates the overall degree of satisfaction.
Customer Churn Rate (CCR)
The Customer Churn Rate is the percentage of customers who discontinue doing business with a company within a given time frame. A low churn rate suggests greater customer satisfaction and loyalty.
Customer Health Score (CHS)
Customer Health Score (CHS) is a statistic used to assess a customer's or account's overall health and satisfaction. It provides a numerical picture of customer engagement, loyalty, and churn risk.
Customer reviews
Online ratings and reviews on platforms such as review websites, social media, or e-commerce platforms can also quantify customer satisfaction.
Check our key CSAT measurement metrics blog to know about these in detail.
How QuestionPro CX helps in customer satisfaction rating?
QuestionPro CX software improves customer satisfaction with its many features and functions. It provides complete CSAT (Customer Satisfaction) and NPS (Net Promoter Score) survey solutions. QuestionPro CX software can improve customer satisfaction ratings in the following ways:
QuestionPro CX software lets organizations create and distribute CSAT surveys to get customer feedback. These surveys measure CSAT and overall product or service experience. Businesses may improve, solve customer issues and boost satisfaction by studying replies.
Net Promoter Score is a popular customer satisfaction indicator. QuestionPro CX software lets organizations generate NPS questionnaires, which allow customers to score their likelihood of recommending a product or service on a scale of 0 to 10. The responses classify customers as Promoters, Passives, or Detractors.
Customer satisfaction, opinions, and preferences are measured using rating scale questions. You can utilize Likert scale questions (for example, "Rate your satisfaction on a scale of 1 to 5") or semantic differential scale questions (for example, "Rate the product's quality on a scale from poor to excellent").
QuestionPro CX software lets companies collect real-time feedback and address customer problems. Businesses may rectify issues and improve CSAT by recording feedback in real time. This proactive approach boosts customer satisfaction and trust.
Businesses can acquire deep customer insights from survey data using the software's strong analytics and reporting. Companies can find patterns, customer sentiment, and actionable feedback using sentiment analysis, trend analysis, and text analytics.
Organizations can improve their products, services, and customer experience by recognizing common themes or pain spots.
QuestionPro CX software has customization options that let businesses do surveys that meet their unique needs. Personalization is a crucial part of getting accurate feedback and increasing reaction rates.
By doing surveys that resonate with customers and addressing their specific concerns, companies can improve customer satisfaction ratings and give customers a sense that they are heard and valued.
Companies can use QuestionPro CX's features and abilities to assess customer satisfaction ratings. The platform has tools to collect customer feedback, analyze customer satisfaction data, find areas for change, and take steps to improve customer satisfaction ratings.
What is the perfect customer satisfaction rating?
Scores on the CSAT can vary a lot from industry to industry, but a number of 75% or higher is usually considered good in most industries.

How can customer satisfaction ratings be improved?
Use active listening, direct feedback, and reviews. Measure the customer's service regularly. Monitor your KPIs closely and use the results to enhance business activities.
How is customer rating measured?
CSAT rate can be quantified using techniques such as customer surveys, Net Promoter Score (NPS), internet reviews, customer complaints, and repeat business.
How many points is the customer rating?
Customer satisfaction is calculated by asking questions regarding the customer's experience, which are formatted into a survey scale ranging from 1-3, 1-5, or 1-10.

What is the most important factor for customer satisfaction?
Customer understanding, service, and technology are the three key variables that influence modern consumer satisfaction.