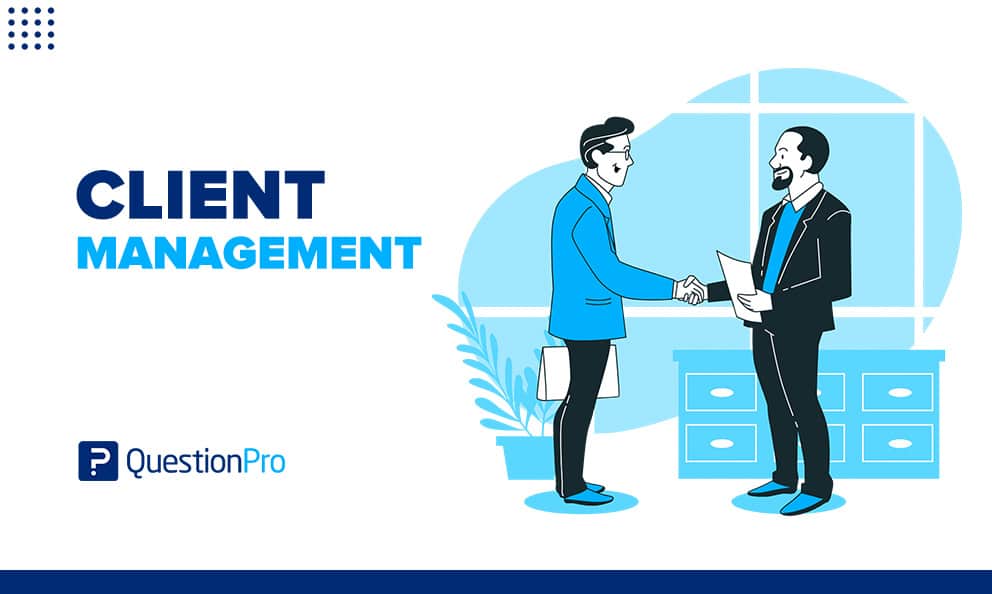 Running a business takes time and effort. Client management is essential for success. A happy customer will likely offer recommendations, introduce new business, and make things easier to maintain. As a client manager, you must balance your client's needs with your company's financial goals. To effectively manage client relationships, you must first know them.
LEARN ABOUT: Time to Value
This blog looks at client management and 10 helpful tips for managing clients and maintaining long-term client relationships.
What is client management?
Client management is the practice of managing your company's relationship with its customers. A strong client relationship will help you create more money and expand your business.
It is essential because good customer satisfaction increases the chances of closing sales and gaining customer loyalty. Client managers participate in everything from account planning to customer satisfaction surveys.
Creating and maintaining solid client relationships is the ultimate goal of client management. In that way, a firm can retain more clients and continue to succeed.
The importance of client management
Managing client relationships is beneficial. It helps to grow your interactions with current customers. This relationship helps to find new customers and retain old customers. It improves your overall customer service process. 
A great client management system always finds new and potential customers. As a client manager, you must balance your client's needs with your company's financial goals.
It will boost your customer revenue because you'll be focused on potential clients who have never purchased from you before, including those who are focused on a specific product you provide.
It helps businesses close transactions far more quickly and your sales employees to fully meet customer needs. If you can quickly answer customer queries, you can convert their inquiries into sales.
Satisfied customers become loyal and official references for the company, and their opinions could be used to market services to new customers. So, it is essential to maintain client relationships for your company. It boosts both cross-selling and upselling of your services.
10 excellent client management tips to help you manage clients better
It is of utmost importance to keep their clients satisfied with the company. You can utilize some effective strategies to earn, keep, and create connections. Here you will find 10 awesome helpful client management tips on achieving that.
Set expectations
You can give your client peace of mind by setting and managing client expectations from the beginning. You don't want your customer to demand more from your product and service than you can provide. Always be honest with your client and try to under-promise and over-deliver.
You'll also want to carefully explain details relevant to the contractual aspects of your services. Keep the following in mind when managing client expectations:
Offer what you know you can provide.
How much is the client looking for from this project?
Are there any risks you need to be informed of?
The quality standards your client asked for.
Ask your client directly what they are expecting. Finally, remember to nail that first meeting and finish the project on time.
Consistent, fast, and appropriate communication
Communication should be prioritized. When everyone is focused on getting things done, communication can suffer. So, it is essential to connect effectively and consistently throughout the project. Make yourself available to your client by answering all of their inquiries on time.
You don't appreciate being kept waiting for a response, and neither do they!
Choose the right communication channel and set up a communication frequency. Also, take notes during the discussion and write down any requirements, unique issues, or questions you may have for your clients.
Be honest and transparent
If you want to develop trust, you must be honest and transparent. It can go a long way toward avoiding bitterness after a failure. When asked, you must give a simple answer. Don't overstate anything when discussing your process.
Existing clients would like to know what's happening, when it is happening, and what they are paying for. Be honest if you haven't provided something on time. Simply admit that it slipped away from you or that you've placed steps to prevent it from happening again.
If your client realizes you're lying or hiding something important, they might not trust you again.
Thank your regular or loyal clients
Loyal consumers are like capital to your company. They boost your brand's image by becoming brand ambassadors through positive reviews.
Praise and thank customers who are loyal to your company. Make them one-of-a-kind deals, inform them first about new products and services, and invite them to special events. In turn, happy clients who see significant importance in your offerings become great supporters of your company.
Key recommendations and best practices for connecting loyalty programs:
Your program should provide value. Make your loyalty program appealing to your customers by giving something of value.
Make your loyalty program visible and easy to find for your customers.
Make your consumers feel like VIPs by providing inventive incentives such as free discounts, points, free shipping upgrades, early access, and so on.
Collect and act on client feedback
Client feedback not only identifies areas for customer development in the business but also helps to strengthen customer connections over time. To provide excellent service to your consumers, you must seek their feedback and opinions on what you are working on and what needs improvement.
Getting feedback isn't just for finishing out tasks. You should always ask your client how to enhance how you work together regularly and thoughtfully.
Maintain a positive and forward-thinking attitude
Maintain a forward-thinking attitude in all of your statements and objectives. Recognize what went wrong in the past, but don't obsess about it. Alternatively, discuss what you're planning to do next. Yes, things are horrible, but how will they improve?
Accept responsibility for your mistakes
While working, accept your mistakes. You'll become desperate or deceitful if you try to justify your mistakes. Nobody is perfect, so explaining what went wrong on your side is usually much more helpful. This will give you greater respect and trust and the opportunity to explain how you plan to stop this from happening again.
LEARN ABOUT: Effective Customer Success Plan
Use automation correctly
Today, technology helps us with many daily tasks and saves us time and effort. Invoices, emails, updates, reports, and reminders could all be sent automatically. Set up a system that thanks customers for their purchases or sends out Xmas cards to make them feel special.
Treat your clients as individuals instead of numbers
You should remember a client's name and facts about them or anything similar when you first meet them. They will not like you if you consider them a company. Your new clients will appreciate it if you treat them as individuals rather than numbers. You might just inquire about their children if your client is a parent.
Use a client management system
Client management software is also known as customer relationship management software. Client management software will assist you in storing all of your client's information. It allows you to keep track of your client's contact details, background, and transactions all in one place.
It can benefit your company by assisting you in centralizing, optimizing, and automating your cx and customer communications, as well as improving the following areas:
Learn more about your customers.
Client's segmentation
Client's needs and requirements.
customer communication
Client management is an important business goal for companies all around the world. Your business will expand if you improve the quality of your client interactions. You must take customer management seriously if you want your firm to prosper in today's world.
If you haven't already, now is the time to focus on service quality and offering high-quality services to your customers.

LEARN ABOUT: Perfect Customer-First Strategy
Client management principles
Effective client management is based on several key principles that guide organizations in building and maintaining strong relationships with their existing clients. These principles are essential for establishing trust, communication, and understanding between the organization and its clients.
We'll go over the key principles to help you improve your client management skills.
Be honest and transparent
Open and honest communication is vital in client management. Clients appreciate transparency about project timelines, progress, and any challenges that may arise. Being upfront about potential issues builds trust and helps avoid misunderstandings.
Regular and effective communication is crucial for successful client management. Understand your client's communication preferences and respond promptly to their inquiries and concerns. Good communication fosters a sense of collaboration and ensures that clients feel heard and valued.
Trust is the foundation of any successful client relationship. It is earned through consistent honesty, reliability, and delivering on promises. Building trust involves understanding your client's needs and industry challenges and providing personalized attention to their unique requirements.
Clearly define project scope, deliverables, timelines, and outcomes from the beginning. Avoid making promises that cannot be fulfilled, and be open to discussions about client expectations. Set realistic goals and ensure that both parties are on the same page.
Learn your client's industry
Take the time to understand your client's business, industry, and the specific challenges they face. This knowledge allows you to provide more tailored solutions and positions you as a trusted advisor.
Establish and maintain alignment with your client regarding project goals and objectives. Avoid scope creep by clearly communicating any changes in project requirements and obtaining agreement from both sides before proceeding.
Define key performance indicators (KPIs) that align with your client's goals and regularly track progress against these metrics. Measuring success provides valuable insights and enables you to make data-driven decisions to enhance the client relationship.
Provide excellent customer service
Exceptional customer service is a cornerstone of client management. Be responsive to client needs, address their concerns promptly, and go the extra mile to ensure their satisfaction.
Instead of just focusing on short-term gains, prioritize building long-term relationships with your clients. Repeat business and client loyalty are essential for sustained success.
Always seek opportunities to enhance your client management practices. Solicit client feedback and use it to continually improve your processes and service offerings.
Client management pitfalls
An effective client management system is essential for building and maintaining strong, long-lasting relationships with your clients. However, certain pitfalls can hinder your success in this area. It's crucial to be aware of these common pitfalls to ensure you improve your client management skills and avoid potential challenges:
Neglecting existing clients: Focusing too much on acquiring new clients and overlooking the needs of existing ones can lead to dissatisfaction and the potential loss of valuable long-term partnerships.
Ignoring client needs: Failing to actively listen and understand your client's unique requirements as a client manager can result in providing solutions that don't meet their expectations, leading to dissatisfaction and a strained relationship.
Lack of communication: Inadequate or infrequent communication can create misunderstandings and leave clients feeling undervalued. Regularly keeping clients informed about progress, updates, and important changes is crucial.
Overpromising and underdelivering: Making unrealistic promises to win clients' business may lead to unmet expectations and damage your credibility. It's essential to set achievable goals and consistently deliver on them.
Inconsistent service quality: Providing inconsistent service experiences can erode trust and confidence in your organization. Clients expect consistent professionalism and attention to detail throughout their engagement.
How QuestionPro helps as a client management tool?
QuestionPro is a comprehensive survey and feedback platform that offers several features and tools that can be utilized effectively for client management.
While it is primarily known for its survey capabilities, QuestionPro extends beyond just collecting feedback and can be leveraged as a valuable client management tool. Here are some ways in which QuestionPro can assist with client management:
Surveys and feedback collection
QuestionPro allows you to create and distribute surveys to gather feedback from clients. Collecting their opinions, preferences, and suggestions gives you valuable insights into their needs and expectations. This information can help you tailor your services and offerings to better meet client requirements.
Customer satisfaction (CSAT) surveys
With QuestionPro's CSAT surveys, you can regularly measure your clients' satisfaction levels. Understanding client satisfaction helps you identify areas for improvement and address any issues proactively, ultimately leading to higher client retention.
Net promoter score (NPS) surveys
NPS surveys help you gauge the loyalty and advocacy of your clients. Knowing how likely your clients are to recommend your services to others is crucial in understanding their overall sentiment and loyalty.
Real-time reporting and analytics
QuestionPro provides real-time reporting and data analytics, allowing you to quickly analyze survey results. The insights gained from the data can aid in making data-driven decisions to improve client experiences and address pain points.
The platform supports automated follow-up actions based on survey responses. This feature lets you send personalized messages or offers to clients based on their feedback, fostering stronger relationships and demonstrating that you value their input.
QuestionPro allows you to segment your client database based on various criteria. This segmentation enables you to tailor communication and services to specific client groups, ensuring that each segment receives targeted and relevant information.
Integration with Customer Relationship Management (CRM) systems
QuestionPro integrates with popular CRM platforms, streamlining the process of managing client information and feedback. The integration allows for a seamless data flow between systems, providing a comprehensive view of client interactions.
By utilizing QuestionPro as a client management tool, you can collect valuable insights, enhance client relationships, and improve overall customer satisfaction, leading to increased loyalty and business growth. So, contact QuestionPro today for a free trial or learn more.
Frequently Asking Questions (FAQ)
Why is client management important?
Client management is important because it helps businesses build and maintain strong relationships with clients, leading to increased customer satisfaction, retention, and long-term success.
How do you handle client management?
To handle client management effectively, maintain clear communication, set realistic expectations, build trust, and prioritize the client's needs.
How did you manage a difficult client?
To manage a difficult client, stay calm, actively listen to their concerns, empathize with their perspective, and find a mutually agreeable solution.