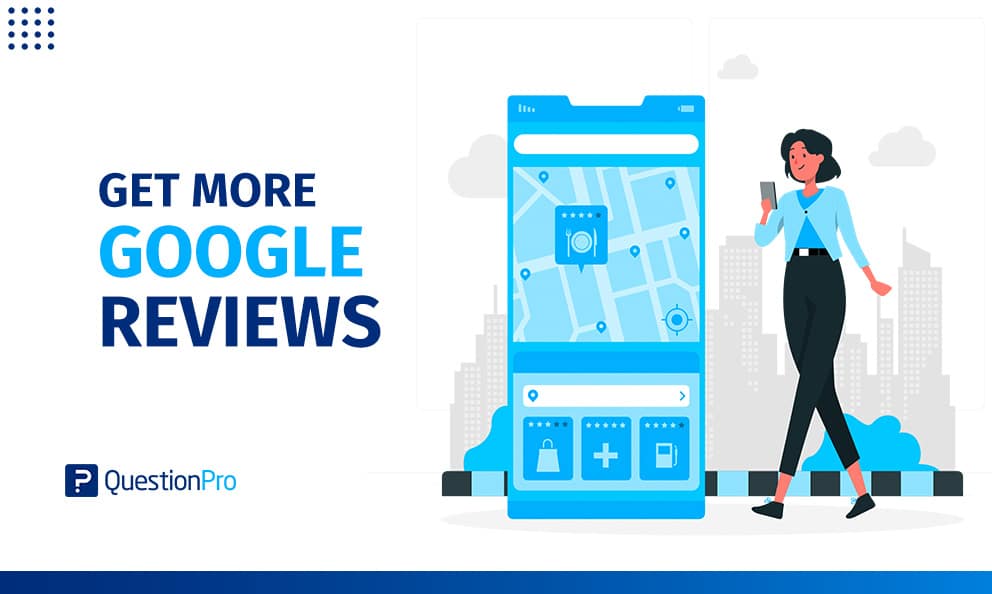 Customers can hardly ignore Google My Business reviews and ratings when looking for companies and products online; the platform has become essential for customer experience. Let's talk about it.
What are Google My Business reviews?
Google My Business is a platform that helps users find local companies; operated by Google LCC, which offers the opportunity to publish and manage a profile to display to people searching for their specific products or services.
Google My Business helps businesses reach new customers by having administrative access to a public profile that contains all of the business' offerings. Users can easily find the location, contact details, website, opening hours and questions and answers.
However, the primary use of this platform is to rate companies and read the opinions of customers who have already had experience with the company.
The exchange of opinions is essential for companies since they form a crucial part of the customer experience and the decision to hire a company.
How to be found on Google My Business
First of all, you need a Google My Business account. Here you can create your Google My Business entry. Creating a Google my Business account is very easy; Google guides you through this procedure with clear instructions. First of all, state your company's name, i.e. your company name.
Then indicate in which industry or category is your company active. Here you get predefined entries via an auto-completion list. From doctor to foreclosure service, almost everything is included.
In the next step, Google My Business asks you to add a location in Google Maps.
If you click on YES here, you can then enter your company's address data, and you will be found via Google My Business Maps if someone searches for your products and services in this area. Last but not least, include your phone number and website URL, opening hours and other details about your business, including pictures.
What is the quality of the entries on Google My Business?
Google My Business will verify your information by sending you a postcard from Google to the address you provided. This postcard contains a code that you enter into Google My Business. As soon as you have entered this code, your company will be visible.
Since authentication is done through a postcard sent to the business address of companies that want to sign up, customer confidence in Google My Business is excellent.
Is Google My Business free?
Yes, your company can register with Google My Business for free and change and adapt your entries for free as well. With the free Google My Business Mobile app for Android and iOS devices, you can even access and update your listing while on the go.
What services does Google My Business offer?
Google My Business offers you a whole range of services that provide real added value for your company and that you can configure quickly and easily using the GMB dashboard. Here we introduce you to some of these services:
1. Add users
You can add other users to your Google My Business account to manage your company data. Google My Business offers a 3-stage role model here: owner, administrator, and site manager. Each role has access to different tools, which GMB explains in detail.
2. Add news & events
If you have news for your customers or want to hold an event, you can publish this information via your Google My Business entry. You can add a call-to-action button to this entry, such as "RESERVE", "BUY", "REGISTER". You can choose whether it is an offer, news or an event.
3. Virtual 360-degree tours
Add a virtual 360-degree tour of your shop, bar, business or practice to your Google My Business entry. Your potential customers can thus get an idea of ​​your location.
4. Statistics
Google My Business offers its users a wide range of statistics on the Google My Business entry, such as how often the entry was viewed and how it compares to other companies and whether the search query came from Google Maps or Google Search. You can also see which keywords users searched with and thus got to your Google My Business entry.
5. Questions from customers
With Google My Business, you can store a mobile phone number, which is not, however, publicly visible. By clicking on a link, users can then ask you questions that come up directly on your mobile phone.
6. Products and services
Add detailed product descriptions and descriptions of your services to your Google My Business listing. Our tip: Use keywords within these descriptions that you would like to be found with.
7. Create a website
With Google My Business you can even create simple websites, if your company does not already have its own website. For this purpose, Google My Business provides an easy-to-use editor with which you can really quickly build your own small homepage. With a little practice, you can even create really appealing websites here.
8. Ads and campaigns
You can access Google Ads directly from the Google My Business Account. You can use this to create ads that will be displayed in Google Search before and after the organic entries when users search for certain keywords. This Google My Business service is chargeable.
9. Add more companies
You can add other companies to your Google My Business account, such as branches or franchise partners. This means that Google My Business is also very interesting for large companies with distributed locations, as the locations are managed centrally and branches can be looked after by branch managers, for example, using the role model described above.
10. Ratings and reviews
One of the most important functions of Google My Business is the clearly presented reviews and ratings for your company, which are created by customers. Potential customers can see immediately what experiences other customers have had with your company.
This has a great advantage for you if you offer really excellent services and products and are also friendly and service-oriented towards your customers.
Why you should sign up for Google My Business
We have already mentioned many of the reasons implicitly in the previous text. Google My Business is free and can be found using Google Search and Google Maps. So you can win new customers via your company listing and you can enter into a direct dialogue with your customers via the rating function.
In addition, GoogleMy Business clearly shows all the relevant information about your company and your customers or potential customers can contact you with a click, ask you questions and obtain personal information. You can also present the latest and changing offers and draw attention to events.
The customer feedback via Google My Business is also very important so that you have an idea of ​​what your customers think of your company and your products and services.
1. You are found "on the spot", and that creates new customers
When web users search, there is almost a 90% probability that they search on Google. For local searches, Google almost always shows Google My Business profiles, which increases the attention of local businesses. Google wants to give users the best online and offline experience, so it tries to deliver the most relevant search results. That said, if you're a restaurant that specializes in vegan delicacies, your Google My Business profile wouldn't appear for someone looking for an Argentine steakhouse in their area.
2. Maintain your Google My Business listing and you will be found more easily
If you want to improve your ranking in the search results on Google, which can lead to more impressions of your Google My Business profile and more clicks, then you need to optimize and maintain your company listing. Google prefers Google My Business profiles with complete and detailed information.
With a complete picture of your company, e.g. Google can ensure that your company is relevant to a search, such as your opening hours, your location and your products and services, and classify it accordingly.
Just as Google has algorithms to rank its ads and websites, it also has an algorithm to rank Google My Business company profiles. You can use the dashboard to add keywords to your company profile and make further optimizations to improve the ranking in the local results.
Tips and Best Practices: Use Google My Business Reviews and ratings as a real marketing tool
Among all search engines, Google now has a market share of 86% in online searches via the PC. The market share of Google Search is even larger if you search using mobile devices: here, the market share of Google Search is almost 98%. Read and take note of the following tips from our marketing experts and Google My Business will serve you well!
If you have a Google My Business account and your company is listed on it, the chances are very high that someone who is looking for something that you offer with your company will actually find you. And now imagine that you are found and that the ratings and reviews below your Google My Business entry say "cabbage and beets".
What is meant is: negative ratings, i.e. always only one or two asterisks instead of five and beyond, rating comments that suggest that you are not really devoting yourself to your customers. Given the market power that Google Search has, this can have fatal effects on your company: a bad reputation and thus a) customer churn and b) no new customers.
Always keep an eye on your Google My Business reviews
Now let's assume that the vast majority of companies actually like to dedicate themselves to their customers with passion. You do everything to ensure that your customers are happy and satisfied. However, it is not unlikely that one or two negative reviews will be found below your Google My Business entry.
Maybe someone was having a bad day or one of your salespeople got up on the wrong foot. That's human. So you will now receive a bad customer experience rating, it is an open question whether rightly or wrongly. Your day-to-day business is tough and exhausting and you don't have the time every day to look at how customers rate you via your Google My Business entry.
So this negative entry about your company will go uncommented. Now a potential customer finds your company using Google search, lands on your entry and reads the comments. Since nobody has given a rating for two days, the negative comment can be seen at the top.
Your prospect reads this and compares the reviews with a competitor's reviews, the top 3 entries of which are positive. So what is your prospect going to do? He will most likely go to the competition. So make sure you check the reviews under your business listing on a daily basis to prevent this from happening!
Respond to every comment, whether positive or negative
Since you are not only an entrepreneur but also a customer yourself, doesn't it seem strange to you when a company only replies to negative reviews, possibly also justifying or even soothing? Really reply to every comment below your Google My Business listing.
And this really means every evaluation, regardless of whether it was written and formulated negative, positive, neutral, monosyllabic or in detail. The Google My Business Ratings and Reviews are so powerful and have such a great influence on the decision-making behavior of future customers that you should really take the time to answer reviews.
Customers feel "flabbergasted" when you respond to their positive feedback
If customers are really excited and leave a positive review below your company listing, that is a huge service for your company, because it is free advertising, but it is not free. So saying thank you is the least you can do. And so should you. Because if your customers read that you actually react to the positive criticism, they will like it very much, because the effort to write a review was worth it.
Always respond, in principle and without exception, to negative reviews
If reacting to EVERY review really seems too much, which is our tip, then at least take a look at the negative reviews. As described above, uncommented negative reviews are a thorn in the side for all new customers, because it signals that you basically don't care whether customers are angry or not.
This must not happen under any circumstances, even if you STILL do not care in terms of sales and the abundance of customers. That can change quickly in a fast-moving world like this.
Avoid being monosyllabic or unimaginative in your answers
Now imagine that your Google My Business entry has a large number of reviews that are detailed and well-intended and that you simply and basically answer each of these reviews and comments with "Thank you". Even if you mean it honestly and the time does not allow you to answer in more detail, it looks quite stilted in the overall appearance.
Get notified of new QuestionPro reviews
To avoid missing any reviews on Google My Business, the QuestionPro reputation management app offers users of Google My Business and other review portals a notification function. These notifications then appear in the notification bar of your smartphone, your iPad or on the screen of your PC.
And if you don't want to be notified of every new review, you can configure the notification so that, for example, you are only notified if a review has less than 3 stars. Or even 2 stars. You can adjust that as you wish. This ensures that you can at least react in real-time to negative comments if you do not have the time to react immediately to all reviews.