If you're familiar with QuestionPro's Push to Social question type, you know how amazing it is to get customer ratings for your organization while also encouraging them to share positive ratings on your organization's Facebook, Twitter, Yelp, and Google+ pages. Now, if your respondent gives you a poor review, you can immediately ask why!
Push to What?
The Push to Social question type is a simple, but powerful question type. It combines the ability to get a quick star rating from a respondent with the ability to encourage sharing positive ratings on social media. You decide what a positive rating is on a 5-star scale. You also decide whether to encourage a share of that rating on Facebook, Twitter or Yelp, or all. It's easy to set up, and it's easy to use.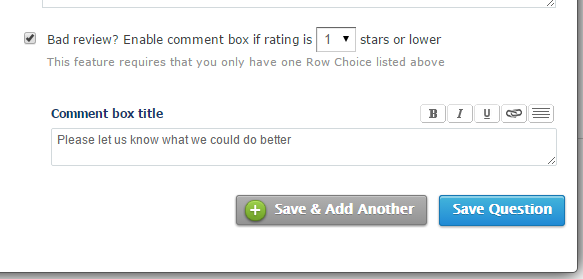 We have a new addition to the Push to Social question – dynamic comment boxes for poor reviews. A dynamic comment box is a comment box that only appears when triggered by a particular survey response. Previously, this could be set up using the dynamic comment box logic. For the Push to Social question, this is now integrated in the set-up screen.
If you want to be notified immediately about the low rating, you can use action alerts to get the email notifications, too.
After you have set up the rest of the question, check the box for bad review notifications.
Select the minimum number of stars that will trigger the comment box (based on the 5-star rating scale).
Edit the text for the comment box.
Click Save Question.
You're on your way!
What should I do about those bad reviews?
First, review the comments they left. Keep a pulse on your feedback surveys; have you heard that comment before? Has it come through either on other feedback surveys, or maybe on one of your social media pages? If you've already taken steps to try to remedy the issue, then keep tracking the feedback channels you have in place and see if the issue comes up again. If so, then it's time to try a different remedy.
Reach out to the customer who left a poor review. They provided you some valuable feedback, and it's great as a customer to know that the organization is truly listening. Remember to use the phrase, "I'm sorry," and don't couch it as, "I'm sorry you had this inconvenience," but, rather, "I'm sorry this happened. What can we do to help make it better?" Most customers want to hear that simple, "I'm sorry." If they've provided feedback via the comment box about how to make it better already, let them know you'd like to discuss their suggestion. You might consider giving a coupon for their next visit.