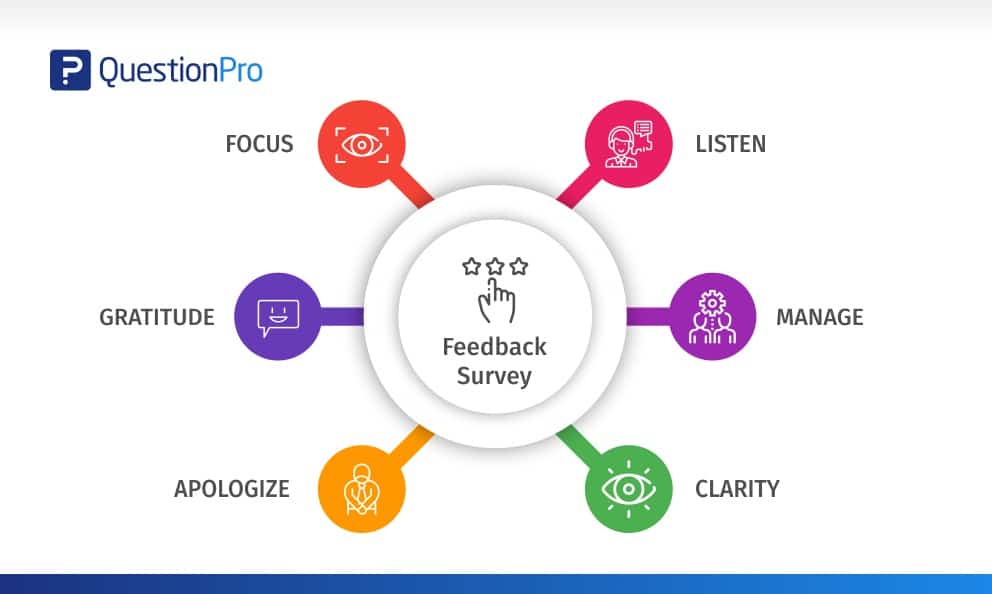 "We all need people who will give us feedback. That's how we improve."
– Bill Gates
What is a feedback survey?
A Feedback survey is a process used to identify or measure the happiness and satisfaction of different business entities or consumers. It is measured by following the products/services or the working environment of the company. The survey usually consists of neatly designed questions aimed to understand the business users fundamentally. The questionnaire is a medium giving liberty to customers in expressing their experience, requirements, and suggestions through their answers.
LEARN ABOUT: Testimonial Questions
Today's business environment is hyper-competitive. To survive in this environment, the majority of organizations are adopting a customer-centric approach. These help organizations to embrace a customer-focused culture. In fact, for a majority of customer-driven companies, employee feedback is like a battery, which keeps them going on. But, a battery has 'negative' and 'positive' points.
LEARN ABOUT: Survey Mistakes And How to Avoid
Similarly, a feedback survey also has a positive (praise for your product/service) and a negative (criticism for a product/service) side. It's better to treat customer feedback as a gift worth nurturing. Because admiration gives strength to keep up the excellent work, and criticism offers ideas to make the product even better.
An efficient customer feedback tool is the best way to conduct such surveys. It can be a consumer feedback survey which helps organizations in understanding buyers' reaction related to the company's products, services, or policies.
LEARN ABOUT: Consumer Surveys
It can be an feedback survey that helps organizations understand their employees. Their concerns related to the working environment, opinions related to performance evaluation, or performance feedback. In short, the employee feedback survey is anything related to the performance expected and the performance exhibited.
Why do you need feedback surveys?
Whether it is positive feedback or negative feedback, it should not matter. It's okay if the company considers and accepts all the input. Moreover, the company uses insights to make it a never-ending cycle of improving its products and services using customer service feedback.
Remember, top organizations are at the top because they do not rest after getting negative feedback. Nevertheless, their work starts after they receive pessimistic feedback. For them, continuous improvement is not just a phrase but persistent efforts to make their best products even better. They do it by focusing on the feedback they receive from the entire organization, including employees, customers, clients, suppliers, vendors, and stakeholders. If you want to be on the top, don't just conduct feedback surveys, but also accept and understand it; so you could convert your organization's weaknesses into strengths.
1. Where there is a business, there is a feedback
Whether you are selling products, offering services, or handling a bunch of employees, feedback surveys help you listen to opinions and suggestions.
For example — a VoC feedback survey helps companies to understand what customers think and what they expect. It also tells about areas that can be improved, things competitors do differently, and to gauge the performance of a product before launching. Every time a business is communicating with a customer, employee, vendor, or stakeholder, it is indulging in verbal feedback. With the evolution of online feedback survey tools, more and more organizations are now adopting a digital approach to get feedback.
2. Demonstrate how every feedback matters
Whether took verbally or online, the respondent needs to be ensured that his/her opinion or feedback is received, understood, and accepted. An organization needs to let respondents know that their responses are adding value to the betterment of products or services. When you succeed in giving this impression, customers feel valued, resulting in realistic or unbiased feedback.
It is a better practice to reach out to the respondents and let them know that their feedback matters. By doing this, organizations are displaying a positive image of their business. Additionally, conveying respondents that their feedback is making the change they expect is an excellent strategy of providing satisfying customer experience.
3. Use feedback to motivate the change
When you ask customers for feedback, you are inviting them in a process that motivates change. It not only makes them a part of a strategy driving innovation, but it also helps in increasing customer loyalty towards your brand.
When customers get a feeling of belongingness, they start looking at your products or services from a different perspective. Asking respondents whether consumers or employees to provide their feedback is like creating a and letting them know that their opinions do matter to formulate the business strategies. Feedback received from the clients, vendors, stakeholders, etc. acts as a dose of motivation to outperform their expectations and develop better working relations.
4. Negative feedback is a fuel to perform better
Never mistake negative feedback for criticism. A good business must consider negative feedback as a 'fuel' to enhance its performance. A negative criticism, when found as constructive feedback, helps the companies in making better decisions. These decisions are meant to increase performance and satisfaction.
5. The feedback survey is a process of continued learning
All it takes is some time, constructive thinking, passion for driving change, and a good feedback survey software to gather opinions from consumers and employees.
A continued feedback process involving a different set of respondents is a modern-day business requirement. Stay aligned with organizational goals, develop business strategies, accelerate performance, undertake product/service improvements, and enhance relationships by adopting a useful feedback survey tool.
How to create a feedback survey?
If misused, a feedback survey will cause a blunder. Nevertheless, it becomes super powerful when used correctly and in the right context. Whether the Net Promoter Score question, CSAT, CES, or using any other method to interact with people. For collecting customer feedback, surveys by far are the most popular, convenient, and effective platform.
However, the problem in creating feedback surveys arises when the fabric of an engaging, appealing, and accessible survey is woven with a wrong pattern. A survey becomes meaningless when you mess it up with too many questions, use leading questions, poorly phrased questions, or ask questions irrelevant to your motive.
You can use employee opinion survey questions. Those questions provide valuable insights into employee morale, enabling organizations to make informed improvements and foster an engaged workforce.
Recent research by Cint, states that 62% of consumers are inclined to buy from a brand that has asked them for an opinion. Additionally, 52% of consumers experience a loyalty boost when a specific brand asks them for feedback. Therefore, you need a properly designed questionnaire that peeks directly into the brains of people and figures out their perception.
At QuestionPro we have years of experience to tailor perfect surveys meeting customer expectations, and today we are sharing our secret three-step theory with you
Step 1:

Design an engaging feedback survey offering ' on brand' experience.

Step 2:

Align the questionnaire with the motive of the survey.
A holistically designed survey ought to yield a reasonable completion rate. Create a feedback questionnaire that will keep potential respondents interested and excited. Design a survey in such a manner that it creates an environment that is comfortable and convenient to the audience's expectations, interests, browsing habits, and, most importantly, to their mobile device.
Here are a few things that will help you build a create great feedback surveys
Keep the survey length shorter
A good questionnaire follows the principle 'less is more.' When the questions are targeted and aligned with your motive, it helps in keeping the survey length shorter. It is highly appreciated if your survey has not more than five questions.
The most useful feedback surveys usually contain two questions. First is a Net Promoter Score question, and the second is an open-ended question asking respondents to describe in their own words the reason behind their answer to the first question.
Ask at least one quantitative question
When you intend to collect feedback from the respondents, asking them open-ended questions isn't enough. Moreover, it will become harder to analyze the answers eventually or to find trends. Quantitative questions, on the other hand, allows respondents to answer the question in a numerical form.
A net promoter score question ranging from 1 to 10 and from 'strongly agree' to 'strongly disagree' or from 'strongly satisfied' to 'strongly dissatisfied' makes it easier to analyze the response. A quantitative question gives you the liberty to have a metric included in the survey based on which you can adjust the filter and compare qualitative responses.
Answers must include balanced options
Make it a habit of putting symmetrical options, especially when you are placing an NPS or a quantitative question. A range starting from very dissatisfied to somewhat satisfied and from neutral to very satisfied is an excellent example of symmetrical and balanced answer options for the respondent.
Maintain an unbiased language throughout
Maintain appropriate communication throughout. Keep your respondents focused. It will help you collect the most executable data. For example, when you are asking a quantitative question, phrase it like 'how likely would you recommend us to your family and friends?' and avoid asking 'how likely will you tell your family and friends about our amazing product?'
Customize it to reflect the brand
Do not miss the opportunity of adding branding elements to the survey. Try adding the brand's logo, imagery, and color to make your survey look brand specific. For a change, you can use a brand image in the background that does not distract but engages audiences. Use multimedia questions to add pictures of your products. Especially when you are adding a question related to the product. It will make the feedback survey more engaging.
The survey has to be mobile-optimized
Google has started giving due importance to the mobile-first indexing. Moreover, after mobile devices have taken a front seat in the technology, more and more people opt for completing surveys on their mobiles. Therefore, it has become more than essential to create, test, and deploy a mobile version of your survey. Ensure you have examined the mobile responsiveness, readability, tap size functions, and general functionality of the survey before distribution.
Align the survey questionnaire with the motive of the survey
Decreasing customer churn is one of the prime objectives of designing and branding the survey. Nevertheless, before creating the survey, it is necessary to understand the motive behind the survey creation, Ask yourselves, why are you conducting this survey? What do you want to achieve from the survey? How do you plan to utilize the data collected through surveys? And what audience you specifically want to target?
LEARN ABOUT: Branding Questionnaire
Answering all these questions will help you understand the goal or motive behind a specific feedback survey. Understand the intent of the survey first. Then, it becomes easier to select the type of questions that are well aligned to meet your motive.
There are two obvious choices for question types when you want to create a feedback survey. Customer Effort Score (CES) and Net Promoter Score survey questions serve as the right choice when you want to analyze the underlying components affecting customer satisfaction. These questions help to understand the common issues faced by clients or customers. Additionally, you also know about the areas needing improvement, and the loopholes in your customer support needing an immediate fix.
However, since CES questions are related to customer efforts, there are certain limitations as to when and how you can use them. For instance, after a support call, after an online support chat or after clients or customers access online helps.
For Example:

On the contrary, the Net Promoter Score or NPS question is less dependent on situations or has no limitations of context. Therefore, it offers extensive options in using the question righteously.
More often, the NPS question is used to analyze customer loyalty and can be asked at any point in the customer journey. You can ask NPS questions before or after they sign-up, before or after the purchase. Else, you can request it as an icebreaker to motivate the customer journey.
For Example:

Well! CES and NPS are not the only questions that can go along with the feedback survey. There are numerous question types to choose from, but it again depends on the online survey making tool you opt for and the motive of your survey.
Achieve the right customer journey milestones
Handing off the customer from one department to another is the most problematic area for many businesses. Therefore, you need a comprehensive customer journey map to understand if your customers are finding the interdepartmental transition hard or if they are enjoying a seamless experience.
When you start looking at your business from the customer's point of view, then it is possible to bring about positive internal changes that are beneficial for both staff and customers. In addition to that, a comprehensive customer journey map helps you enhance the performance of each department.
For example, improving the performance of the sales team by eradicating a set of obstacles affecting their moral will give a significant boost to your business. A feedback survey to understand the pain points in the sales department from staff, as well as the customer's point of view, will provide you the right insights to act wisely and responsibly.
Use a customer journey map for continuous improvement
Most of the responses collected from customers during their journey are qualitative as well as quantitative. These surveys are specifically designed to gather qualitative data. The data that tells you about what your customers are thinking, issues they face, and questions they ask. On the other hand, the quantitative data is in a numeric form representing the dropout rate, key business metrics, rating, etc.
When you wisely use intelligently designed feedback surveys and mapping them to the right point of the customer journey, then it makes it harder for customers as well as prospects to leave in the middle. The data collected at each stage and in each survey bring in an abundance of value. It helps in understanding the changes you need to make at every step and in every department to enhance the customer journey at every point. Using feedback surveys to improve business and update the customer journey has to be a never-ending process.
Advantages of a feedback survey
Real-time feedback:

The feedback survey allows businesses to gather recent customer feedback at any point and on various aspects of the company.

Stay on top of trends:

Conducting feedback surveys periodically helps you to stay on top of customer trends and receive instant customer feedback.

Informative insights:

A feedback survey helps you understand how customers are reacting to all the aspects of your business. Based on the survey insights, you can easily make informed decisions.

Benchmark results: The feedback survey tool gives you the liberty to use the same survey multiple times to gain continued feedback from the customers. By comparing data over time and benchmarking results, you can quickly determine the priority of changes you need to make.
Show customers opinion matter:

A feedback survey allows customers to give their suggestions and opinions. I also ask for views on improving the product or ways to enhance the customer experience. By showing how much you value your customer opinions, you extend a feeling of belongingness. The customer tends to stay loyal to the brand that gets the perception that their views have value.
Small, medium, or large; business size does not matter when it comes to fostering and building stronger relationships with customers, employees, stakeholders, etc. Businesses must listen, learn, and meet the needs of each business entity if they want to remain profitable and competitive. An efficient feedback survey software allows companies to gather measurable insights so that the feedback data can be used to develop newer and effective business strategies, build new relationships, retain loyalty, and scale growth.
LEARN ABOUT: best time to send out surveys
Small, medium, or large; business size does not matter when it comes to fostering and building stronger relationships with customers, employees, stakeholders, etc. To remain profitable and competitive business, businesses must listen, learn, and meet the needs of each business entity. The feedback survey is a medium that allows companies to gather measurable insights so that the feedback data can be used to develop newer and effective business strategies, build new relationships, retain loyalty, and scale growth.