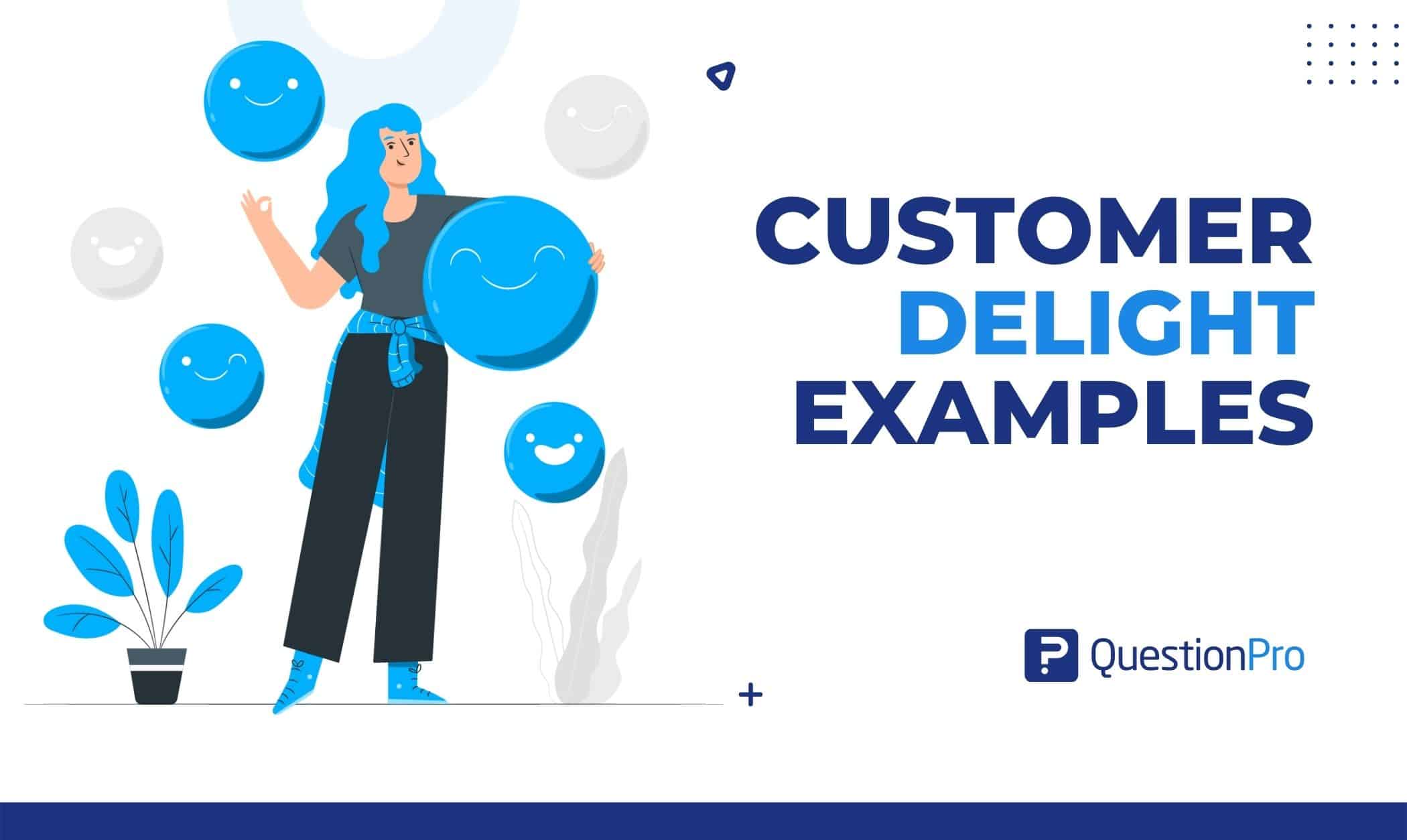 Customer delight means meeting and exceeding the customer's wants. It's more than just giving good customer service. The key to ensuring your customers know what you're worth.
In business, making customers happy is now a must. Keeping customers interested in the company and its offer takes a lot of work. They need to be brand ambassadors who sell for you and help you grow in the long run.
Because customers often have more than one choice, customer experience and happiness are not negotiable. If customers aren't happy with you, they can easily switch to a different brand that gives them what they want.
To make customers happy, a brand needs to catch their attention on social media and with the product. So in this blog, we will explain 12 strong examples of motivational customer delight examples to better understand the concept.
What is Customer Delight?
Customer delight means going above and beyond customers' expectations while ensuring they have a positive experience with the brand or service.
A positive reputation can be built through customer delight strategies like discounts or vouchers. It involves more than just getting them to like your goods. Happy customers will be dependable and guarantee word-of-mouth advertising.
Businesses can benefit from customer delight. Why? Because businesses gain various advantages from their good deeds toward customers, including increased income, enhanced brand loyalty, and differentiation from the competition.
12 strong motivational customer delight examples
Listen carefully and act quickly
Customers want your contact information to be easy to find and that you'll answer their complaints. They are pleased when they feel heard, understood, and empathetic and immediately address their issues.
When this isn't attainable, it's crucial to delight customers by providing an approximate wait or response time.
For example, If someone tries to get in touch with your customer service team via live chat, email, or social media and can't reach anyone, you need to fix this. Let them know how long they may anticipate waiting, where they are in the line, or when they can expect a response.
Give callback options, so they don't have to wait all day. These minor things show you care about the customer's time and worries, earning you significant points.
Allowing a trial before purchase
When a consumer buys a product, they want it to function as intended (i.e., solve their problem), and if it doesn't, they expect it to be easily swapped or returned. This situation is exciting when a business provides a "try before you buy" option.
For example, this is standard practice in physical clothes stores. But in other industries, such as technology, furniture, fitness equipment, and more, offering a try-before-you-buy option can help customers feel confident in their purchases and appreciated clients (even if they decide against their purchase).
This kind of no-pressure, "satisfaction or your money back guaranteed" offer appeals to clients and gives them the confidence to use your brand again for future purchases and promote your business to their contacts.
Have a positive attitude
Customers want pleasant, efficient service from your brand. Cheerful, polite and friendly, warm, and over-the-top service delights. Unenthusiastic personnel produces unenthusiastic clients, leaving your brand feeling lifeless, dry, and maybe even unpleasant.
An artisanal fast food provider engaged in a hilarious interaction with a client before collecting their pick-up order. Something like this happened:
Fast food joint: "Hello, this is Happy Eating," says the burger company. Are you interested in hearing today's special?
Client: "Hello! Sure."
Fast food joint: "Today is special! What can we get for you right now?
The customer is nearly always sure to smile or chuckle after this direct and upbeat interaction, leaving them with a positive memory of this business.
Provide options and notifications
If a product or service is sold out or unavailable, you should have a sign or notification to let customers know.
For example, this situation's delights are:
Offering similar items or services.
Notifying them when the item is available.
Allow customers to "think about it"
It is assumed that customers would be able to leave your storefront or abandon their carts without any problem if they need more time to make a purchase. This exciting situation is exciting because it allows them to put products on hold or add them to a wishlist for later quick access.
Customers feel more at ease while shopping when there is less pressure placed on them, and this safe environment allows them to browse and make purchases at their leisure, fostering a pleasant brand experience.
Assist them in locating what they're seeking
Customers expect well-organized websites and stores with well-labeled signs and a staff member to aid them.
Customer experience a particular delight when:
A website search bar that helps them find what they need.
Helpful and educated staff in-store will help customers find what they need.
Customize mistakes
When someone uses the word error, they typically refer to a 404 page. A 404 error page is meant to display a straightforward message informing users that the page they seek does not exist.
An example:
A bespoke 404 page that's funny or lighthearted.
Home, product, and service pages are linked quickly.
A search box so users may search from the 404 page.
Consider going digital
Printouts of receipts are typical when making purchases at physical and mortar-stores. The choice to have the customer receive the receipt via email is delightful.
This is a customer delight for various reasons:
If a consumer has to swap or return an item, they may readily locate the receipt thanks to this (instead of storing it somewhere or digging through the trash to find it).
It's more eco-friendly.
React to feedback
When customers provide feedback, they expect someone in the company to read it. What delights is when reviews or complaints are answered publicly, privately, or both.
Suppose a customer had a bad experience with your company and left a negative review on social media.
In that case, you should publicly respond to their review on the review platform, apologize if you were wrong, and offer to amend the situation by providing them with an email or phone number to address the issue further and rectify the problem. This simple deed can turn unhappy consumers happy and reduce customer turnover.
Notably, pleasing customers goes beyond responding to criticism and fixing problems. Make significant adjustments to the consumer experience based on feedback. If you do, your consumers will continue to have good experiences, and you'll never grow as a company.
Send a delicate newsletter opt-out request
Some find certain dates challenging. Mother's Day, Father's Day, etc. On specific dates, promotional emails like "Buy Mom XYZ This Mother's Day" or "Give Dad a Gift He'll Love This Father's Day." These messages can be traumatic for parents-lost.
Customers today may expect to be besieged with messages. Sending a newsletter opt-out email in advance is a nice touch. This shows the customer that your organization considers their feelings.
With each purchase, provide a freebie, a sample, or a future discount
Customers expect the checkout process to go smoothly. They pay you money for a product or service you give them. What customers don't expect but can make them happy is a gift, sample, or discount on a future purchase. This is another way to thank them for buying and supporting you.
Make the customers feel like they're special.
Most companies will send out a holiday newsletter to their customers wishing them a happy holiday or new year. Customers usually don't expect the brands they buy from to go above and beyond to make them feel special.
Customers are just a number to businesses, as the saying goes. But you can break this idea and make customers happy by wishing them a happy birthday.
This can be done on their actual birthday or during their birth month. Something as simple as wishing them a happy birthday or something as kind as giving them a discount or something for free. It doesn't matter how big the act is, but it will make the customer happy and loyal.
Conclusion
What can you do to "delight" your clients? It has varied meanings for different companies and, of course, customers.
You must design an unexpectedly satisfying customer experience to delight your customers. That complex process requires several departments, a large amount of data, and clients at various points in their journey.
QuestionPro is software for doing surveys that lets you organize information about your customers. It enables you to find the most critical data and insights and look at them.
You can also organize, search, explore, and find your research data with InsightsHub, a centralized hub for managing data.