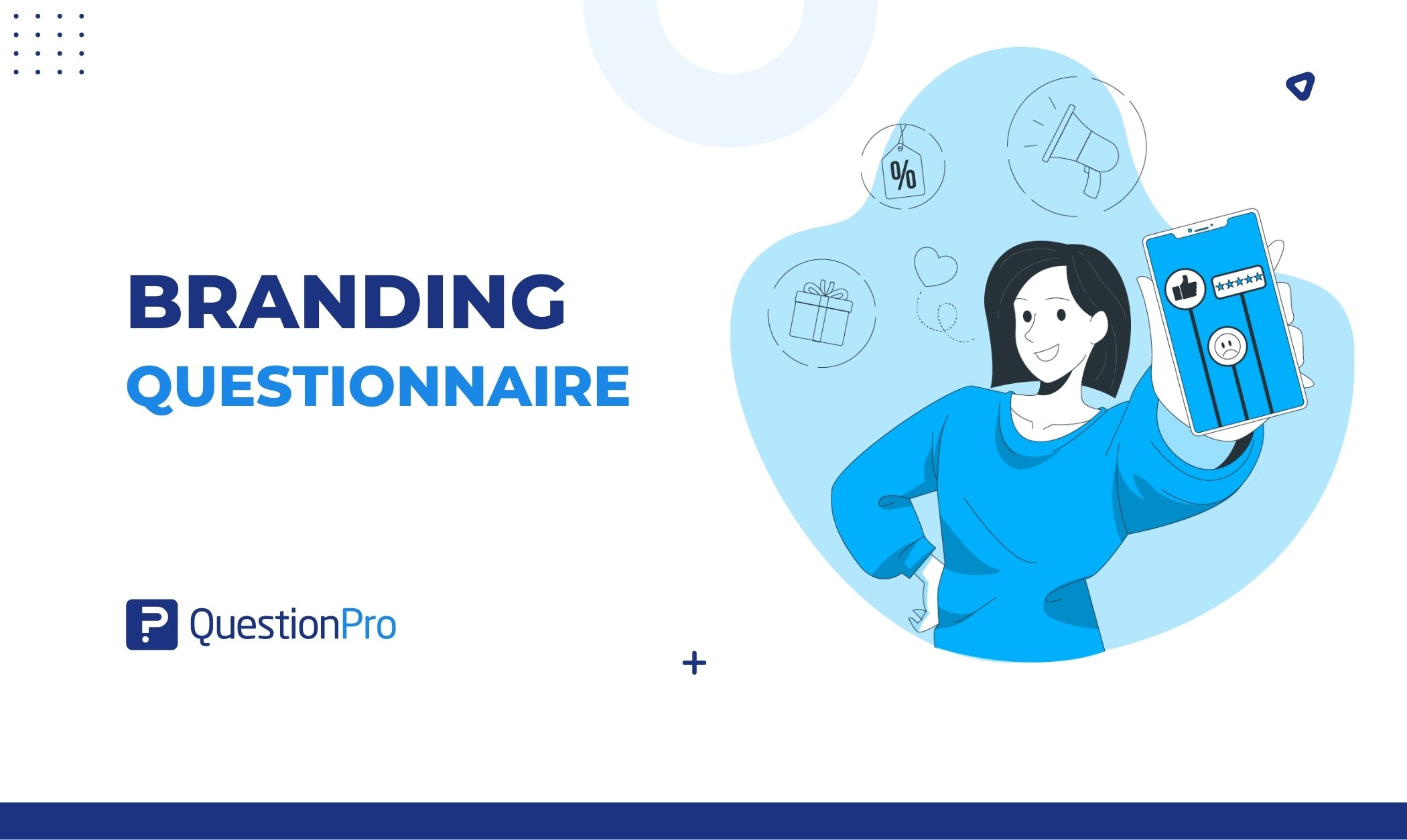 Creating a strong and effective brand is critical for any business or organization's success. It differentiates you from the competition, communicates your value offer, and resonates with your target audience. A branding questionnaire can be a helpful tool in getting the process started.
Collecting the right data and insights before starting the branding journey is critical. A brand identity questionnaire can help you gather vital information to establish your brand's identity.
This blog post will look at 15 critical questions to include in your branding questionnaire to build a solid basis for your personal brand strategy.
What is a Branding questionnaire?
A branding questionnaire consists of a set of survey questions that helps businesses achieve their goals with basic marketing and branding strategies. A branding questionnaire is a series of questions designed to assist a company in developing its brand identity, brand voice, brand traits, brand values, strategic approach, customer loyalty, and other factors.
This questionnaire will inform your preferred choices for the agency or organization working on your new brand identity.
Creating a branding questionnaire is one of the areas in marketing strategy that is often overlooked because it doesn't always provide direct results that can be measured. But this is the difference between the most successful and average organizations. Successful companies know the importance of a branding questionnaire.
The key to designing an effective branding questionnaire template is to ensure the questions are relevant and help an organization understand what they need to fill in to give complete information.
To help you start on the right track, we are sharing the detailed list of 15 questions you must have in your branding questionnaire.
Why your client needs a branding questionnaire?
When branding a business or organization, a branding questionnaire is helpful for knowing their needs, preferences, and goals. A clear brand identity survey is also a great way to inquire about competitors in the branding or marketing industries. A branding questionnaire is helpful for the following reasons: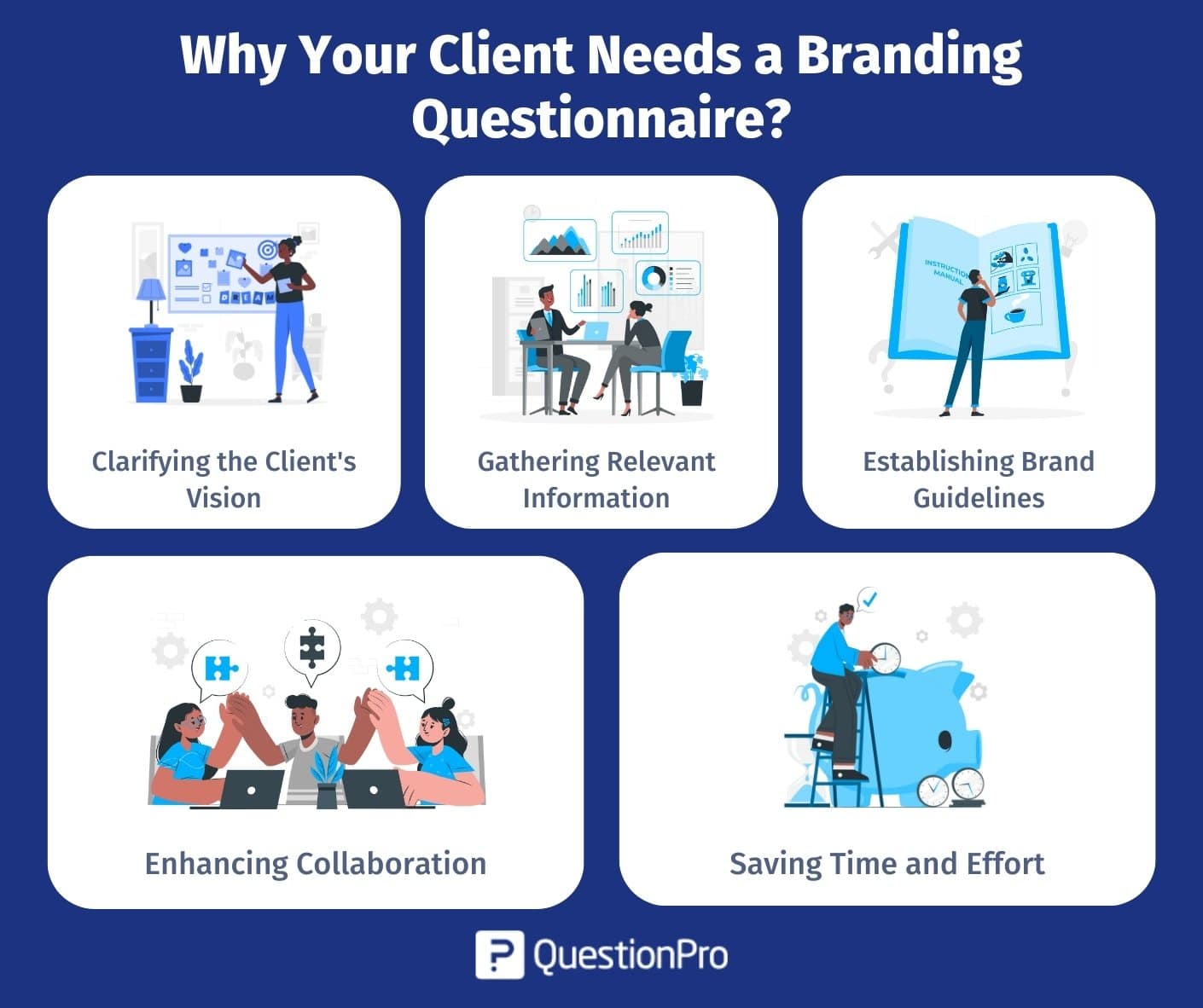 Clarifying the client's vision
Create a branding questionnaire to assist the client in articulating their brand's personality, vision, and objectives. It encourages them to consider their target customers, demographic, intended brand personality, unique selling characteristics, and long-term objectives. This transparency guarantees that the brand identity process aligns with its goal.
Gathering relevant information
The questionnaire collects vital information about the client's industry, rivals, and target market. This data assists the branding team in developing a complete understanding of the client's business environment, allowing them to create a brand that stands out and resonates with the target audience.
Establishing brand guidelines
Color preferences, font, imagery, and tone of voice are all explored in a branding questionnaire. These facts help to build brand rules, which ensure consistency across all brand touchpoints and communication channels.
Including the client in the branding process through the brand identity questionnaire promotes collaboration and guarantees that the final brand reflects their brand values and preferences. The questionnaire enables the ideal customer to actively engage in the decision-making process and contribute vital insights.
A well-designed brand strategy questionnaire can help to speed the branding process by obtaining critical information upfront. The branding team can avoid unnecessary revisions and iterations because they have a solid base to build on from the start.
Top 15 Questions for Your Branding Questionnaire
Have you tried walking with your eyes closed? It's tough, right?
When you create a branding questionnaire without adequate information, it will fall flat on its face. This is why you must have the right survey questions to complete your questionnaire. Here are the top 15 questions you need to have in your branding questionnaire:
01. What are the three things you like about your current brand identity?
Even before you start designing or redefining a brand, it is important to know the aspects of the brand the client already likes. Just because a request to redesign has been sent doesn't necessarily mean they want to change everything about their brand. It is essential you determine the areas that need to be revamped or should be maintained instead of getting rid of them entirely.
02. What are the three things you dislike about your current brand identity?
In the same manner, it is also vital to know what the things a client might absolutely hate or strongly dislike about their brand identity. Figuring out early on what your client is unhappy about will also set a tone for your team. It also lets you know which areas of the brand will need your immediate attention.
03. What's the story of your brand?
Brands are primarily about storytelling, so you need t know what the story of your client's brand is. Consider yourself the director, replacing the existing director of a top-rated TV series. Can you go to the sets without familiarizing the screenplay, story, cast, location, etc.? Getting a quick background behind the scenes will help you familiarize yourself with the original.
04. Are there any brands you particularly admire?
It is flamboyant and can be extremely challenging at the same time. Therefore, you need to clearly articulate what your clients want.
Asking your clients some of the brands their like will give you an idea about their taste in design and how they would perceive their brand to be. It will provide a framework to start your process of designing and developing a strong brand identity.
05. Are there any particular terms you associate with your brand?
It is an excellent question to have on your branding questionnaire. Asking your clients a few terms they associate with their brand can help you understand their thoughts related to the brand, giving you an abstract idea. This simple question will help you design an awesome brand guideline.
06. What is your 10 years plan for your brand?
This question will help you or your agency understand your client's long-term goals and aspirations, and you, in turn, can get a direction to start with your work. It also tells the client that you are willing to grow and improve their desired brand identity over a longer period and not consider this a one-time opportunity.
07. Who do you consider your competition?
Agencies need to understand what industry they are working with and who, in particular, the client is their direct competitor. It will give you an idea about their branding strategies and guidelines and how they approach a specific brand. Much of this information must be extracted through research and development.
08. What are your Unique Selling Points?
This question is important because this makes your ideal customers think about the factors that make their brand stand out in the market. Developing a brand that stands out is all about the impact it makes.
09. How does your Logo communicate your brand?
Just a logo speaks the story of a brand. The logo is the most integral part of a solid brand identity. There are some organizations across the globe whose logos speak louder than the brand itself. A logo must be created in a manner to suit the brand's personality. Ask your client about their brand's story and do they want to communicate through their logo.
10. Is there any specific target audience you wish to reach whom you haven't?
Even if your client has a good grip on the market, there will still be a target audience that they would want to associate with. This is an untapped pool of potential people who will associate with the brand sooner or later. Your agency can keep this in mind while translating the design.
11. Who is the decision maker in your organization?
Right from the very beginning, it is advisable for you to know who is the final decision-making authority in the organization you are going to work with. It is good to accommodate suggestions, but channeling your energy in the right direction is also important.
12. Can you walk us through your approval process?
The ultimate goal of any task is to get the final approval on the ideas and design and know how exactly it will work. Make sure you have a good understanding of the client's policies and procedures to avoid any confusion in the future.
13. What is your budget for this project?
Talking about the budget at the nascent stage of discussion is a great way to evaluate how important this project is for your client. If they offer a budget that is too low compared to the market standards, they are not a good fit for the agency. Deciding how much time, energy, and resources you will spend would be best.
14. What is the expected timeline for the project?
Branding means a lot of different things to a lot of people. Some clients won't even have a complete idea of what they want from your agency, so you must discuss all the tangibles before the start of the project.
15. Is there anything else you would like to ask?
It is always a good idea to have one open-ended question. There should be scope for further discussion or addition to the existing brand context. It will help the client add any additional information/instructions they want you to use while designing their brand identity.
How QuestionPro helps in creating a branding questionnaire?
QuestionPro is a survey and research platform that offers a variety of features and tools for creating, distributing, and analyzing surveys, including branding questionnaires. QuestionPro can help you create a brand identity questionnaire in the following ways:
Question types and customization
Multiple choice, rating scales, text boxes, and other question forms are all available on QuestionPro.
These question types can be used to create a questionnaire that collects the precise data you require for your branding project. In addition, you may alter the fonts, choose color schemes, and add your logo to the questionnaire to reflect your brand.
You can include logic and skip patterns in your questionnaire using QuestionPro. This feature is beneficial when specific questions should be shown or skipped based on the respondent's previous answers.
It allows the customization of the questionnaire experience, making it more relevant and efficient for participants.
You can branch respondents' answers in QuestionPro. This lets you guide participants through the questionnaire depending on their responses, showing them only relevant questions. It improves usability and reduces questions.
Collaboration and feedback
You can invite team members or clients to examine and provide feedback on the questionnaire using QuestionPro's collaboration tools. This streamlines the review process and ensures the questionnaire fulfills everyone's expectations before release.
QuestionPro offers several ways to share your branding questionnaire. These include emailing, embedding, posting, and using QR codes to share the survey URL. The software allows offline survey distribution via mobile devices or kiosks.
Data analysis and reporting
QuestionPro's data analysis and reporting tools are powerful once respondents finish the questionnaire. Real-time reports, infographics, and data analysis help you understand reactions. Based on collected data, these features allow you to make informed decisions.
Integration and automation
QuestionPro connects with Salesforce, Zapier, and Microsoft Power BI to simplify and automate branding questionnaires. These connections allow communication of data and workflow automation for efficient data management.
LEARN ABOUT: Data Management Framework
QuestionPro makes it easy to create, distribute, and analyze branding surveys. Its features and customization choices allow you to personalize the questionnaire to your needs and provide a smooth survey experience for respondents. So, contact QuestionPro today to conduct your branding questionnaire!
Frequently Asking Question
What are 3 questions to ask your brand?
 The most important things you should ask about your brand are: Have we set up a frame? Are we making the most of our equal points? Are the different points of view convincing?
Why is a branding questionnaire important?
A branding questionnaire uses survey questions to assist companies in their goals with basic marketing and branding methods. This questionnaire will help your brand identity agency understand your preferences.
How does branding increase sales?
Branding helps buyers connect with your products and services. Customers will buy from you if they trust you.
What are branding guidelines?
An organization's brand guidelines maintain brand consistency across channels. They establish the framework for visual, verbal, and written communication and build a strong brand.
What makes a strong brand identity?
Strong brand identity comes from high design standards that are applied regularly to every part of the brand's strategy. This is done via a brand style guide or brand book.