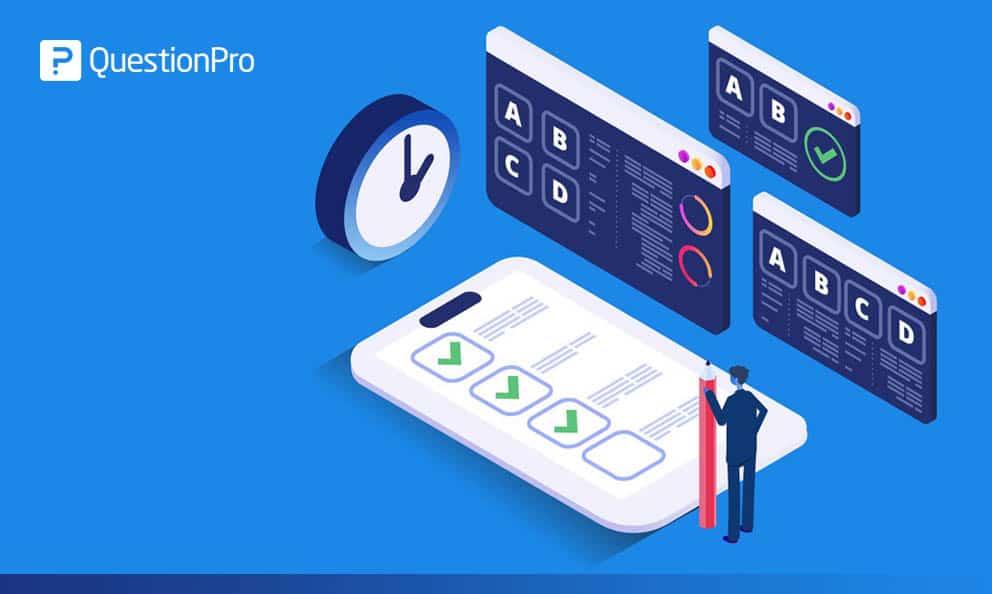 Timing is a crucial factor when it comes to conducting surveys. It can be the difference between receiving disappointing response rates or a flood of valuable feedback. Determining the best time to send a survey is crucial to increasing participation and getting the most responses.
To ensure the success of your survey campaigns, it's crucial to have a deep understanding of your audience's availability, engagement patterns, and the best timing to reach them. These factors can greatly influence the effectiveness of your surveys and ultimately determine their success.
In this blog, we'll look at the best time to send a survey and proven tactics and insights to help you get the best response rate. Discover the secrets to efficiently timing your surveys, the mistakes you should avoid, and actionable suggestions for increasing engagement and gathering the data you need for informed decision-making.
Checkpoints to get the highest survey responses
When it comes to surveys, high response rates typically depend on the following checkpoints:
Target the right audience
Determine your survey's specific target audience. Learn about your audience's characteristics, interests, and demographics.
Choose a respondent profile – who are these people? B2B or B2C.
Designing the survey
How well surveys are written targeting their audience.
Create a visually appealing survey with a subject line that captures the recipient's attention and catches their interest.
Personalize your survey questions according to targeted audience requirements and interests, ensuring relevance and enhancing response likelihood.
Consider the survey's length – short vs. long surveys. Simple and short surveys have the best chances of getting the highest customer feedback and more responses.
Create a survey that is focused on a specific topic or objective.
Keep the number of questions to a minimum to prevent overwhelming respondents.
Prioritize the most important questions so that participants may finish the survey quickly and simply.
Optimize the distribution and timing
Determine the target number of responses you need to achieve your survey goals.
Select the best time to send a survey invitation.
Consider factors like recipients' availability, work schedules, and time zones.
Optimize the survey for mobile devices, as many respondents access surveys on smartphones or tablets.
Send reminders
Follow up with friendly reminders to individuals who still need to complete the survey.
Send reminders at suitable intervals to encourage participation while avoiding annoyance.
Highlight the significance of their feedback and the time remaining to complete the survey.
Express gratitude
Once the survey is completed, show gratitude to participants for their time and valuable feedback.
Provide a summary of the survey results or explain how their feedback will be utilized.
A thank you note encourages goodwill and increases the chances of continued engagement in the future.
The best time to send a survey
In a world where we compete for the attention of our respondents, how and when we send survey invitations impacts the results. People have asked us for years when is the best time to send a survey to get the highest responses. We've collected anecdotal data from 13 years of collaborating with our customers.
Now is the time to back it up with usage data to understand what's happening. The questions we seek answers to include:
What day of the week is the most popular to send and distribute surveys?
What time is the best time to send a survey and distribute it?
What week of the month is the most popular time to send surveys?
What time of day do respondents complete surveys for our customers the most?
How does the level of engagement with the target audience impact the distribution date of a survey?
Are there any notable differences between different product types – Communities, Workforce, CX?
We brought these questions to our data mining team, and here are some interesting findings that may inspire you to rethink how and when to distribute surveys.
Please note – to protect the privacy of our customers and comply with privacy and security laws, we did not view specific audience profile types or topics and specifically targeted activities in the United States over the past year. We focused our analysis on usage data by viewing survey distribution and completion timestamps based on different QuestionPro product features.
01. Tuesday is The most popular day of the week to send out surveys.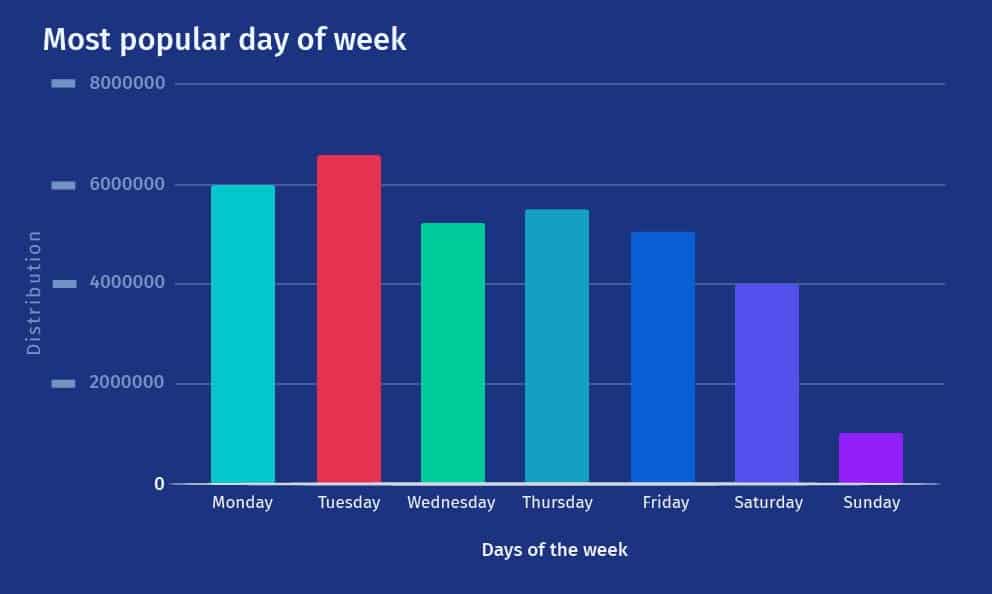 Tuesday, then closely followed by Monday, are the two most popular days of the week to distribute and send surveys from QuestionPro.
Thursday came in third, followed by Wednesday, and then Friday, rounding out the weekdays. Surprisingly, Saturday's distribution volume drops slightly from Friday, while Sunday is the least popular day of the entire week.
When surveying our customer-facing teams, they let us know that survey distribution on Tuesday is popular because it gives the survey administrator time to test the launch in batches and make changes on Monday before officially distributing the survey.
Mondays are a close second because survey admins spend the entire week prior to creating and testing their surveys before officially distributing their surveys.
02. The best time to send a survey invitation is between 10 am and 11 am local time.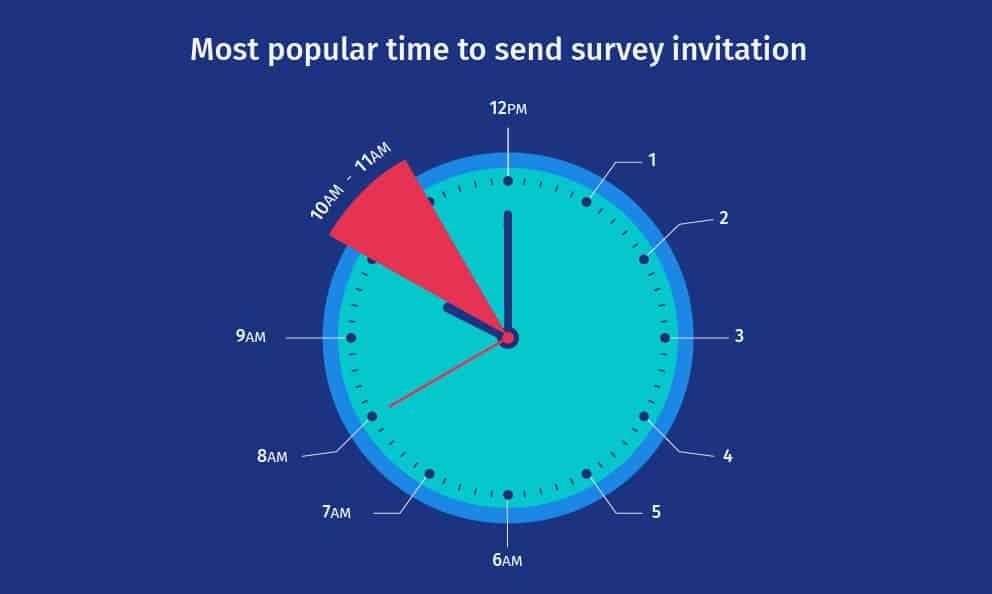 Our customers tend to deliver surveys in the mid-morning between 10-11 am, followed by the early morning between 6 am and 9 am local time.
A study by Convertful showed similar popular email distribution times for email marketing to be 10 AM for professional services but showed different preferred distribution times for eCommerce and software/SaaS audiences (between 12 pm – 2 pm).
Although we did not look into specific audience types for this study, we do acknowledge the time really depends on your intended audience. We recommend taking the data points that we've shared and testing them various times until you find what works best for the highest response rate.
03. We see the highest survey sent and completion activity in the last week of the month.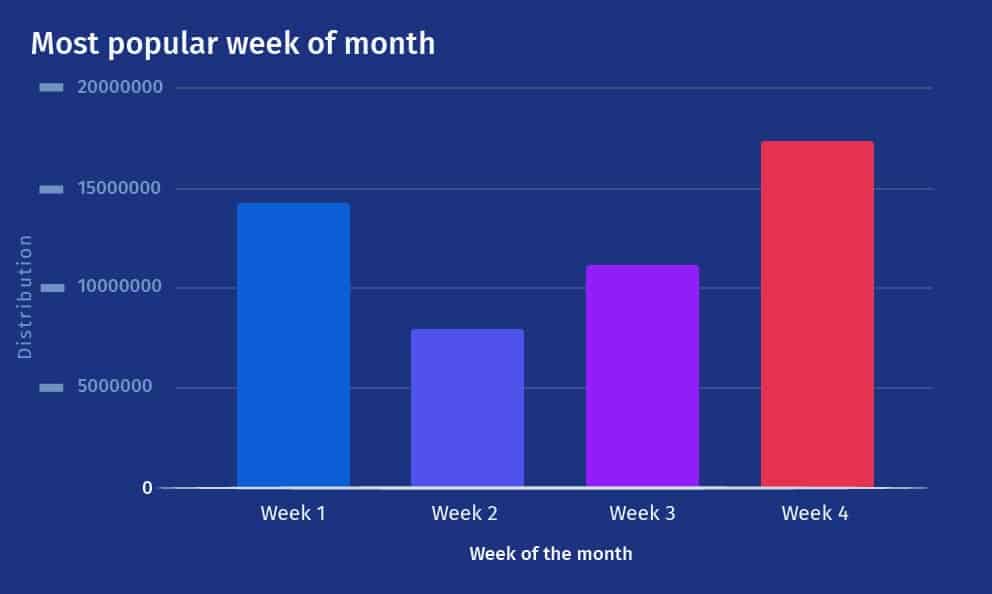 For QuestionPro customers, wrapping up the end of the month also means distributing surveys that have been in the works. From week one to week four, distribution activity starts out strong but drops the lowest during week two, then steadily rises to the highest in week four.
Our customer-facing teams confirmed that mid-month is focused on creating surveys or analyzing the results. The last week and the first week of the month are when they typically see a shift in questions regarding survey distribution options, sample sizes, and how to manage active surveys in the field.
LEARN ABOUT: Survey Sample Sizes
04. The most popular day respondents complete surveys the quickest is Tuesdays.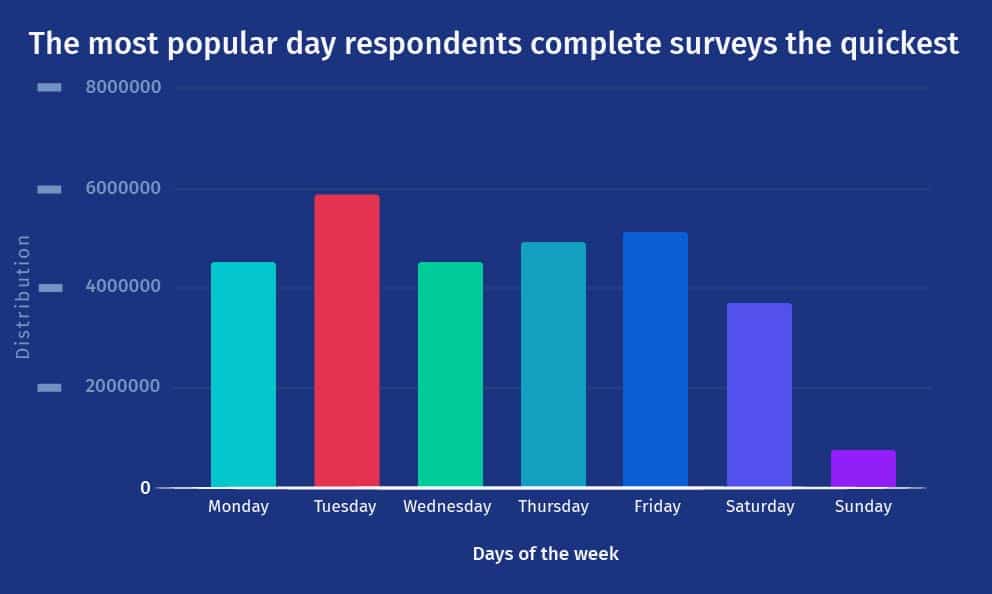 To answer this question, we reviewed timestamps based on the average time it took to send and receive completed surveys. We found that Tuesday had the quickest response time, while getting results over the weekend took the longest.
The second-highest response day was Friday, which may seem surprising. Our customer-facing team confirmed that Friday is a high-activity day with spikes in questions directly from survey respondents. The completion time slows down for the rest of the week, but not enough to be worried about sending surveys on those days.
Other factors that could influence survey completion times are the length and topic. We recommend using the data we are providing and test launching your own response study to determine what works best for your survey projects.
05. The level of engagement with your target audience influences the distribution date and survey completion rates.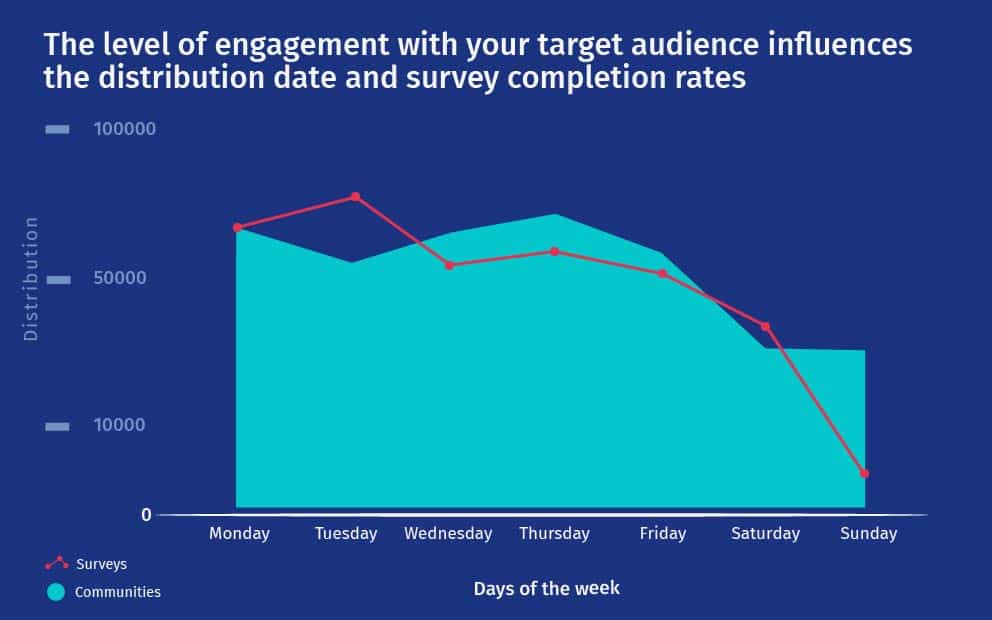 For QuestionPro Communities vs. Surveys, we found something very interesting. Survey customers had more popular times of the month, days of the week, and times to send surveys. In contrast, Community customers sent survey email invitations every day during waking hours of the week and even showed engagement activities on the weekends!
Of course, audience profile type matters – B2B communities prefer engagement during the workweek, while B2C communities are open to responding to surveys nearly anytime.
These results tell us that if you are managing a highly engaged with your audience, then your response rates will typically be higher and quicker than those who do not regularly connect with their target audience. It doesn't matter when or how you send your surveys.
Regardless of industry, highly engaged respondents trump nearly all survey deployment, completion date, and time logic. However, managing a highly engaged audience requires short- and long-term strategies to recruit, maintain, and manage ongoing relationships. The effort and overhead are high in the beginning, but the long-term benefits are immense when you can leverage a highly engaged audience.
06. Product-specific distribution
Different product kinds have different goals, audiences, use cases, and characteristics. Communities focus on cooperation and knowledge-sharing, workforce products focus on improving employee operations, and CX products focus on improving customer experience.
Workforce – Monday and Tuesday were the two popular days to send employee engagement surveys. This aligns well with employee surveys showing that the best day to deliver important work emails is on a Monday or Tuesday in the early morning or mid-afternoon due to open rates being the highest during those times.
Communities – Tuesday is the most popular day to send community surveys, although other days were slightly lower but fairly consistent.
CX – For customer experience, it depends. Customer surveys are generally contingent on the point of sale and customer journey. If it's automated, the date and time will vary based on customer activity.
Mistakes to avoid when sending a survey
When distributing and determining the best time to send a survey, it's critical to be aware of specific mistakes to avoid. Here are some frequent mistakes to avoid:
Sending surveys on the weekends or holidays
It can greatly affect response rates if you don't think about the best time to send a survey. Don't send surveys on weekends, holidays, or busy periods when people may be less likely to respond.
Asking biased or leading questions
Be careful not to bring in bias or change respondents' answers by asking leading questions. Keep your questions fair and clear-cut to get honest answers.
Lack of follow-up or communication
Once the survey completes, it is crucial to share the results or activities made in response to the email feedback. Keeping respondents updated encourages transparency and gratitude for their time.
Failing to thank respondents
It is critical to express gratitude to survey responders. A simple "thank you" letter goes a long way toward expressing gratitude for their time and input, generating goodwill for future collaborations.
The takeaway from all of this? Timing can make a difference
In short, here's what we found from our research into survey distribution and response timing:
Tuesday is the most popular time to send survey invitations.
The most popular time to send surveys is 10-11 am local time.
The last week of the month is the most popular time to send invitations.
Tuesday has the quickest response time to surveys than any other day.
Highly engaged audiences typically respond faster and quicker regardless of the date or time invitations were sent.
Are you wondering about the best time to send a survey and how to maximize your response rates? You're already on the right track! Based on the data we've shared from our analysis, we strongly encourage you to run your own survey timing project to determine what works best for your insights.
Use this as a baseline to get your organization to think about leveraging time and specific product features to ensure invitations are sent when your audience is available to offer feedback.
At QuestionPro, we're dedicated to helping you gather valuable insights to improve your business. Our user-friendly survey design and tools will guide you every step of the way, ensuring you make informed decisions for a successful survey.
By timing your survey right, you'll not only avoid frustrating your recipients but also increase their willingness to respond. Engage your audience and achieve significant valuable responses – that's the ultimate goal of a successful survey. Let QuestionPro be your trusted partner on this journey of survey excellence.