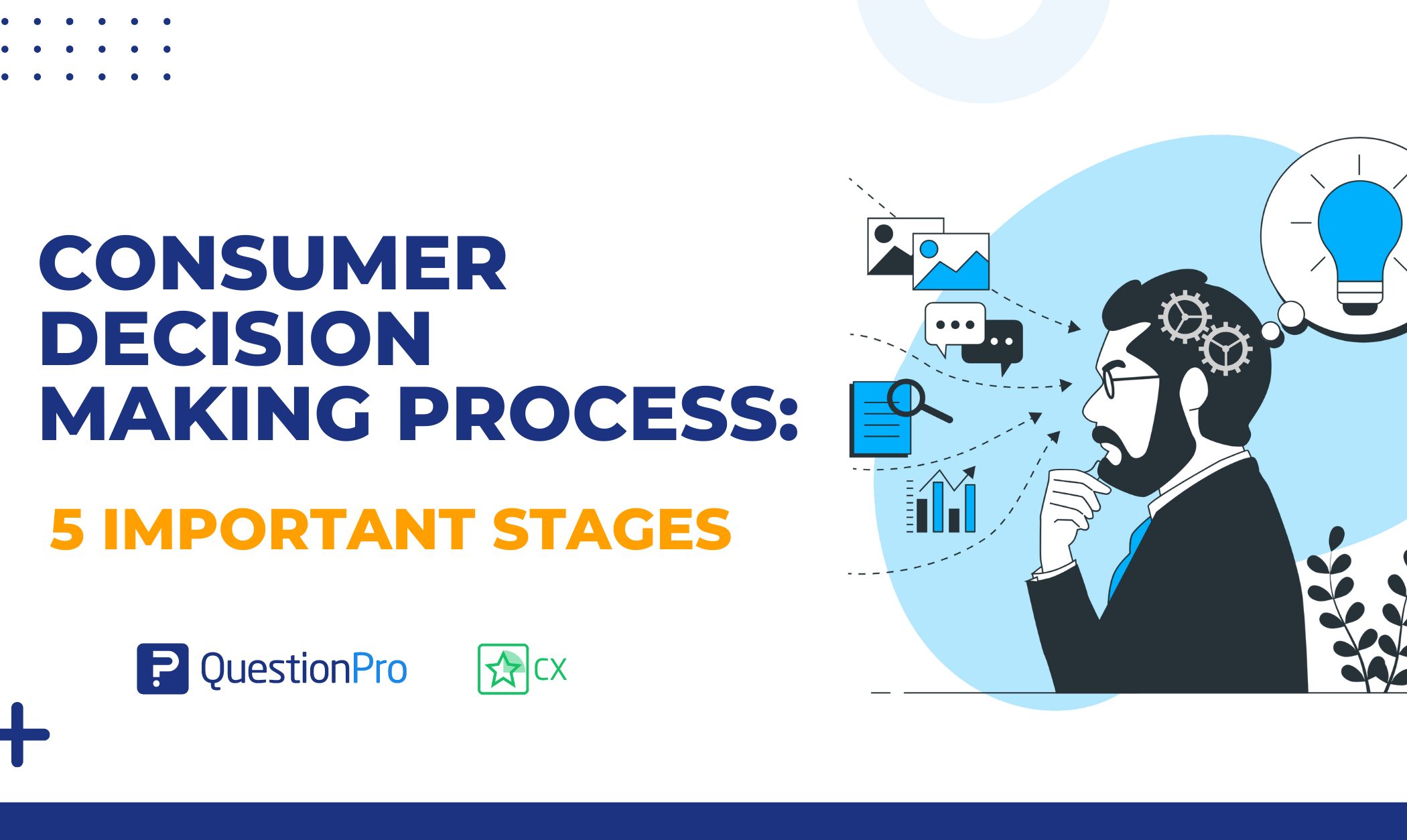 Understanding the consumer decision-making process is crucial for marketers because it allows them to identify the driving forces behind consumers purchasing goods and services. Marketers should examine how their target audience will choose products and services when establishing a marketing strategy.
Understanding how customers decide what they want to buy is often a key part of the most successful marketing plans.
How do customers choose to purchase from you? You can be setting yourself up for failure if you don't know. Your success depends on your ability to comprehend the client purchasing process. Understanding the consumer decision making process will help you better immediate prospects toward the sale.
From this blog, we will learn the consumer decision making process and the stages you need to follow to create one.
What is the consumer decision making process?
The consumer decision-making process involves the following:
Figuring out what they need.
Gathering information.
Weighing their options.
Deciding what to buy
Consumer behavior can be affected by economic and psychological factors and environmental factors like social and cultural values.
Consumer decision making is a complicated process that involves everything from recognizing a problem to doing things after buying something. Every consumer has different needs in their daily lives, and these needs cause them to make other decisions.
Learn more about why understanding your Customer Journey transforms your CX program.
Depending on what a consumer feels about a specific product, making decisions can be challenging because It involves comparing, evaluating, choosing, and buying from a wide range of products.
Marketers need to understand and realize the basic problem of how consumers make decisions to make their products and services stand out from others in the market.
LEARN ABOUT: Buying Behavior
5 important stages of the consumer decision making process
We will look at the five stages of a consumer's decision. There are many changes have happened, but the five steps are surprisingly the same. Let's take a look:
Stage 1: Need recognition
The first stage in the consumer decision-making process for a consumer is to figure out what they need. The most important thing that leads someone to buy a product or service is their need for it. All buying decisions are based on what people need.
Finding out what the customer needs is the first move to evaluating the Consumer Decision Making Process. Finding out what needs and wants the target market has can help with many marketing decisions.
Stage 2: Searching and gathering information
People are usually skeptical when they have to choose between options. So they need all the facts before they spend their money. After figuring out their need, the potential consumer moves on to the second stage: searching for and gathering information.
The buyer considers all the benefits and drawbacks of the purchase at this stage of their decision-making process. Because of changing styles and online shopping sites, consumers know much more about what they want to buy and can make better choices.
Consumers can get information from many different places, like books, magazines, the Internet, and reviews of products by other people. It's important to make a purchase decision, so the consumer shouldn't be in a hurry when learning about the products and brands on the market.
You may also check out this guide to learn how to build your own Customer Journey Map.
Here are some places where you can find information:
Commercial Information Sources: Important types include digital media, newsletters, TV ads, salespeople, and public displays.
Previous Purchase Experiences: It is consumers' past experiences with using a product.
Personal Contacts: This is a very reliable source of information and impacts the consumer's mind the most. Consumers usually talk to their friends, family, coworkers, and acquaintances about their needs and interests in different products and then use their advice to decide what to buy.
Stage 3: Considering the alternatives
The third stage in the consumer decision making process is to carefully look at all the alternatives and substitutes on the market. Once consumers know what they need and where to get it, they will start looking for the best deals or options.
At this stage, the consumer compares options based on price, product quality, quantity, value-added features, or other essential factors. Before choosing the product that best meets your needs, look at customer reviews and compare prices for the alternatives.
After finding helpful information, the consumer chooses the best product on the market based on their taste, style, income, or preference.
Stage 4: Buying the product or service
After going through the above stages, the customer decides what to buy and where to buy it. The consumer makes a smart choice to buy a product based on his needs and wants after he has looked at all the facts.
Needs and wants are often sparked by marketing campaigns, recommendations from friends and family, or sometimes by both.
Stage 5: Post-purchase evaluation
In the last stage of the consumer decision making process, the consumer evaluates or analyzes the product they bought. They look at how helpful the product is, how satisfied they are with it, and how much it is worth to meet their needs.
If consumers know that the product they bought was worth what they paid for and met their expectations, they will stick with that product.
LEARN ABOUT: Consumer Decision Journey
Conclusion
Understanding this process from beginning to end is vital if you want to attract more potential consumers and turn them into buyers. By breaking down the consumer decision making process into the stages above, you will understand how to get the most out of your marketing efforts.
If you want a potential consumer to become a loyal brand advocate, you must build trust and keep them interested throughout the process.
You can conduct a survey focusing on each decision-making step to better understand your consumers' decision making process. Using the survey insights, you can improve your product features and services. It will help the consumers decide to buy your product from you. To make your survey easier, use QuestionPro CX.
QuestionPro CX is a customer experience management tool that examines textual client input and draws conclusions from qualitative data. Sign up immediately and let us know if you want to discuss your survey and research objectives.