Customer Journey
Customer Journey is seldom a linear process. How marketers and the organizations they work for decipher the roadmap the customer is using on his or her journey requires tools, time, and commitment.
This was brought to light in the August 2015 edition of the CMO Survey. This semi-annual survey is conducted in February and August and is co-sponsored by McKinsey and Company, the American Marketing Association, and Duke University's Fuqua School of Business.
The survey covers several aspects of relevance to marketing leadership including market dynamics; growth strategies; marketing budgets and headcount; social media; and the use of analytics amongst other topics.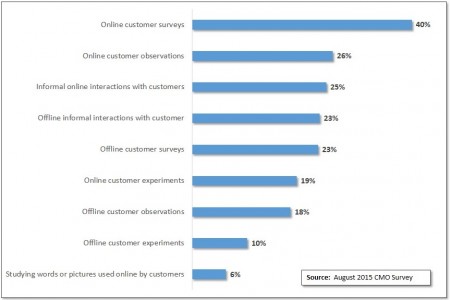 When it comes to keeping track of customer/prospect wants and needs the online customer survey is still the go to tool of choice for marketers, with 40% of respondents indicating they use surveys to engage with and learn from their customers.
Other key measures used include: online customer observations (26%); informal online interactions with customers (25%); offline informal interactions with customers (23%); and offline customer surveys (23%).
Other lesser frequently used methods include: online customer experiments; offline customer observations; offline customer experiments; and visual analysis of words and pictures used online by customers.
Using both sides of the coin
The use of both digital and offline tools is critical to understanding how customers interact with the brand, and even more importantly in identifying the stumbling blocks that customers and prospects face when attempting to engage with your offerings.
Although surveys receive the most use, the optimal toolkit will incorporate a broad selection of tools your sales, marketing, and customer service teams can use to engage with and learn from the customer. Tools in the right hands will produce actionable insight. The question to be asked is how do you store and distribute that information?
CRM benefits
CRM systems can be effectively leveraged to capture customer survey responses along with relevant transactional data. For example, output from a predictive churn model can be leveraged by call center reps to adjust their conversation with customers. Those with higher estimated churn scores can be re-directed to specialized customer care teams. Other systems such as SharePoint can serve as effective repositories of marketing insights. This information can be called upon for determining messaging strategy or assisting a sales rep in better understanding who they are speaking with.
The days of working strictly off a "gut feeling" are over. The plethora of market-related information available to sales, marketing, customer service, finance, and other departments can be staggering if you do not have a plan. That plan must include the use of tools and technology by trained operators coupled with an appreciation of the strategic value of the customer information acquired.
Looking to deliver exceptional customer experience? Discover more about how to delight your customer at every touchpoint and turn them into brand advocates.