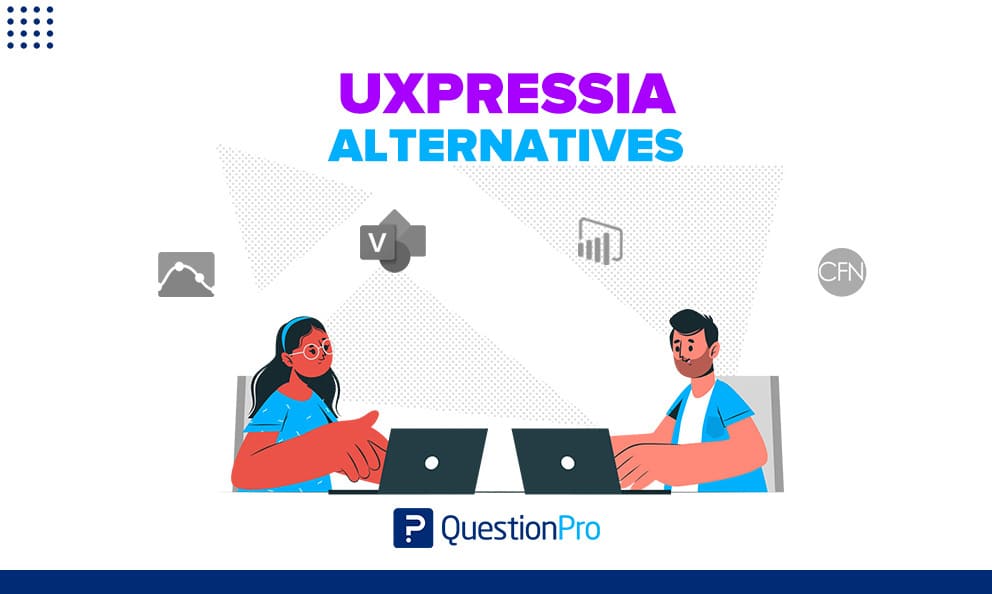 Have you tried UXPressia for building your Customer Journey Maps (CJM) but still, you can't seem to feel completely attuned to what the software offers? Do you wish there could be another platform alternative to create your CJM more efficiently? Well, good news! The current CJM software market is full of alternatives to UXPressia.
Stick around if you'd like to learn what UXPressia is, why you should consider another alternative and seven Customer Journey Mapping tools you should try!
What is UXPressia?
UXPressia is a collaborative user experience platform that helps customer journey mapping to facilitate the visualization of customer interactions and touchpoints throughout the customer journey stages. CJM is critical to deep dive into your customers' needs and thus create better customer experiences.
That said, UXPressia has great features for performing user behavior analysis to increase sales. It is worth noting that UXPressia has many templates ready to use or modify if necessary.
The platform also enables a quick and easy analysis result due to its manageable, impeccable, and elegant visual representation. In addition, platform users have access to a virtual chat, where they can find suggestions, guides or ask questions about any concern that may arise while building their CJM.
The prices that UXPressia currently offers to the public are Free account (with the limitations will talk in the next section), Starter ($16 USD/mo), Pro ($36 USD/mo), and Enterprise (custom pricing).
Check out this guide to learn how to build your own Customer Journey Map.
LEARN ABOUT: Customer Journey Mapping Tools
Why look upon an alternative to UXPressia?
All in all, UXPressia is quite complete, but like all software, it still has some drawbacks that make users contemplate the idea of reviewing other alternatives.
According to Capterra user reviews, the main disadvantages are the following:
The free version is very limited in the number of customer journey maps, persona, and impact map users can create only 1.

Users only get the option of working with 1 project at once.

CJM and Personas can't be fully customizable and edits (content types) are very restricted

It is only available for a limited amount of languages.

The interface can get slow at times and cumbersome, making it challenging to make edits to existing CJM.
7 Best UXPressia Alternatives & Competitors
1. Touchpoint
Touchpoint is a specific tool to explore each point of contact between a company and a client in depth. With this specialized software, companies can analyze each of their customer's interactions and even identify touchpoints they weren't considering.
The great virtue of this tool is that it allows you to work collectively to design a collaborative customer journey map and assign tasks to different team members.
It is the ideal platform to identify areas for improvement in contact points and decide which are the most important when it comes to attracting customers, generating conversion or retaining them.
2. CFN Insight
CFN Insight is another customer journey mapping tool that allows organizations to analyze each touchpoint individually to draw insights and improve the customer experience for consumers.
On the other hand, this tool allows you to assign an owner to each business area or stage that you want to improve. Thus, this person will be responsible for implementing and monitoring the measures that will improve the customer journey.
3. Microsoft Visio
Microsoft Visio is a Microsoft data visualization tool that allows you to design diagrams and flowcharts from our customers' data.
This platform aims to make diagramming easy and to be carried out by non-technical users (such as professionals dedicated to customer relationship management). The platform also incorporates pre-designed objects, shapes, and templates that simplify creating diagrams.
4. Canvanizer
Canvanizer i's a customer mapping software that reviews different areas of your organization and includes customer focus. Canvanizer targets the development, brainstorming, and structuring of ideas and concepts as a canvas.
Depending on the type of project, you can be able to pick between different templates or start from the beginning with a blank canvas. The main advantage is that it's a free tool.
If you enjoy reading about customer journey you might be interested in learning about user journey map
5. IBM Journey Designer
IBM Journey Designer enables users to start creating customer journeys in minutes. Marketing, sales, and customer service can collaboratively visualize cross-channel journeys, set common marketing goals, and design tailored customer experiences in a drag-and-drop, easy-to-use interface for multiple priority segments. Users can also participate in conversations, send files, and notify team members of any activity during the construction of customer journeys.
6. Smaply
Smaply is a software created to map the journey of our customers. Specifically, it allows companies to manage their customers' experience and interactions with the brand and then visually represent it in a customer journey.
It consists of three parts: Journey Maps, Stakeholder Maps, and People. Thus, in addition to mapping the customer journey through the "Personas" product, companies are able to create profiles of their customers.
On the other hand, Smaply also enables the visualization of the ecosystem of a specific product so that companies can analyze the impact elements related to one of their products or services.
7. Power BI
Power BI is another essential tool to create data visualizations easily and monitor our performance indicators linked to customer relationships.
One of the strengths of Power BI is that it is a tool specifically designed to meet the business needs of corporations and enables the development of visually attractive corporate dashboards and reports in business keys that make data easy to read. and performance indicators and KPIs.
Power BI also integrates with a large number of data sources, platforms, APIs, and software such as CRM systems, Google Analytics, Semrush, Salesforce, etc.
Learn how to create your customer journey canvas and download our template.
How to get the most out of your customer journey mapping tool?
The Customer Journey Map is an ideal tool if you want to get closer to your customers and understand them better. It will help you improve your business and, above all, strengthen relationships with your customers. This is why selecting a complete and efficient CJM platform is key to creating the best representation of all your customer's interactions and touchpoints.
It is also important to mention that these tools are just one small piece of the puzzle to understanding your customers' journey.
If you already have your CJM in place, it's time to put it to use! Strengthen your CX program and take more advantage of your customer journey map by the use of a customer experience management platform.
QuestionPro CX enables businesses to capture feedback throughout the entire customer journey. With QuestionPro CX you can quickly determine where problems are happening and identify what is preventing customers from turning into advocates of your brand.