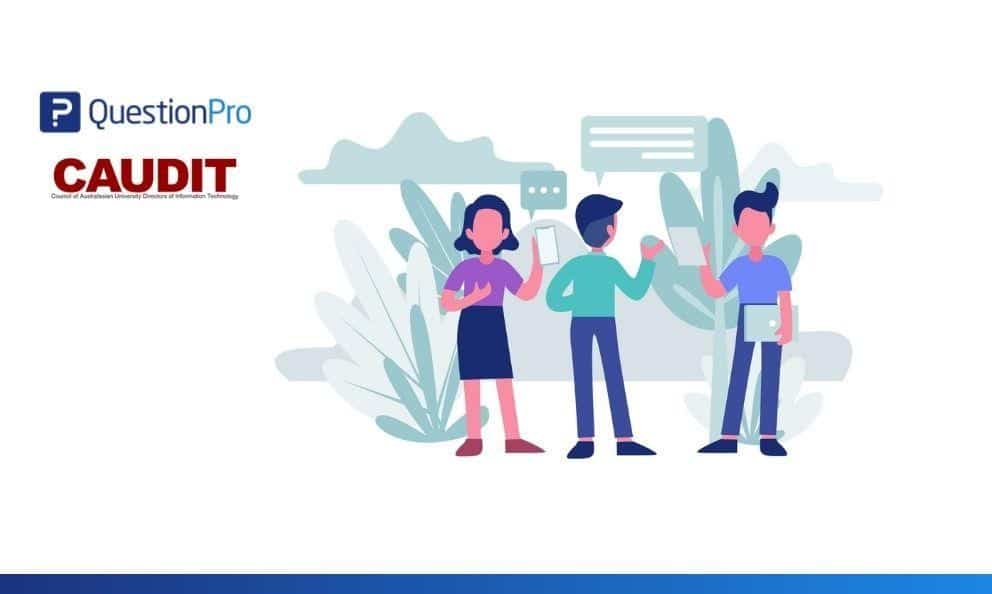 We are thrilled to announce our partnership with the renowned organization, CAUDIT (Council of Australasian University Directors of Information Technology). The not-for-profit association owned by the Australasian universities and a number of major research organizations supports its members in leading the application of digital capabilities to transform education and research. The three key strategies used by CAUDIT – connect, enable, and challenge – are what foster its culture of sharing and collaboration in a trusted environment. CAUDIT negotiates with ICT vendors on a sector-wide basis to procure maximum mutual value. It ensures a good understanding of future technology roadmaps and works with AARNet to maintain relevance. Its focus on strategic procurement enables significant savings to members across the Higher Education sector. 
This is where QuestionPro comes in. Our Research Edition license is tailored to bring maximum efficiency to higher education institutions. We help you create surveys, collect responses, and analyze results. Easy to use, fast, and reliable, QuestionPro Survey Software is the perfect tool for educational institutions. 
Here is where you can access the Procurement Offer from CAUDIT- https://caudit.edu.au/resources/private/questionpro-offering-proposal
Our academic licenses give you access to all the best features used by our Enterprise clients:
Advanced logic and workflows for smarter surveys

Over 1000 universities and colleges across the globe

Academic license supports multi-admin role environments

Collaborative research across universities

Quantitative and qualitative reporting

Data analytics and offline surveys
QuestionPro CX, Workforce, and Audience add unique value to your institution.
QuestionPro CX

helps you understand the pulse of your campus and helps you earn trust and loyalty with every interaction. Instead of measuring the student experience via surveys alone, we empower you to capture signals from all the stakeholders; helping you facilitate interventions, insights, and improvement.
QuestionPro Workforce

will help you engage and empower your employees to drive better performance. The higher education market is very competitive and your employees are your best asset. With us, you can drive growth and efficiency by designing, managing, and scaling the best employee experience programs. 
QuestionPro Audience

is a market research panel, also known as an online sample. Typically chosen from a pre-arranged pool of respondents who've agreed to be contacted by a market research service in order to respond to surveys. We help you find the best audience for all your research needs with millions of survey respondents and a quick turnaround time.
Tune into our QuesitonPro CAUDIT Webinar – Procurement Offering Launch here – QuestionPro for Higher Education – CAUDIT – Procurement Offering Webinar

We look forward to our partnership with CAUDIT, which it enables by negotiating collective procurement arrangements, and working with members and QuestionPro. Some of the key areas in which QuestionPro will add value to CAUDIT's members are:
Flat and definitive pricing (based on the number of FTE)

Unlimited surveys and responses

Unlimited training and certification

Dedicated AU servers

Dedicated support from Australia and India

Systematic Qualtrics migration model 
Over the 13 years we've been serving higher education institutions, we've developed thousands of institutional partnerships and completely understand the needs of stakeholders – researchers, faculty, staff, students, and alumni alike. For instance, we've been providing cloud-based survey software services to La Trobe University, Melbourne since 2018, and in this time have processed over 2.5 million survey responses and hosted 65,600 surveys. In our effort to scale operations in the Australasian region, we have established an office in Australia that aims at supporting out clients locally. We look forward to working with many, many more such institutions in the Australasian region as our partnership with CAUDIT flourishes.
If you need more information, you can reach out to us at [email protected].