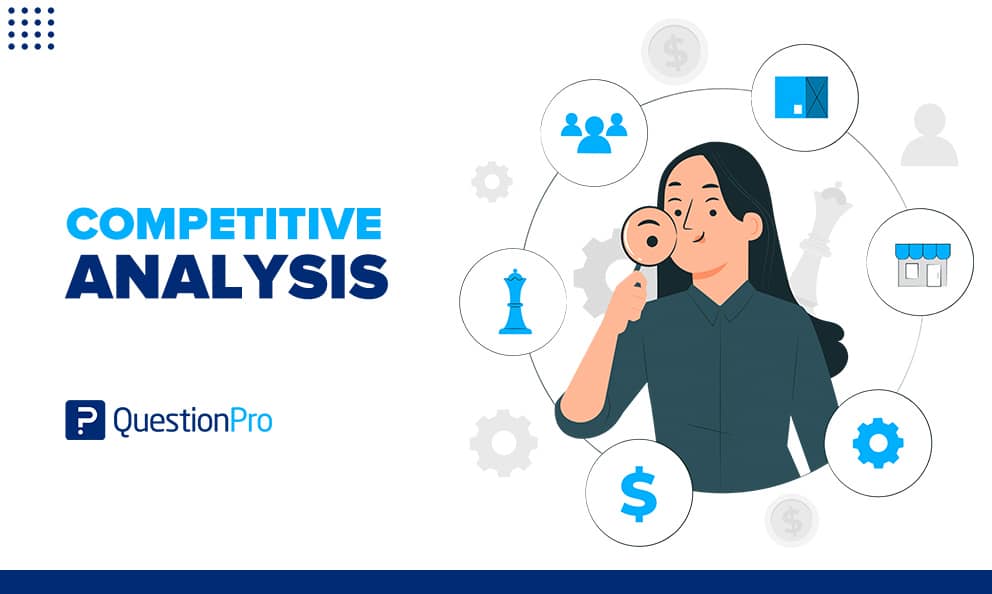 No matter what you do, you will find other companies that offer similar products and services. You need much knowledge and insight about your competitors to get ahead of them in a competitive market.
Competitive analysis can be useful here. Analyzing your competitor will help you identify their marketing methods and evaluate your company's strengths and weaknesses in the marketplace.
LEARN ABOUT: Market Evaluation
This post outlines a complete guide for any business to conduct a competitive analysis. Add your knowledge of your industry and business with this, and you'll have something practical.
What is a competitive analysis?
A competitive analysis is a method of finding your competitors in the marketplace and analyzing their plans to identify their strengths and weaknesses compared to your business. This analysis aims to acquire information and develop your marketing strategy.
Marketers and business owners can learn more about their competition using modern software and technologies. It is critical to conduct competitive analyses regularly to stay one step ahead of the competition. Knowing your opponents helps you beat them.
Why should you conduct a competitive analysis?
Are you going into business? Before you start, it's always a good idea to conduct an analysis of the competition. Not just for startups, every step of the company's lifecycle can benefit from its use. Let's figure out why you should conduct a competitive analysis:
Competitive analysis reveals your competitor's actions and identifies how they can affect your company's success.

It helps you identify places to position yourself for a winning outcome. 

Assists you in better understanding how to optimize your business plan.

It helps you determine your product's brand values and what sets it apart from the competition.

It provides you with a way to measure your development.

It will help you find new market research trends and keep you ahead of other companies in your industry.
LEARN ABOUT: Market research industry
Comparative analysis: A step-by-step guide
When you're ready to start your competitive analysis, use the methods described here to keep your research structured and organized. Make a spreadsheet to keep all this information in one place.
Find out your competitors
Identifying the appropriate competitors to analyze is the essential part. To begin, you must determine who you are truly competing with. If you don't, your research will be useless. For better or for worse, your company's overall impression is shaped by the competitors you choose.
Start by identifying your competitors as primary or secondary. This will assist you in determining their business relationship.
Direct competitors:

These competitors are businesses that sell similar products or services to the same customers as yours. They are also known as primary competitors.

Indirect competitors:

These are secondary competitors, offering the same or related services and products as you do but for a different need or audience.

Tertiary competitors:

This is the third kind of competitor. They sell a product that might be related to yours in some way, but it doesn't really compete with yours.
You also need to know the position of your competitors. Competitor positioning is essential to set yourself apart and establish a positive reputation among your clients. You can analyze these channels to identify your competitor's position:
Social media

Online communities

Keyword research

Search engine results page

Website copy

Press releases
Product Offering and Pricing
After knowing your competitors, you can look at what they are selling. List all of your competitor's product features and explain the value that each one provides to customers. Please take note of their pricing and any discounts they may be offering customers. Consider the following questions:
What are the most important parts of your competitors' products?

How much is your competitor's lowest price?

What are the most significant things that affect the price?

What makes your competitor's product better than yours?

What are the things that your competitor's product doesn't do well?

How do customers feel about your competitor's products?

How do they get their products and services to people?

How is the company different from its competitors?
Content comparison
Now you can start your analysis to figure out what kind of content they're putting out. Find out how often these content assets will be used. Do they put out new stuff every week or once a month? How often are new ebooks and case studies published? By looking at their content, you can see what changes you have to make better than your competitors.
Once you find their content strategy, you may compare it to yours. For example, if your competitors post case studies regularly, this could be why your quality leads are moving to them.
Check out their blog more closely. If your competitors publish three times a week and you publish once every two weeks, you can generate more website traffic by posting more regularly. Finding out what works is an important part, but there's no point in trying to copy something that doesn't work.
Understand competitor's marketing strategy
A good product or service gets you in the door, but marketing gets you to the top. Sadly, most businesses don't look at how their competitors market themselves.
It takes a different point of view to understand your competitor's marketing strategy. You need to understand and find out what offers they're advertising, how they're establishing and managing contact lists, and how they're sharing material online.
You can check out your competitor's marketing like a potential customer. Here's how:
Registering for their newsletters

Blog subscriptions

Follow social media

Buying anything
You can also consider the following questions to understand the focus on competitor's marketing strategies:
Which keywords are your competitors targeting that you haven't?

Which of their content is popular?

How are your competitors using social media?

What drives visitors to the competitor's website?
You may learn a lot about your competition's strategies by analyzing these metrics and other support methods.
Next, Determine how your competitors utilize social media and promote. Find out what kind of information they post and how frequently they post it. Consider questions like:
What's their content?

Are they using visual content to increase brand engagement?

Do they upload events or cultural photos?

Do people click on their posts?
Check out how they're responding. Examine different social media platforms and note their total followers, post comments, reactions, and shares.
SWOT Analysis
Enhance your data with a SWOT analysis. This means you'll consider a competitor's strengths, weaknesses, opportunities, and threats while assessing an overall grade.
Strengths and weaknesses are based on what is happening right now. You can alter them over time. Opportunities and threats are out of your reach. You can make plans for the future is possible, but you cannot affect them. Here are a few inquiries to get you going:
Your brand's competition

Your competitor's weak point

Your brand advantage over competitors

Threaten areas

Assets
It is a good practice to conduct A SWOT analysis once a year. You'll see how your competitor's weaknesses compare to yours and how your weaknesses compare to theirs. Doing this can put your business in a better position and start to see where your brand needs some work.
Conclusion
Now you have an idea about competitive analysis and how to conduct one. Do a competitive analysis and use all the research findings of each competitor. Find the parts of your work that could be better. You'll find something if you keep looking.
When starting a business, it's essential to look at the competition. We suggest doing competitor research anywhere from once every three months to once every year. This gives you opportunities to think about what you've found and track your progress.
QuestionPro is more than just survey software; it does a lot more. We have a solution for every industry and every type of problem. We also have platforms for managing data, such as our Insights Hub research repository.