Having the feeling that your company is falling behind the competition is frustrating, right? Competitor research is one efficient strategy for staying one step ahead of the game. You can learn about your competitors' strengths and weaknesses, gain valuable insights into their strategies, and ultimately improve your own business through competitive analysis.
In this post, I'll discuss competitor research in detail and give you actionable tips on how to conduct it effectively. So brace yourself to overcome the competition.
What is Competitor Research?
Competitor research is the process of identifying your competitors, finding out what their strengths and weaknesses are, and evaluating their products or services. It helps you understand the market and find ways to differentiate your business.
You may learn a lot about the target market and the competition by analyzing the products and services of your big competitors. It also assists in identifying previously unnoticed industry trends in the business world.
LEARN ABOUT: Market Evaluation
Why is Competitor Research Important?
Competitor research is an important aspect of business strategy because it allows companies to learn about their competitors' strengths and weaknesses. Businesses can identify opportunities for improvement and areas where they can gain a competitive advantage by conducting a competitive analysis of their product or service, pricing, and marketing strategies.
Businesses may adapt their strategy to better serve their potential customers and position themselves to succeed in their industries by keeping up to date with what their competitors are doing. Following are some reasons for the importance of competitor analysis: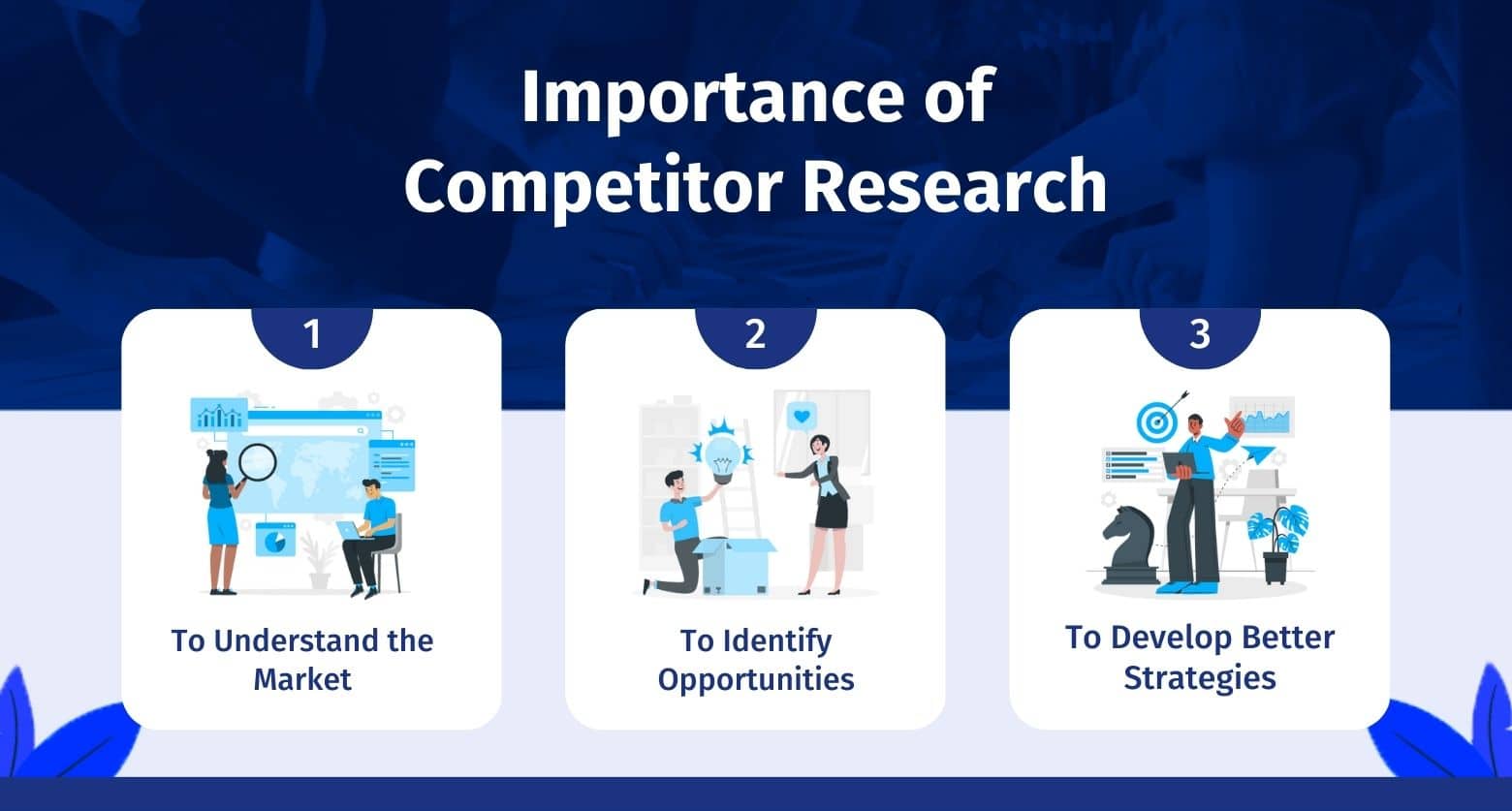 To Understand the Market: Competitive market research helps to find market trends, consumer preferences, and other important elements that have an impact on their industry by researching their competitors.
To Identify Opportunities: Businesses can identify market gaps where they can gain a competitive advantage by researching their competitors. For instance, they might identify market opportunities or brand-new customer groups to focus on.
To Develop Better Strategies: By conducting a comprehensive competitive analysis, you can better understand why customers choose to buy from you vs. your competitors. Businesses may identify what works and what doesn't by analyzing what their major competitors are doing and then modifying their marketing strategy accordingly.
LEARN ABOUT: market research trends
Is competitor research qualitative or quantitative?
Competitor research can use both qualitative and quantitative methods based on the particular research objective and the data that needs to be collected.
Qualitative research collects non-numerical data and is frequently employed to better understand customer behavior, attitudes, and opinions. Conducting customer interviews, evaluating interactions on social media, and reviewing online reviews are examples of qualitative research methods.
Quantitative research contains the collection of numerical data and is frequently used to measure market trends and the behavior of customers. Quantitative research approaches include conducting surveys or questionnaires, evaluating sales data, or making use of web analytics tools to measure website traffic
The appropriate strategy will depend on the goals of the research, the resources available, and the exact information you want to learn from the research.
Both qualitative and quantitative research approaches have their advantages and disadvantages. In many cases, a mix of qualitative and quantitative research methods can offer a complete picture of the competitive market.
LEARN ABOUT: Qualitative Interview
What should be included in competitor research?
A comprehensive competitor analysis or research should include some key elements to provide a complete picture of the market environment. Here are a few important things to consider:
Identify competitors

Find out who and what your competitors are offering. The simplest way to do this is just to perform a web search for your product or service category to see what results are provided.

In order to identify your primary competitors, you can conduct a survey about the products or services your potential customers are already using. Asking questions to your target audience is an excellent method to find direct and indirect competitors.
Analyzing the online presence of competitors

Check out what your competitors are up to on the web by visiting and auditing their websites, following them on social media, and using any other online channels they may utilize.

A competitor website audit analyzes their online presence, user experience, and digital marketing approach. It may include:


Website Design and Layout: It covers your competitor's website's layout, design, user-friendliness, and mobile responsiveness.
Content Quality: It involves the accuracy, relevancy, and audience-usefulness of the content on your competitor's website.
Search Engine Optimization (SEO): It analyzes the on-page and off-page SEO tactics used by your competitors, including how they make use of keywords, meta descriptions, headings, URL structures, domain authority, and link-building strategies.
Traffic Analysis: Find out how much organic and sponsored traffic your competitor's website gets, including their use of calls-to-action, landing pages, and forms.
Social Media Integration: Check out how your competitors use social networking symbols and widgets on their websites.
Lead Generation: Check your competitor's website for pop-ups, lead magnets, and other lead collection methods.
Competitive analysis of Products or Services

The competitive analysis's audit of products and services is a crucial component. It examines the qualities, costs, features, and unique selling proposition of the products and services that your competitors provide.

This examines the range of products or services provided by both you and your competitors in order to:


Identify the gaps: Product or service that your competitors provide but you do not.
Differentiators: Product or service that you provide but not by your competitors.
Pricing research

This is the most useful element of market research. Rates and prices are the top factors that customers worry about. Customers will choose a cheaper alternative if they can find a similar offering.

Competitive pricing research is most useful when done periodically, such as every 3 months, 6 months, or 12 months. This pricing trend lets you compare your prices to your competitors.

You can include questions regarding the price sensitivity of the product or service you are offering in your customer satisfaction surveys.
Marketing audit

The audit analyzes your competitors' marketing strategies, including their messages, channels, and market share. This may include things like:

Sponsored Ad Campaigns
Social media advertisements
Newsletters
Emails
Blogs
Webinars
SWOT analysis

You can find out each competitor's primary strengths and weaknesses as well as prospective market opportunities and threats by conducting a SWOT analysis (Strengths, Weaknesses, Opportunities, Threats). Create a SWOT analysis template and apply it to every competitor.
Gathering information and tracking your findings

Analyze each competitor's website, social media accounts, marketing materials, customer reviews, and other publicly available information to gather data. You can also conduct surveys, interviews, and focus groups with your target customers to learn about their perceptions of and interactions with your competitors.

Make a spreadsheet to track your competitors' findings. This will assist in ongoing monitoring. Keep track of the following details:

Business name
Website
Social media
Special features
Pros and cons
additional details
Improvements and conclusions

It's time to start planning how to use the information you've learned about how to differentiate from the competition.

Your analysis should identify at least one area where your company might use some improvement. This will teach you how to interact with your customers and online connections more effectively.
Competitive research is a continuous process. For you to remain competitive in the market, ongoing monitoring is required, such as watching how competitors change. Creating a competitor analysis template will make future market research easier for you.
LEARN ABOUT: Market research industry
Dumpster Diving vs. Value Driving: Which would you pick?
Instead of spending all of our time and money figuring out what the competition is doing — shouldn't we just give our customers what they want?
Yeah. It was getting ridiculous. That little sentence almost got me fired. But, I had honestly had enough.
I was the 1-woman competitive intelligence department for a large pharmaceutical packaging company who had suddenly had a reality check moment when they saw bits and pieces of their multi-million dollar business start vanishing before their eyes.
Suddenly, I realized that other companies were providing the same products, and they went from one extreme to the other.
Over the next year or so, I did phone interviews, customer interviews, and even some dumpster diving, all for competitor analysis and with the intent of trying to figure out what was going on.
This was all in the days before the internet, so there was a lot of hands-on, feet-on-the-ground, kind of competitor analysis that I did. And my conclusion-customer satisfaction was a way better investment of time and money. But that doesn't mean that you should ignore the competition and not do competitor analysis; no way.
How to begin the competitor research process
Figure out what do you want to know and why?
When I first started doing competitive intelligence, it was a knee-jerk reaction to seeing sales and profits dwindle.
Where did the money go?
Why aren't they ordering the same number of parts as last year?
Who took my business?
And ultimately, the most important questions underlying all of these were "WHY were our customers leaving us?" and "What are we going to do about it?"
This was a good place to start our competitive analysis and competitive intelligence journey. The first step is knowing that you have competitors (duh! EVERYONE has competitors) and then understanding exactly what was important to our customers that we weren't fulfilling on and our competitors were.
What's your competitive dilemma?
Do you see a competitor getting more of your ideal customer than you are?
Do you see customers spending more on your type of product or service with someone else?
Do you see customers "doing it themselves" when you can do it better?
Get as specific as you can about exactly what you want to know and why.
What decisions are you going to make, and what information do you need to make them?
This is a sister question to the first and will often come only after you understand exactly what's going on in your competitive landscape. But it's a critical piece of information to have in your competitor's research because it will drive your time, money, and resources for a good amount of time.
So, the clearer you are on what decisions you're going to make and what information you need to make them, the faster the process will go and the more effective you're going to be.
What is it about this "competitive situation" that have you stumped?
Are you trying to launch a new product and not sure if customers would switch from a competitor to you?
Are you considering getting into a new market and wondering how to position yourself against an entrenched competitor?
How many customers would you need to be successful?
Imagine that competition was NOT an issue; what would you need to know to be successful? This will help you identify and focus on very specific questions that will move your story and strategy forward and keep you from getting mired in "nice to know" information.
Decide on who your actual competition is in your competitor research
You probably believe that your greatest competitor is the person who lives next door, lives across the country, or offers the same service as you do. Is that right? Your competitors are any other possibilities that your customer may have to get the result that you promise. That is how I would define it. Keep reading to find out.
Types of Competition
As you can see, there are three categories of competition:
Direct competitors

These are the folks who do exactly what you do. A popular example of direct competitors might be McDonald's and Burger King.
Indirect competitors

This is the category of competitors everyone forgets about. These would be businesses that are alternatives to the problem your customer is facing. In this case, hunger. So alternatives might be Pizza, Taco's, Chinese food, or even cooking at home.
Secondary competitors

These are folks who offer the same thing you offer but from a different context. Let's say Red Robin also serves hamburgers but in a very different way than either McDonald's or Burger King. They focus on the gourmet aspect of burgers and fries.
Take a moment to list some of your direct and indirect competitors, as well as secondary competitors, now. This will really help you get some context around your competitor research.
Here are some Cool Tools That Will Help You Track Your Competition. Meanwhile, you can use some of our product survey templates and find out where your competitive advantage lies.
What tools can I use to do competitor analysis?
Competitive analysis is now more accessible than ever because of developments in software and technology. With so many options available, choosing the best tool for conducting market research might be difficult.
Because of this, I've done the research and narrowed it down for you. Let's take a look:
Google Alerts: Set up a Google Alert to be notified whenever your competitor's name, product, or brand name, or maybe even their management team, is mentioned.
Social Media Tracking: Use HootSuite to keep an eye on your competitors. I like this platform because it's free, and you can make separate tabs for whatever you're doing. So, make a tab that searches for the most important hashtags in your industry. Then, make another tab that searches for your competitors' names and brand names.
Email Promotions: If your competitors use email marketing, SIGN UP to get their emails. Sure, they can take you off the list, but you'll still get information in your inbox.
BuzzSumo: I started using BuzzSumo to come up with ideas for blog posts, but I've since learned that it's also a great tool for figuring out how your competitors are doing. Just look up the name or brand of a competitor and see how many social shares they have.
HubSpot's Marketing Grader: This was originally made as a way to get people to sign up for your email list and show you how to make your website better. But why not use it to rate the website of your competitor instead? It's a simple way to see where they can't reach customers (oh, and you can use it for your own site for the same thing).
QuestionPro Research Suite: QuestionPro Research Suite is a user research toolkit. Users may get brand insights with the greatest enterprise-level research tools. Users can solve research difficulties by constructing simple questionnaires that deliver complicated, real-time data. It may be one of the best tools for users. The best features are:

Market research, Academic research, capturing qualitative and quantitative insights, and social media sentiment analysis.
Analyze pricing research data to determine market factors, including competition intelligence, purchase behavior, and pricing sensitivity.
A/B testing across questions, segments, and ideas.
Competitor Analysis FAQ
Is competitor analysis the same as SWOT analysis?

Competitor and SWOT analyses both analyze strengths and weaknesses, but they have different goals. SWOT analysis examines your company's strengths and weaknesses, whereas competitor analysis examines the competitors.

Competitor analysis looks at your competitors' strengths and weaknesses, the products they offer, their marketing strategies, and how well they do financially. The goal is to learn more about your competitors and how the market works
Why do we do competitor analysis?

Competitor analysis helps to understand the strengths and weaknesses of your competitor's comparison to your own and to identify market gaps. It is essential because it will assist you in identifying ways to strengthen your business plan.
What are the types of competitor analysis?

SWOT analysis, the customer journey map, and the growth-share matrix are examples of competitor analysis types. The customer journey is the tale your brand, digital footprint, and products tell. A growth-share matrix shows where to focus corporate activity.
What are the objectives of competitor research?

The purpose of conducting a competitor analysis is to investigate the nature of the shifting market environment to forecast the market's supply and demand. After that, modify your business strategy to optimize for the current situation.
LEARN ABOUT: Test Market Demand
Final Words
Competitor research can be difficult initially, but it's crucial to successful business management. It might not be as difficult as you thought when using the appropriate research tools.
QuestionPro is a set of research tools that let researchers make surveys, polls, online focus groups, and even mobile surveys. The platform has an easy-to-use interface and advanced customization options that let researchers make their surveys fit their specific research needs while collecting accurate data.
QuestionPro also has powerful tools for analyzing data, such as data visualization and real-time reporting, which make it easy for researchers to understand and present their findings. The automation features of the platform also make it easy for researchers to collect and look at data.