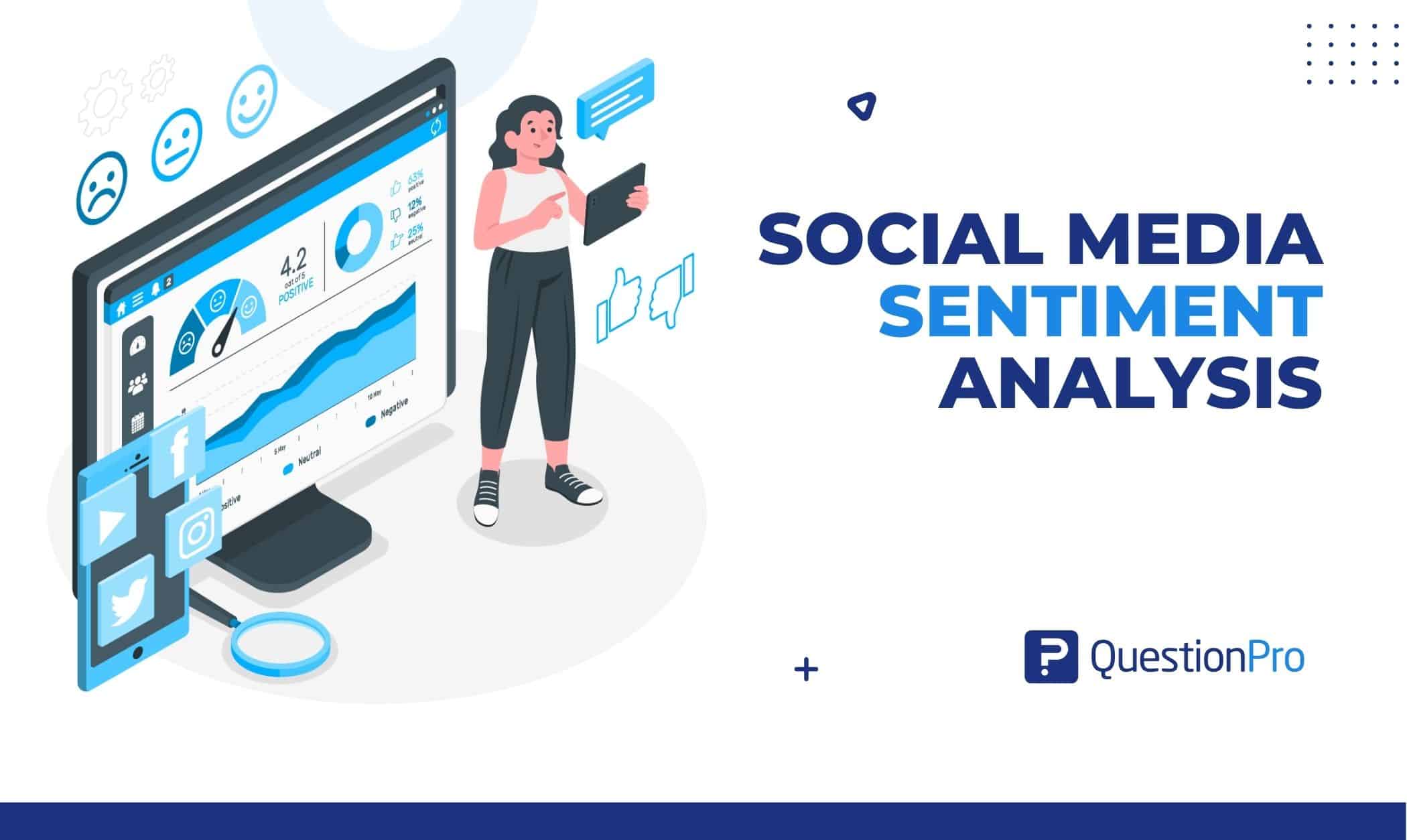 Social media sentiment analysis is a technique businesses can use to understand how to communicate with customers and learn how their brands and products are regarded.
As a result, marketing plans and brand perception can be shaped. It's important to understand where to begin and how sentiment analysis might be used in your company if you intend to do your analysis.
In this article, we talk about what it is and also give a helpful list of steps and tips for conducting and using sentiment analysis.
Social media sentiment analysis is a method of interpreting and identifying the positivity, negativity, or neutrality of the text data that social media platforms have collected. It encompasses more than only gathering and tabulating mentions, remarks, or hashtags.
Your understanding of the attitudes, opinions, and emotions underlying the text is deepened via sentiment analysis. You may find out if you were mentioned favorably or unfavorably in that amassed Facebook post. Your mention count is put into context by this.
Let's say that the quantity of brand references increases suddenly. It's easier to determine if that's a good or terrible thing right away with sentiment analysis. You'll be able to tell by looking at a sentiment analysis chart.
A more thorough analysis of your mentions can be conducted after considering sentiment. If you know, for example, that the underlying emotion is negativity, you can delve further to identify the underlying reason for the charged brand mentions.
You might only have known better with the sentiment analysis, believing that increasing mentions is a positive development. Sentiment analysis, however, has other uses as well.
Many factors, some of which we've explored below, make social media sentiment a helpful analysis. Sentiment analysis covers everything from gathering audience and brand insights to assisting you in identifying and handling a social media crisis.
Keep track of any company mentions
The first step in social media sentiment analysis is to locate online discussions that are being had about your brand. The issue is that they will only sometimes include you in those conversations.
You can create a Social Mentions board to compile your Mentions streams so you can quickly view them.
On some social media sites, you can keep track of posts you are not tagged:
You can keep an eye on Instagram hashtags that mention your company or items.
Using hashtags or keywords is an option for Twitter.
Make sure to generate streams for both your brand name and the names of your products or services.
Examine the sentiment expressed in the mentions
Consider the terms people may use to describe your brand—both positive and negative—and how they might be perceived. Following that, scan your mentions for words that convey emotion. As an illustration:
Positive words: love, fantastic, great, best, and perfect.
Negative words: bad, awful, terrible, worst, hate.
More phrases may be unique to your brand, product, or sector. Please list excellent and negative words, then search your mentions for posts that use them.
Remember to be aware of the context if you're manually tracking sentiment. Are those who claim to have had "the best" customer experiences with your company being ironic?
Generate a report
Several methods exist for determining your social sentiment score:
Percentage of mentions that are positive
Positive mentions as a share of mentions that are sentiment-based (removing neutral mentions).
Whatever approach you choose, as long as you stick with it, won't matter. The reason for this is that change should always be anticipated. Always get a better score using the second strategy.
Consider using a sentiment analysis tool
Social media sentiment analysis is a work you can conduct on your own, but using specialized tools can make the process go more swiftly and effectively.
The software may frequently scan social media posts and assist you in discovering references where the business wasn't automatically tagged.
The mentions can then be usefully analyzed to provide a report that can assist the business in making crucial marketing choices. Consider searching online for sentiment analysis software suitable for the company or industry you want to analyze if you intend to use it.
The Sentiment Analysis tool in the QuestionPro platform allows you to tag respondents' comments and organize them by the sentimental worth of their input.
QuestionPro is one of the best survey software for sentiment analysis in the market.
Sentiment analysis identifies and extracts subjective information from a text using natural language processing and text analysis tools. Utilizing QuestionPro's sentiment analysis, you may determine how social media users feel about a given topic or brand.
For sentiment analysis with QuestionPro:
You would first need to design a survey or poll with questions about the topic or brand you wish to examine.
Then, you can utilize QuestionPro's sentiment analysis tools to evaluate the responses and detect any trends or patterns in the responses' sentiment.
This can assist you in understanding how people feel about the topic or brand, allowing you to make informed decisions.
Overall, QuestionPro's sentiment analysis tools can be useful for businesses and organizations seeking to learn how people feel about a certain topic or brand on social media.
Conclusion
Businesses can better understand client sentiment by using social media sentiment analysis. You can adjust your product and tailor your marketing strategies based on this information to increase client satisfaction.
With a buyer sentiment analysis, you will know how your buyers feel about your brand and where their brand loyalty is. Even well-known brands like Nike and Adidas sometimes leave a poor impression.
Before beginning, the best social sentiment analyzer tools should be chosen first. Think strategically, keep an eye on audience trends, and focus on enhancing customer service.
Use social media sentiment analysis across several social networks for a greater variety of high-quality data. QuestionPro survey software uses sentiment analysis to assist businesses and organizations in analyzing social media sentiment about a topic or brand.
QuestionPro lets you construct surveys or polls with questions about the topic or brand you want to investigate and use sentiment analysis to find trends and patterns in the responses.