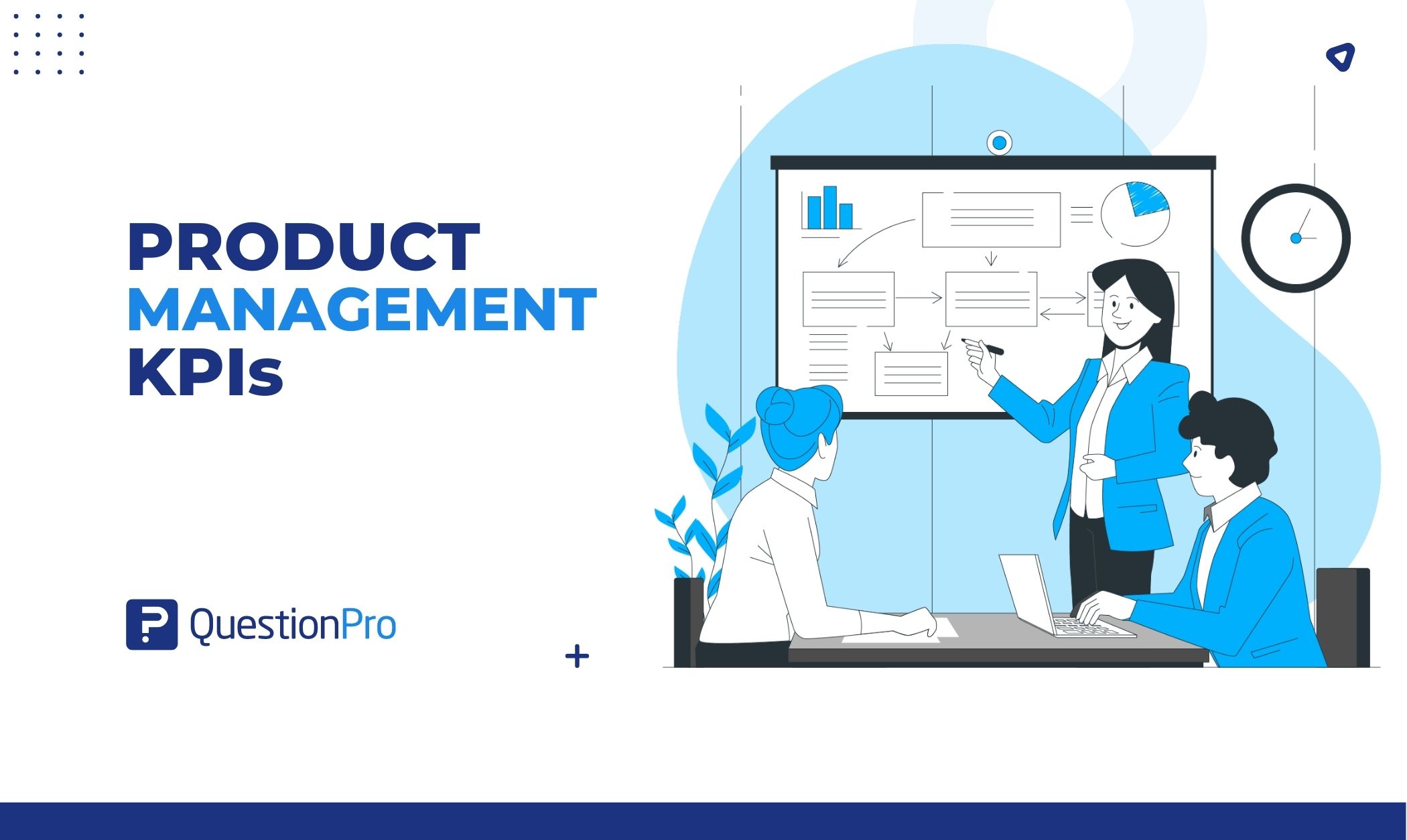 Need the key product management KPIs to measure how well your product is doing?
As a product manager, you'll need to know a lot about your product, like if it has any problems, how your team works on it, and much more.
You can use metrics measuring how well the product works to determine what the numbers mean. But you have a lot of information to look at to make your product better and more appealing.
That's why it's important to find the right Product Management KPIs if you want your product strategy to work.
Measuring the key performance indicators (KPIs) will help determine if you are on the right track to reach your business goals and see if your product strategy is working.
Content Index
What are Product management KPIs?
Why product management KPIs matter
12 product management KPIs and metrics
Measure Product management KPIs using QuestionPro
Conclusion
What are Product management KPIs?
Product management teams use Product Management KPIs (Key Performance Indicators), marketers, founders, etc., to determine how well business objectives are being met.
KPIs use quantitative measures to track performance and assist you in assessing whether your business is meeting its objectives and product vision. They serve as a gauge for what is and is not working.
Product management KPIs are used as a data-based backstop for decision-making. They provide the data needed to create successful plans.
KPIs aid in addressing issues like:
How should your budget's spending be prioritized?
How can you tell whether a new strategy is effective?
How much revenue does your product generate overall?
KPIs can be used in a variety of ways by your product team. They not only provide a means of gauging the success of your products and clients, but they may also aid in your decision-making.
The metrics you select should be based on your business objectives, such as generating more leads, improving website performance, gathering customer feedback for new features, etc.
Why product management KPIs matter
Product management KPIs matter for many reasons:
They give a way to measure and track how well a product is doing, which helps product managers figure out what works well and what needs to be changed. This lets them decide how to improve the product based on data.
By setting clear, measurable goals for the product, they help align the work of different teams and people in an organization.
They can help ensure that the product meets customer needs and business goals by tracking key metrics like customer satisfaction, revenue, and market share.
They can give useful information about how the product works, which can be used to guide future product development and business decisions.
Product management KPIs ensure a product's success because they allow you to measure and track performance, align your efforts, and make data-based decisions.
12 product management KPIs and metrics
Here are 12 key product management KPIs and indicators for measuring and tracking a product's performance:
Net Promoter Score (NPS)
NPS calculates the product's customer satisfaction score.
Think of the response from your customers to the following query:
Would you advise a friend or peer to use this product or service?
Existing customers are known as promoters because they can spread positive word of mouth or positive reviews about the product. Use case studies and interviews to draw from these beneficial experiences.
NPS = % of Promoters – % of Detractors
Take into account how long it takes for a newly introduced product or service to gain traction. The NPS also considers the new feature's user adoption rate and frequency of usage.
Customer Satisfaction Score (CSAT)
CSAT is a metric that measures how satisfied a customer is with a particular product or service. In this type of survey, customers are asked to rate how satisfied they are with a specific product or service on a Likert scale.
The scale could have numbers from 1 to 3, 1 to 5, or 1 to 10.
This metric is measured by adding up the scores and dividing by the number of people who answered. While NPS measures overall satisfaction, CSAT measures how satisfied a person is with just one service or feature.
Use CSAT regularly so you can always find out from customers how they like using a certain feature. Make sure you fix their complaints based on their feedback to give them enough reasons to renew the product.
Customer Effort Score (CES)
This score measures customers' ease of use.
It's calculated by asking customers to answer questions like "How easy was it to solve your problem?" or "How much effort did it take to use your product?"
CES = Total total of customer effort survey scores/Number of survey replies.
To make customer experience-related product decisions, CES tells you if your product is user-friendly. If your CES and CSAT are high, you're making the product experience convenient for customers. A low CES score and CSAT indicate opportunities for improvement.
Monthly Recurring Revenue (MRR)
This shows how much money a product makes in a month.
To figure this out, you need to look at your MRR at the start of the month, add the money you made from new customers, and subtract the number of lost customers.
MRR is easy to calculate for subscription-based businesses like SaaS, where a customer doesn't buy anything else after becoming a repeat customer.
Customer Conversion Rate
This measures your conversion rate from prospects to customers. Your revenue can be raised significantly by gradually increasing your customer conversion rate.
It can be calculated by dividing the number of clients you've acquired in a given month by the number of leads added during that same month.
All marketing initiatives, including this one, depending on conversion rates, and it's important to have a high conversion rate.
Average Revenue Per User (ARPU)
Knowing your ARPU helps you price new products and raise existing product prices. Each user's monthly or annual revenue can be calculated with ARPU.
ARPU can be evaluated for new and existing users. New users' ARPU is based on accounts after the subscription plan, or product price was adjusted, whereas current users' is based on numbers before the price adjustment.
ARPU= Monthly recurring revenue/ Total number of accounts.
If you want to compare yourself to your competition, evaluate acquisition channels, or segment your clients to raise prices, use ARPU as a performance measure.
MRR and ARPU are good indicators of a company's health, especially for SaaS companies.
Customer Acquisition Cost
Scaling wisely is essential for every organization. Each company pays a lot to acquire customers. When your product costs $1, you can't afford $10 per customer. That's financial suicide.
Acquisition Cost is the projected cost of gaining one customer for your company. If you want to run a business long-term, you must measure CAC.
CAC comprises marketing, sales, overheads, advertising, software, etc. Calculating each customer's total investment can you estimate future customer acquisition costs.
CAC=Total money spent/Total customers generated.
Customer Lifetime Value
Customer Lifetime Value lets you estimate a customer's lifetime earnings. It indicates how much profit you may expect from a customer before they cease spending money with you.
What's the point? Because it helps you determine consumer acquisition costs. A customer with a $5000 CLV is worth $50 to acquire. These figures help you make wise business decisions for marketing and product pricing.
CLV= Average Customer Lifetime * Average Revenue Per User
Use this measure to choose customer acquisition and retention channels. It will also help you determine if your product pricing is wrong or if you need to sell it differently to get customers willing to spend more.
Number of active users
Are you retaining new customers after strong marketing? Your site's engagement shows your product meets expectations.
If engagement could be better, ask users why. Send surveys to customers to find out where you can improve and how they can utilize your product more.
Online survey solutions like QuestionPro make it easy to survey customers for NPS, CSAT, and CES scores.
Retention Rate
The percentage of customers who stay with you after a particular time. These product management KPIs measure customer retention. If customer turnover decreases, check if regular customer retention tactics are done.
Businesses often neglect existing clients in favor of new ones without a retention strategy.
Retention Rate= (Customers at the end of a time period)- (New customers/Customers at the start)*100
Remember that retaining new consumers is easier than retaining them. Older customers spend more. Asking former customers why they left is another way to lower retention.
Churn Rate
Churn and retention are opposites. The churn rate measures how many customers you lost, whereas the retention rate indicates how many stayed.
In reality, there are two different kinds of churn rates:
Revenue churn and
Customer churn.
Customer churn is the number of subscribers or customers who have left. Customer churn costs the business revenue.
Churn Rate = Lost customers/Total customers.
We recommend focusing on revenue churn above customer churn. However, the latter can reveal customer happiness.
Organic vs. Paid Traffic
Seeing where your traffic comes from can also give you new ideas. When you measure paid traffic, you can determine which channels give you the most traction.
If you post content on multiple channels to get organic traffic, you will also be able to figure out which works best and which doesn't. This metric will be a lot of fun for your marketing team to look at.
Measure Product management KPIs using QuestionPro
QuestionPro can help product managers track and measure different product management KPIs. Here are some ways that the platform can help with product management:
Customer satisfaction surveys: Data from different sources improves CX and sales for companies. Customer Satisfaction Score (CSAT), Net Promoter Score (NPS), and Customer Effort Score (CES) give decision-makers an easy-to-understand score based on survey data.
Data analysis: The platform has many tools for analyzing data that can be used to look at survey results and learn something from them. Product managers can use this information to determine their customers' wants and needs and where they can improve.
Reports: QuestionPro lets product managers make custom reports that include data on key metrics like customer satisfaction, revenue, and market share. This data can be used to measure performance, figure out what's working and what needs work, and make decisions about improving the product based on the data.
Dashboards: The platform also has a dashboard feature that lets product managers see and track key metrics in real-time. This makes it easy for managers to spot trends and respond to changes in how well a product is doing.
Advanced Analysis and Insights: QuestionPro offers advanced analytics and insights, such as sentiment analysis, automated insights, and more, that can help find patterns, trends, and customer sentiment that can be used to improve product strategy.
Integration: The platform can be connected to other business tools like CRM, marketing automation, and more. This gives users a full view of the customer. This can help keep track of new customers and keep old ones, as well as figure out LTV and Acquisition Costs.
Overall, QuestionPro can be a useful tool for product managers to track and measure their products' key performance indicators and make data-driven decisions about improving the product.
Conclusion
Product management KPIs allows you to track business performance, product quality, customer happiness, usage, and more. An efficient business starts here. If you're just starting, plan out your goals' most critical KPIs and monitor them closely. Every measurement should improve metrics.
Product concentration boosts success. Most product managers focus on product features, ignoring many other indicators requiring equal or more attention. Besides features, you need to know what buyers desire to make a great product. In beta, discovering that customers wanted something else is wrong.
Remember that the product is about customer satisfaction as well as benefits. The customer is product management's most essential KPI.
QuestionPro allows you to comprehend product management KPIs and metrics. You may track key performance indicators and make data-driven business choices by gathering and analyzing data from several sources.
It's easy to track your progress and make product portfolio decisions with the platform's user-friendly interface and customized reporting tools.
Online research is simple with QuestionPro. Create and distribute surveys, analyze data, and make educated decisions quickly with its powerful features and straightforward design.
Start using the QuestionPro now to improve your research.