Do you have a weather app on your phone?  Why?
DUH — so you can know what the weather will be like and be prepared with either an umbrella or sunscreen or boots and gloves — right?
Tracking your competition is a lot like having a weather app on your phone.  You're not going to change your entire life because of what the weather says, but you'll be prepared for any eventuality.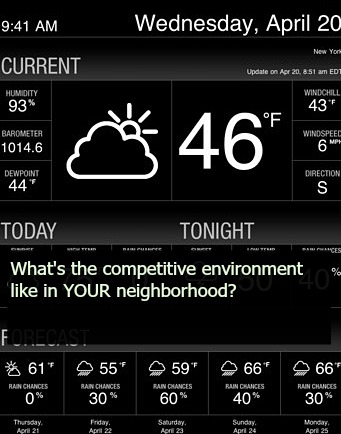 Over the last month, I've been writing about how to collect competitive intelligence:  the three different kinds of competitors (you're probably ignoring two of them), free and easily accessible sources of competitive information who will probably give you more business because you took the time to talk to them and  the 8 pieces of info you have to collect.  Today, I'm going to seal the deal with a few tools to help you make this process super easy to implement.
Google Alerts:  Start setting up a Google Alert to receive a notice whenever your competitor's name, product or brand name or maybe even their management team is mentioned.
Social Media Tracking:  Use HootSuite to track your competition.  I like this platform because it is FREE (of course) and because you can create specific tabs for whatever you're up to.  So create a tab that includes a search for key industry hashtags, then create a tab that searches for mentions of your competitors names and brand names.  I also like HootSuite because you can track multiple social channels; Facebook, LinkedIn and Twitter – all together.  This way you are all in one app.  You can also track "sentiment".  Here is an article that mentions some tools that you can explore.
Email Promotions: If your competitors do active email marketing — SIGN UP to receive their emails.  Sure, they can unsubscribe you, but you'll still learn something – and it will come straight to your inbox.
BuzzSumo: I originally started using BuzzSumo to come up with blog article ideas, but have discovered that it's a super competitive analysis tool.  Simply search for a competitor's name or brand name and see how many social shares they got.
HubSpot's Marketing Grader:  This was originally designed as a lead magnet to show you where you can improve your web site.  But why not use it to grade your competitor's web site instead?  It's an easy way to see gaps in their ability to reach customers (oh, and you can use it for your own site for the same thing).
Twitter Search:  See who has shared a competitors article by searching the URL on Twitter.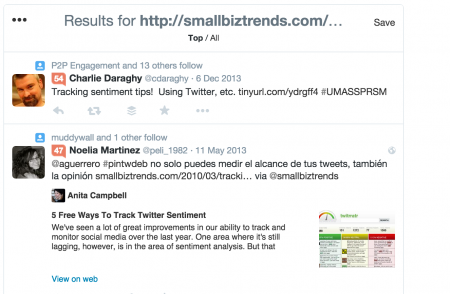 iSpionage – This is a keyword monitoring tool.  Just type in a competitor website and you'll see the best performing keywords and how much your competitor is spending on them.  You can also see your competitors most effective web copy (that's my favorite).

WARNING: You may be tempted to jump into each of these tools and put them on your to-do list.  Don't do that, you will overwhelm yourself.  Instead, get focused on what you want to know, what decisions you're looking to make about your business and your brand and then choose the tool that will give you exactly that information.  Only review each of these tools to see how well they help you achieve your desired outcome.