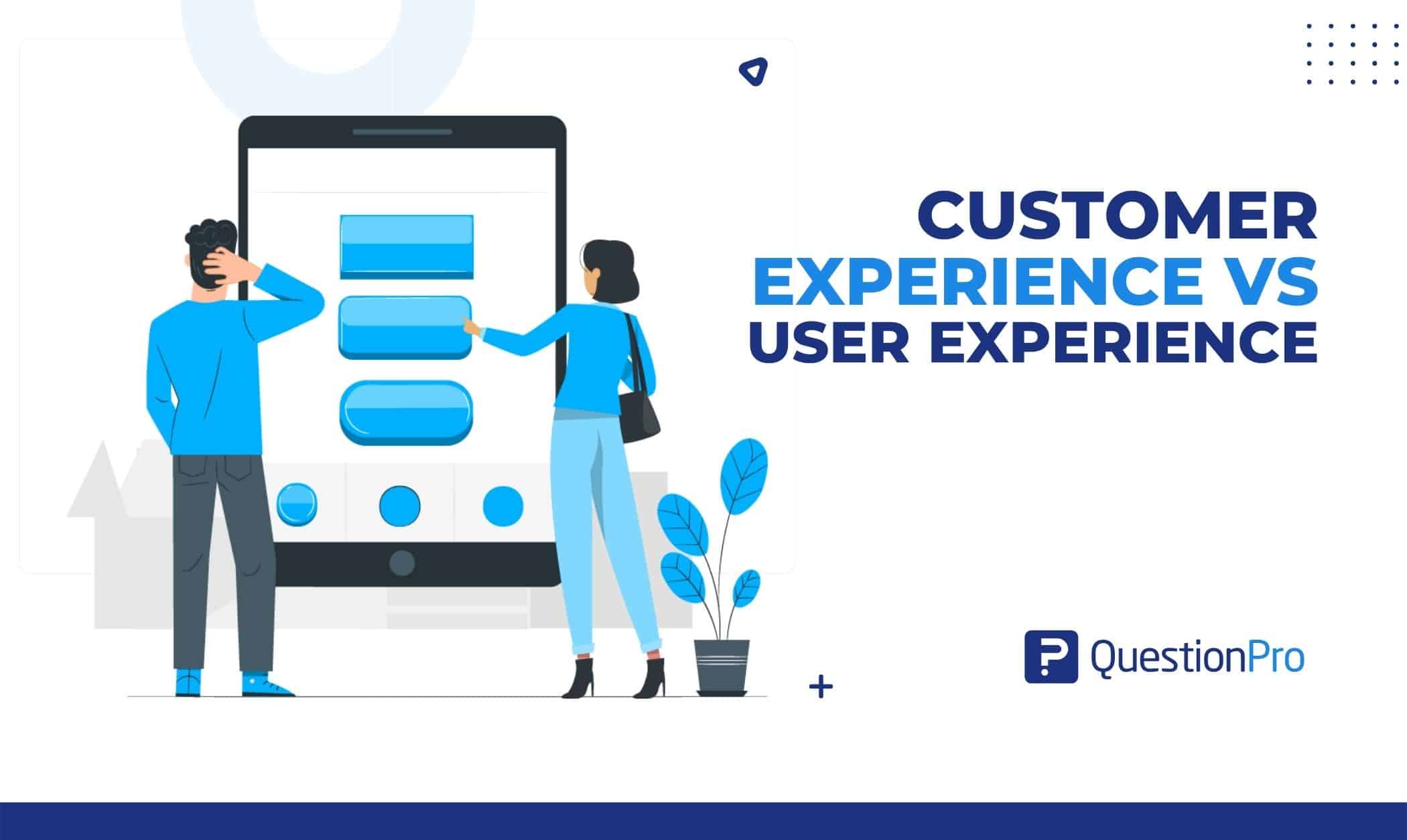 What is Customer experience vs user experience? Although they differ, they ensure customers have the best possible experiences when using and buying your brand's goods and services.
These two concepts also need to work closely to provide customers with excellent products and services. Therefore, how do we differentiate between user experience and customer experience?
Any company or brand that wants to succeed in this very cutthroat market must develop a complete awareness of the paths taken by both of their customers.
What interactions do their current and future customers have with the brands?

How do customers feel about the company's offerings as they make decisions?

What is the user experience like with their websites or apps?
Gaining a thorough understanding of both will help the company have a possible impact on its target market.
Designers primarily influence the UX. While this is happening, marketers and consumer advocates need to learn more about CX. But can your team tell the difference between these two perplexing ideas? Let's use the article below to test your knowledge and make improvements.
LEARN ABOUT: Escalation Management
What is customer experience?
The perceptions, emotions, and beliefs your brand has fostered in customers during the buying process are combined to form the concept of customer experience. Consider CX to be the entire impression you've made on your clients.
Here's an example: Technical issues with your product or service are being experienced by your consumer. They contacted a member of your team to handle the issue after submitting a ticket through your help desk portal. 
These CX inquiries are ones that your client may think about:
Throughout the entire process, was it smooth?

Friendliness and responsiveness of the customer service agent?

Would I repurchase their services or suggest them to a friend?
The customer experience (CX) is how customers feel about your business based on the quality of your products and the people they interact with along the way. And according to our most recent State of Customer Service Report, 93% of service teams concur that customers have more expectations than before.
The tiny positive and negative things cause people to shout about your business from the rooftops.
What is user experience?
The end user's interactions with your product or service are part of the user experience. Customers are happier before, during, and after using a product when the user experience is good.
When utilizing your help desk portal, your client may have posed the following UX queries to themselves using the same scenario as above:
Is the design of this website appealing?

Is it simple to access and explore the information?

Can I access this website from a desktop or a mobile device?
Ultimately, UX components like frictionless product design and intuitive user interfaces fit into the larger CX picture. This entails giving your consumer the finest overall experience possible, including everything from sales support to—you guessed it—customer service.
You may also check out this guide to learn how to build your own Customer Journey Map. 
Customer experience vs user experience
As we have already defined both experiences, now dive into the customer experience vs user experience. CX and UX are meant to work together, but they sometimes solve different problems. Because of this, it's still important to know how the two are different.
Let's examine the contrasts between the two experiences in more detail and see how they affect your client's journey.
Topics

Customer Experience

User Experience

Goals & Objectives

Developing a brand experience that appeals to, engages, and delights customers

Increasing client pleasure at every stage of the buying process

Creating a consistent feedback loop in which clients can express their needs

Creating a frictionless, seamless product experience

Making engaging, entertaining, and simple-to-use products

Making sure products address the key issues that customers experience

Metrics and Measurements

Consumer satisfaction

– The level of customer satisfaction with your brand based on interactions with your company.

Net Promoter Score® (NPS)

– A measure of customer loyalty and the likelihood that a person will tell others about your company.

Churn rate and causes of churn

– The number of consumers your company loses in a specific time (and why)

Website or page load speed

– The amount of time it takes to display content on your website.

Time on task

— The amount of time it takes your customers to complete a task (e.g., find the help desk portal on your website)

Adoption rate

–The proportion of new users to total users of a product or service.

In practice

Take a customer satisfaction survey to learn more about how people feel about your brand.

Review customer support tickets to find and fix recurrent problems with customers.

Verify brand sentiment on social media to learn what consumers say about the company.

Develop methods to retain consumers better by analyzing turnover rates.

Consider ways to enhance the interactivity and pleasure of an app.

Conduct a website usability test to uncover challenges people encounter when using a product or service.

Refresh a landing page for a product or service's visual appearance and feel.

Improve the user interface's information architecture to make it easier for users to browse
Learn more about why understanding your Customer Journey transforms your CX program.
Conclusion
All customer's encounters with your brand are referred to as their customer experience. User experience, or how a customer uses your product, is part of it. Customer service, however, also includes how clients feel after speaking with your team.
Customer experience and user experience differ, yet they will clash as technology becomes increasingly embedded in our lives.
LEARN ABOUT: User Experience Research
Consider the customer's entire ecosystem as a UXer to gain an advantage. Enhance your business and prove CX and UX will merge. All departments must collaborate to ensure that all customer touchpoints are friction-tested, optimized, and superior to the competition.
To meet specific requirements for developing customer-centric initiatives, experts created QuestionPro CX.
You can better control escalation with its help. Using QuestionPro CX, you can evaluate your client's encounters with your brand. You might receive real-time feedback and find out how satisfied your clients are.