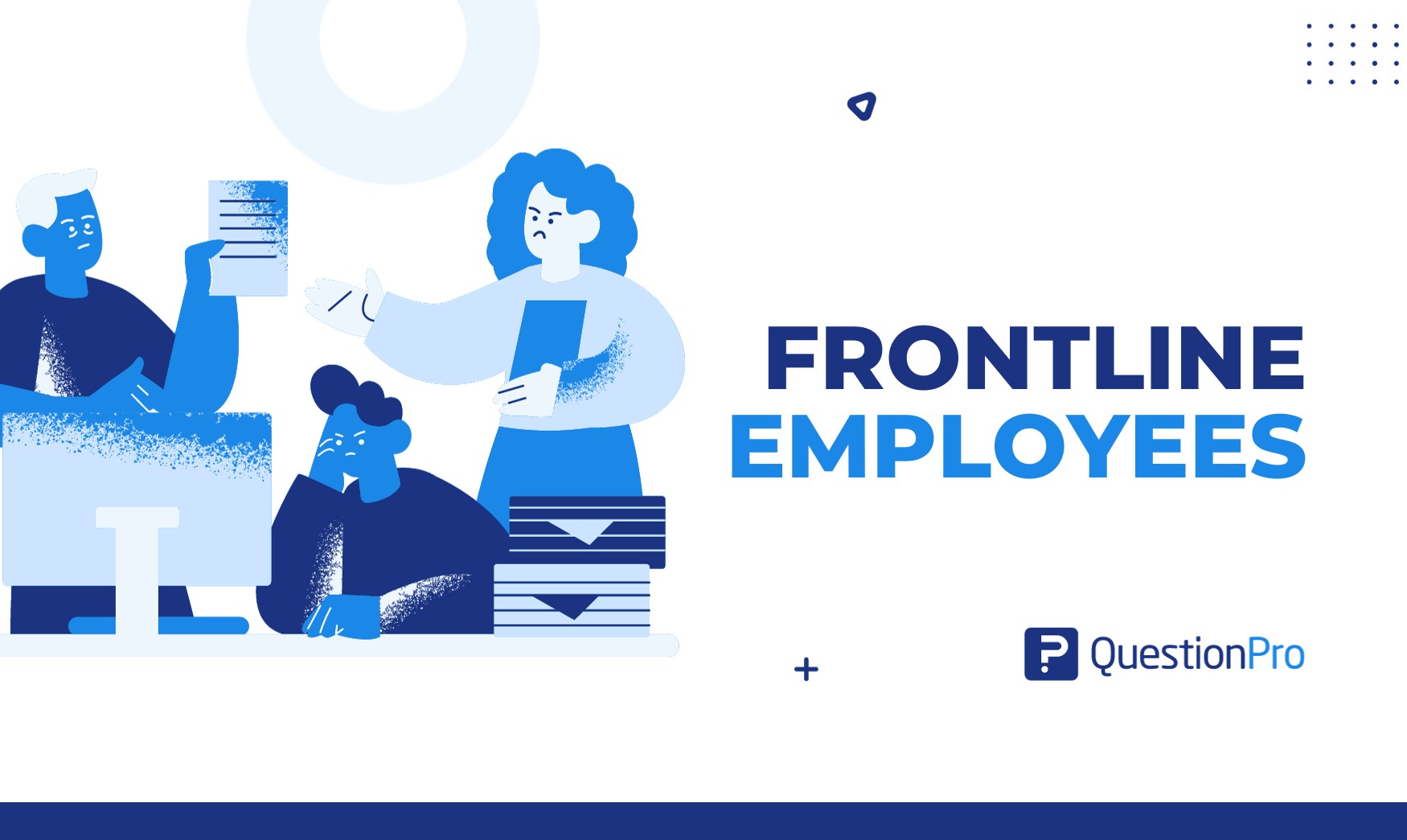 Frontline employees are the unsung heroes of any organization. They are the friendly faces you see when you walk into a store. They are the helpful voices on the other end of the customer service line and the dedicated individuals who keep the wheels of the business turning.
Despite their crucial role, these employees often face unique challenges affecting their motivation and job satisfaction.
In this blog, we'll explore the world of frontline employees and share some easy tips to motivate them.
Who are frontline employees?
Frontline employees are workers who directly interact with customers or clients in various industries. They are often the first point of contact between a business and its customers. Their roles are critical in shaping the customer experience.
Frontline employees can be found in a wide range of sectors, including retail, hospitality, healthcare, customer service, and more.
Think of the cashier at the grocery store, the waiter at a restaurant, or the person on the phone when you need assistance; they are all frontline employees.
This frontline worker has an important job. They help customers with their needs, answer questions, and make sure everyone has a good experience. Frontline employees are like the ambassadors of a business, representing it to the public.
Importance of frontline employees in organizations
Frontline employees play a crucial role in organizations, acting as the first point of contact between the company and its customers. They are the face of the business and often have a direct impact on customer satisfaction. Here are a few reasons highlighting the importance of frontline employees:
Frontline employees are the ones who directly interact with customers on a daily basis. They have the power to create a positive or negative impression, influencing your customer satisfaction and loyalty.
This frontline employee represents the brand to customers. How they communicate, their attitude, and their dedication to service reflects directly on your company's image.
Frontline employees are often the first to hear about your customer issues or complaints. Their ability to effectively address and resolve problems can turn your potentially unhappy customer into a satisfied one.
As they are in direct contact with your customers, frontline employees can provide valuable feedback to the organization. They can share insights into customer preferences, concerns, and suggestions, helping you improve your products or services.
Recognizing the importance of frontline staff boosts morale within your organization. When employees feel valued, they are more likely to be engaged and motivated. It leads to better overall performance.
Frontline employees are on the frontline of change. They quickly adapt to new situations, technologies, and policies. Their ability to embrace change is crucial for your growth and competitiveness.
Efficiency and productivity
These employees are responsible for carrying out day-to-day operations. Ensuring they are well-trained and equipped with the right tools directly contributes to the efficiency and productivity of your organization.
Types of frontline employees
There are many frontline workers, each contributing uniquely to the overall success of the company. Here are some types you might relate to:
01. Retail service
Frontline employees in retail work sell products like clothes, furniture, and household items. There are different types of frontline jobs in retail:
Customer service representatives: They help customers with problems, answer questions about products, and handle online orders.
Sales representatives: They assist customers in choosing products and work to build loyalty to the store's brand.
Cashiers: They manage transactions, handle orders, issue receipts, and process refunds.
02. Foodservice
Frontline employees in the food service industry work in places that sell and serve food, like restaurants. Some roles include:
Servers: They take orders, deliver food, and make sure customers have a good dining experience.
Hosts: They handle payments, seat customers, and may greet people at the door.
Caterers: They provide food and drinks at events and may also serve guests.
03. Utility
Frontline employees in the utility industry work on maintaining essential services like electricity in people's homes. Examples include:
Plumbers: They fix issues like leaky pipes in homes and provide maintenance advice.
Electricians: They install and repair electrical systems in buildings and ensure safety.
Maintenance workers: They do general maintenance tasks and provide assistance and advice.
04. Transportation
Frontline employees in transportation help move people and goods. Examples are:
Bus drivers: They drive buses, interact with passengers, and provide information.
Flight attendants: They assist airplane passengers, give safety instructions, and serve food.
Taxi drivers: They transport passengers and may share information about local areas.
05. Emergency services
Frontline employees in emergency services respond to accidents and critical situations. Some roles include:
Police officers: They enforce laws, respond to calls, and patrol to ensure public safety.
Paramedics: They provide emergency medical care and transport patients to hospitals.
Firefighters: They respond to fires and emergencies, using their training to protect people and put out fires.
Tips for supporting and motivating frontline employees
Working on the frontline can be rewarding but challenging. Frontline workers are the face of your business. Keeping their spirits high is crucial for a positive workplace and top-notch service. Here are some easy tips to support and motivate your frontline heroes:
Recognition and appreciation: Acknowledge the hard work of your frontline employees. A simple "thank you" or recognizing their achievements in team meetings can go a long way in making them feel valued.
Clear and open communication: Ensure that instructions and information are communicated clearly. When your frontline team understands their roles and goals, they are more likely to perform their tasks efficiently and with confidence.
Foster team building: Encourage a positive team environment. Team-building activities, whether in the workplace or outside, can help build strong relationships among team members. A supportive team boosts morale and motivation.
Provide training opportunities: Offer opportunities for skill development. Frontline employees appreciate chances to learn and grow in their roles. Training programs not only enhance their skills but also show your commitment to their professional development.
Constructive feedback: Regularly provide constructive feedback on their performance. Highlighting strengths and offering guidance on areas for improvement helps employees understand their contributions and how they can excel.
Rewards and recognition programs: Establish reward systems to recognize outstanding performance. This can include employee of the month awards, small bonuses, or other tangible incentives. Tangible rewards show that their efforts are noticed and appreciated.
Flexibility in scheduling: If feasible, provide flexibility in work schedules. Understanding and accommodating the personal needs of your frontline employees contribute to a positive work-life balance. It also fosters loyalty and commitment.
Wellness support: Show genuine concern for their well-being. Implement wellness programs or initiatives that promote both physical and mental health. Healthy and happy employees are more likely to be engaged and productive.
By implementing these strategies, you create an environment where frontline workers feel supported, motivated, and valued. Ultimately, it contributes to the overall success of your team and organization.
Utilizing QuestionPro Workforce in motivating and supporting frontline employees
QuestionPro Workforce is a platform designed to help organizations engage, motivate, and support their frontline employees. Here are some strategies and features you can utilize to achieve these goals:
Use QuestionPro Workforce to create regular surveys to gather feedback from frontline employees. You can ask questions about their job satisfaction, challenges they face, and suggestions for improvement.
You can also use survey results to identify areas for improvement and address specific concerns. This shows employees that their opinions are valued, which can boost morale.
QuestionPro Workforce offers a recognition program through which frontline managers and peers can acknowledge and appreciate the hard work of frontline employees.
Use the platform to distribute rewards or incentives based on performance metrics or as part of a recognition program.
Utilize QuestionPro Workforce to assess the training needs of frontline employees. Create surveys to identify areas where additional training or support is required.
Communication and feedback
Establish open lines of communication through the platform. It allows skilled frontline workers to provide feedback and suggestions. You can share important information, updates, and company news through QuestionPro Workforce to ensure that frontline employees feel connected and informed.
Use the platform for performance evaluations and goal setting. Provide constructive feedback and set clear expectations for career growth. Implement a performance recognition system through QuestionPro Workforce to acknowledge achievements and milestones.
Regularly analyze data and feedback collected through QuestionPro Workforce to identify trends and areas for continuous improvement. Demonstrate a commitment to addressing issues and making positive changes based on employee input.
Conclusion
Frontline employees are the heart and soul of a company. When you understand their roles, appreciate their efforts, and keep them motivated, it's like giving a power boost to your entire team. Happy frontline heroes don't just make customers smile. They play a big part in making your whole company shine.
With QuestionPro Workforce,, you can create a supportive and motivating environment for your frontline employees. It will ultimately contribute to job satisfaction, employee engagement, and overall well-being.
So, celebrate this everyday frontline workforce and make sure they're always ready to save the day!