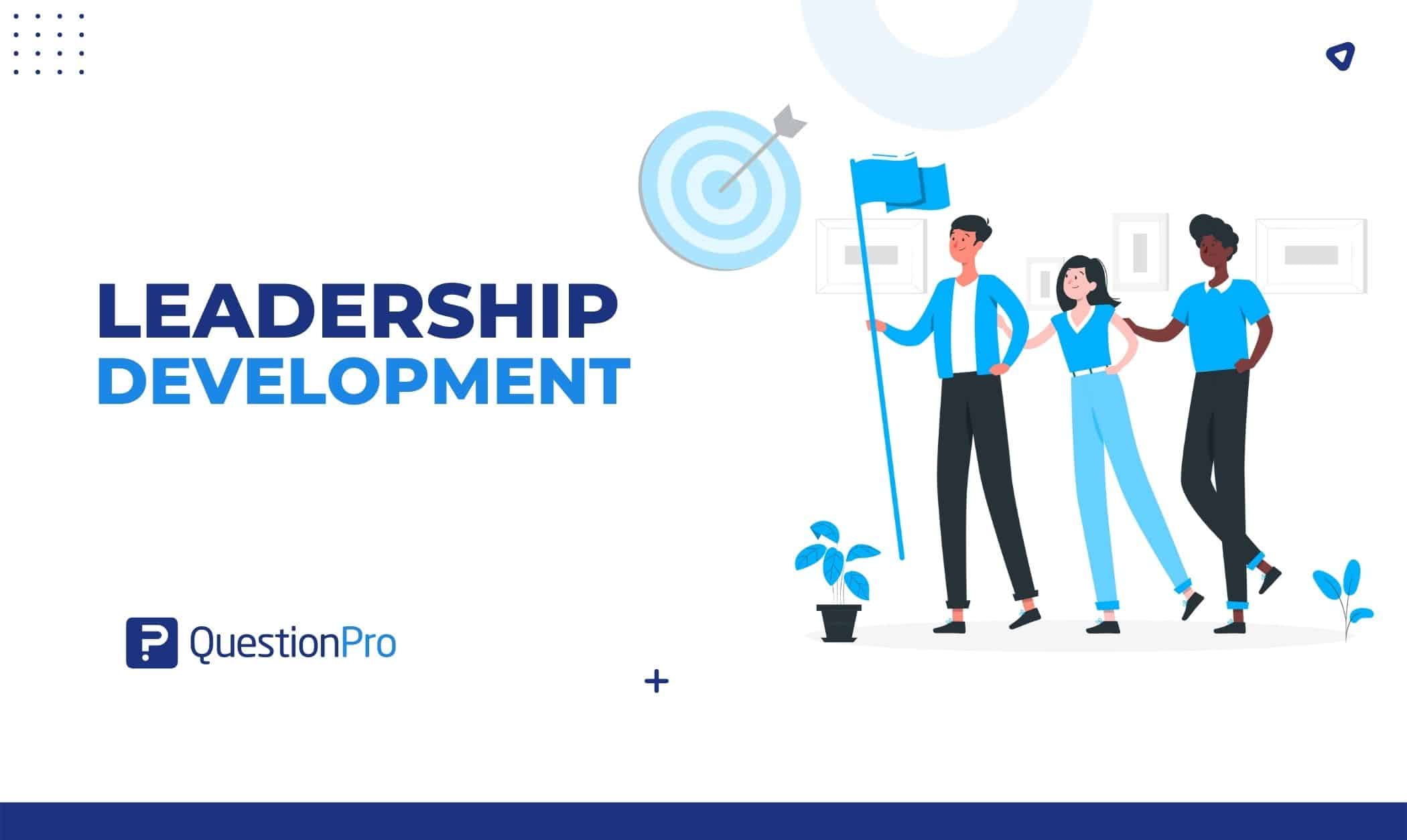 Determining the value of leadership development and establishing a program within your firm to foster the next wave of leaders is crucial. You will be better prepared for success in the long run if you get started right away.
Your team's capacity to support you in achieving your corporate objectives will ultimately determine your company's success. Many organizations, however, need to improve when it comes to cultivating great leaders and educating people to be part of a team and lead it.
When workers aren't given the proper training through leadership development, they aren't ready to take on those managerial positions with assurance. And before you realize it, the team may be experiencing low morale, a decline in productivity, or other problems.
This blog will cover leadership development, how to develop it, and why.
What is leadership development?
Leadership development is the process of improving an individual's ability to perform in a leadership role within an organization. Leadership roles are those that aid in the execution of an organization's plan by establishing alignment, obtaining mindshare, and developing the abilities of others.
There are two types of leadership.
Positioning

Personal
Leadership development activities help leaders increase their skills, abilities, and confidence. Leaders are frequently guided and developed through the use of coaching and mentoring. Program complexity, price, and teaching methodology all vary greatly.
Baldwin and Ford (1988) contend that a program's quality, the degree of support and acceptance from superiors, and the traits or learning preferences of the individual being developed all have a significant role in how well it goes.
Some critics distinguish between leaders and leadership development, using the former to define collective organizational leadership and the latter for individuals. In succession planning, high-caliber leaders are created to fill senior roles. It's a typical step. High performers are generally offered longer-term, broader leadership development programs.
The new approach to leadership development is known as The Four Es:
Education:

The essentials of product development, customer service, marketing, and business operations can be learned through books, lectures, online courses, classroom training, experiential learning, and LinkedIn learning. Education helps leaders learn the essentials of their jobs.

Experience:

Leadership development requires real-world experience. Every project, successful or not, is a learning opportunity. On-the-job experience helps managers build soft skills vital to employee engagement.

Exposure:

Human resources departments and HR directors support and develop company leaders through coaching and mentoring. It's also crucial for them to observe aspirational leaders in a significant role. Being pushed into challenging assignments is another method of gaining real-world leadership experience.

Evaluation:

This is a crucial component of developing leaders for the twenty-first century. You must be aware of the current state of your leaders and pinpoint any areas for development. To prevent the "curse of expertise" from causing your leaders to become inert.
Why does leadership development matter?
Every leader has the power to improve and streamline the workplace based on their abilities and level of engagement. Strong leaders are essential for the development and success of the team and the company, and they should be prepared to put the required talents to use to enhance culture and productivity.
Several factors make ongoing leadership development activities crucial, including the following:
Company success

Employee satisfaction

Balance seeking

Talent scouting
So why is leadership development significant? Research shows that it helps businesses do four things that are crucial to their long-term success:
Boost financial performance at the bottom line.
Companies with high ratings for their investments in human capital generate stock market returns that are five times greater than those of organizations with lower ratings. Effective leadership development improves customer satisfaction, new revenue streams, and possible cost-cutting improvements.
Attract, develop, and retain talent.
Employee engagement is increased via leadership development, improving an organization's capacity to fill talent pipeline gaps and lowering the hassles and expenses related to turnover.
Outstanding leaders attract, hire, and motivate excellent people. Lacking exceptional leadership abilities, a manager will find it challenging to recruit and keep top performers.
Leadership development is a wise investment because it's frequently substantially less expensive in the long term to teach, develop, and promote people within an organization than to employ someone from outside.
Drive the implementation of the strategy.
For its own sake, development is not an effective workforce strategy for developing leaders. Businesses need a leadership plan that closely relates to their business strategy and gives staff members the necessary leadership abilities. Organizations can mold the corporate culture and business strategy through leadership development.
According to The Conference Board, "Leadership development has great potential to shape and change the culture and direction of the business." It is substantially less expensive to develop, coach, and promote employees from the inside than it is to hire someone from the outside.
Boost your success at navigating change.
People's capacity to lead in a disruptive environment improves with leadership development. Agility is increased when firms go beyond focusing on high-potential and top executives to tap into all their available talents.
How to implement leadership development?
The following are three suggestions to consider while implementing a leadership development program for your company:
Formal training
Formal training has a set schedule that they follow. Training is typically facilitated by training specialists and occurs outside of the workplace. Examples include workshops and courses at the third level.
Development activities
Developmental activities are either integrated into ongoing operational tasks or carried out concurrently. Coaching, mentorship, and special assignments are a few examples.
Self-help activities
Individuals participate in self-care activities on their initiative. Reading, college courses, and online tutorials are some examples.

Steps for creating a successful program for leadership development in detail are given below:
Establish goals and be aware of your company's priorities.
Since no two organizations are the same, your motivation for starting a leadership development program will be distinct. It will depend on your company's current situation and its future goals:
Are you trying to grow? You need leaders with drive, passion, and brilliant marketing ideas for the company to advance.

Are you trying to cut expenses? You require leaders who are adaptable, resourceful, and skilled communicators.

Do you have issues with engagement and retention? You require leaders who can motivate followers, effectively communicate, and influence behavior.
There will be more possibilities to target these needs within the framework of your program if you understand your company's priorities and how they relate to your leaders' skills and training requirements.
List the characteristics of leadership.
Once you know your company's priorities, you can define leadership and how it will work.
Leadership responsibilities include inspiring team members, creating brand awareness, and helping staff flourish. You can focus on those with official leadership responsibilities or influence but no title.
Consult with current and future leaders. Send a quick survey asking what leadership skills are vital for corporate success.

Refrain from relying on your present leadership group's knowledge. This can lead to repeated thoughts, behaviors, and attributes, preventing growth. This is especially true in older businesses, which tend to do things "as always' and hire people who "fit in."

Compare your leadership to the criteria.
You can evaluate your present group of leaders against a set of agreed-upon leadership traits after establishing them.
Run a 360 Development program as one method of evaluating your present leaders. These give you a complete view of how they present themselves to their peers, subordinates, and supervisors regarding leadership. More than 85% of all Fortune 500 businesses utilize 360 Development because of this.
To encourage leaders to do more, you should compare their results to those of the top 10% of respondents or a high industry benchmark. Leaders risk being misled into believing they don't need to put much effort into succeeding if they only look at average scores.
Implement a leadership development program
Even after 30 years, the 70-20-10 rule is the most popular leadership structure. So:
70% on-the-job learning; challenging assignments

20% mentoring from other leaders

10% challenging training
Most management schools agree that this mix of learning methods suits most leaders, who value autonomy and responsibility over classroom learning. Experiences aren't created evenly.
Identify learning-rich experiences depending on their needs. Establish rotating programs for high-potential or early-career leaders. Here, employees learn leadership skills and how business groups cross and collaborate.
Consider involving senior executives in developing training and experiences, relying on them to describe where the firm should be in 5, 10, or 20 years and how leaders perform within that framework.
Make personal development plans with leaders
You could make personal development plans for your current leaders based on their strengths and weaknesses and the skills they need to do their jobs. These plans should only be used to help people grow as people. They shouldn't be seen or used as ways to fix things.
If you have good leaders, workplace stress how important it is to build on their strengths. Leaders should focus on staying at the top of their field and being an example for other employees in their organization.
Conclusion
You can commit to working toward developing your leadership skills at any point in your career. However, doing so earlier will allow you to enjoy the rewards for longer. Make sure you are investing in your team now that you know the significance of leadership development.
You may create a leadership development plan that helps you to channel your interests and develop the abilities necessary to be more impactful in your career by critically evaluating where you are professionally and seriously considering where you want to go.
If you want to emphasize workforce strategy, QuestionPro Workforce is a potent survey and analytics solution that can assist you in learning from the insights assembled from employee engagement surveys.