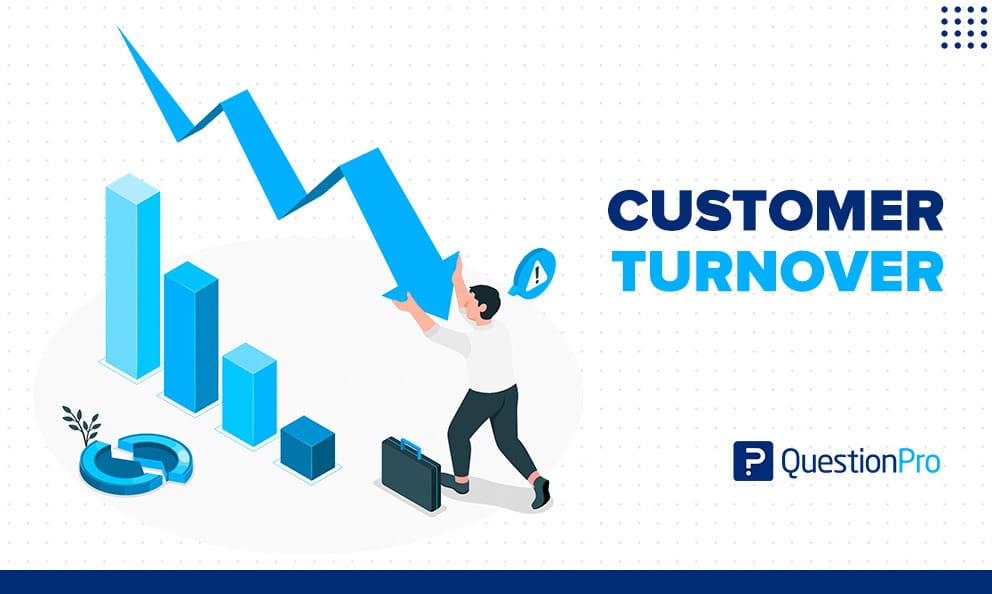 Customer turnover is another name for customer churn. It is one of the most significant indicators to examine for a developing business. It is a figure that can reveal the reality of your company's client retention rate.
It is essential to know how many customers are leaving your company, ending their cycle throughout their customer journey. This way, you will know how it affects your business income. You won't be able to create improvement strategies to decrease customer churn if you don't know what's causing it.
LEARN ABOUT: Time to Value
It is difficult to measure success without failures. Expecting 100 percent customer retention is impractical. And customer churn enters at this point.
What is Customer turnover?
Customer turnover is the percentage of a company's lost customer base in a certain time period. It generally represents the rate of service subscribers who cancel their memberships within a specified time. It is also the percentage of employees who leave their jobs during a specific period. It is also known as customer churn or customer attrition.
Customer churn is another piece of data to determine customer loyalty to a company. Most organizations analyze churn to identify new strategies to acquire or keep customers. Every organization should strive for a low turnover rate as low as 0%. To do this, the organization must constantly monitor and prioritize its churn rate.
Customer turnover calculation
To calculate, you need the followings:
A specific time period

Total customers beginning of the time period

Total customers end of the time period
And the customer turnover formula:

For example, if your organization had 1000 customers in the beginning and after 1 year you had 900 customers, then your organization's customer churn rate is would be 10%.
Calculating customer turnover has two key advantages:
Businesses can use it to manage retention actively.

Businesses can use it to measure customer lifetime value.
Companies can develop strategies and earn additional revenue by properly using turnover rates.
How to reduce customer turnover
You are not alone if you are having trouble with customer churn. It is necessary to realize how to minimize customer churn rates to keep your customers. You can take some steps to avoid churn before it occurs.
Recognize the reasons behind customer turnover
All you have to do now is figure out why customers are leaving. Customer surveys can help you determine the causes and understand why they're leaving.
Provide informative and supportive materials
Provide supportive content or materials to understand your services. You can provide digital resources like blogs, tutorials, or informative emails according to your services. Customers will leave if they do not understand your products or services.
Target appropriate audience
What about your target audience? Make sure to target the right audience for your products and services. Focus on people who are most likely to be benefited from your service.
Determine who is most likely to leave
The most effective strategy to avoid churn is identifying who is at risk of leaving and preventing it from happening from the start. Identifying customers at risk allows us to find the cause of why they are in a position to leave. Surveys can help you determine the customer at risk and their reasons.
Figure out your valuable customers
It is better to distinguish the most important customers from the rest. Ensure that they are receiving everything that they have subscribed for. Because valuable clients generate the most revenue, they must be treated with special attention.
LEARN ABOUT: Client Management
Offer incentives and surprise gifts
The most effective strategy for reducing turnover is to provide incentives and surprise gifts. Make sure you've properly evaluated whether or not it is helpful to you. You shouldn't waste money on those customers who aren't going to bring profit. This would not work for you.
Pay close attention to customer problems
Take customer complaints into consideration and respond appropriately. Customers who have their issues resolved are more likely to remain loyal. They even become more supportive than other customers regularly.
Conclusion
Customer turnover is one of the most crucial KPIs to track for a developing company. Turnover rates are used by businesses to determine how they may enhance their operations. Every company that depends on revenue must attract and retain customers. So, you will have to figure out how to calculate and cut down on customer churn.
QuestionPro CX is a customer experience management platform that offers you a wide range of tools to help you understand where your customers' experiences are falling short. You can provide a smooth CX experience to present and future consumers by attentively listening to customer opinions and employing the correct analytics.
If you want to increase customer loyalty by analyzing significant amounts of data in real-time and turning it into fact-based action assistance, try QuestionPro CX today.