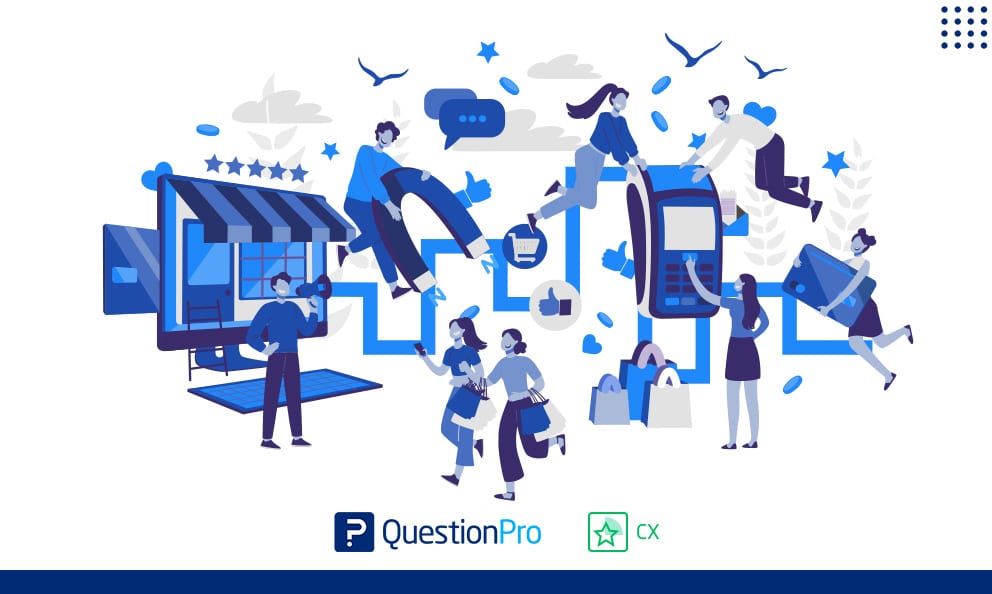 Do you know what type of information your potential consumer wants or cares about before even considering purchasing something from you?
Buyers often start with something they need and eventually make a purchase decision that aligns with or solves that need. If you haven't already, you should pay close attention to everything that happens before the purchase intent.
In this article, you will learn what the buyer journey is and the three stages involved, examples included. Have a good read!
What is the Buyer Journey?
The buyer journey is the active search process carried out by a potential consumer until it converts into a sale of your product or service.
Our goal is to provide the target user or Buyer Persona with the best content in each one of the phases to lead them to the final purchase or contract.
For this, selecting the best content and call to action will be essential, naturally taking them from one phase to another.
It's important to mention that the buyer journey is a different concept from the Customer Journey. While the buyer journey is merely focused on closing the sale, the customer journey centers on turning the consumer into a frequent buyer converting them into loyal customers of your business.
You may also check out this guide to learn how to build your own Customer Journey Map.
The Buyer Journey Stages
Understanding the phases a consumer goes through before finalizing their purchase process is critical. Why? Because of the kind of relationship, the information delivered and the company's marketing efforts are different at each stage.
As mentioned earlier, the buyer journey goes through the customer awareness, consideration, and decision stages. Let's take a look at what each means and review it with an example afterward: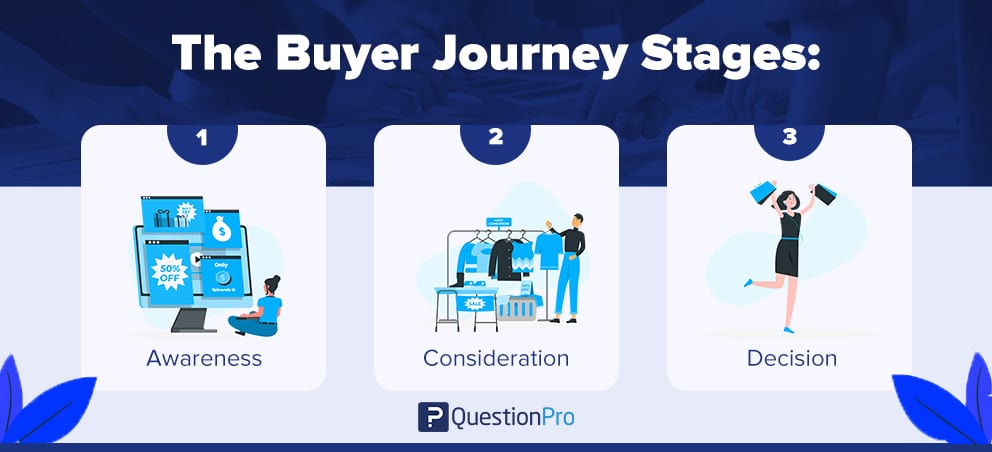 1. The Awareness Stage: The discovery of a specific problem or need. Here, the buyer is wondering about the problem to solve: they want to know more about what it is, why it happens, to whom it happens, etc.
2. The Consideration Stage: The investigation and consideration of the different existing solutions, which to this day are mostly carried out online. Buyer's questions are solution-focused: how is it resolved, what options do you have, how your price is better (or not) than the competition, etc.
3. The Decision Stage: The purchase decision is the moment when the prospect is about to become a customer by choosing a particular product or service. In the decision phase, their concern is selecting the best brand among the options researched/ available.
Awareness of the type of questions a buyer asks at each stage of their purchase cycle allows you to generate specific educational content for each one, offering concrete answers to their problems.
And this is where another of the keys to this whole process comes in: the user persona. It is essential to have buyer persona profiles that allow you to know who your ideal customers are, and what their characteristics, desires and concerns are. This helps to determine what kind of questions your prospects are asking,
Buyer Journey Example
Imagine your business provides complete web design and optimization services to e-commerce platforms. You want to win over a potential client. In that case, we will have to provide what they are looking for in each of the buyer journey's phases.
Awareness: Our potential client perceives that their e-commerce sales are stagnant or even starting to drop. They begin to search the Internet for what could be the causes of their problem.
Example: Create content to post with tips and techniques to boost sales in e-commerce, for instance.
Consideration: Now that the buyer is aware of their problem and is considering possible solutions, it is time to offer information about your product or service to guide them in the best solution for their needs.
Example: They learn about the need for web design and optimization services businesses available and find information about your company in Ads or your business blog articles.
Decision: In the final stage, we must offer a tangible solution that is just what the consumer wants.
Example: Providing one-sheets, case studies, comparing features vs. the competition, free trials, etc. Anything that could make your prospect experience and engage with your brand.
If you like reading about buyer journey, you might find it enjoyable learning about customer journey vs customer experience: the difference or car buyer journey
The buyer journey in the B2B sector
In the B2B sector, relationships tend to be established between experts and rely heavily on trust. Through their website, blog and social networks, a B2B business has the opportunity to start building this fundamental pillar.
Nowadays, online channels are where more than 80% of companies begin their buying journey. For this reason, the internet is also the place to start solving the problems of these prospects, taking into account who they are and what they need according to the stage of the buyer's journey in which they are.
Sales processes in the B2B sector are long and complex. This is mainly because buyers spend considerable time researching products thoroughly, analyzing all aspects before deciding.
These particularities of the commercial process in the industry require a content strategy focused on helping those buyers. That is, a strategy that considers the characteristics of the buyer persona and their questions at each stage of the purchase cycle.
LEARN ABOUT: Consumer Decision Journey
Conclusion
Wrapping up, it is critical to understand the buyer's needs so you can tackle them in the best way possible.
In the end, it is about accompanying your consumer's side in each phase to provide them with the precise information they need during their journey.
This is not an easy task. It is almost utopian, so we must work on our customer journey mapping to understand their experience and how it can be improved.
How QuestionPro CX can help you boost your customers' experience
QuestionPro CX will help determine if you offer consumers a positive experience and encourage their interaction with your brand by providing tools to drive actionable insights.
Start following your customer's journey. QuestionPro offers some of the most advanced customer experience tools available. Gain valuable insights into your customers' thoughts and feelings using QuestionPro CX today.