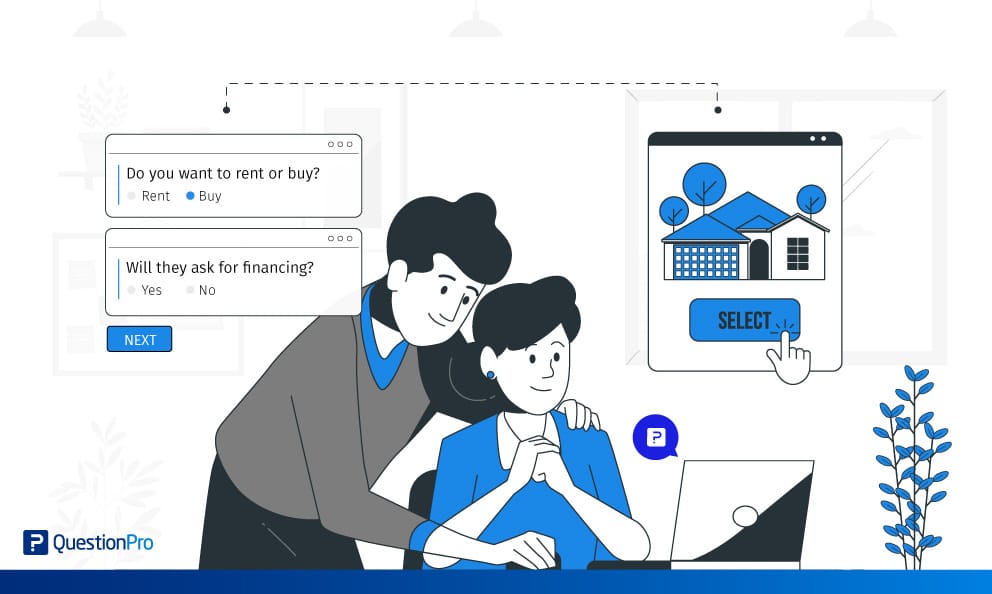 Showing properties goes beyond opening the door and describing the rooms. For it to be a well-performed task, it requires a strategy and knowing what the client is really looking to be a property owner. You have to know what their needs and desires are, learn their real budget, and if they will be able to count on financing. To carry out this unit of analysis work, the method can be very basic and practical: Real Estate Surveys.
Real estate surveys are the backbone of a well-performed task for real estate agents, going beyond merely opening doors and describing rooms. These property surveys involve a strategic approach that aims to understand clients' specific needs, desires, and financial capabilities. By gathering high-quality information through a carefully designed set of questions, real estate agents can tailor their services to match their client's requirements, saving both parties time, money, and frustration.
What are Real Estate Surveys?
Real Estate Surveys refer to a systematic and comprehensive method used in the real estate industry to gather essential information from clients or potential buyers about their preferences, needs, and financial capabilities. These property surveys aim to understand the client's specific requirements regarding the type of property they seek, their budget, and other critical factors influencing their decision-making process.
Real estate agents typically use well-crafted questionnaires or survey forms to collect this valuable data. By asking the right questions, agents can gain insights into whether the client is interested in buying or renting a property, the size and type of property they are looking for, the preferred location and neighborhood amenities, the number of people in their household, and if they require financing.
The information gathered from these surveys is instrumental in guiding real estate agents to tailor their property recommendations and show only those that align with the client's preferences. It ensures clients can handle unsuitable options, saving time for both parties involved and leading to a more satisfactory and successful property search process.
Importance of a Property Survey for Agents
A property survey holds immense importance for real estate agents. These surveys provide valuable insights and information that empower agents to serve clients more effectively and make informed decisions. Here are some key reasons why property surveys are crucial for real estate agents:
Understanding Client Needs:

A property survey allows agents to delve deeper into their client's requirements, preferences, and priorities. By knowing the type of property the client wants, including its size, location, and desired features, agents can narrow down their property recommendations and provide a more targeted and personalized service.

Time and Resource Efficiency:

Instead of showing clients a wide range of properties that may not align with their preferences, a well-conducted property survey helps agents identify properties that closely match the client's criteria. It saves time and resources for both the agent and the client, leading to a more efficient property search process.

Building Trust and Rapport:

Property surveys allow agents to build trust and rapport with their clients by demonstrating genuine care for their needs and preferences. Clients appreciate the effort taken to understand their requirements, and this positive experience can lead to stronger client-agent relationships and potential referrals in the future.

Avoiding Unpleasant Surprises:

Property surveys help agents gather critical financial information from clients, such as their budget and whether they require financing. A clear understanding of the client's financial situation prevents the agent from showing them properties beyond their means or facing potential financing challenges later in the process.

Showcasing Expertise:

Conducting property surveys demonstrates high professionalism and expertise. Agents who are well-prepared with relevant questions and a clear understanding of the market can showcase their knowledge, making clients feel more confident in their abilities as real estate professionals.

Enhancing Negotiation Strategies:

Knowing a client's motivations, time frame, and commitment level to buy or rent a property can give agents a competitive edge during negotiations. With this information, agents can tailor their negotiation strategies to align with the client's goals and increase the likelihood of successful transactions.

The Role of Property Lines and Legal Descriptions:

A property survey is crucial in defining property lines and providing legal descriptions of the property. By working with licensed land surveyors, real estate agents can ensure accurate boundary lines and property's legal boundaries are represented in the survey, providing clarity and transparency to clients.

Leveraging Land Surveys and Property Records:

Property surveys often involve utilizing existing land records and historical data. By leveraging property and historical records, agents can gain insights into previous property features, property boundaries, and construction surveys, enabling them to make more informed property recommendations.
Real estate surveys, in collaboration with land surveyors and property records, are indispensable tools for real estate agents to gain valuable insights into their client's needs, preferences, and financial capabilities. Using these surveys effectively allows agents to streamline the property search process, build stronger relationships with clients, and demonstrate their expertise, ultimately leading to great success in the real estate market. The careful consideration of property lines, legal description, and boundary lines ensures clients clearly understand the property's limits and land boundaries, fostering trust and confidence in the real estate professional.
Effective Real Estate Surveys Will Change the Game for Real Estate Agents
Some real estate agents show all types of properties to clients without adjusting to their specific situation, which wastes time and money and can exhaust potential buyers' patience. It is, according to the experts, a big mistake. Much better to select with caution and show only what can truly fit their clients' needs. This approach saves time and resources and enhances the overall client experience. Real estate agents can tailor their property recommendations by understanding clients' requirements and preferences, ensuring each show is relevant and aligned with their needs. Collaborating with a professional land surveyor can further enhance the agent's understanding of the property's boundaries and legal aspects, adding valuable information to the decision-making process.
But what would be the fundamental questions every real estate agent should ask before launching to show houses? The first step is to conduct a boundary survey, which allows the land surveyor to define the property's exact boundaries. Additionally, considering the land survey cost can help agents provide clients with a transparent overview of the expenses involved in the property transaction. A property surveyor's expertise is crucial for assessing the property's condition and identifying potential issues that may impact the purchase decision. By asking these fundamental questions and collaborating with experienced professional surveyors, real estate agents can ensure they offer a tailored and efficient service, providing their clients with the best possible experience during the property search process.
What should you put on your property surveys before handling your clients?
Gathering as much quality information as possible is the best practice for real estate agents; this way, the potential client will feel safe and ready to make a purchase. The right set of questions helps the agent showcase their knowledge and expertise.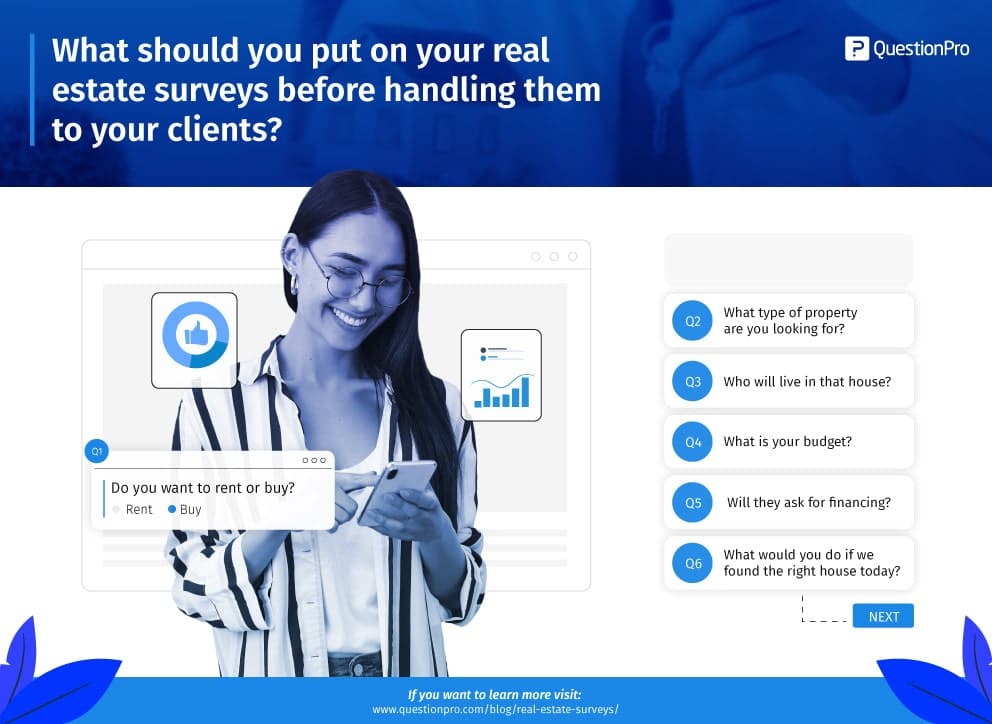 1. Do you want to rent or buy? – The most important question in your Real Estate Surveys.
It is a basic question because it defines which of the two markets to look at. While answering this question, make sure to be casual about it; you don't want to sound judgemental or invasive. We recommend handling them written, so the prospect can feel safer. Try our real estate survey template for free.
2. What type of property are you looking for?
It is essential to know the type of apartment or house that the client wants: dimensions, neighborhood, common areas, property lines, orientation, etc. Beyond the general legal description, it is interesting to ask about the three or four elements that are essential for them: this will help to limit the visits. Remember to add all the additional information you can work with to create better real estate surveys.
3. Who will live in that house?
How many people make up the family unit? Are there children? Elderly people? Which age? Knowing these details will help you understand the space and services needed in the area that may be of most interest to the client.
4. What is your budget?
Often, clients have not realistically estimated the prices of property in certain areas. Everyone wants to find an opportunity, but it is important that they are aware of both the price range of what they are looking for and the added expenses that they will have to face for the acquisition of a property. Make sure to ask about their money income respectfully, you can follow our guide to survey questions to make it even better.
5 . Will they ask for financing?
If you are going to apply for a mortgage, it is important to know the income of the family unit and to be clear that most banks grant a maximum of 80% of the property's value. This way, you can more accurately calculate what real price they can afford. Always make the right questions to avoid unpleasant surprises in the future.
6. What would you do if we found the right house today?
Knowing if the client is really determined to buy or if he is only beginning to test the waters, you need to know the range of possibilities that you might face to define the right strategy in each case.
Collecting all this information and analyzing the responses obtained from your real estate surveys, far from wasting time, will help you enormously to save time, money and, above all, to provide a useful and efficient service. All clients deserve quality.
The best way to create effective Real Estate Surveys is by planning ahead. Find the right survey software to achieve your goals. In QuestionPro, we can offer land survey software trusted by the world's best companies.
Real Estate Surveys with QuestionPro
In the fast-paced and competitive world of real estate, understanding client needs and preferences is the cornerstone of success. Real Estate Surveys give real estate agents the insights they need to offer personalized and targeted services, creating a seamless and satisfying property search experience. With the advanced land survey capabilities of QuestionPro, real estate professionals can unlock the power of data-driven decision-making, revolutionizing how they navigate the market and cater to their client's unique requirements.
By harnessing the efficiency of QuestionPro, real estate agents can also gain valuable insights into the cost of land surveys and property surveys. Understanding land survey costs and property survey costs allows agents to provide clients with a transparent and comprehensive understanding of the overall expenses involved in the property acquisition process. Collaborating with professional land surveyors further ensures that clients receive accurate information regarding the property's boundary lines and legal boundaries. With this knowledge, agents can confidently guide their clients toward making well-informed decisions, resulting in a more confident and satisfied clientele.
Real Estate Surveys with QuestionPro offer a transformative approach to real estate practices. You can run a new survey such as a land survey, mortgage survey, boundary survey, construction survey, subdivision survey, or topographical survey. By leveraging the platform's cutting-edge features, real estate professionals can gain valuable insights into clients' preferences, budget constraints, and property requirements. This data-driven approach enhances the efficiency of the property search process and elevates client satisfaction and trust. Understanding land survey costs and working with a land surveyor to define property boundaries and legal boundaries ensures a comprehensive and accurate property search experience. Embrace Real Estate Surveys with QuestionPro to unlock the true potential of data-driven success in the real estate industry.
Conclusion
Real estate surveys go beyond merely collecting data; they represent a strategic tool that empowers agents to intimately understand their client's needs, desires, and financial capabilities. By utilizing well-crafted questionnaires, agents can efficiently tailor their services, narrowing down property options that precisely match their clients' preferences.
The real estate industry thrives on personalized service, and a property survey confirms the means to deliver precisely that. The value of a property survey extends beyond a mere list of questions; it is the key to unlocking a more transparent, efficient, and satisfying experience for agents and clients. Embracing the power of real estate surveys is more than just a choice; it is a strategic decision that will change the game for real estate agents, enriching clients' lives and contributing to a flourishing real estate market.