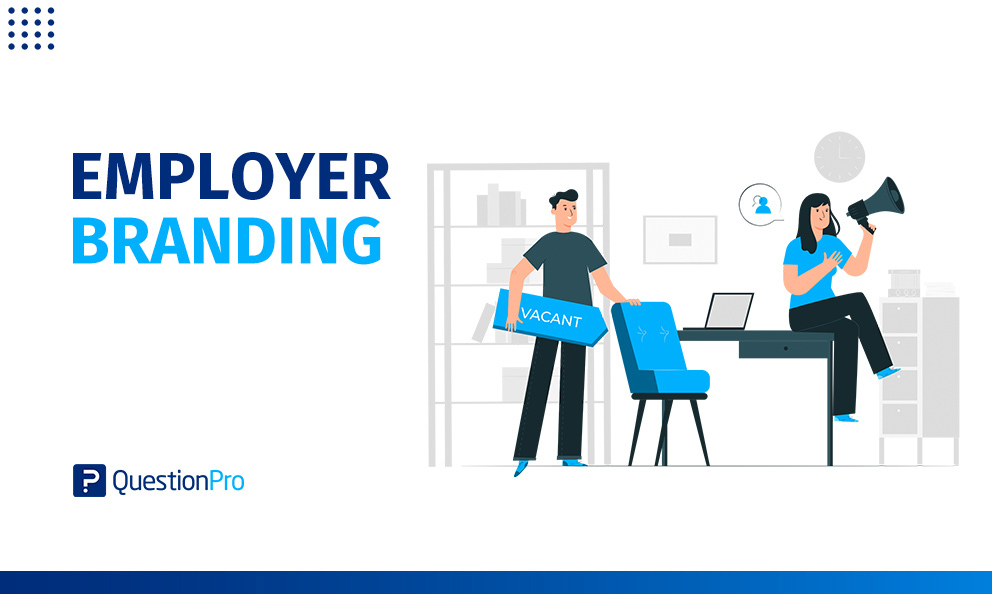 With an excellent corporate image and an accurately aligned employer branding strategy, attracting new talent and preventing high performers from leaving is only possible. But, what is the purpose of employer branding?
What is employer branding?
Employer branding is a methodology that controls reputation management and influences your image among talented candidates looking forward to working with a company in your area of expertise. A company's corporate reputation within its industry mirrors its employer brand. All the actions taken to position a business on a good image encapsulate the process of employer branding.
An employer branding strategy allows companies to materialize an improved workplace culture through the proper hiring process and an optimal work environment by putting together a team of employees whose needs align with the companies'. Ultimately, the right employer branding strategy will improve productivity, employee retention, and lower costs.
A good employer branding plan will positively change how the community looks at a company's image. The expected result is to locate and obtain highly qualified and adequate candidates for the company's hiring process, improving how employees see the company.
Employer Branding Advantages
At the end of the day, employer branding is a concept or employee strategy that includes a company's external marketing as a "good, attractive employer." The acquisition of talents and the retention of high performers is the main advantage.
Because consumers like to buy products and brands from companies with a good image, if a company is seen as an attractive, fair employer, this also positively affects sales. In the context of employer branding, measures can be directed externally, in the form of campaign and communication activities, and internally, e.g., actions to increase employee satisfaction.
Companies strive to continuously improve the organizational climate through an explicit employer branding strategy to have a targeted and positive influence on private communication. But that's not the only reason. Studies show that a good working and organizational climate ensures more productivity, creativity, and a high level of identity on the part of employees towards the employer.
LEARN ABOUT: Employee Experience Strategy
Employer Branding Strategies
Proper employer branding doesn't happen overnight; it requires hard work and a clear strategy.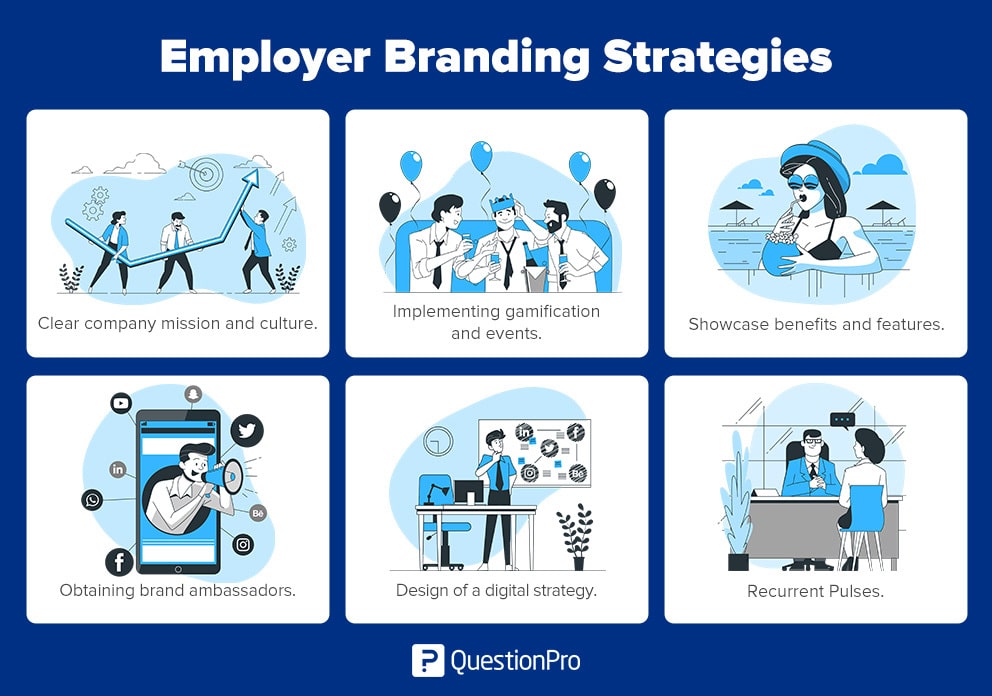 Here we give you some strategy examples to implement in your organization and start reaching talent with great potential.
Develop a clear company mission and culture:
One of the causes of cohesion among the members of an organization is having a clear mission. A clear mission allows collaborators to identify with it and be part of it from their area of expertise.
Having a culture also plays a clear role and goes hand in hand with the company's vision since this determines how the culture can fulfill the mission and develop the company's growth. These elements serve to provide clarity about the objectives and values of the organization, which allows giving certainty and attracting new talent to be part of it.
A culture develops through healthy and nurturing interactions between team members. The events or the gamification of activities allow the members of your company to interact, get to know each other better, and have fun while they develop them.
There are many possible exercises, and although many require that they be online in times like the present day, there are great alternatives to continue implementing this kind of activity. Developing a healthy and fun culture is one of the best ways to promote your company through a healthy and fun environment.
At QuestionPro, we recommend our LivePolls platform, the ideal tool to create online surveys and quizzes and have fun sessions with a team regardless of their location and without the need to download anything (the best part: it's free).
We cannot ignore the tangible benefits we provide; it is one of the key points to attract and retain talent management. There are endless benefits that can be implemented, both economically and as privileges and differentiators in your work method.
We have previously talked about Brand Ambassadors, who are usually people from outside the organization, but guess what? There are no better ambassadors than your collaborators themselves. You can opt for both options and start using this strategy to increase the reach of your vacancies or your company's message.
The best way to increase your employer branding is with a solid digital strategy, including SEO, Social Media, Email marketing, and live events. Any initiative that allows you to increase your visibility so that potential candidates find you are considered a good strategy for your growth.
A good work environment means that word of mouth promotion increases and that interested people find a place where well-being is an integral part of your organization. Carrying out surveys that allow you to identify your organization's work environment will let you take actions to improve the company perception your collaborators have and how it shows to people outside of it.
An excellent tool for this is the NPS. This methodology will allow you to know the degree of satisfaction of your collaborators and keep a pulse on the situation of your organizational climate.
Employer branding among employees
The social benefits that employees enjoy, such as a pleasant work environment and vacation policies, determine the philosophy and policy of a company and, consequently, reflect its employer branding.
Your brand promise is the essential reason customers buy your product and why your employees are happy and committed to working for you. But what a company says about itself is not necessarily the same as what its employees think.
It is elementary for company employees to publicly disseminate information about work, management, and organizational culture in the digital age. Workers know firsthand what it is like to work for your company, and their voice and opinion can significantly impact how the public perceives your company.
Employees can make recommendations or express critically about the company and its management on rating portals and social media.
Since information from your employees is published via private social media and rating profiles, corporate PR and marketing thus have a reasonably manageable influence on what the employees make public. Nevertheless, employers are not entirely powerless over what penetrates the outside through their employees.
Technological advances developed multiple initiatives to implement an employer branding strategy that you can carry out in your company. And these will depend on the culture and dynamics in your organization.
The topic of social media is playing an increasingly important role in employer branding. Because employees now rate their current and former employers on rating portals or in the relevant social networks. The attractiveness of an employer becomes more and more visible and transparent through employee feedback.
Conclusion
Whether a constant exchange between managers and employees can determine effective measures within the employer branding framework, regular employee surveys, feedback discussions, and pulse surveys provide clarity. To initiate and distribute all these surveys and to be able to analyze the data obtained centrally and meaningfully, a holistic feedback platform is required, which is also methodically tailored to all HR issues.
For example, the HR feedback platform QuestionPro offers the possibility of quickly and easily conducting and analyzing 360-degree surveys, pulse surveys, or traditional employee surveys. All data is collected centrally and can be evaluated in real-time.
In this way, you can record trends and tendencies up-to-date, and companies can derive fact-based decisions based on the data obtained.
Create your Free Workforce account today and start conducting surveys. Take a step towards improving your work team processes.