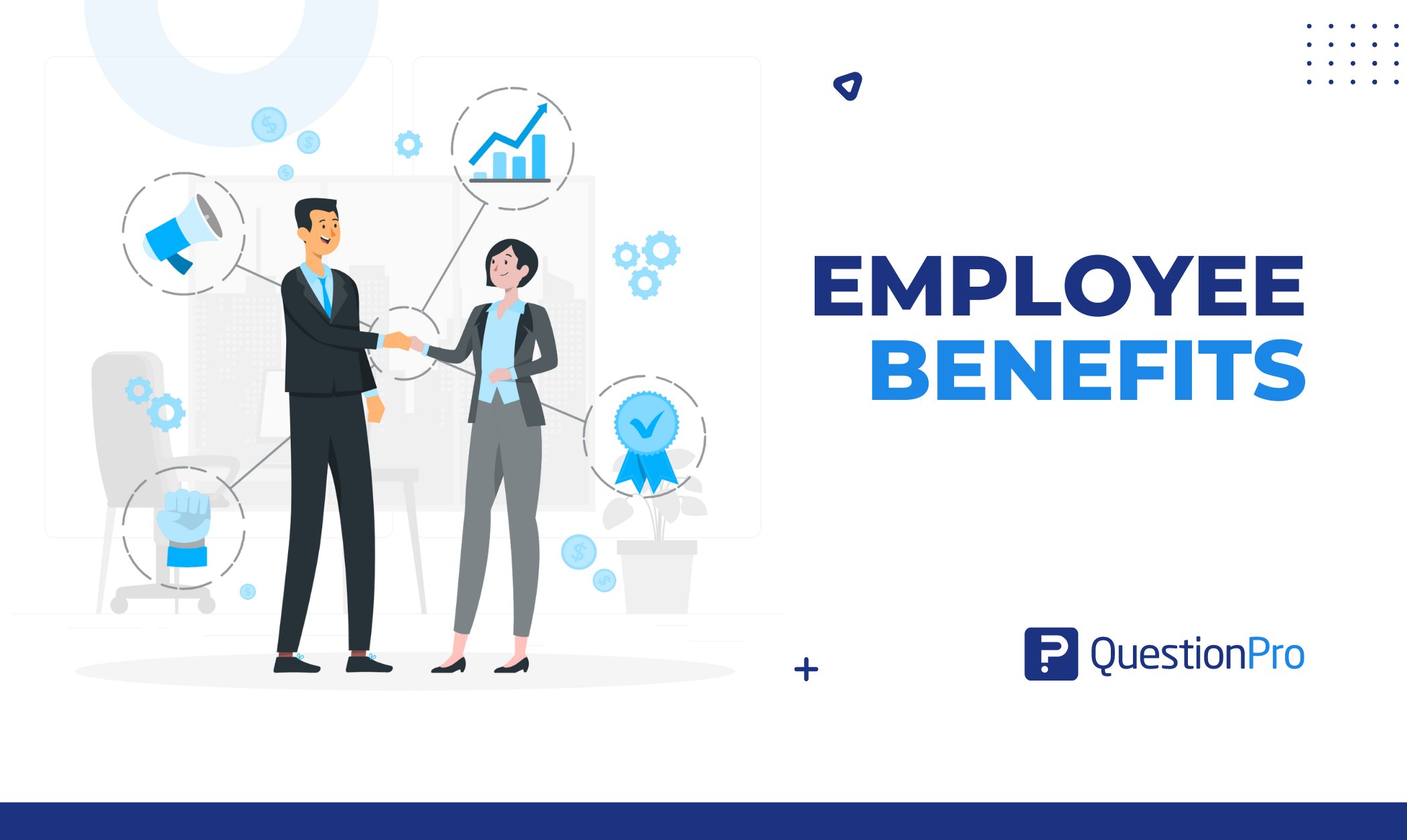 Any competitive compensation package must now include employee benefits because they have become essential. Benefits and bonuses can significantly impact attracting top talent and keeping employees, from legally required insurance to complimentary snacks.
We, therefore, have you covered if you're considering creating successful benefit plans or looking to improve your current policies – we give the fundamentals of employee benefits, including forms of employee benefits, importance, and examples.
LEARN ABOUT: Workplace Employee Experience Examples
What are employee benefits?
Employee benefits are forms of payment that employers give to their staff in addition to their normal pay or income.
These benefits may include group insurance (health, dental, life, etc.), retirement benefits, education loans, other loans (house loans, vehicle loans, etc), sick leaves, vacations, and flexible alternative arrangements.
In an organization, the workforce is the most valuable asset, and it is important for an organization to understand their needs and help them be engaged and satisfied. Employee benefits, when offered to the employees, act as an attribute for better performance and support for your employees.
Rapid globalization and organizations looking at massive expansion not only in the countries they are set up but also across the globe are key indicators for giving employees the flexibility to work at the most convenient hours.
For example, consider an organization based out of the States with branches in Germany, Latin America, Asia, and Australia. The workforce engaged with this organization has different working hours according to their continent. If the organization provides flexible working hours, it will be suitable for employees to communicate effectively at the most appropriate hours.
This is just one example of employee benefits. Let us explore in this blog the other examples of employee benefits that will help you keep your staff engaged and happy.
Why are employee benefits important?
Employer benefits are very important to SMEs, and their numbers show this. Our Benefits Survey asked 83% of employees about their employer's benefits package. Simply put, you should offer competitive benefits to employees to attract and keep top talent management and boost morale.
Employee perks are significant for a number of reasons: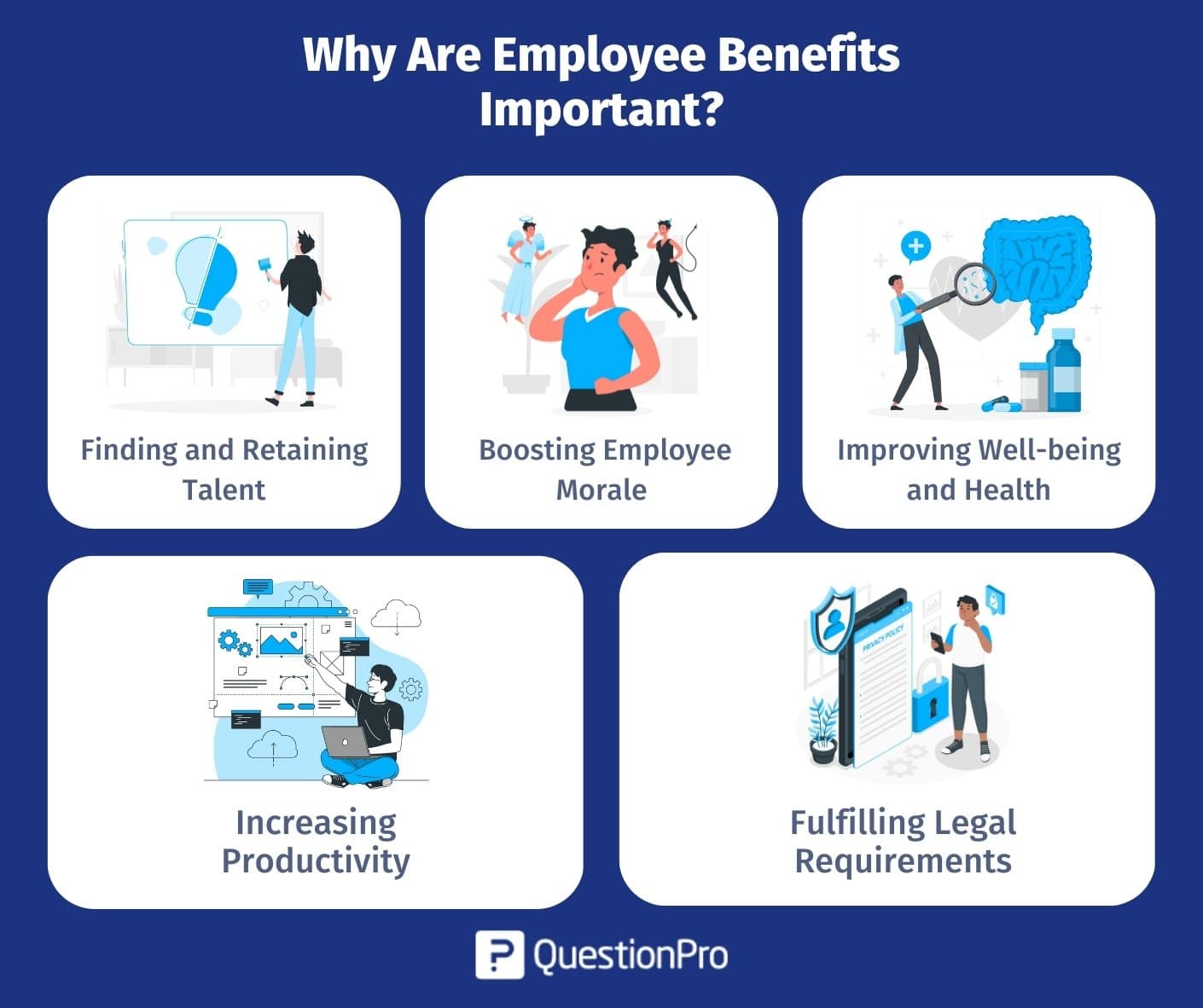 1. Finding and Retaining Talent
Employers can attract and retain employees with the best personnel in their sector by providing competitive perks. This is especially crucial in today's work market, where job searchers have more options than ever before.
2. Boosting Employee Morale
Employees are more likely to be content and engaged at work when they feel valued and cared for. Providing perks like paid time off, retirement programs, and health insurance can encourage loyalty and morale among staff members.
3. Improving Well-being and Health
To assist employees' health and well-being, many employee benefits are created. A few examples of perks that might assist employees in maintaining their health and productivity include health insurance, wellness initiatives, and gym memberships.
LEARN ABOUT: Employee Wellness
4. Increasing Productivity
Employees are more likely to be effective and productive at work when they are motivated, healthy, and happy. Employers' bottom lines may benefit from this.
5. Fulfilling Legal Requirements
The law mandates the provision of certain employee benefits, including workers' compensation and unemployment insurance. In addition to risking legal repercussions, failing to provide these perks to employees may make it difficult for employers to recruit and keep talent.
Employee benefits are essential to a comprehensive compensation package and can significantly affect staff members' productivity, engagement, and job satisfaction.
Types of employee benefits
Employers can provide a wide range of employee benefits depending on the size of the organization, the industry, and the budget. Some of the most common types of employee benefits include the following:
Health insurance: It is one of the most important things an employer can give. Medical, dental, and vision costs for employees and their dependents may be covered by health insurance.
Plans for retirement: Employers can offer a variety of retirement plans, including 401(k), IRA, and pension plans. These plans can be a great way to keep employees around and help them save for retirement benefits.
Paid time off (PTO): It can include vacation, sick, and personal days. Employees can take time off from work and still get paid for it, thanks to this benefit.
Flexible work arrangements: Employers can offer flexible work arrangements, such as telecommuting, flexible schedules, or part-time work. This can help employees find a balance between their work and personal responsibilities.
Disability insurance: Disability insurance replaces income if an employee is unable to work due to illness or injury.
Life insurance: In the event of an employee's death, life insurance helps the beneficiary's family financially.
Wellness programs: This can include gym memberships, on-site fitness classes, or health coaching. These programs encourage healthy habits and can help employers save money on healthcare costs.
Childcare benefits: Employers can offer childcare benefits, such as on-site daycare, subsidies, or referrals. This can assist working parents in striking a balance between work and family obligations.
Education assistance: Employers can provide education assistance, such as tuition reimbursement or student loan repayment programs. This benefit can help workers advance in their careers and learn new skills.
Employee assistance programs: Employee assistance programs offer support for personal or professional issues like counseling, legal counsel, or financial planning.
Employers can attract and keep top talent by providing a variety of employee benefits. This can boost morale and productivity and show that they care about the well-being of their employees.
How employee benefits improve the employee experience
Employee benefits packages can make a big difference in how happy employees are overall. Employee benefits can help create a happy workplace in a number of ways, including:
Sense of security:
Employees feel financially safe and secure thanks to benefits like health, life, and disability insurance. Employees can feel safer and less stressed if they know they will be taken care of in the event of an unforeseen event.
Work-life balance:
Employees can better balance their work and personal lives with certain benefits like paid time off, flexible work arrangements, and family leave. This can lessen workplace stress and improve employee health, which can make them happier at work and more productive.
Employer commitment:
Employers who provide comprehensive benefits packages show that they care about their workers' health and happiness at work. This can increase employee loyalty and interest.
Encouraging wellness:
Wellness programs, gym memberships, and healthy snacks at work can encourage employees to prioritize their health and well-being. This can improve employee satisfaction and health and lower healthcare costs for employers.
Opportunities for growth and development:
Employees can grow and develop with the help of benefits like tuition reimbursement, training programs, and opportunities for professional development. This can make people happier at work and encourage them to stick with the company for a long time.
Employee benefit plans can help employees have a good time at work by giving them a sense of security, helping them find a good balance between work and life, showing that the employer cares, promoting health, and giving them chances to learn and grow.
8 Examples of employee benefits for a greater employee commitment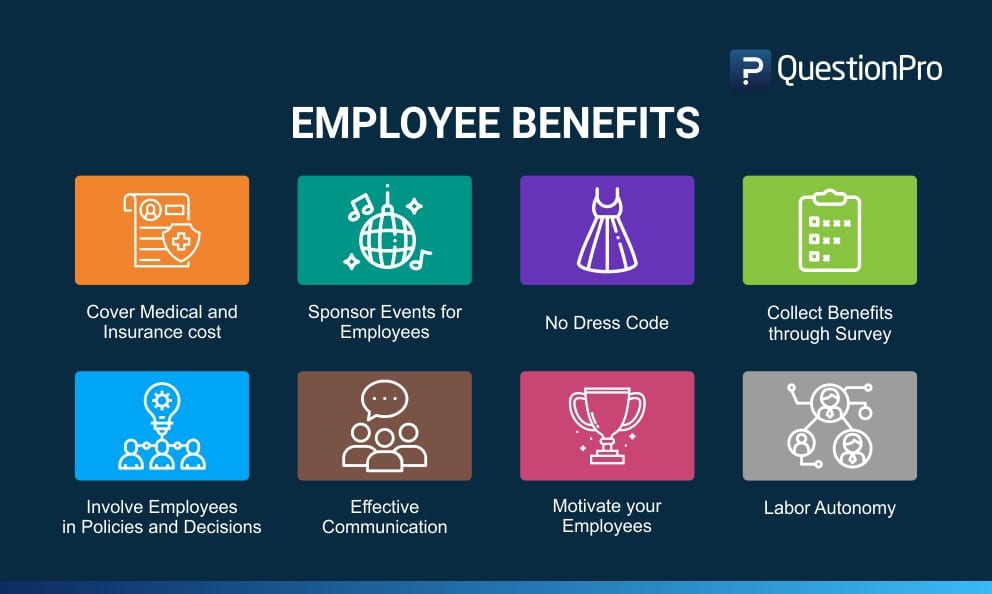 1. Cover the medical expenses and insurance cost
As goes an old saying, "Health is wealth." If you want your employees to be happy, keep them healthy and fit! To build the level of commitment from your employees, it is essential that you provide them with benefits first. The first thing you need to do is pen down a medical coverage plan that covers their medical insurance and expenses. You can also provide them with the following:
A. Offer them facilities to exercise
Your workforce will be enthusiastic about having space to work out and stay fit. This will save you time and money in the number of lost working days and facilitate a healthy environment, resulting in fewer sick days marked.
And it should be mentioned that turning a room in your office into a workout space is way cheaper than you can imagine. A healthy work environment keeps a person fit and relieves them of stress, which is scientifically proven.
There are many organizations that incorporate this work culture into their routine. Some other organizations offer to pay the membership cost for their employees. Google is one such organization that promotes a healthy lifestyle.
B. Start with a health and fitness course
One of the best ways to promote individual health is by having your employees participate in health awareness sessions and exercise-related competencies. To reward their efforts, announce the winner if you are conducting competitions and motivate others to participate in such get-togethers to promote health and fitness amongst your employees.
LEARN ABOUT: Employee Rewards Ideas for Employee Engagement
2. Sponsor events for your employee
People often stress when they have a lot of work and deadlines to meet. To help your employees lower their stress levels, you should organize social meetings and promote the satisfaction of your employees in general.
Many organizations have a "Friday" culture where different kinds of recreational activities are included during the day. Going to team dinners, sponsoring karaoke nights, bowling, go-karting, etc, are some examples of recreation you can often include during your work week.
3. No dress code!
A study conducted by QuestionPro revealed that organizations that do not follow strict dress codes have happier employees. A whopping 94% of employees said they were happier with no dress code policy at work.
There are many organizations that have adopted and practiced a certain standard of casual dressing. If the employees meet those standards, it is a good adaptation for them as well as the organization.
4. Collect examples of benefits through employee surveys
How common is it to see organizations conduct employee surveys? Very common, right? But how common is it to see the organization take action on the feedback that the employees provide? Not very often, right?
Not taking action based on the result will decrease the response rates of the deployed surveys and create a negative impression of your surveys. You don't need to bombard your employees with a 20-question survey.
Ask them just one powerful survey question, the employee Net Promoter Score Question:
"Considering your overall experience with our organization, on a scale from 0-10, how likely are you to recommend this organization to your family and friends?"
A quarterly or a half-yearly survey will also help you discover trends concerning the levels of commitment and satisfaction of your workforce. Collect and act on their responses, and you will be surprised by the changes in your employees' engagement levels.
5. Involve your employees in organizational decisions and policies
Another good example of employee benefits is involving them in the policies and decision-making within the organization. A weekly meeting is a good start to keeping your employees aligned with what is going on in the organization, what developments or changes the organization aims to achieve, and what role employees are bound to play in it.
Get feedback from your employees before implementing these changes and make them a part of the process.
6. Promote effective communication
Create a work culture that promotes effective communication. As Dale Carnegie says, "Communication is a dialogue, not a monologue." Communicate a reason with your employees, and the reason should be to keep them updated with all that is happening in the organization.
Promote the open door policy and give your workforce the voice they are looking for. Transparent communication often opens the door to a better belief system.
7. Motivate your Employee
Organizations stagnate, sales dip to an all-time low, there is a sudden rise in employee attrition, and you experience financial losses. All these are signs of a disengaged and highly unmotivated workforce.
To avoid such a sudden downfall, keep your employees motivated and enthusiastic, don't let them lose interest in their work, make sure you know their needs, and immediately implement any changes that might positively affect their performance.
8. Labor autonomy
Share goals, strategies, and plans, and make your employees own their tasks. Give them the freedom to think out of the box and create an environment that significantly reduces boredom in the workplace. Committed employees always work harder and keep things moving. Appreciate their levels of commitment.
LEARN ABOUT: Employee Care
Conclusion
Employee benefits are important to any business because they help attract and keep the best workers. Companies can increase productivity and lower turnover rates by providing competitive benefits packages to their employees and improving their overall job satisfaction.
Employee benefits can also help workers feel better about their health and finances, which can lead to a better work environment and better job performance.
In today's competitive job market, companies should stay current with the latest trends and offerings in employee benefits to remain appealing to potential hires and retain current staff.
It is important for organizations to conduct regular surveys and collect feedback from employees on their benefits packages to make sure they meet their needs and employee expectations.
A well-rounded benefits package that meets the QuestionPro workforce's needs and helps build loyalty and job satisfaction is extremely beneficial. Benefits like health insurance, retirement plans, paid time off, and flexible work arrangements can increase employee happiness and productivity while also helping to attract and keep top talent.
By investing in the health and happiness of their employees, QuestionPro can create a workplace culture that values and supports its employees. This will lead to increased employee engagement and organizational success.