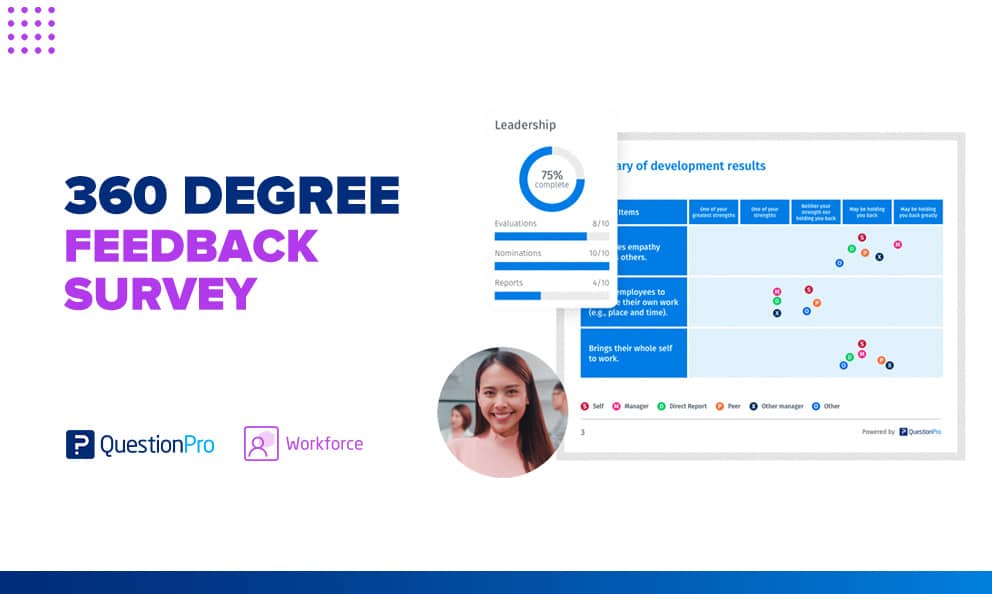 We live in an always-on era, with an ongoing stream of information in our social and work lives. As such, honesty in communication has become of critical importance in navigating this complicated world. Let's talk about the importance of a 360 survey and leadership development.
LEARN ABOUT: 360 Leadership Assessment
As organizational leaders, what can we do to create a space for a positive and constructive exchange of information?
Are there ways to improve without radical reinvention? And if so, what changes will be easy to implement and measure? We'd love to share with you more about how you can develop, evaluate, and take your leaders to the next level. Would you like to know more? Please read on.
What is a 360 survey?
360 survey is also known as 360-degree feedback or 360 assessment. It is a powerful way to receive advice from the people a person works most closely with—including managers, peers, direct reports, and other people they interact with (e.g., clients or vendors).
The key is that this is not your typical top-down performance review but rather a collection of perspectives from a variety of sources centered on growth and development. Information that empowers leaders with insightful, timely, and valuable insights is required to develop themselves better and lead their people.
A 360-degree survey often asks participants to submit feedback via organized questionnaires or assessments. Depending on the individual's role and duties, the questions address various topics such as leadership qualities, communication skills, teamwork, problem-solving, and other related capabilities.
LEARN ABOUT: Leadership Assessment Tools
The feedback from various sources is gathered into a report, which is then shared with the evaluated individual. This feedback can help people understand their own strengths, places for improvement, and how others see them. It provides a well-rounded perspective that goes beyond a single supervisor's feedback.
360 degree feedback surveys are frequently used in employee performance appraisals, leadership development programs, and organizational development efforts. They can provide significant insights for personal improvement, identifying skill gaps, and increasing self-awareness among employees.
LEARN ABOUT: Organizational Resilience
Why conduct a 360 survey?
Conducting a 360 survey is one of the most effective ways to provide employee feedback and actionable insights for leaders to grow and develop. Here are some ways a company can use this powerful tool to benefit from feedback:
To create and build an honest feedback culture
A healthy company workplace culture comes from a straightforward, honest, and well-timed employee feedback loop between all levels of an organization. If employees feel comfortable sharing what they think about management, and vice versa, they are more likely to be happy and engaged.
This exchange of employee performance feedback and forward-looking advice not only helps leaders get a clearer picture and a roadmap of the best way they can contribute to the organization but will also have an impact on transforming the organization's culture as a whole.
To support individual development plans
Development should be the key output of a 360-degree feedback questionnaire. The primary goal of these assessments is to find out how others feel about your leaders, regardless of their position in an organization, and to apply data to help them become better leaders overall.
Often employee development conversations and coaching happen between the person and their direct manager. While this is useful, it is only a partial view of how a person can improve.
For a leader to be better aware of how their interactions impact others, having the various viewpoints gathered from 360 feedback is infinitely more helpful for development than unilateral input from a person's manager.
To understand the perspective of others
Again, traditional employee performance reviews are often biased based solely on a manager's perspective of the employee's performance.
At best, the manager may send a few emails with open-ended questions to several colleagues to solicit additional input. While this is better than not asking for input at all, the results are often difficult to consolidate into meaningful insights and actions.
Since 360-degree feedback necessarily provides viewpoints of different individuals, it can be a great way to find out about the differences in perceptions between leaders and peers without adding strain to professional relationships.
Focus on the competencies that actually matter
360-degree surveys can block out the noise and let leaders focus on what's important for their organization and its people.
And while you will still get a ton of data from several sources, the kind of feedback you end up with will be tailored to the competencies and behaviors most important to the organization.
It ultimately can be used for leadership development and to help drive change. While some competencies are usually important across various organizations, certain competencies may be unique to align and support unique organizational values.
What to ask in a 360 survey review
When it comes to asking questions for a 360-degree survey review, it's important to keep in mind the unique goals and objectives of the assessment. Therefore, it's crucial to take the time to write well-crafted questions to gain helpful feedback culture and insights into the individual being assessed.
To ensure a comprehensive assessment, it's important to include various questions covering various aspects of the individual's work. Here are some general areas of questions that can be included in a 360 survey:
Leadership Skills

Leadership skills reveal a person's ability to lead and inspire. You may determine how well they lead their team by assessing their objective and expectation communication. Asking questions about their guidance and assistance can provide valuable insights into their ability to help others in the workplace. For example

:

How does the individual assist team members?

On a scale of 1 to 5, rate the individual's ability to convey vision and strategy to the team.
Communication Skills

Evaluating a person's communication performance helps determine their capacity to communicate clearly and effectively. Assessing their communication skills helps evaluate if they can clearly and effectively communicate information and ideas in a way that promotes understanding. Some of these questions may be about how the employee communicates with customers, coworkers, and leaders.

Which of these best describes the person's ability to listen actively?

On a scale of 1-5, rate the person's ability to clearly and successfully share ideas and information.

Does this employee communicate well with customers?
Collaboration and Teamwork

The capacity to work well with others reflects how well they can collaborate and function as a team. Asking questions about this area reveals how open they are to new ideas, how well they can use a wide range of skills, and how much they respect other people's points of view. For example

:

Can you provide examples of the individual providing colleagues with constructive feedback and support?

How does the person value and accept the different opinions and points of view on the team?

Does the employee motivate others when working in a group?
Performance and Results

Evaluating a person's performance and results reveals information about their ability to produce high-quality work. Questions regarding goal-setting and achievement highlight their capacity to establish and work toward goals.

For example

:

How frequently does the individual meet job performance targets?

Can you provide examples of people taking responsibility for their job and responsibilities?
Resilience and Stress Management




Evaluating resilience and stress management abilities identifies those who can effectively handle pressure, recover from obstacles, and maintain a positive attitude. These characteristics contribute to their overall well-being and ability to handle difficult situations. Some questions be like this:

How well does the individual deal with stress and pressure at work?

Does the employee manage his work-life balance well?

Can this employee recognize and regulate the impacts of their own and others' stress?
How to ask questions in a 360-degree feedback survey
There are a number of different 360 review frameworks available on the market, often informed by academics or consultants. The right approach for your organization will be heavily informed by your unique culture and the competencies you find important for your leaders.
When conducting a 360-degree feedback survey, it is essential to ask clear, concise questions that successfully collect negative and positive feedback from diverse perspectives. Regardless of how you choose the questions, here are some guidelines we'd suggest for you to consider.
Define and Evaluate the Competencies
Clearly define what competencies are important for your organization. Then, ask a small group of clear questions to evaluate each specific competency so that you can get information from more than a single angle or item.
Use Clear and Inclusive Language
Use clear, concise, and universal language which reflects how employees speak in your organization; be as technical or light as you need to be so that absolutely everyone can understand it. This will greatly improve the quality of the information obtained.
Choose the Right Scale and Question Format
Decide on a scale wording that will be the most conducive to ensuring those providing feedback feel comfortable sharing it and that the feedback will be received as constructive rather than judgmental from the person being reviewed.
Likert-type scales are most commonly used, and combining them with a set of optional, open-ended questions will provide a great balance of quantitative and qualitative data for development.
Sequence Questions Logically
It is important to arrange the questions logically and coherently. The sequence in which questions are given can considerably impact the survey's flow and the quality of the responses. Organize the questions in a logical, flowing sequence. Group similar questions together to provide a logical development of subjects.
Allow for Anonymous Feedback
Ensure that respondents' responses are confidential and anonymous to encourage honest feedback. This can contribute to a more open and trustworthy feedback environment.
Implementing a successful 360 survey process
The 360 feedback exposes us to how others view us, which can lead to more introspection and self-awareness, leading to better behavior modification. Some organizations partner with consultancies for their 360-degree feedback process, while others prefer to launch the assessment with in-house teams. Whichever approach you select, a few steps will help ensure your program is successful.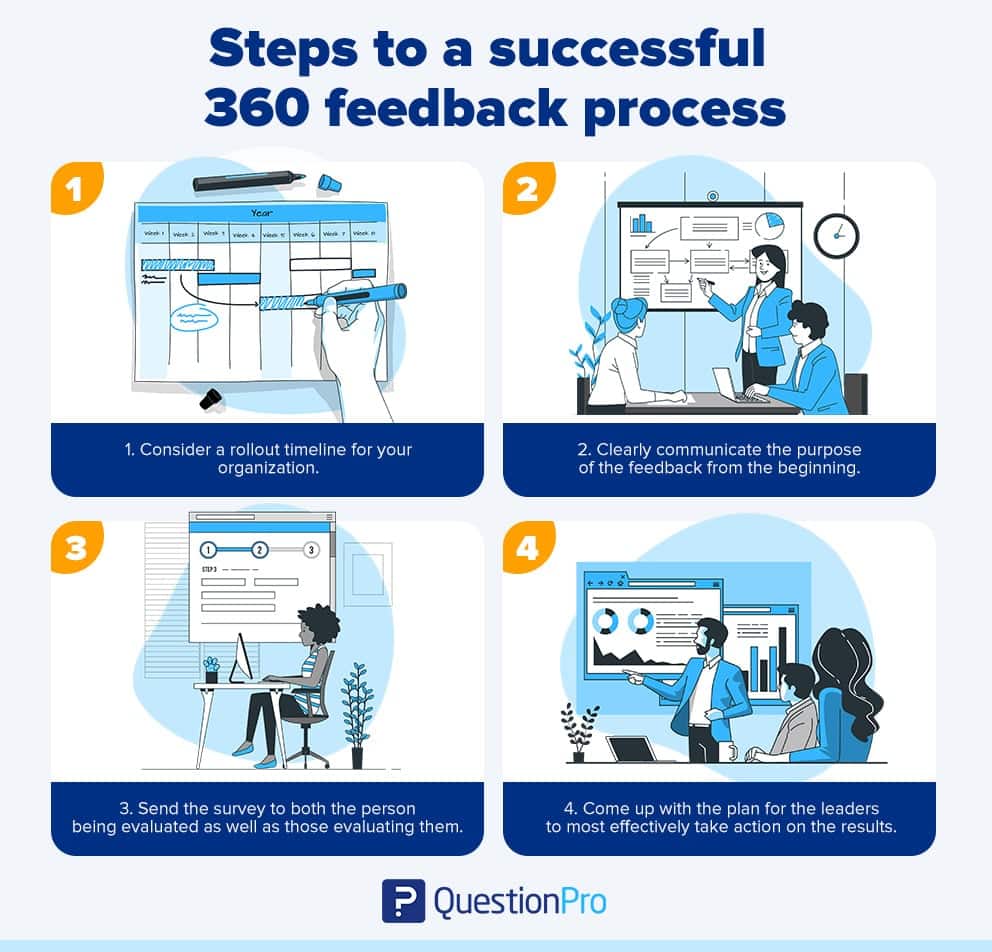 Step 1: Consider a rollout timeline for your organization.

When implementing changes within your organization, having a well-planned rollout timeline can make all the difference. You can ensure a smooth transition and minimize any potential disruptions by carefully considering the steps involved and the necessary timeframe.





So, take the time to map out a comprehensive rollout timeline that considers all the key factors and stakeholders involved.
Step 2: Clearly communicate the purpose of the feedback from the beginning.

To ensure a successful feedback process, it's crucial to establish the purpose right from the start. This not only builds trust but also generates excitement about the value that this process will bring.
Step 3: Send the survey to both the person being evaluated for self-evaluation as well as those evaluating them.

To ensure a comprehensive evaluation process, it is recommended to distribute the survey to both the individual being evaluated and their evaluators. This approach allows for a well-rounded assessment of the individual's performance and provides valuable insights from multiple perspectives.





As a responsible individual, setting reminders and establishing clear communication regarding your desired completion timeline is important. This helps you stay on track with your tasks and ensures that others involved in the project are aware of your expectations.
Step 4: Come up with a plan for the leaders to most effectively take action on the results.

Developing a comprehensive strategy for leaders to implement the outcomes efficiently is crucial. It is imperative to devise a plan to enable them to take prompt and effective action based on the results.





As individuals progress in their careers, it's important for them to have access to various developmental opportunities. This may include working alongside HR to identify areas for growth, participating in group training sessions, or even being paired with an executive coach. These resources can help individuals enhance their skills and reach their full potential in the workplace.
Enhance Leadership Development with QuestionPro 360 Feedback Surveys
Our assessment offers a unique approach to measuring the industry's most essential and current competencies. From inclusive leadership to team capacity management and resilience, our out-of-the-box assessment comprehensively evaluates these critical skills. The QuestionPro 360-degree platform has an intuitive interface that makes it easy to navigate and use.
As an assessing leader, you understand that the success of your organization hinges on the quality of its leadership. That's why it's crucial to have a fully customizable assessment to align with your organization's unique values and priorities.
With our assessment, you can customize it to your specific needs and pinpoint the leadership traits that matter most to you. This ensures you can identify and develop the leaders who will drive your organization forward and achieve its goals.
A holistic view of performance

As a leader, it's crucial to understand your strengths and areas for improvement clearly. One of the most effective ways to gain this insight is by seeking feedback and advice from your managers, direct reports, peers, and other stakeholders. By comparing their input to your self-evaluation, you can understand your leadership style comprehensively and identify areas where you can grow and develop.
Focus on development

Providing feedback can be difficult, but 360-degree feedback surveys focus on growth and guidance for leaders to enhance their skills. This approach eliminates the negative connotations associated with conventional assessments or performance evaluations and focuses only on progress.
Competencies that matter to you

In today's market, there are various leadership models to choose from. However, with the help of our 360 feedback system, organizations can concentrate on the competencies and behaviors that hold the utmost significance for them. This approach enables them to make progress and improve in these areas, ultimately leading to growth and development.
Consultancies

As a company, we are proud to collaborate with consultancies that have crafted unique models to empower leaders of diverse backgrounds. Our powerful 360 technology can assist you in bringing your leadership philosophy to life more profoundly.
Ready to start rolling out 360 reviews in your organization? 360 feedback software is much more than a platform to share observations of behaviors. It has the power to help transform the way someone leads the organization.
At QuestionPro, we want to make sure no matter how you approach leadership development, and we can effectively accompany you on this journey.