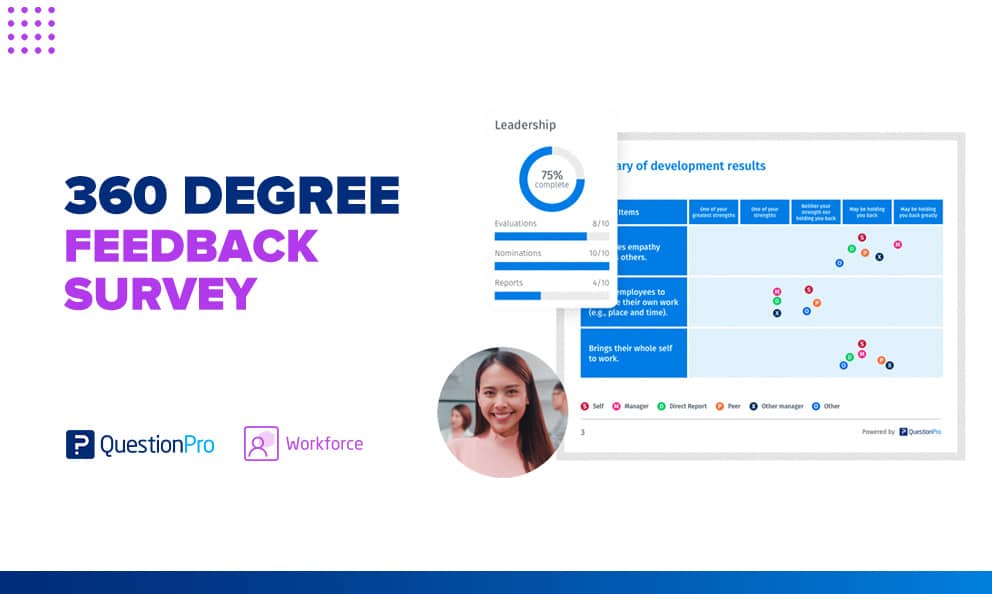 We are living in an always-on era, where there is an ongoing stream of information in both our social and work lives. As such, honesty in communication has become of critical importance in navigating this complicated world. Let's talk about the importance of a 360 degree survey and leadership development.
As organizational leaders, what can we do to create a space for a positive and constructive exchange of information? Are there ways to improve without radical reinvention? And if so, what changes will be easy to implement and measure? We'd love to share with you more about how you can develop, evaluate, and take your leaders to the next level. Would you like to know more? Please read on. 
What is a 360 degree survey?
Also known as 360 degree feedback or 360 assessment, a 360 degree survey is a powerful way to receive advice from the people a person works most closely with—including managers, peers, direct reports, and other people they interact with (e.g., clients or vendors).
The key is that this is not your typical top-down performance review, but rather a collection of perspectives from a variety of sources, centered on growth and development. It is indispensable information that empowers leaders with insightful, timely and valuable insights to better develop themselves and better lead their people.
Why conduct a 360 degree feedback survey?
Conducting a 360 degree feedback survey is one of the most effective ways to provide constructive and actionable insights for leaders to grow and develop. Here are some ways a company can use this powerful tool to benefit from feedback:
To create and build an honest feedback culture
A healthy company workplace culture comes from a straightforward, honest and well-timed employee feedback loop between all levels of an organization. If employees feel comfortable sharing what they think about management, and vice versa, they are more likely to be happy and engaged.
This exchange of performance feedback and forward-looking advice not only helps leaders get a clearer picture and a roadmap of the best way they can contribute to the organization, but will also have an impact on transforming the organization's culture as a whole as there is no better way to lead change than by example.
To support individual development plans
Development should be the key output of a 360-degree feedback survey. The primary goal of these assessments is to find out how others feel about your leaders, regardless of their position in an organization, and to apply data to help them become a better leader overall.
Oftentimes development conversations and coaching happen between the person and their direct manager, and while this is useful, it is only a partial view of how a person can improve. For a leader to be better aware of how their interactions impact others, having the various viewpoints gathered from 360 feedback is infinitely more useful for development than a unilateral input from a person's manager themselves.  
To understand the perspective of others
Again, most often traditional performance reviews are biased based solely on a manager's perspective of the employee's performance.
At best, the manager may send a few emails with open-ended questions to several colleagues to solicit additional input, and while this is better than not asking for input at all, the results are often difficult to consolidate into meaningful insights and actions.
Since 360 feedback necessarily provides viewpoints of different individuals, they can be a great way to find out about the differences in perceptions between leaders and peers without adding strain to professional relationships. 
Focus on the competencies that actually matter
360 degree surveys have a great ability to block out the noise and let leaders focus on what's important for their organization and its people. And while you will still get a ton of data from several sources, the kind of feedback that you end up with will be tailored to the actual competencies and behaviors that are the most important to the organization.
It ultimately can be used for leadership development and to help drive change. While there are competencies that are usually important across a variety of organizations, there are also certain competencies that may be unique to provide alignment and support to unique organization values. 
What to ask in a 360 degree survey review
There are a number of different 360 review frameworks available on the market, often informed by academics or consultants. The right approach for your organization will be heavily informed by your unique culture and the competencies that you find important for your leaders to have.
Regardless of how you choose the questions, here are some guidelines we'd suggest for you to consider.  
Clearly define what competencies are important for your organization. Then, ask a small group of clear questions to evaluate each specific competency, so you can get information from more than a single angle or item. 

Use clear, concise and universal language, which reflects how employees speak in your organization; be as technical or light as you need to be so that it can be understood by absolutely everyone. This will greatly improve the quality of the information obtained.

Decide on a scale wording that will be the most conducive to making sure those providing feedback feel comfortable sharing it, that the feedback will be received as constructive rather than judgmental from the person being reviewed.

Likert-type scales are most commonly used, and combining them with a set of optional, open-ended questions will provide a great balance of quantitative and qualitative data for development.
Implementing a successful 360 degree survey process
Some organizations partner with consultancies for their 360 degree feedback process, while others prefer to launch the assessment with in-house teams. Whichever approach you select, there are a few steps that will help make sure your program is successful.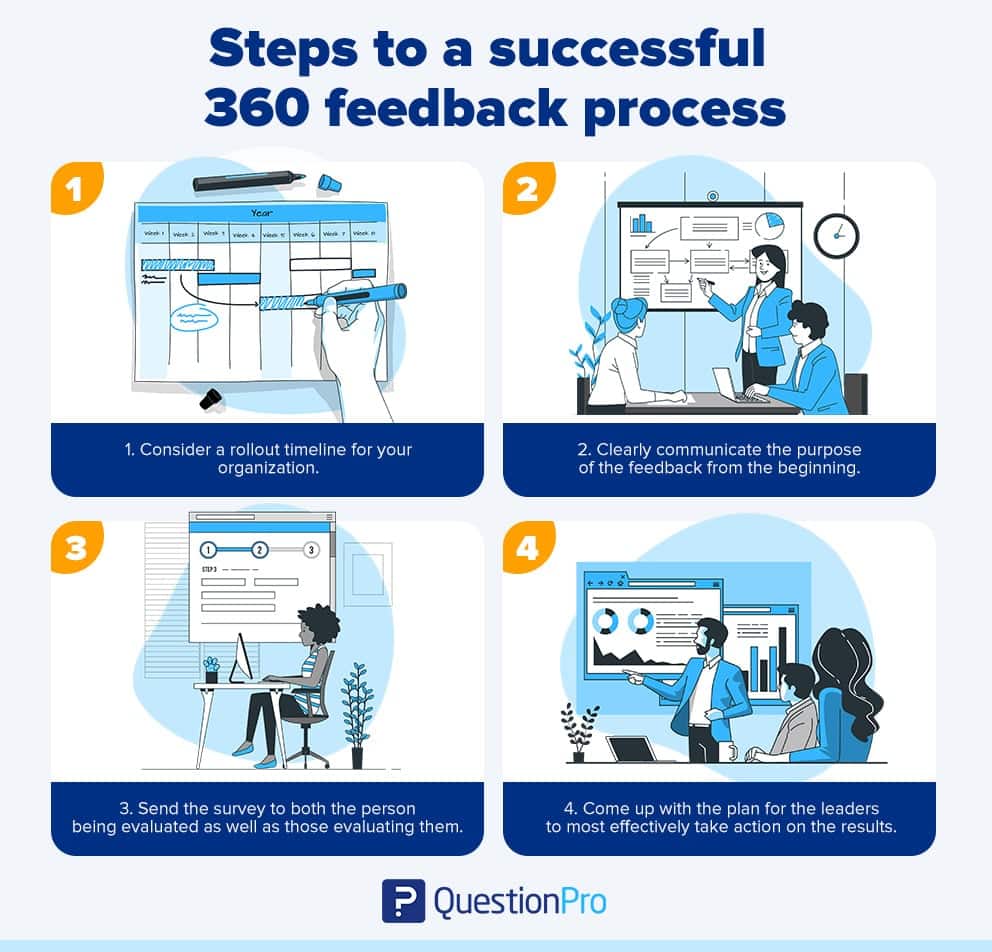 Consider a rollout timeline for your organization – does it make sense to put all leaders through the feedback process at once, or implement it through several waives?
Clearly communicate the purpose of the feedback from the beginning, to foster both trust but also excitement of the value that this process will bring forth.
Send the survey to both the person being evaluated for self-evaluation as well as those evaluating them. Set reminders and communicate a desired completion timeline.
Come up with the plan for the leaders to most effectively take action on the results. Will they be working with HR on their developmental opportunities, be offered group trainings, or partnered with an executive coach, for example?
Consultancies
We support and partner with consultancies who have developed their own models to empower different kinds of leaders. We can help you bring your leadership philosophy to life in an even more profound way with our powerful 360 technology.
HR teams
Our 360 degree platform is intuitive and easy to use to create your leadership survey. With our out of the box assessment you can measure the most critical and contemporary competencies, such as inclusive leadership, resilience, team capacity management, and much more. 
Ready to start rolling out 360 reviews in your organization? 360 feedback software is much more than a platform to share observations of behaviors, it has the power to help transform the way someone leads the organization. At QuestionPro, we want to make sure no matter how you approach leadership development, that we can effectively accompany you on this journey.