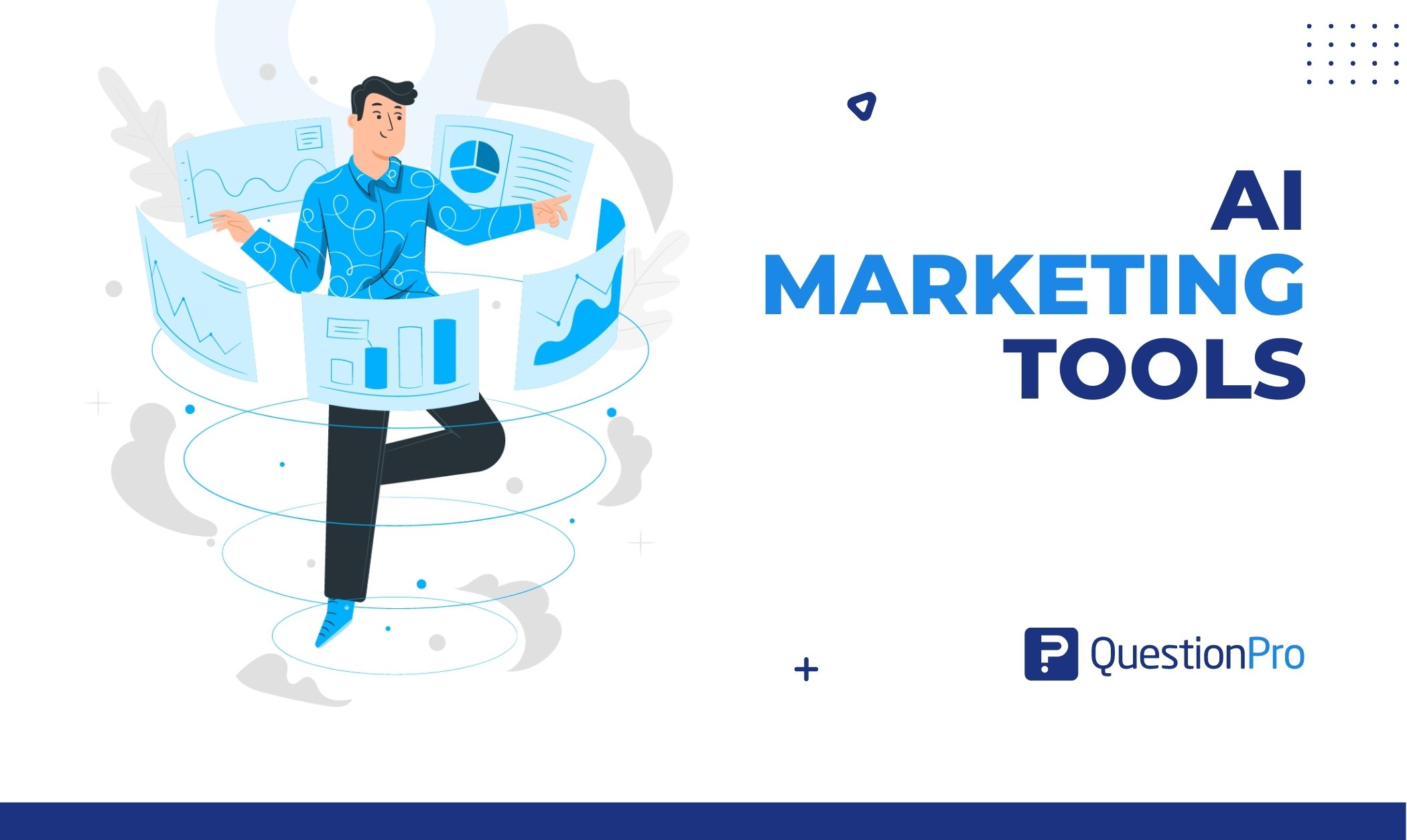 Welcome to the age of technology, where businesses are thriving to revolutionize their strategies and stay ahead of the competition. In the quest for efficient data and insights, Artificial Intelligence or AI marketing tools have emerged as a game-changing force in the world of market research.
With an AI marketing tool, businesses can now effortlessly gather, analyze, and interpret data, providing them with competitive advantages. In this article, we will delve into the world of AI marketing tools, exploring their potential to transform market research, the benefits and challenges of using them, and their impact on the future of business.
What are AI marketing tools?
AI marketing tools are sophisticated software applications that are changing the game for businesses when it comes to market research. These elements utilize machine learning algorithms to simplify and automate marketing tasks, like scrutinizing customer data from diverse sources such as social media, email, and customer interactions.
The valuable insights generated by AI marketing tools can provide crucial information on customer behavior, preferences, and trends, empowering businesses to make informed decisions and create a customized marketing strategy that connects with their audience.
By integrating an AI tool into their operations, businesses can enhance their marketing efforts and remain ahead of the competition in today's fast-paced digital landscape.
Learn About: Market research industry
Pros and cons of AI marketing tools
As with any technological advancement, AI marketing tools come with their own set of benefits and drawbacks. Let's take a look at both:
Pros:
Efficiency: They can process vast amounts of data in a matter of seconds, saving businesses time and money.
Accuracy: By analyzing large datasets, AI tools can provide accurate and reliable insights into customer behavior, preferences, and trends.
Personalization: They can create personalized marketing campaigns based on individual customer preferences, improving the customer experience.
Cost-effective: Businesses can save on labor costs and optimize their marketing budgets by automating marketing tasks.
Cons:
Initial investment: The cost of implementing AI tools can be high, which may be a barrier for small businesses.
Data privacy concerns: Collecting and analyzing vast amounts of data may raise concerns about data privacy and security.
Lack of human touch: While AI tools can provide accurate insights, they lack the human touch required for creating emotional connections with customers.
Learn About: Market research vs marketing research
Types of AI marketing tools
There are a lot of different AI marketing tools that are all meant to change different parts of digital marketing. AI marketing tools that are making a big difference include these several types:
Search Engine Optimization (SEO) tools
AI-powered SEO tools assist marketers in optimizing their websites and content for search engines like Google. They offer features such as keyword research, content optimization, and competitor analysis to improve rankings and organic traffic.
Content strategy platforms
These AI marketing tools automate content creation and optimization. They generate high-quality, SEO-friendly content tailored to specific keywords and niches, saving time and ensuring content performs well on search engines.
Social media marketing tools
AI tools for social media marketing aid in audience segmentation, content scheduling, and sentiment analysis. Marketers can create highly targeted and engaging social media campaigns that resonate with their audiences.
Google ads optimization software
AI-driven tools optimize Google Ads campaigns by automating bidding strategies, analyzing ad performance, and refining targeting parameters. This maximizes the ROI for paid advertising efforts.
Email marketing automation solutions
AI-powered email marketing tools segment audiences, optimize send times and personalize email content. Marketers can create more effective email campaigns and increase engagement with subscribers.
Predictive analytics platforms
These tools utilize AI algorithms to analyze historical data and predict future trends and customer behaviors. Marketers can make data-driven decisions for their digital marketing strategies, improving overall effectiveness.
Chatbots and virtual assistants
AI chatbots and virtual assistants enhance customer engagement by providing 24/7 support, answering queries, and offering product recommendations. They improve user experiences and boost customer satisfaction.
The role of AI tools in market research
AI marketing tools play a crucial role in market research by providing businesses with real-time insights into customer behavior and preferences. By using these tools, businesses can: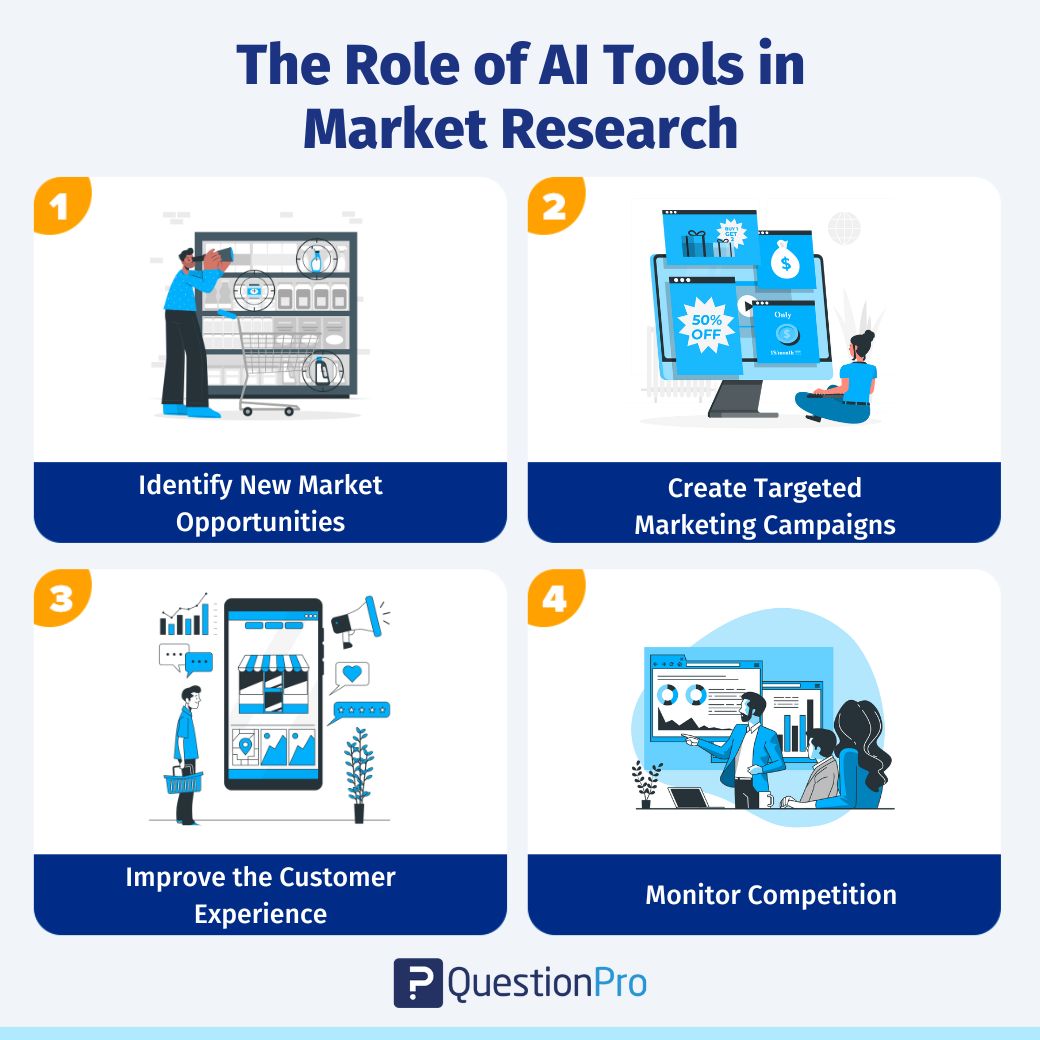 Identify new market opportunities
With the advent of AI marketing tools, businesses can now tap into the vast amounts of data generated by customer interactions to uncover new market opportunities. By leveraging machine learning algorithms, these tools can analyze customer behavior, preferences, and trends, identifying patterns that would have been difficult to spot manually.
The insights generated by AI tools can help businesses create targeted marketing strategies that cater to specific customer segments, expanding their customer base and boosting their bottom line. By leveraging the power of AI tools, businesses can stay ahead of the curve and uncover new growth opportunities that were previously hidden.
Create targeted marketing campaigns
These tools can extract valuable insights from vast amounts of customer data. These insights enable businesses to understand their customers more deeply, including their behavior and preferences.
AI can create targeted and personalized marketing campaigns that engage customers by utilizing this knowledge. With the ability to tailor messages and offers to specific audience segments, businesses can increase the impact and effectiveness of their marketing efforts, driving greater customer engagement and sales.
Improve the customer experience
The personalization of marketing efforts is critical in today's digital landscape, where customers are bombarded with an endless stream of advertisements. AI marketing tools allow businesses to provide customers with relevant and engaging content, increasing their likelihood of engagement and loyalty.
These tools can help businesses anticipate customer needs and pain points, providing solutions before the customer even realizes they need them. By leveraging AI tools, businesses can offer a level of customer service that sets them apart from the competition.
AI is more than just a tool for market research; it is a means of creating personalized customer experiences that drive engagement and loyalty. By implementing AI marketing tools, businesses can stay ahead of the curve and create lasting customer relationships.
AI tools can be used to gain valuable insights into competitors' marketing strategies and tactics. By analyzing their digital footprint, including their website, social media presence, and advertising campaigns, businesses can identify potential opportunities to differentiate themselves and gain a competitive edge.
AI-powered tools can also track and monitor competitor activity, including pricing changes, product launches, and customer reviews, allowing businesses to adapt their strategies accordingly. Additionally, sentiment analysis tools can be used to gauge customer perception of competitors and identify potential weaknesses in their offerings.
By leveraging the power of AI tools, we can gain a deeper understanding of the competitive landscape and make data-driven decisions that position them for success.
Learn About: Marketing Insight
Conclusion
The insights generated by AI marketing tools provide valuable information on customer behavior, preferences, and trends, enabling businesses to make informed decisions and create targeted marketing strategies that resonate with their audience.
By harnessing the power of AI tools, businesses can optimize their marketing efforts, stay ahead of the competition, and build long-lasting customer relationships.
As we learned, AI tools have pros and cons, and the benefits far outweigh the potential drawbacks. With their ability to analyze vast amounts of data quickly and accurately, businesses can save time and resources while gaining valuable insights into their target audience.
At QuestionPro, we understand the importance of using cutting-edge technology to stay ahead in today's competitive market. That's why we offer a range of tools to help businesses of all sizes take their market research to the next level. Join us today and see the benefits of leveraging the power of insights for your business.