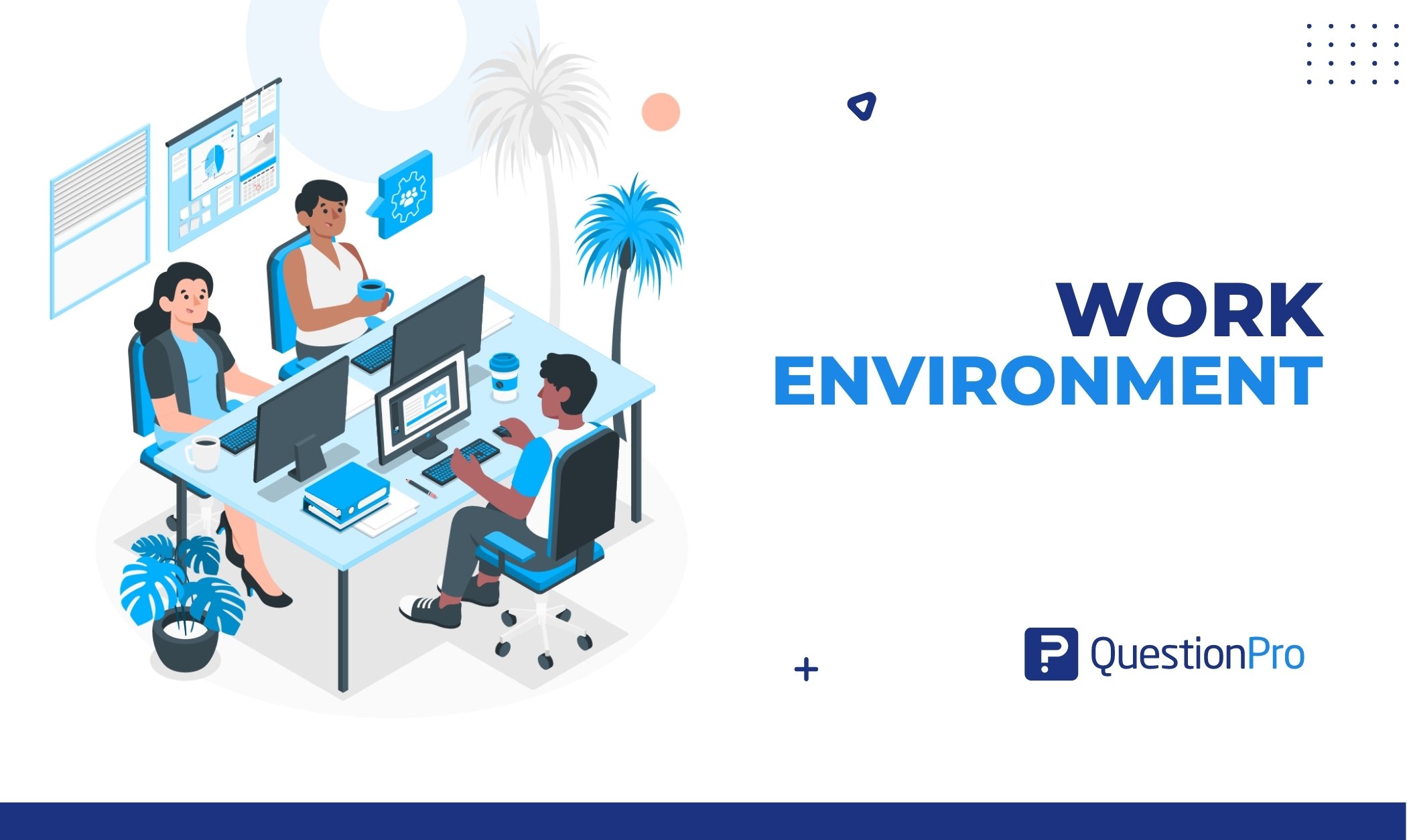 A work environment is the setting, social aspects, and physical conditions in which an individual performs their job.
It has the potential to significantly impact employee morale, workplace relationships, performance, job satisfaction, and employee health. Understanding what a working environment is and what a healthy one looks like can assist you in finding an employer who promotes a positive working environment.
In this article, we will answer the question, 'What is a work environment?', investigate the elements of a working environment, discuss the various types, and explain why a positive environment is important.
Content Index
What is the work environment?
Importance of work environment
Types of work environment
Key elements to create a good work environment
How QuestionPro help in creating a positive work environment?
What is the work environment?
A positive work environment brightens the mood, improves concentration, and provides a good working approach for both employees and employers.
The physical layout of the workplace, the equipment and tools used, the level of noise and lighting, listening music in the workplace, the temperature and ventilation, and the level of safety and security are all factors.
Aside from these physical factors, the workplace environment also includes social and cultural aspects such as organizational culture, workplace communication style, relationships between colleagues and supervisors, and the level of support and recognition provided to employees.
A positive work environment promotes productivity, creativity, and employee satisfaction. It is identified by clear communication, effective teamwork, diversity, respect, and a commitment to employee well-being.
On the other hand, a bad workplace environment can cause occupational stress, burnout, and low morale, which can impact individual and organizational performance.
Importance of work environment
While the environment is an important consideration factor during the job search, most of the world's top companies are doing their best to create an office environment full of light and encouraging vibes to help employees do their best in their assigned jobs.
As a result, the importance of a good working environment is reflected in employees' job search criteria, and employers are also implementing various techniques to improve the office atmosphere. Here, we will explore some key importance of the workplace environment. They are given below:
A positive work environment can improve employee well-being and job satisfaction, reducing stress and improving mental health. It can result in lower employee turnover rates, increased productivity, and overall job performance improvements.
It can boost productivity and creativity, resulting in better job performance. Employees are more likely to be creative and innovative when they feel at ease and supported at work.
It can help shape organizational culture, influencing employee values, attitudes, and behaviors. A positive working environment can aid in the creation of a culture of respect, collaboration, and trust.
Types of work environment
Your values, personality type, and work type also influence your work environment. Here are six different types of workplace environments that suit various types of people and professions:
The conventional work environment
The conventional work environment is highly structured, well-organized, and filled with systematic tasks like handling data and numbers.
Routine, stability, tradition, and well-defined rules and procedures characterize this type of environment. People who gravitate toward this environment tend to be neat, well-organized, and prefer to follow directions. This type of workplace typically entails regular hours and office work.
The enterprising work environment
The enterprising workplace focuses on achieving organizational and financial objectives and frequently involves tasks like management, sales, and persuasion. This kind of environment is marked by competition, success, power, money, and competition. Activities like sales and management may be part of it.
People who do well in this kind of work are usually outgoing, driven, and confident. Working in a corporate or business environment and in the retail industry falls under this category.
The social work environment
The social work environment is centered on people and consists of teaching, guiding, healing, and being able to understand people. This social workplace environment attracts people who enjoy social interaction and are motivated by helping others because it requires a lot of social interaction.
You must have excellent communication, verbal, and interpersonal skills to succeed in such a setting. Workplaces that fit this description include those where people conduct fieldwork, consult with clients, teach in schools or colleges, or work in hospitals.
The artistic work environment
The artistic workplace environment is ad hoc, emphasizing freedom of expression, creativity, aesthetics, imagination, and uniqueness.
This setting is identified by its lack of structure and rules. Typically, individuals who are drawn to this type of environment are unconventional, free-spirited, intuitive, and independent. This environment could include theater productions, music performances, design work, writing, and art creation.
The investigative environment
Problem-solving and imaginative and abstract thinking are key components of the investigative environment centered on math and science. This unstructured environment encourages creativity and independence, like the artistic workplace.
People who think creatively and prefer working with their minds over practical and physical tasks thrive in such environments.
The realistic environment
The realistic environment focuses on manual labor that includes using tools, instruments, and instruments, as well as animals and plants and working outside.
People who enjoy working with their hands and paying attention to the present thrive in this environment. This environment includes mechanic, engineering, and technical jobs that may require on-site, workshop, or call-out work.
Key elements to create a good work environment
Business is nothing more than a series of interactions between companies and customers, teams and leaders, and employees and managers. If you want your employees to enjoy coming to work, you should prioritize workplace happiness. Here are six key elements to help you motivate your employees and increase their productivity.
LEARN ABOUT: Workplace Employee Experience Examples
The first and most important step is to create a positive work environment or company culture. This refers to how things work in the workplace, how people get along, how the team comes to ideas, conclusions, and decisions, and how they deal with conflict.
Building meaningful, genuine relationships with fellows and colleagues is critical to increasing their happiness, productivity, and engagement, leading to better results. It is why the world's best companies regard employee health, human resources, and rewards as investments in achieving a common goal.
LEARN ABOUT: Employee Rewards Ideas for Employee Engagement
Any company's value is its employees. Great businesses know that transactional relationships are empty and that they don't lead to anything good.
They know they have to care about their employees just as much as they want their team members to care about the organization. They know that smart people behind desks are the ones who come up with new ideas in a happy office.
Ensure you get to know your team members individually and as a group. Find out about their families and what they like to do when they're not at work, and join them in their hobbies or activities.
See how much you have in common with each one of them. As your friendship grows, you'll enjoy more of their company and participation at work. If not, they'll consider their jobs just a way to generate replaceable money.
Having a good and productive workday
Collaboration is about using everyone's strengths to achieve projects successfully. It entails avoiding hierarchical leadership systems or settings where employees only take orders and carry them out and instead include everyone in the process, keeping them updated.
Appreciate the results and the enormous effort that goes into each attempt. By doing this, you'll motivate employees to keep putting in effort and progressing since they'll be confident that their contributions will meet or even surpass the team's goals. This excitement and positive energy are essential for fostering happiness at work.
Bring your company values to life
Values should never be just nice words in a company's mission and vision statement. They should be visible to everyone who works there as part of their everyday behavior. The most important values are those people bring to life through their jobs, which cause them to act like a family, take on their responsibilities, and do what is best for the team. When the team trusts each other, a trustworthy brand is created. The path to excellence is built on hard work, always pursuing the highest quality at every step.
LEARN ABOUT: Employee Trust
Companies need to remember that they are dealing with people, not machines. They have a life outside of work and may be going through a difficult time, such as a family crisis. People must feel appreciated and understood as valuable members of a team. Giving them material benefits or rewards is less effective than expressing gratitude.
Share the big picture for workplace happiness
Everyone must realize their importance in building a great brand. Everyone and every team are important to the process. When work is done incorrectly, it causes a bigger issue, no matter how insignificant it seems. This employee may never experience the consequences, yet they can lead to dissatisfied customers, a negative reputation, or lower sales. You must pay attention and inspire everyone to create a high-quality product or service and achieve your business goals.
How QuestionPro help in creating a positive work environment?
QuestionPro is a cloud-based survey software that can be used to collect and analyze employee feedback about their workplace.
QuestionPro can assist organizations in identifying areas for improvement and creating a positive work environment by gathering data about employee perceptions. Here are some ways that QuestionPro can help in the creation of a positive workplace:
Employee feedback: QuestionPro enables businesses to create and distribute employee surveys, which can assist in gathering feedback on topics such as work-life balance, compensation, benefits, communication, and culture. Companies can develop employee engagement and satisfaction by listening to employee feedback and acting on areas for improvement.
Anonymous feedback: Employees may be unwilling to express their thoughts and concerns about the workplace if they fear retribution. QuestionPro allows for anonymous feedback collection, encouraging employees to provide honest feedback without fear of retaliation.
Real-time data analysis: QuestionPro provides real-time data analysis and reporting, allowing companies to quickly recognize trends and areas for improvement. This can assist organizations in making informed decisions and taking action to develop a positive workplace environment.
Action planning: Once data has been gathered, QuestionPro provides tools to assist organizations in developing action plans based on the feedback received. Organizations can use this to prioritize areas for improvement and develop strategies to address employee concerns.
QuestionPro can help organizations create a positive work environment that encourages employee engagement and satisfaction by allowing employees to give anonymous feedback, analyze real-time data, and plan actions. Contact QuestionPro now!