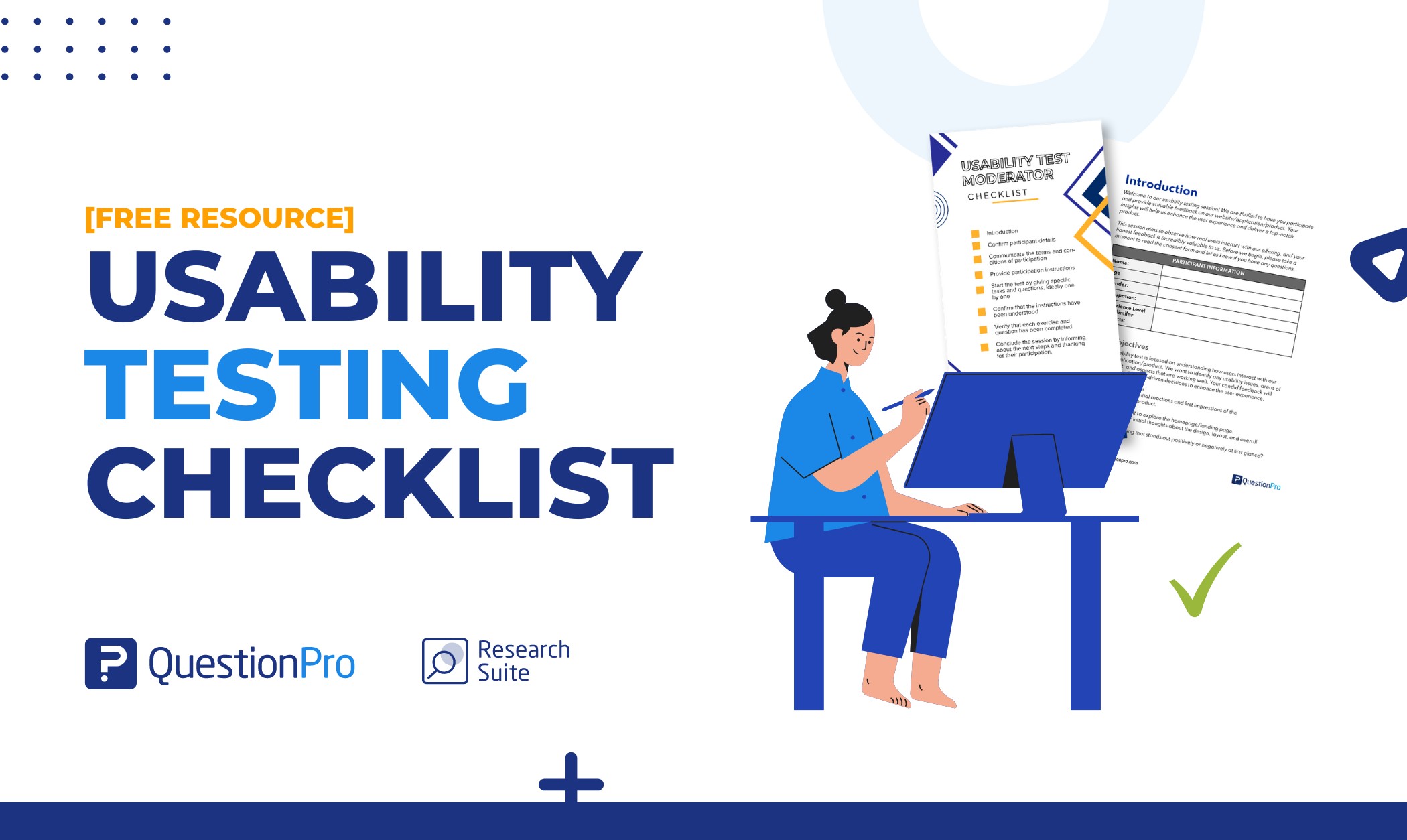 Usability tests are one of the most popular methods in the field of User Experience Research. It can be a complex process but is highly efficient when executed correctly. We gather the most important steps in this Usability Testing Checklist. It's the perfect resource for your first test. Let's dive in.
In this article, we have created a checklist with some of the key points to consider when conducting these types of studies. Following this Usability Testing Checklist, you can conduct your tests and gather valuable data to improve your products.
What is Usability Testing?
Usability testing is a method used to evaluate how a user interacts with a product, service, or system, typically in the context of software applications, websites, or hardware devices.
The main purpose of a usability test is to identify potential issues and areas for improvement in the design to enhance the overall user experience.
During a usability test, a representative group of users/participants is selected to perform specific tasks while interacting with the product or system. These tasks are carefully designed to simulate real-life scenarios that users might encounter when using the product in their everyday lives.
The test is usually conducted in a controlled environment, and researchers or facilitators closely observe the participants' actions, reactions, and feedback. Additionally, various data collection techniques, such as screen recordings, eye-tracking, surveys, and user interviews, may be used to gather comprehensive information about the users' experiences.
Steps to Conduct a Usability Test – Checklist
Conducting a Usability Test requires planning and some experience. Here are a series of steps to help you start your own test. We have also included some resources like checklists and templates to simplify the process and simplify this big step.
Step 1: Define Testing Objectives
Start by setting clear and specific objectives for your user testing.
What do you want to achieve?
Are you testing a new website feature, an app's usability, or the checkout process?
Defining your goals will guide the entire testing process and ensure you obtain actionable insights.
Step 2: Identify Your Target Audience
Knowing your target audience is crucial for effective user testing. Identify the key user personas relevant to your product or service. Consider factors like age, gender, interests, and experience level. Recruiting participants who match your target audience will provide more relevant feedback.
Step 3: Create Realistic Testing Scenarios
Craft realistic and relatable testing scenarios that simulate actual user interactions. Ensure the scenarios cover various aspects of the user journey. By doing so, you encourage participants to engage naturally with your product, leading to more accurate observations.
Step 4: Select the Right User Testing Method
Choose the user testing method that best suits your objectives and resources. Options include in-person testing, remote testing, and moderated or unmoderated sessions. Each method has its benefits, and the choice will depend on your project's requirements.
Step 5: Prepare a Well-Structured Test Script
Create a user-friendly test script that guides participants through the testing process. Include a warm-up phase to ease nerves, clear instructions for each task, and probing questions to elicit valuable feedback. Practicing the script beforehand will ensure a seamless testing session.
If you're unsure about how your test script should look, here's an example for you to create your own and ensure the success of your test.
Step 6: Conduct the User Testing Session
During the testing session, observe participants closely as they interact with your product. Take notes on their actions, comments, and emotions to capture both verbal and non-verbal cues. Encourage participants to think aloud to gain insight into their thought processes.
At this stage, having a well-defined process is crucial to ensure the consistency of results. One very useful tool for achieving this is a checklist or guide. Below, we provide you with an example of a checklist for moderators to ensure the proper execution of your usability test.
Step 7: Analyze and Interpret the Data
After completing the user testing, it's time to analyze the collected data. Look for patterns, common pain points, and positive experiences. Visualize the data using charts or graphs for a better understanding. This analysis will serve as the foundation for your decision-making process.
Present your user testing findings to relevant stakeholders, such as designers, developers, and decision-makers. Collaborate to brainstorm solutions and improvements based on the feedback received. Involving key team members ensures a collective effort toward a seamless user experience.
Step 9: Implement Changes and Iterate
Based on the insights gained from user testing, make necessary changes to your product or design. Prioritize enhancements that will have the most significant impact on user satisfaction. Remember that user testing is iterative; continuous improvements are crucial for staying competitive.
Conclusion
In conclusion, conducting user testing is vital for delivering an exceptional user experience that can set your website or product apart from the competition.
By following our comprehensive usability testing checklist, you can gather valuable feedback and make data-driven decisions to optimize your digital presence.
To conduct such studies, any help is of great utility. We hope these checklists and templates have been useful to you. However, if you wish to further professionalize your study further, at QuestionPro, we have developed solutions to assist you with your projects.
Start conducting your own Usability Tests
At QuestionPro, we offer a range of solutions tailored to your needs. We have advanced tools with features that allow you to create usability tests.
With InsightHub, you can centralize all the data collected in your studies, breaking down silos and becoming more efficient.
Additionally, we provide a wide range of data collection tools, such as offline apps, virtual communities, online surveys, and various features ideal for conducting these studies, whether in-person or remotely.
Are you interested in learning more about our products and services?