Surveys are the perfect tools to gauge customers, employees, or even public opinions related to a specific issue or a brand. The survey format and its design play a pivotal role in ensuring greater engagement and an enhanced response rate. 
A research study with an appealing questionnaire design is very much necessary to determine readability, engagement, and interaction. Moreover, a proper survey format makes your research questionnaire easy to read, comprehend, and provide precise answers. If you want to create an engaging research study, you need to work on its design and formatting, so that it could address the needs of respondents, and market researchers. A good survey design helps you get more responses than usual. 
How to create a good survey format
The way you choose your survey format is essential. Remember, you need to focus on many elements while formatting it. Here are some tips for formatting your research study in the most elegant manner
Start with a clear purpose 

What do you want to accomplish with the research? 

Once you know the purpose, it will be more manageable for you to determine the scope and nature of the questionnaire format. 

How do you plan to use the collected data? 

The type of analysis you want to perform will help you select the precise question types. 
Survey title

Choose a title that should reflect the purpose and content of the research study. 

Ensure that the title is easy to understand. 

A short and concise title makes a great impression 

Survey Introduction

Ensure the introduction provides a summary of the purpose behind your study. 

Make it a point to add some information about the confidentiality of the respondents. 

Formulate a statement that positively motivates the respondents. 

Providing an estimate of the time required to complete the questionnaire is a good practice. 
Creating a good survey format will be easier to understand if we break it down into two stages, survey construction, and survey display. 
Stage 1: Survey Construction 
The survey format is all about the look and feel. Ensure that the online tool you choose offers exclusive formatting options right from font selection to content alignment. 
Rich Content Editor 
A rich content editor is a tool that allows you to design your questionnaire holistically. A well-designed survey format is possible only when you have access to specific formatting options like rich content or rich text editor. 
It gives you the liberty to select the font and its size according to your needs. 

It provides flexibility in aligning the question to left, center, right, or keeps both sided alignment to adjust the look and feel. 

Additionally, it also allows you to add images, source codes, hyperlinks, subscripts, superscripts, and tables.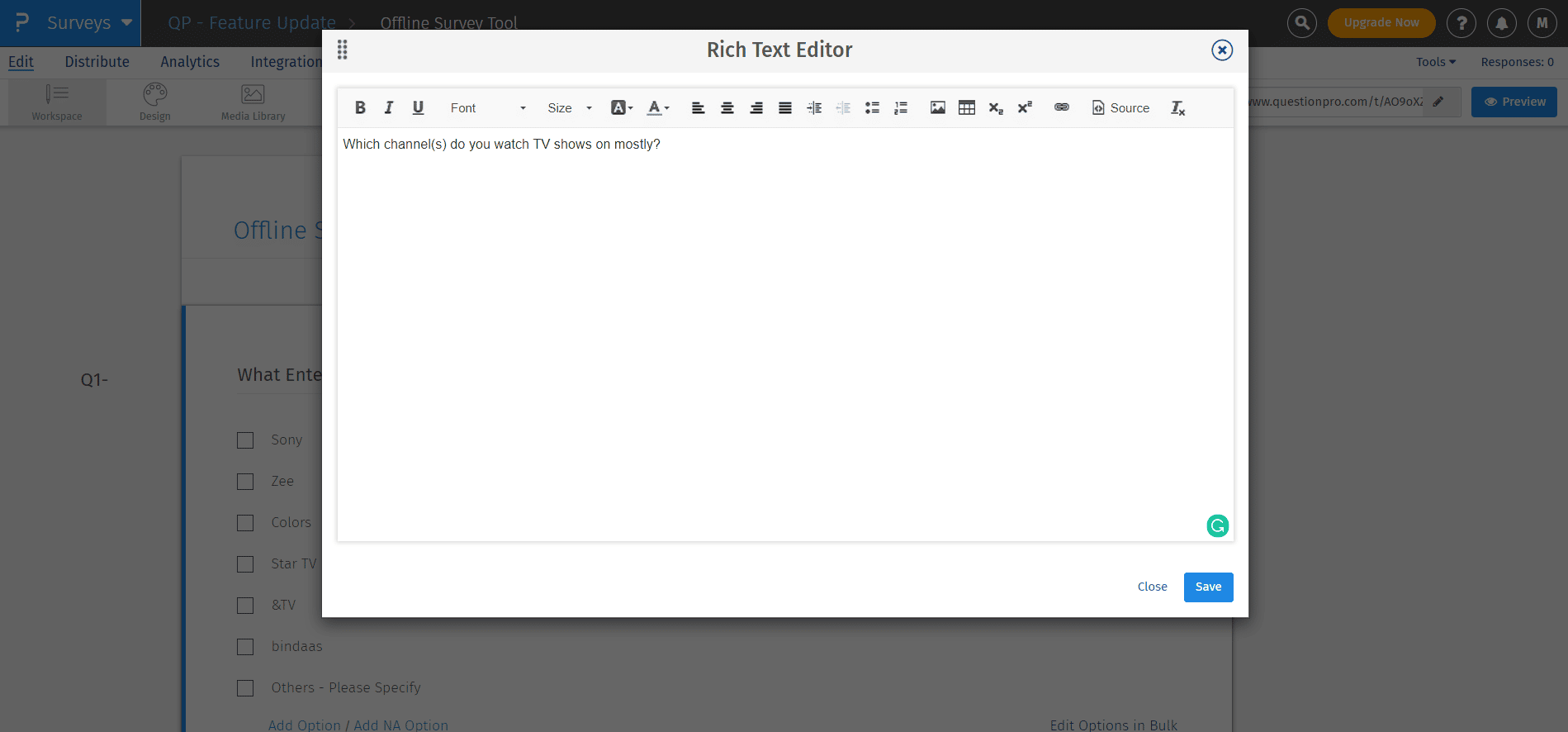 Branding
People love to interact with their favorite brands. Therefore, branding your research study is necessary; especially, if you want to take your brand to the masses. 
Under branding elements, you can add the company logo. 

Edit the header and footer to make your study more appealing and engaging. 

The branding tools make it easier to adjust the logo, text, and colors, suiting your company brand guidelines. 

Selecting themes, colors, and backgrounds is another option that helps in branding the survey format. 

Apart from that, you can use the custom CSS option to make your research questionnaire more elegant.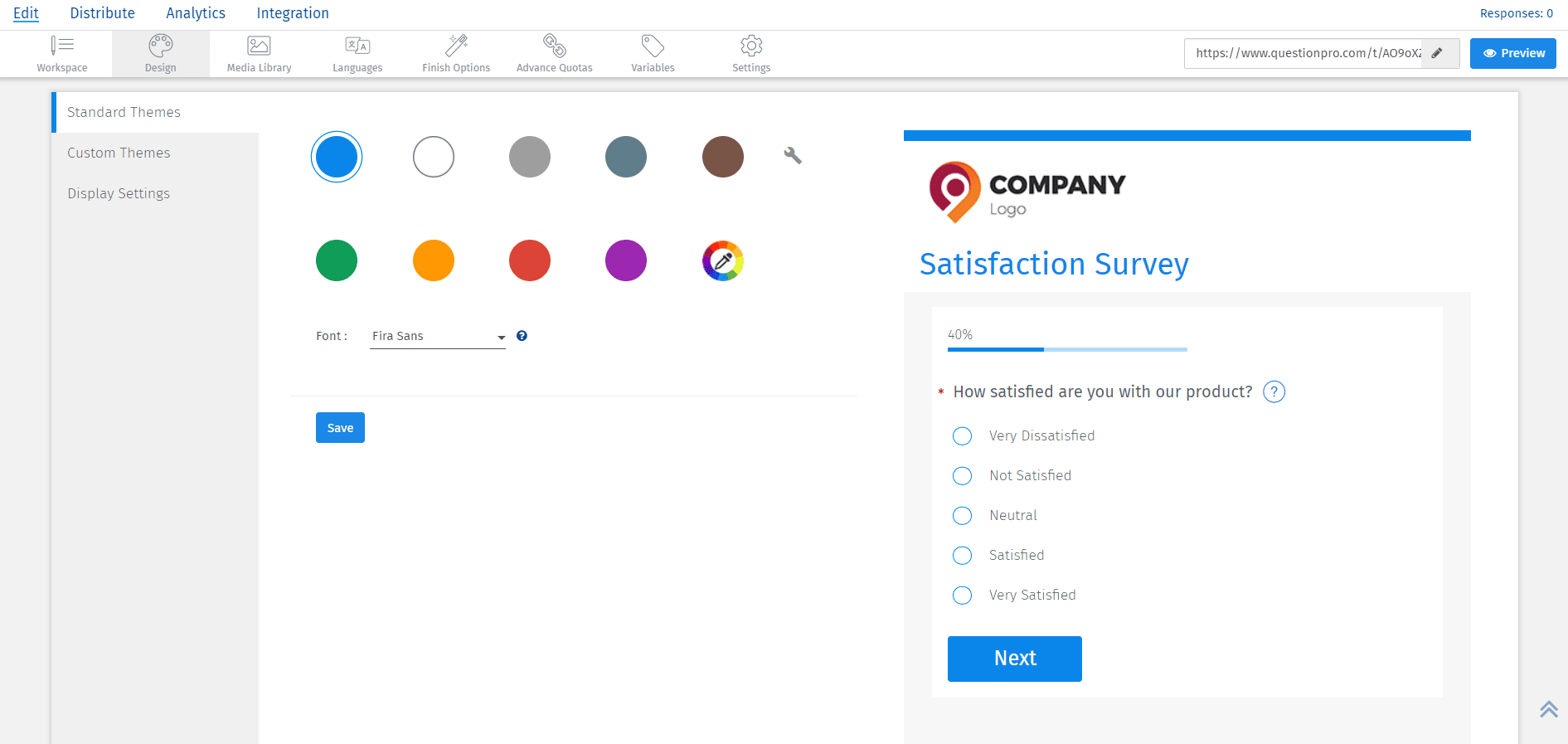 Stage 2: Survey Display 
Make the survey format easy to understand and simple to respond to. How the questions are displayed has a significant impact on the engagement and overall completion rate. Here are the three options that will display your questions with renowned elegance.
One question at a time.
You do have the option to display the questionnaire in a traditional pattern. When you opt for one question at a time display, you choose to add the 'Next' button after each item. Hence, respondents need to click on the Next button to move to the next question after answering the displayed question.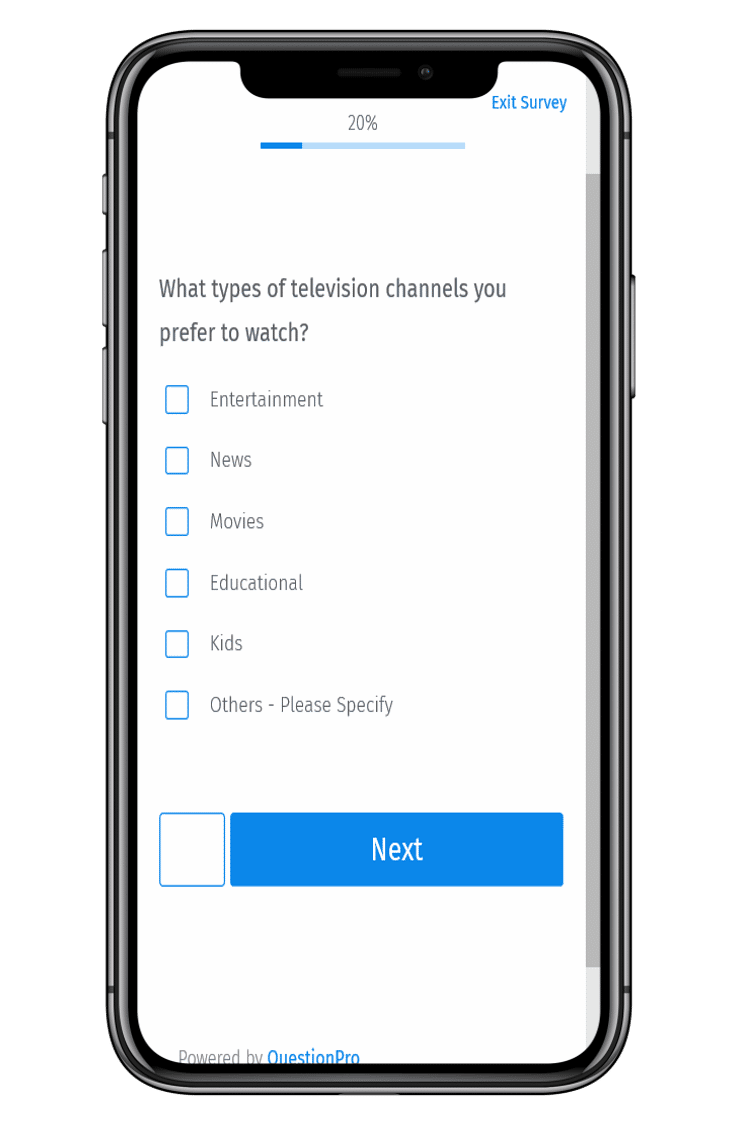 Single screen survey. 
In a single screen survey, the questions are displayed without page breaks. Thus, the entire poll is visible and accessible in a single screen, allowing respondents to answer the questionnaire in one go. However, after answering all the questions, respondents need to click on the 'Finish' button to declare they are done answering the research questionnaire.
Auto-advance. 
Auto-advance is relatively a new feature introduced by QuestionPro. Under this display option, the respondents see a single question on the screen. Once they answer the question, the next question is displayed automatically forbidding the respondent to press any button. However, you need to activate auto-advance before sending the research study. 
The auto-advance survey format is more engaging, more accessible, and more interactive. It helps in offering an extraordinary experience to the respondents, as all they need to do is record their answers.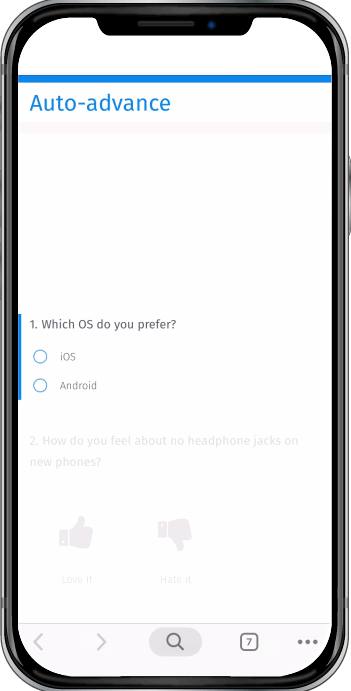 Learn how to activate 'Auto Advance' in your surveys 
Exit survey URL. 
QuestionPro's survey tool offers the flexibility to include the exit survey URL. These URLs will take the respondent to some specific web destination, which can be your product page or your website. Researchers use it as a marketing opportunity to enhance engagement and market products or services to the respondents.
Survey format is an essential part of making a research study more engaging and appealing. Thousands of researchers and surveyors use and trust QuestionPro to create beautiful and engaging surveys. Signup for a free account and start building a survey format that complies with your brand guidelines and appeals to your audience.