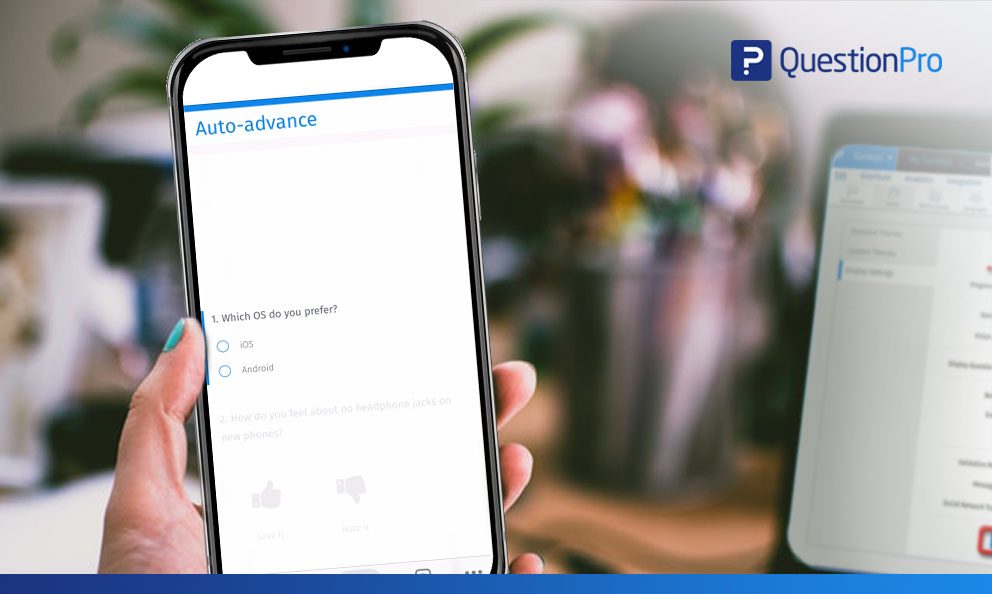 The urban dictionary definition of "you can't your have cake and eat it too" is essentially saying "you can't have two desirable but contradictory options – you have to choose." This is a common paradigm for researchers in consumer insights when it comes to response rates and data quality. 
Response rates fall as survey complexity goes up – and there is a reason why detailed surveys are useful for researchers – to really peer into the attitudes and opinions of respondents in the "why" question. Why did you abandon the cart? Why did you not purchase the airline ticket that you spent three hours searching for? Was it price or flexibility or something else?
We've thought hard about this problem and came up with a ground-breaking mobile-first solution that decreases the time taken to respond to surveys, increases delight among the respondents while, at the same time, not sacrificing the length of the survey. 
We call this "Auto-Advance."
What is it?
Auto-advance is a feature in QuestionPro that allows for respondents to go through a survey with minimal secondary technical interaction. Secondary technical interaction includes actions such as clicking on links, buttons, and scrolling that can be eliminated or interactively streamlined. 
How does it work?
When "Auto-Advance" is enabled – as users click on options, the next question automatically appears in the viewport – the primary surface area for the respondents where they are paying attention. Users don't have to scroll manually to go from one question to the other. The act of clicking on a choice in a survey automatically triggers the scrolling to the next question in the correct position. 
When auto-advance is enabled, complex matrix questions are automatically broken down into individual questions with a single click + scroll model. 
Here is a quick snapshot of this in action below: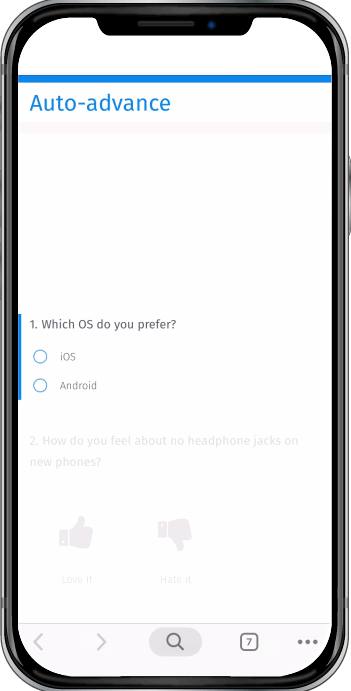 Mobile First
We here at QuestionPro do approximately five million surveys per week across all our clients and collect about 30 million data points/week for our clients. We've analyzed this and for most email-based surveys, 73% of all the data is collected via a mobile interface – iOS/Android – including iPads and Surface Tablets. This is an important data-point – even compared to 2015 – when we did the same analysis – it was ~45%. 
Taking this into account, we've focused heavily on making the mobile respondent experience delightful! Users should be "delighted" when they take a QuestionPro powered survey. That's our north star. 
Research on Research – Does this work?
Yes – and let me walk you through the model we used to validate our hypothesis. 
We ran a general consumer study – with about 30 data points – 10 multiple choice questions + 2 Matrix/Grids with 5 items each on a Likert scale and a final open-ended question. 
The median time to take a survey – amongst a sample of 600 participants was about 460 seconds – about 8 Mins. This was our control group.
We ran the same survey, with another test group – but this time, Auto-Advance was enabled. The median time to take the survey went down to 300 seconds – about 5 mins. This was almost an 80% increase in efficiency. 
Apart from decreasing the time taken to complete the survey we found 3 major tangential wins for this methodology;
More data captured – Respondents skipped a significantly LESS number of questions than the control group. 

Respondent Delight – At the end of both the surveys, we asked respondents to rate the survey experience itself. The Test group had a significantly higher rating on their "Delight




Factor" – about the survey experience itself. 

Increased Focus – This is part of (a) above – that the test group was skipping LESS of the questions and also corroborates the research done by Pew Research Center – where they concluded that "Forced-choice questions yield more accurate data than select-all-that-apply lists"
How do I enable Auto-Advance for my Survey?
Go to: Login » Surveys (Select Survey) » Edit
Under edit, click on the Design tab.
Click on the display settings menu. Here, enable the switch/toggle for Auto-advance and save.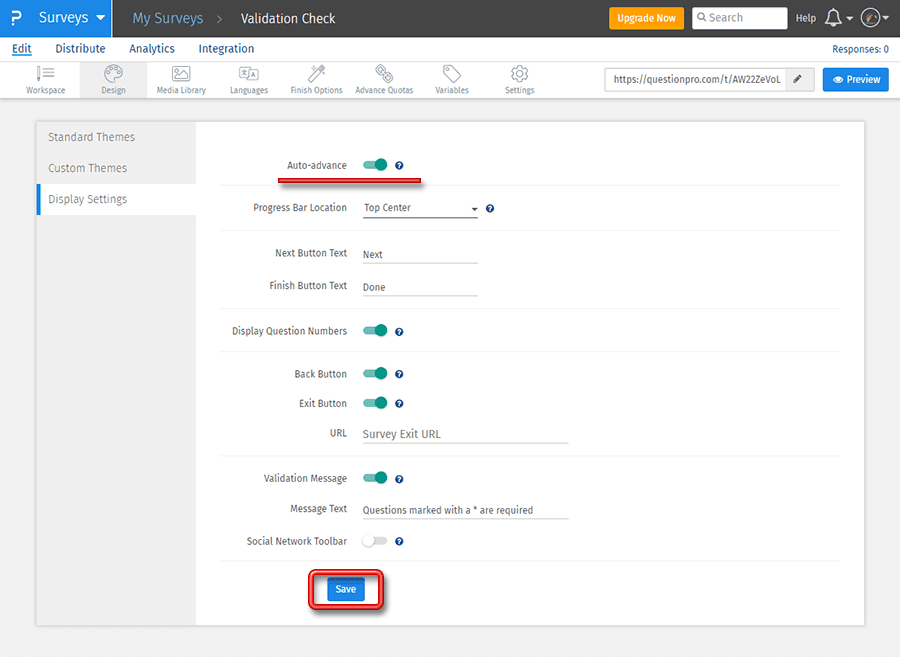 Is this available for ALL license levels in QuestionPro?
Yes! Moreover, after this fall, this option will be the default on all surveys created. We believe this has the potential to decrease respondent fatigue with long surveys and make them mobile-first and ready.
To learn more about our survey's auto-advance capabilities and how you can increase data quality and responses at the same time, be sure to contact us today and our sales and support team are available to follow up with you.