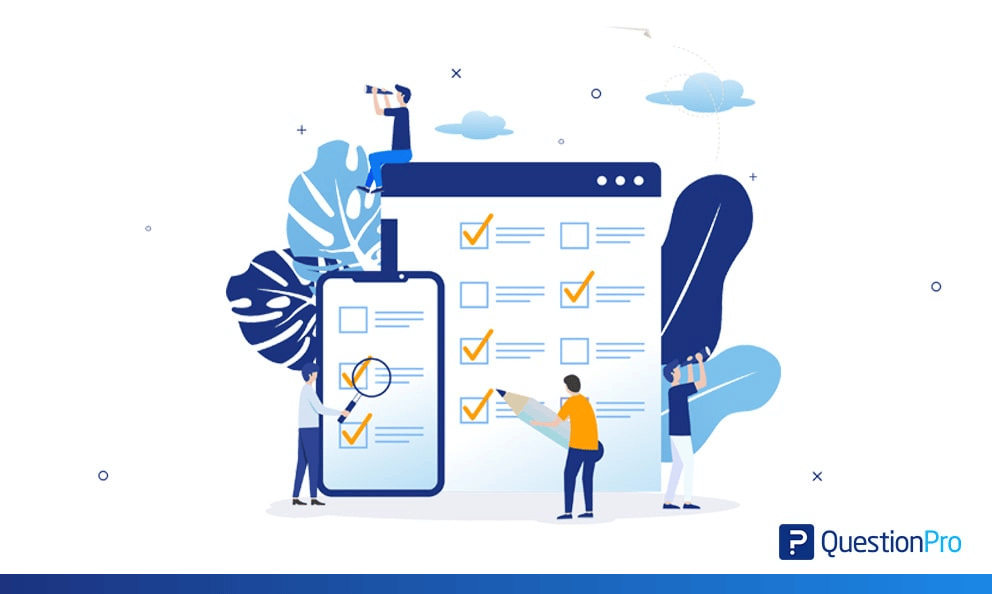 As a customer, you might have wanted to share your views with the product or service vendors to let them know your honest opinion. No matter which role you played, feedback was the center stage. Well, an online questionnaire will make your life easier either way.
As a business, you must have tried to collect customer feedback through various methods to offer them the best experience.
Gathering and providing valuable information is getting easier quickly thanks to technology and the constant improvement in survey software like QuestionPro. Keep reading and learn what an online survey is.
What is an online questionnaire?
An online questionnaire is a series of questions specifically structured to gather survey data about a target audience or group of people conducted online.
The interviewees will answer the form quickly, accessing it through an internet connection. This online survey tool allows us to get feedback about a product or service and collect data for research thanks to online survey platforms.
Online surveys are fully customizable and differ in format, length, and design. A database provided by the survey software sorts the information obtained from online surveys, along with valuable results for data analysis.
Create surveys the way you want using professional survey software and achieve greater reach by quickly sending them to your target audience
LEARN ABOUT: How to create online surveys.
What is an online questionnaire used for?
Online questionnaires allow the process to be effective. Researchers can reach a wider audience, obtain the results in real time and collect responses for better decision-making. To create surveys, not everyone needs to be an expert researcher.
We can use questionnaires to:
Know what the population thinks about various topics by conducting opinion surveys.
Measure customer satisfaction.
Creating surveys or questionnaires to survey a given population's socio-economic or educational level.
Evaluate personnel or know their level of job satisfaction through employee surveys.
Conduct online tests for your students.
Differences between an online survey and an offline survey:
It avoids going from house to house, so you get many responses at a lower cost.
Traditional surveys have the cost of production as a barrier to getting the proper sample for the research process.
You can place a tablet in kiosk mode for people to answer your questionnaire template so that you can know their points of view about your service. You can also set the survey URL on the sales ticket for them to access whenever they want.
You can create an anonymous online survey, so people can feel safe while answering. It translates into honest answers and more detail in the responses.
An online survey allows you to analyze responses in real time, unlike a paper survey requiring more time for survey data collection and tabulation.
What is the benefit of developing an online questionnaire?
Paid or free online survey makers can be powerful if used correctly. They can help your company gather valuable information to improve products or services. They can also define and implement strategies to gain market share. You can use single ease questions. A single-ease question is a straightforward query that elicits a concise and uncomplicated response.
Some benefits of developing an online survey are easy to identify; others require more attention. Let's get to know some of them to better understand what you should get from the best online survey.
LEARN ABOUT: Top 12 Tips to Create A Good Survey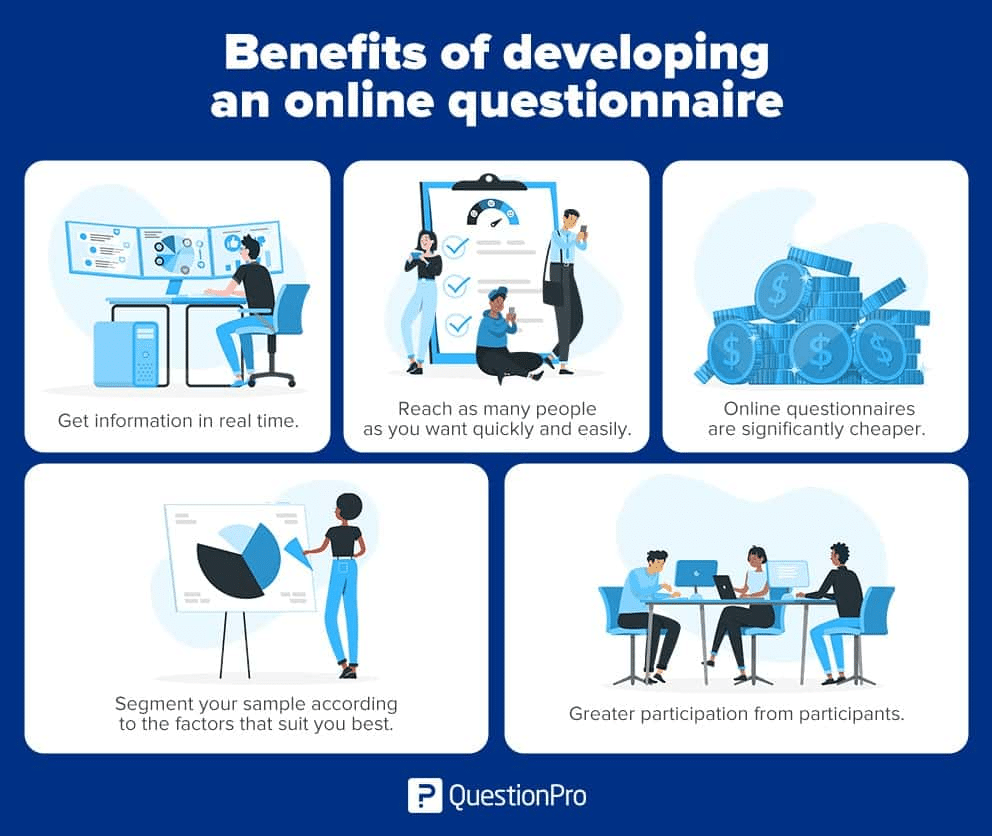 Get information in real-time
Unlike traditional offline surveys, online survey maker lets you immediately obtain answers from a large part of the sample population.
This is one of the most important advantages. Online surveys allow you to reach as many people as you want quickly and easily. You can send them through email, or QR codes, publish them on your social networks or web pages or send your surveys by SMS.
The online survey is significantly cheaper than doing them on paper. In addition, you reduce the time resource since it is unnecessary to go to each person to answer and process the information.
An online survey allows you to segment your sample precisely according to the factors that suit you best. Thus, you can obtain more valuable and accurate survey responses.
This point involves factors such as the length of the questionnaire, the ease and accuracy of the questions, and the design. You can also create mobile surveys and reach your participants wherever they are.
LEARN ABOUT: Structured Question & Structured Questionnaire
Disadvantages of developing an online questionnaire
Those responsible for creating surveys know how valuable these online survey tools are for obtaining information and developing future projects. But often, decision-makers prefer to use other data collection methods.
Some of the disadvantages of developing an online questionnaire are:
Some online surveys require internet access to be conducted. However, with the online survey tool QuestionPro, you can survey without internet access, thanks to our offline survey app.
Having a computer or mobile device
To conduct an online survey, you must consider that your sample population has a mobile device or computer to respond.
Training to use a survey software
Before developing the online questionnaire, the researchers must know the tool's characteristics and how to use it. This way, they will get the most out of it.
Challenging to obtain answers from older adults
Generally, older people do not know about new technologies, so you should consider that it will be difficult to receive answers from this market segment. If necessary, you should adjust it to their needs.
An online questionnaire is valuable for a fast and efficient research process. With QuestionPro, you can do it easily and get the information you need to make the right decisions for your organization.
In this video, you can learn a little more about our platform.
Examples of online questionnaires
Here you will find some examples of questionnaires that can serve as a guide to designing your following survey and getting the survey results you want.
Mobile App
With QuestionPro, it is possible to leave behind the paper and use a free online survey tool that will allow you to add the type of questions and survey logic that the platform has with solutions for companies, tech entrepreneurs, and small businesses.
In addition, it is possible to conduct user surveys without internet access. Respondents can answer the survey questions at their convenience. The survey responses are stored locally, and once they reconnect with the internet, the answers transfer to the server. QuestionPro users can generate reports, export results, or download them offline.
Some of the features available in our app for questionnaires are:
Access or login question
Synchronization of answers
Language selection
Design in our interface and a fast user experience
Smooth animations
In addition to the many other features of our survey app, it is also possible to use a wide variety of questions that can be effective for your research process:
Multiple-choice questions
Single choice questions
NPS (Net Promoter Score)
Image selection
Image classification
How to create an online questionnaire with QuestionPro
Using QuestionPro to create an online questionnaire is a simple process. To begin, follow these steps:
Sign up for a free account at the QuestionPro website (www.questionpro.com). You may upgrade to a paid plan if you require advanced features and additional settings.
After signing up and logging in, click the "Create a Survey" option to create your questionnaire.
Choose a template or start from scratch
QuestionPro provides a variety of pre-designed templates from which to get started immediately. Alternatively, you may create from scratch by using the blank template.
Add questions to your survey
Add questions to your questionnaire by selecting a question type from the QuestionPro options.
Multiple-choice questions, open-ended questions, rating scales, matrix questions, and other types of questions can be included. Each question can be customized by adding answer possibilities, creating skip logic, and specifying question validation standards.
Configure survey settings
Configure the survey options to meet your needs. Options include survey title, description, privacy settings, response quotas, and survey distribution settings.
Before publishing your survey, make sure it works properly. Preview the survey, review each question, and test any skip logic or branching you've built up.
When you're satisfied with your survey, you may begin distributing it to your target audience. QuestionPro offers a variety of distribution techniques, including sending the survey link through email, embedding it on your website, distributing it on social media platforms, and leveraging its panel services to reach a certain audience.
Collect and analyze responses
As respondents complete your survey, you can use QuestionPro's reporting and analytics capabilities to track and evaluate their responses in real-time. Reports can be generated, filtered, and segmented data and the results can be exported for further study if necessary.
Follow up and thank respondents
When you've collected enough responses, sending a thank-you note or follow-up correspondence is a good idea to acknowledge and appreciate the respondents' time and effort.
LEARN ABOUT: B2B Online Panels
The best way to use online survey templates to your advantage is to choose the perfect mix for your customers and their needs. With QuestionPro, you can get the information you need through the best free online survey maker using the features of our powerful tool. So, try out QuestionPro today!
Frequently Asking Questions (FAQ)
How effective is an online questionnaire?
The margin of error is considerably decreased with online surveys because participants submit their responses directly into the system.

What is the purpose of an online questionnaire?
Online questionnaires make the procedure more efficient. Researchers can reach a larger audience, acquire real-time results, and collect enormous amounts of data for better decision-making.

What are the limitations of the online questionnaire?
Online surveys frequently have two severe methodological flaws: the population to which they are disseminated cannot be characterized, and respondents with biases may choose themselves from the sample.