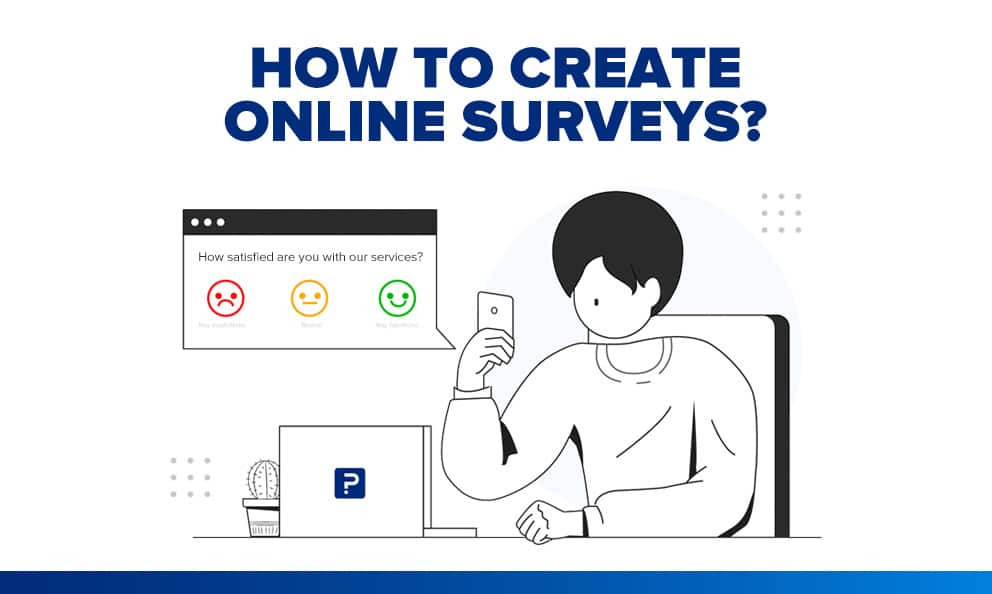 Do you know how to create an online survey? Creating an online survey has become essential for businesses, researchers, educators, and individuals to collect deeper insights and feedback from a large number of people. In the digital age, it helps to make informed decisions, identify trends, and better understand their target audiences.
Getting to know your audience or potential customers is one of the most important actions you can take to get your business to the next level. This is possible, of course, thanks to the possibility of creating an online survey.
In this article, you'll learn the steps to follow in order to carry out an effective survey that guarantees the best results for all your projects.
What is an Online Survey?
An online survey or Internet survey is one of the most popular data-collection methods, where a set of survey questions are sent to a target sample, and members of this sample can respond to the questions over the Internet. Respondents receive surveys through a variety of channels, including email, website embedding, social media, and so on.
Organizations use an online survey maker to find out what people think about upcoming products or services, changes in marketing strategies, ways to improve current features, opinions about the company, and so on.
As internet connections get better, a growing number of organizations rely on the data they get from and analyze from online surveys to make big changes to how they work. Organizations must choose a modern and effective online survey platform if they want to collect data efficiently.
Online surveys will become your best friends as soon as you understand your clients' behavior and learn more about what your target audience expects from your products or services. This information will allow you to improve and increase your current practices to generate customer engagement and retention.
But how can you create online surveys?
How to create online surveys the right way
With online surveys, you will be able to collect information from your customers, obtain data on how consumers react, and have a clearer idea about what steps to follow and what modifications you will carry out to satisfy your market, and much more.
Can you imagine getting new packaging for your product and consumers reacting in a negative way? These types of situations can be avoided by creating an online survey where you share proposals for new packaging designs with your audience so that they can help you decide which one is the best.
But before starting a survey, you should consider several factors that will help you make your project successful.
Steps for Creating an Online Survey
Here are the steps you must follow to create a survey to help you collect the insights you need:
01. Determine the objectives of the survey
First, we must determine the objectives of your online survey, that is, the reason why you decided to do it. For example, we could conduct a survey to:
Determine the profitability of starting a business.

Evaluate the feasibility of bringing a new product to the market.

Know the level of satisfaction of our consumers

Discover the level of work environment within our company or organization.
02. Define the required information
Once we determine the objectives of our survey, it is necessary to define what information we are going to collect. This will be the one that allows us to meet the objectives of the investigation.
For example: if we have decided to learn how to create online surveys to evaluate the feasibility of releasing a new product, it is necessary to collect information about consumer tastes and preferences regarding the type of product we plan to launch.
Knowing the opinions of our clients and receiving feedback from them is an example of good practices. If we want to achieve customer satisfaction, we must know them in detail and make them happy to achieve loyalty to our brand.
03. Design of the survey
Successful Survey design consists of formulating the appropriate questions that allow us to obtain the required information.
For example: If we need to know what are the preferences of consumers with respect to a certain product.
The usual thing in a survey is that it allows us to obtain different types of information. For this, it is necessary to include different types of questions.
Look for your surveys to be attractive and preferably not very long surveys. Do not forget to make them accessible to other online devices, such as cell phones or tablets.
A well-designed survey will keep the respondent attentive and willing to collaborate. Without a doubt, having our objectives well established contributes to creating unnecessary questions for the investigation.
04. Determine the demographic segment to study
The next step in how to do a survey is to determine who will be the people we are going to survey and from whom we are going to obtain the information we need.
For example, we may need to obtain information from our customers, general consumers, workers, people who do not consume our product, etc.
Find out what market segmentation is and how it helps you implement your research.
05. Determine the number of surveys to be carried out
Use the formula to define the sample size and find the representative number of the people you will study. In summary, the sample formula is as follows: n = (Z²pqN) / (Ne² + Z²pq)
n:

It is the representative number of people we want to study (population) and, therefore, the number of surveys or microsurvey that we must carry out or the number of people we must survey.

N:

Population: It is the group of people that we are going to study, which could be made up, for example, by our target audience.

z:

Confidence level: measures the reliability of the results. The usual thing is to use a confidence level of 95% (1.96) or 90% (1.65). The higher the confidence level, the more accurate the results will be.

e:

Degree of error: Measures the percentage of error that may be in the results. The usual is to use a degree of error of 5% or 10%. The smaller the margin of error, the more valid the results will be.

p:

Probability of occurrence: Probability of the event occurring. The usual thing is to use a probability of occurrence of 50%.

q:

Probability of non-occurrence: Probability that the event will not occur. The most common is to use a probability of non-occurrence of 50%. The sum of "p" plus "q" must always give 100%.
Learn how to use all these elements in our article on how to calculate the sample size, or if you prefer, you can use our sample size calculator directly and for free.
06. How to create online surveys submissions
After the survey is designed, run a pilot survey to see if there are any errors or if some kind of change is needed. For example, without the questions, they are well formulated and clear.
You can send your survey by email or offer promotions or incentives to participate in the survey. This depends on the campaign you want to implement, but the rewards are certainly attractive to survey respondents.
You can also add a survey link on your website, generate a QR code that directs to the survey, or simply share it on social media or your blog.
07. Counting and analysis of results
With QuestionPro, you will have an analysis of results in real-time, saving time, money, and effort in relation to traditional surveys.
For example, you can generate your reports through infographics or download and share them. Take into account the importance of this information for the correct decision-making of your company.
08. Data Analysis
Once the results have been recorded and codified, we analyze them, draw conclusions from the investigation, and establish an action plan for correct decision-making.
When doing a survey, keep in mind that the survey results or actions to be taken must be shared with clients or, if necessary, with employees. For example, if you did a work environment survey, the results or actions to be taken must be shared with employees.
Socializing the information will earn you points since those who participated in a survey will feel valued and know that their opinion was considered.
09. Decision making
Finally, the last step of doing a survey is making decisions according to the results obtained.
If, when creating a survey, for example, we have come to the conclusion that consumers are presenting new needs, preferences, and tastes, we proceed to make the decision to redesign our product in such a way that it is in charge of satisfying said needs, preferences, and tastes.
If we don't do anything with it, there is no point in taking a survey to get valuable information. The important thing here is to collect this data and act accordingly, always seeking to improve.
LEARN ABOUT: Top 12 Tips to Create A Good Survey
Use the right tools for creating an online survey
There's survey software that allows you to do all the above steps easily and effectively. Consider these features when choosing the best survey software:
That allows us to ask different types of questions and validation to collect accurate data and minimize the effort of cleaning the data.

Intuitive design, easy navigation, and the ability to integrate with other tools

That you can export data and share the results with your team.

Attention in your language
Creating an online survey with QuestionPro
The survey is one of the most used tools to obtain information and useful data to know consumers' needs, tastes, and preferences. You can discover the level of customer satisfaction or measure the happiness of employees through a work environment survey to find a timely solution for each situation.
QuestionPro is a free online survey tool that you can use to collect feedback data. Creating an online survey is very simple using QuestionPro.
If you already have a QuestionPro account, just enter the platform with your username and password to start; if you still do not have a license, you can create your first survey for free and start using our platform without obligation.
You can start by choosing from a huge number of pre-designed surveys in the platform's library on various topics or start a survey from scratch. You can even import a survey that you have already created previously, for example, in Microsoft Word format.
Even if you choose one of our survey templates, you have the option to edit it according to your needs.
QuestionPro Survey Menus and Functions
When creating surveys from scratch, the first step will be to name your project. By doing so, your survey will be created and saved.
QuestionPro is a very intuitive free online survey maker, and it has various menus that are divided into other submenus where you will find various functions.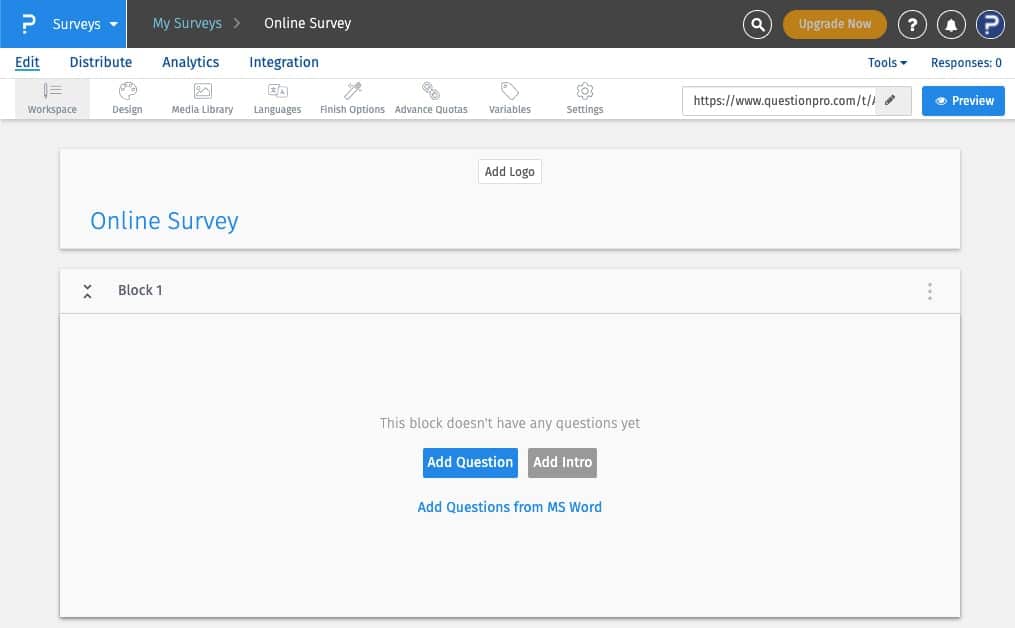 For example, in "Edit", you have at your fingertips all the submenus that have to do with the survey, such as design, language, completion options, and all those variables that directly affect the measurement instrument or your survey.
In the "Distribute" menu, everything related to QuestionPro's survey distribution methods is available.
As for the "Analytics" menu, you can see all the data you collect once you have created the survey and decided which distribution methods are best for you.
You can modify the survey data, download the information and preview the data as such in the "Manage data" section of the "Analytics" menu.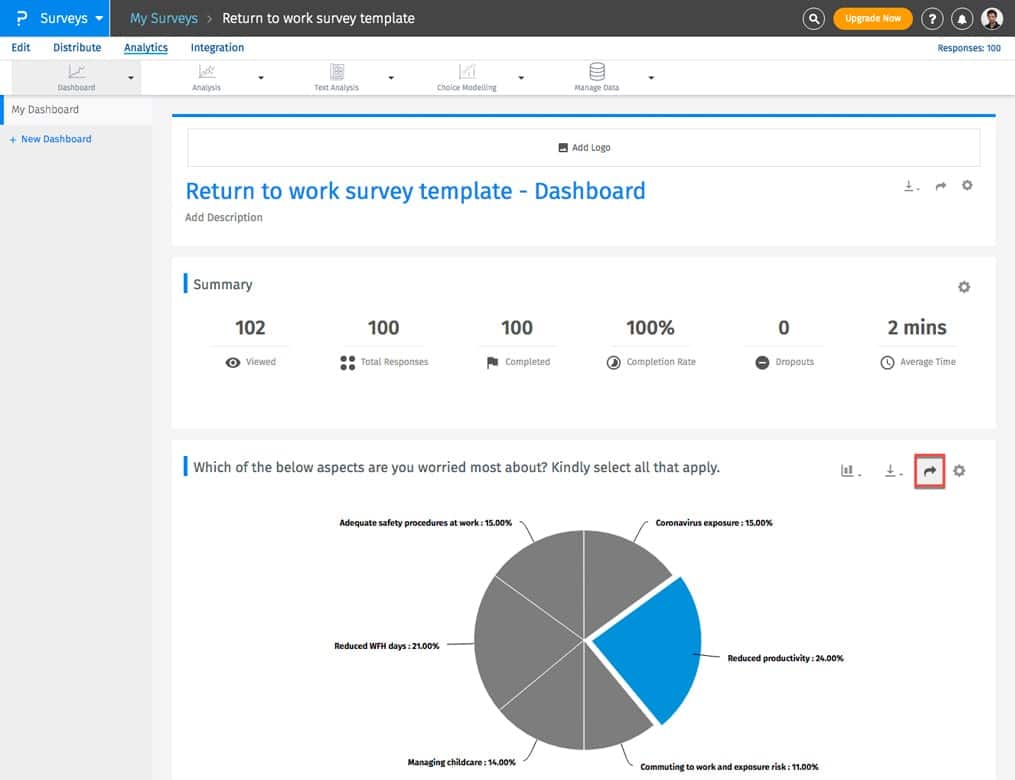 In the "Mobile" menu, you have the possibility to generate all the necessary changes when using the QuestionPro App for offline surveys.
Take advantage of the use of mobile devices to collect data. Mobile surveys are very useful as they are usually short and can be easily distributed to a large number of people.
Create the questions for your surveys
QuestionPro is one of the best online survey tools. The overall user interface is simple, minimal, and modern, resulting in efficient survey creation and great experiences for survey participants.
Our online survey tool offers different types of survey questions, from basic to advanced. Choose the one that best suits your needs.
There are many different types of inquiries that can be used in different situations. These include open-ended, closed-ended questions like multiple choice, Likert scales, Net Promoter Score (NPS) questions, and many more. But it's important to be aware of the possibility of leading questions.
LEARN ABOUT: System Usability Scale
The art of asking the right questions helps to gain deep insights, make informed decisions, and develop effective solutions. To know how to ask good questions, understand the basic question types.
Before adding each question to the platform, you can hover your cursor over them to see a preview of each of them.
Survey Question Options and Settings
By creating an online survey with QuestionPro, you will have access to the different families of questions, making it easier for you to find the one you need. For example, within the "Multiple selection" section, you will be able to find questions to "Select one" or "Select several" answers or use a "Dropdown Menu" question.
If you are interested in the "Graphic Rating" questions, you can use questions such as "Star Rating," "Video Rating," "Smiley Face – Rating," "Thumbs Up / Down," "Send to Social Networks," "Text slider bar," numeric slider.
In the "Settings" section, you can modify the nature of each of the questions, change the format for its display and give it the format you want.
We invite you to explore the various functions that you can find to make your survey more attractive and easier to answer.
When adding each question, you have the option to edit it, add answer options, and even enable or not the option to ask that mandatory question, that is, that the respondent cannot advance to the next one unless they have given you an answer.
You have the option to "Duplicate" your survey and create some kind of "Logic" to make your survey smarter, for example, skipping questions, making extractions, and many more.
Remember that you can see your survey in the "Preview" section to see how the people who will answer it will see it.
In the "Edit" section, "Design" submenu, you will find all the elements to change your survey's design, from the colors to choose within the predefined colors or to customize the colors according to your brand.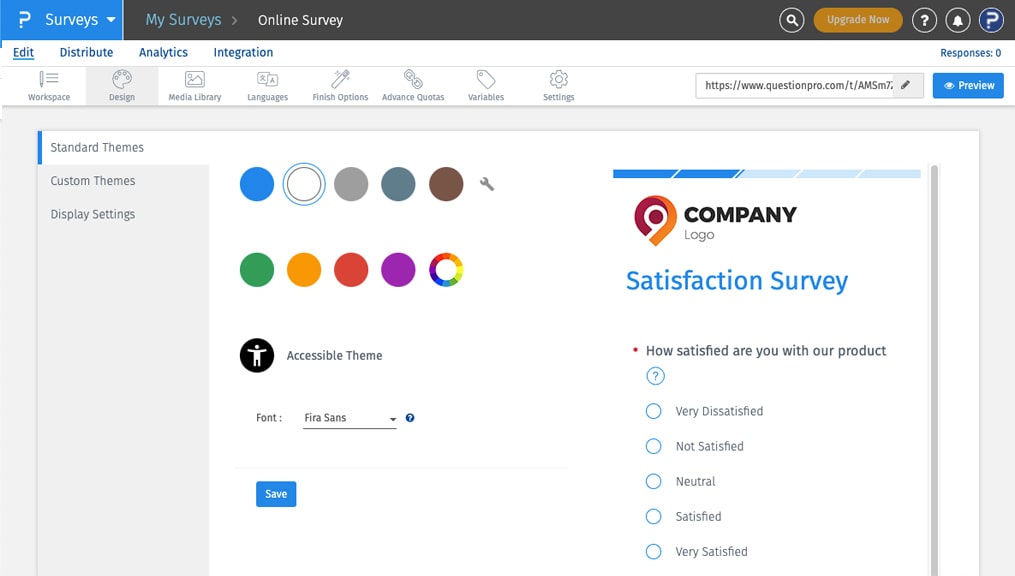 Add headers, logos, change font types, size, etc. Also, edit how the survey will look on all devices.
Remember that you also have the option to print your survey or download it in various formats, such as Word or HTML, see the criteria you have used in your logic, and generate random test responses so that you can see in the Survey Reports section how the results will look.
Do not forget that you can create a survey in the language you want, enter the "Edit" menu and "Languages" submenu, and add the language you need to use. Once selected, manually add the menus that you are going to use in your survey.
Conclusion
Creating an online survey can be a valuable tool for businesses, researchers, educators, and individuals to gather important insights and feedback from a large audience. It is the greatest way to collect and analyze data, whether you're an HR specialist measuring employee satisfaction or a coach determining what activities engage the team.
If you want to put it into practice and learn more about how to create a survey, you can create a free account or request a demo of our platform on the QuestionPro website.
You can choose from pre-designed templates or start from scratch. Customize your survey design, add questions, and analyze results in real time. The platform supports various question types and allows you to create logic-based surveys.
Don't forget that knowing what satisfies your customers can lead you to achieve the success you want.