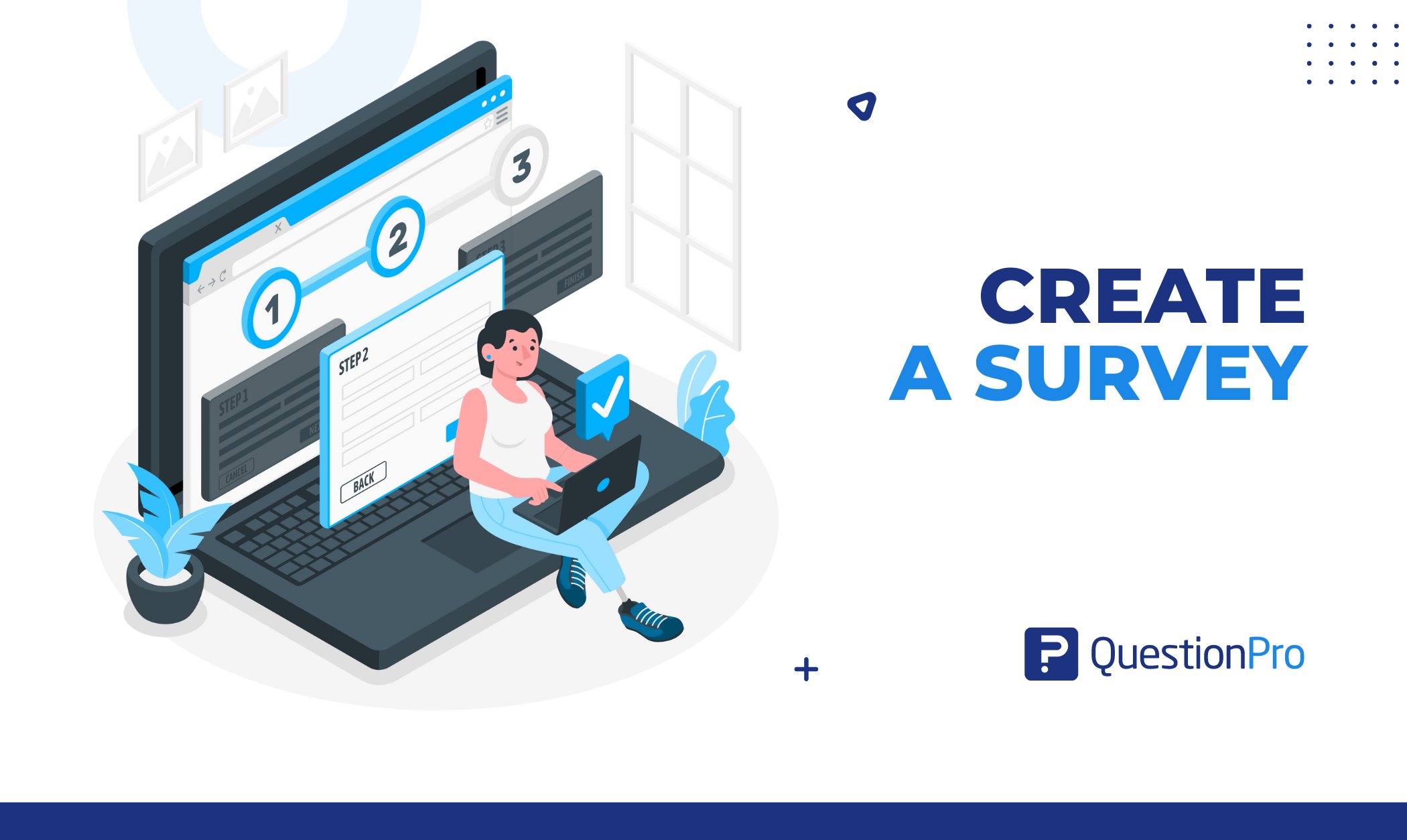 A Survey is defined as a research method used for collecting data from a pre-defined group of survey respondents to gain information and insights on various topics of interest. So if you create a survey, it enables you to gather valuable participant feedback and insights for informed decision-making.
A good survey is defined as an easy-to-use, intuitive survey that collects the highest number of completed responses from a sample or population that aids the market research study. The basis for a good survey is that it has a good survey design and that the survey generates a good survey response rate.
LEARN ABOUT: Survey Sample Sizes
Many factors define a survey's success; some of the major factors are cost, size, and accuracy of the sample, time to collect responses, methods of survey distribution, and the actual quality of the survey. A good survey needs to incorporate multiple factors to be considered relevant. In this piece, we will focus on the steps and the important points to remember while creating a survey.
LEARN ABOUT: How to create online surveys
What is an online survey form?
Online surveys are made up of a number of questions that can be mailed to the target audience or shared on the Internet. The best form maker makes it easy for a single surveyor to get answers to their questions in the form of graphical reports.
The company puts the answers to surveys in a database so that you can see the results of the surveys your customers have filled out. Surveys can be used in a lot of different fields where a full analysis of detailed demographic information is needed.
An online survey form is a list of questions that you can send to your target audience via email, social media, or your website. The best online survey form builders have visual reports that make it easy to look at survey data.
They also store answers in a database, so you can always go back and look at reports or make visual survey reports that summarize what your customers said.
Some of the most popular kinds of surveys are:
Employee engagement
Reports on events
Surveys of products
Surveys are important in a wide range of fields whenever detailed information about a certain group of people is needed.
For example, in healthcare and market research, polls are often used to learn more about how people act. But they are by no means limited to just these two places.
Top 12 Tips to Create a Good Survey
A good survey takes considerable design and consideration to collect accurate and useful data. Here are 12 pointers to help you create a survey: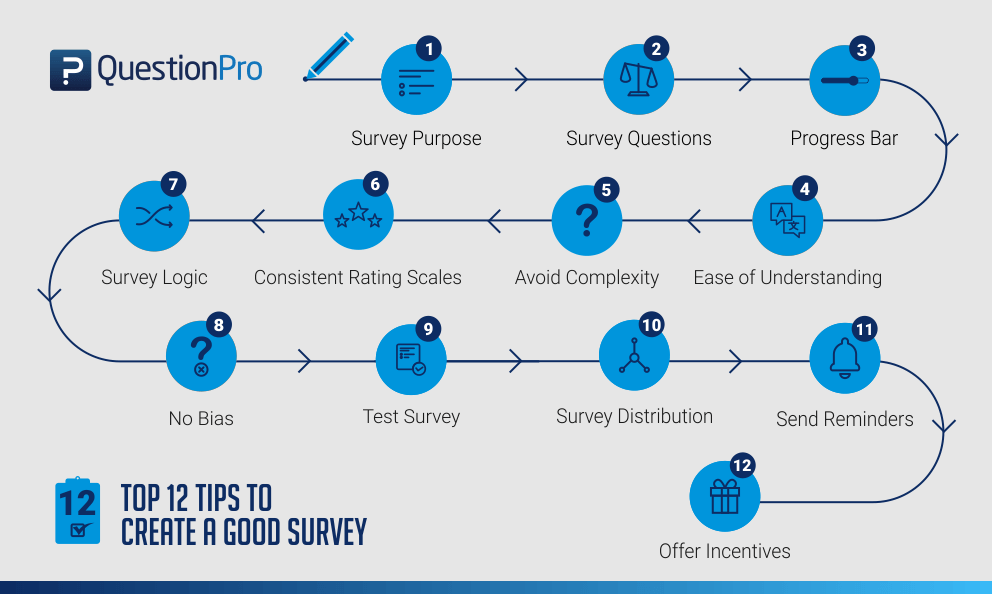 01. Define Survey Purpose
An important element of creating a good survey is the introduction because it sets the tone for the survey and portrays to your respondent that you do care about their time and value their effort. It is also important to define the objective and purpose of the survey creation so that the respondent has buy-in into the survey and the end objective of the research.
Respondents tend to drop out if they fear their personal information being misused. If this is clearly mentioned at the start of the survey that the information will be kept confidential, it aids in the success of the survey.
02. Use Survey Questions Judiciously
The number and types of survey questions used in a market research study can be different in each case, depending on the research objective. Short surveys and close-ended questions are used when some existing data is already known about the survey respondent. However, in the case of in-depth research, long-form questions and surveys, as well as multiple open-ended questions, have to be used as they contribute to in-depth data collection and aid towards the end objective of the research study.
03. Add Survey Progress Bar
One important factor that people miss having in a survey is the progress bar. This helps the data collection process because the respondent is aware of how far they've come in the survey and how much time is left. Since they are aware of how much is left in the survey, they tend to continue with the survey and not drop out.
04. Speak the Respondent's Language
Using complicated words or technical jargon in the survey may make the respondent feel that the survey is not for him/her and then drop out. Using words that are easily recognized amongst the potential respondent population is imperative to the success of the survey.
05. Don't use Complex Questions
There are multiple question types that can be used in a survey that aid in data collection. Create a survey such that it takes minimum effort to understand questions. Simple, easy-to-understand questions reduce the survey dropout rate. Simple questions like multiple-choice questions or Net Promoter Score (NPS) Questions help in increasing the number of survey responses because net promoter score is quite important.
06. Use Consistent Rating Scale Questions
If you use rating scale questions, make sure that the scales are consistent throughout the survey. Using scales from -5 to +5 in one question and -3 to +3 in another question may confuse a respondent. If in one question, a -5 signifies "Very Disappointed," and in another question, a -3 denotes the same variable, it confuses the respondent to the point that he/she may lose interest in the survey.
07. Order the Survey Logically
Respondents like to answer the survey questions in a logical flow. If the questions are jumbled, the respondent may lose interest. Also, if irrelevant questions are displayed, that causes the respondent to drop out of the survey immediately.
For example, if a question asks if the respondent has visited a restaurant and on selecting no, the survey flow still displays the question about the experience at the restaurant, which will irritate the respondent. Hence it is important to use skip logic and branching in the survey.
08. Avoid Biased or Misleading Questions
While creating a survey, avoid asking any biased or misleading questions in a survey. It ensures good-quality data.
For example, if Starbucks is collecting feedback about the quality of coffee, the question cannot be asked as such – "Is the coffee at Starbucks better than the coffee at Panera?" That creates a bias in the mind of the survey respondent, and he/she has only a yes or no option, rendering the survey pointless.
09. Test Survey
Before the survey is sent out to the sample of potential respondents, it has to be tested thoroughly to check if all the questions are rendering correctly and the survey logic is working fine.
10. Survey Distribution
No matter how robust or good the survey is, it requires respondents to be considered a good survey. It is appropriate to know the audience for the survey and the best way to reach them. For example, distribute the survey via email or use a web-intercept survey.
11. Send Reminders
Sending reminders can increase the survey response rate exponentially. While it is important not to spam the respondent that they ultimately want to disassociate from your brand, timely periodic reminders help towards the survey completion rate and ultimately being considered a good survey.
12. Offer Incentives
No one likes to do anything for free. Offering incentives may increase the chances of the survey being considered good since more people would take the survey. The incentive could be in the form of a monetary incentive, a commodity, or plain access to the research report after the completion of the study.
What are good survey questions?
This is an interesting subject, but there is still work to be done. Again, as we've already said, we also have some good advice for creating surveys using online survey tools.
Good survey questions are those that are clear, concise, relevant, and effectively capture the information or feedback you seek. Here are some characteristics and examples of good survey questions:
01. Clear and unambiguous
Questions should be easy to understand without confusion or multiple interpretations. Use simple and straightforward language.
Example: "How satisfied are you with our customer service?"
02. Specific and focused
Ensure questions address a single topic or aspect to gather precise and meaningful responses.
Example: "On a scale of 1-5, how would you rate the cleanliness of our restroom facilities?"
03. Avoid leading or biased wording
Phrasing should not steer respondents towards a particular answer or bias their responses.
Example: Avoid: "Don't you think our product is the best?"
Better: "How would you rate the quality of our product?"
04. Use appropriate response formats
Choose the right question type to match the information you seek. Common types include multiple-choice, rating scales, open-ended, and Likert scales.
Example (multiple-choice): "Which of the following social media platforms do you use regularly? (Select all that apply)"
– Facebook
– Twitter
– Instagram
– LinkedIn
05. Neutral response options
Include a neutral or "no opinion" response option when using scales or rating questions to capture the true sentiment of respondents.
Example: "How likely are you to recommend our services to others?"
– Very likely
– Somewhat likely
– Neutral
– Somewhat unlikely
– Very unlikely
06. Avoid double-barreled questions
Each question should focus on one aspect or issue to avoid confusion and ensure accurate responses.
Example (double-barreled): "How satisfied are you with the quality and pricing of our products?"
Better: "How satisfied are you with the quality of our products?"
"How satisfied are you with the pricing of our products?"
07. Include a mix of question types
Incorporate a variety of question formats to gather different types of data, such as qualitative feedback and quantitative ratings.
Example (open-ended): "Please provide any additional comments or suggestions regarding our services."
08. Sequential and logical flow
Organize questions in a logical order to create a smooth survey experience. Start with general questions before moving to more specific or sensitive topics.
Example: Begin with demographic questions (age, gender) before asking about personal experiences or opinions.
09. Avoid sensitive or personal questions when not necessary
Respect the privacy of respondents and only ask sensitive or personal questions when essential to your survey objectives.
Example: If unnecessary: "What is your annual income?"
Better: "What is your current occupation?"
10. Test and revise questions
Before launching your survey, conduct a pilot test with a small group to identify any issues, confusing wording, or ambiguities. Revise and refine questions based on feedback.
How to Create a Survey Online – With QuestionPro
Creating a survey online is extremely easy and effective if done using the right online survey tool. Creating an online survey with a free online survey maker platform like QuestionPro is a very easy and effective online survey tool. This step-by-step guide to survey features is enlisted below.
Creating a Survey
The QuestionPro platform allows you to create survey forms in 3 ways. They are:
New Survey from Scratch: You can create a new and fresh survey from scratch by using the readily available question types within QuestionPro. It can be customized as per your need from the very beginning.
Import a Word Document: You can design your survey in a Word document and then upload it to our system. You will need to follow a specific syntax for this to render correctly.
Use an Existing Survey Template: QuestionPro provides readily available templates with predefined questions. You can select the category based on your use case.
QuestionPro makes it easy to create a survey from scratch. To create surveys from scratch:
Click on the 'Create Survey' button

Click on Start from Scratch.

Enter the survey name.

Click on the Create button.

The survey will be created, and you can proceed to add questions.
In the same fashion, you can also import a survey from Word using the below and then continue with the subsequent steps.

The other way to create a survey is by using the readymade templates of QuestionPro.

An example of how this survey would look after completion is the Customer Satisfaction (CSAT) Survey Template that you are free to use to create a good survey.
Frequently Asked Questions(FAQ)
What should I consider when designing a survey?
Consider the purpose, target audience, question types, survey length, question order, clarity, simplicity, and testing
How many questions should I include in my survey?
Keep surveys as short as possible while gathering necessary data. Prioritize important questions and exclude redundant ones.
Should I use open-ended or closed-ended questions?
Use closed-ended questions (multiple choice, rating scales) for easy analysis and open-ended questions for detailed responses.
How can I encourage survey participation?
Keep the survey brief, communicate the purpose clearly, offer incentives, personalize invitations, use multiple distribution channels, send reminders, and express gratitude.
LEARN ABOUT: Free Travel Surveys: Questions & Templates
LEARN ABOUT: best time to send out surveys