What is an email survey?
Email surveys use embedded or linked surveys sent via email to collect feedback on the research topic. Respondents are targeted directly using email addresses. Emailing the survey is one of the most efficient methods of data collection since the respondent often knows the sender by brand, name, or institution.
It's easy to create email survey templates customized to your organization with example surveys from QuestionPro. Reuse your customized templates over again to collect updated data as needed. This feature saves time, is cost-efficient, and is easy to administer. You'll also be sure to have a good response rate as email surveys are one of the preferred survey distribution methods.
Types of email survey creation
Surveys can be shared via email in two ways. One option allows respondents to take your survey in the body of the email. The other allows for longer surveys by having respondents click a link to access the survey in a web browser. Both methods are useful for collecting respondent answers fast so you can get the most out of your survey data.
Email inline surveys

The email inline survey is a simple but effective way of administering a survey. In this method, the respondent can take a survey without having to open a browser window because it is embedded in the body of the email. This method doesn't permit long-form surveys and is typically under 5 questions. The common question types used in an email inline survey are close-ended questions like demographic questions, Net Promoter Score (NPS) questions etc. A sample survey email template includes the Short Customer Satisfaction (CSAT) Survey Template from QuestionPro.

Email redirect surveys

The other method of sending surveys via email is an email redirect survey. The respondent is sent an email which contains a brief description of the survey and a link to complete the survey. The respondent can click on the link in the email and be redirected to the survey page. This method is more effective when your survey is longer than just a few questions. Longer surveys can be broken down into several sections on a landing page. This makes your survey easier to read and follow, encouraging respondents to complete the entire survey. Redirect email surveys also give you a chance to ask plenty of open-ended questions as well as close-ended questions for detailed survey responses. You can create email survey options with multiple question types, including advanced question types.
Tips for effective email survey creation: Good email survey
Now that we have looked at the two different types of email surveys, it's important to understand the best practices when creating an email survey. Use these tips for effective email survey creation that helps to generate a good survey response rate. Some of the things to keep in mind are:
CAN-SPAM compliance: The email survey should contain important identifying information such as a valid "From" and a "Reply-To" email address. You'll also need to list a valid phone number and postal address, as well as any other identifying information for your group or company. Other aspects for compliance are a valid subject line and no misleading information in the body of the email. Respondents must have an option to opt-out. All of these parameters are important to maintain CAN-SPAM Compliance while sending out an email survey.
Keep the email, short & relevant: The email should mention the objective of the survey, the time it will take to complete, if the survey will be anonymous, and how data will be used. You can customize the text of your email template survey invitation to list your group's survey intentions and length. The longer your email, the more likely a respondent will lose interest before getting to the survey. It is very important to thank the respondent and tell them that you value their input and their time.
Show value: No one does anything for free, including a survey respondent. Unless the respondent sees value in the study, they will not take the survey. You'll need to keep your questions relevant as well, as irrelevant question can cause a respondent to dropout in the middle and increase the survey dropout rate.
How can I set up the survey invitation email?
Setting up your survey invitation emails is simple with the QuesitonPro software. Unlike creating email surveys from scratch, our intuitive program allows you to customize ready-made templates with your information. Email template survey invitation choices can be accessed under:
Login » Surveys » Send » Templates
Survey invitations are survey-specific. Please make sure you have selected the correct survey. The active survey name is always displayed in the top right corner.
Default template: For each survey, a default sample survey email template is provided.


Create new survey invitation: You can create up to 10 templates for each survey.


How can I edit the survey invitation?
Click on the Template name to edit the survey invitation.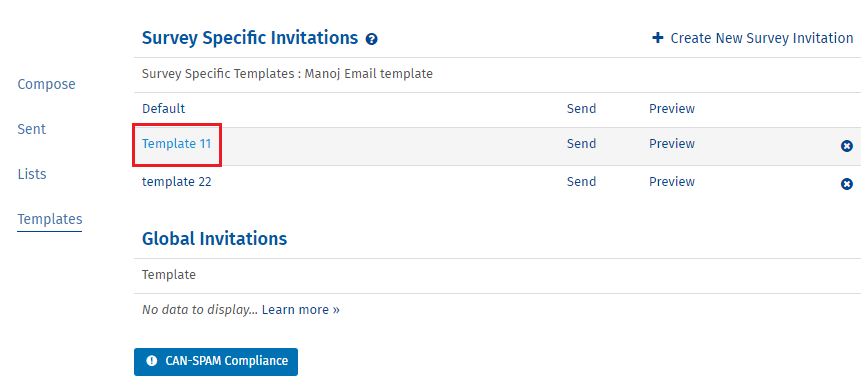 You can edit the following:
Subject: Subject for the email / survey invitation.
Message: Text for the invitation. You can use HTML in your invitation text. You can also insert images or attach files using HTML as you create email survey questions.
Insert survey link: Select from either the tracked respondent link (will appear as <SURVEY_LINK> or the anonymous respondent link (will appear as <ANONYMOUS_SURVEY_LINK>. This is also where you can update the Survey Link Text that will be displayed when a respondent sees the email. Choose text that provides a strong call to action, increasing the chances of survey participation.
Insert variables: Select from buttons associated with the custom variables First Name, Last Name, or custom variables 1-5.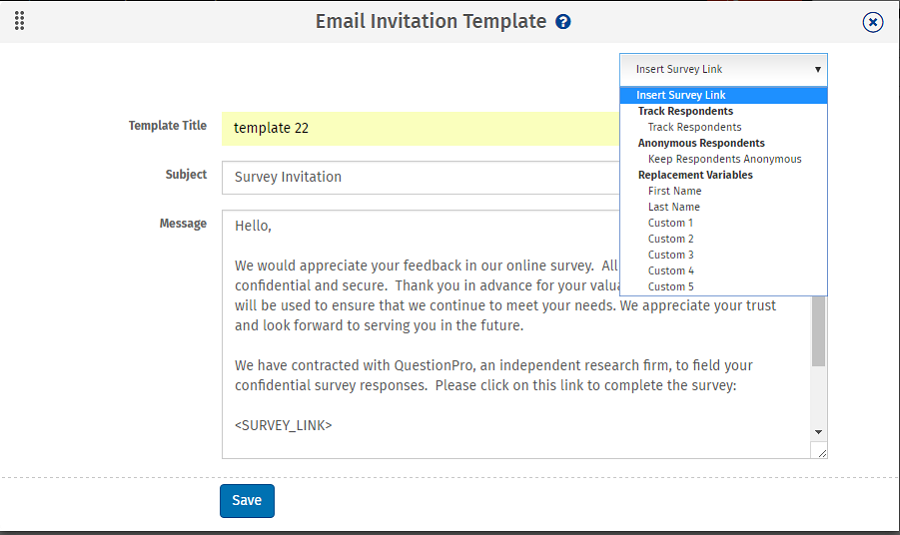 How can I send a survey via email using the email invitation?
Once you have made adjustments to the survey invitation email, simply finish the following steps to send the invitation.
Click on Send.



Enter recipient email addresses (one per line), select from an existing email list, or create a new email list.
Click Send to send the survey email invitation to the desired recipients.