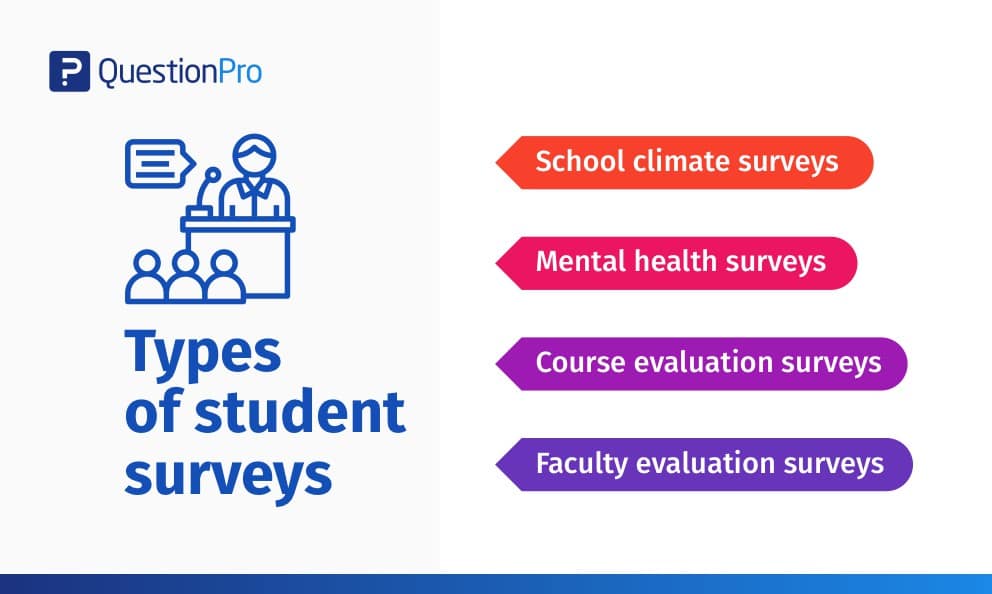 What are student survey questions?
Student feedback is essential for teachers and academic institutes to improve continuously. If you work in academia, it is surely a great idea to know the perceptions and opinions of students. Educational institutes conduct surveys to gather actionable feedback from students about the institute and its faculty. Schools run surveys at the start, the middle, or the end of the academic year.
Frame questions in a way that the answer to each question benefits the educational institute in one form or another. Survey students to improve the educational institute's overall functioning by analyzing the feedback received from student surveys.
Top 16 student survey questions for academic feedback
Here are the top 16 student survey questions to capture academic feedback. We've divided them into two categories – Questions about the class and issues about the teacher.
Student perception survey questions about the class
Academic institutions continuously run course experience surveys among students to know more about their feelings towards the classes. Here are some essential questions to ask students.
1. Which activities in the classroom do you enjoy the most?
Fast Facts

Memory

Treasure Hunt

Other
Teachers are generally aware of the most loved classroom activities, but knowing it directly from the students is an assurance. An assurance that students enjoy the tasks performed in class.
2. Given a chance, what is one change that you would like to see?
Teaching method

Time taken to complete a chapter

Extracurricular activities

Other
A student's opinion is always unadulterated; it feels like a breath of fresh air in teaching monotony. Gain insights about what the students think the teacher or the institute must do differently and regularly implement these changes.
Learn more about academic surveys here!
3. Do you have supportive classmates?
Yes, extremely supportive

They are neither supportive nor unsupportive

No, extremely unsupportive
Growing up, every child needs a productive ecosystem. Schools and universities are among the most influential parts of a child's ecosystem, and support of classmates/friends matters to each child. Analyze whether the child is having trouble with his/her classmates. Check whether the lack of support is disrupting their overall growth.
4. What motivates you to learn more?
Asking a lot of questions to the teacher

Completing various assignments

Sports and other extracurricular activities

Other
This survey, if conducted at the beginning of the year, can be encouraging to the students and insightful for teachers. Teachers can create their lesson plans according to the response to this question. By including this question in a student survey conducted towards the end of the year can help boost a student's confidence in making their own academic decisions.
5. Do you think that the school provides you with adequate sports facilities?
Sports is a very good teacher. and is essential for the overall development of the student. It helps them build a strong mind. Ensure to provide students with adequate sports facilities to keep their minds strong.
Learn more about academic surveys here!
Student perception survey questions about the teacher
Teacher feedback is also essential for the institute. Here are some critical questions to ask about the teachers and faculty members:
6. On a scale of 0-10, please rate your teacher – This rating scale question is the most basic yet essential question for a teacher. Ratings reflect the teacher's performance. In case the average score is 8 or above, it indicates that the teacher's work is appreciated and needs to be maintained. In other instances where the ratings are lower, the teacher needs to understand the reason and work towards improvement.
7. How much time do you spend every day on homework?
<2 Hours

2-3 Hours

3-4 Hours

4-5 Hours

>5 Hours
Homework is something that most students do not enjoy. If a student spends a significant time duration doing homework, there are higher chances that he/she dislikes attending the classes too. Homework often induces stress in students, which can lead to health scares, and as a class teacher, it is essential to ensure that the students are mentally secure and healthy. Authorities can ask this question so that they can analyze the answers to minimize or eliminate the stress of homework.
Learn more about academic surveys here!
8. What are some achievements you're proud of?
Securing the 1st rank

Participating in an inter-school debate competition

Participating in a culture-exchange program

Representing the school/university at a national level
Every student is unique. Their achievements will be different, and each of these achievements should be celebrated. It is practically impossible to celebrate them in class after a class test or an activity. Know from the students about what they think are their achievements and create a list. Teachers can reward all the students periodically to maintain student satisfaction and happiness.
9. Does your teacher encourage you to perform better?
Yes, all the time

Only sometimes

No, not at all
Students need constant encouragement to push their boundaries so that they perform well academically as well in terms of extracurricular activities. Teachers or school management can ask this close-ended question to understand whether the students feel encouraged to perform better or not. By evaluating the answers to this question, the management can either prompt teachers to be more encouraging or train them to be more empathetic towards their class.
10. How would you evaluate the overall academic experience you had with this professor in our university program?
Very Dissatisfied

Not Satisfied

Neutral

Satisfied

Very Satisfied
Schools and colleges must evaluate the performance of teachers from time to time and understand if students face difficulties with the professor.
11. Please share your agreement with this statement: "My teacher has fair rules for the class and is extremely impartial."
Strongly Agree

Agree

Neutral

Disagree

Strongly Disagree
Teachers are expected to be fair in their judgment towards every student. There can be instances where the students may not feel that their teacher is fair. The management should include the Likert scale question in their student perception survey to learn about a teacher's classroom behavior.
Learn more about academic surveys here!
12. Please share your agreement with this statement: "My teachers asks each one of us whether we have understood what she taught and helps us in case we have doubts."
Strongly Agree

Agree

Neutral

Disagree

Strongly Disagree
A classroom is where children learn the most, and a teacher is whom each turns to, in case of doubts and troubles. Ask this Likert Scale question to evaluate how good a teacher is at addressing and solving doubts.
13. Does your teacher appreciate the times when you work hard towards scoring well in a test or performing well in extracurricular activities?
Yes, she/he always appreciates my hard work

Only sometimes

No, she/he never appreciates my hard work
The primary goal of a teacher should be the overall progress of a student. Learn from the students whether their teacher appreciates their hard work and reassures them to keep working hard or not.
14. Does your teacher guide you in setting personal targets and developing strategies to achieve that target
Yes, she/he always guides me to set targets

In most situations, she/he guides me to set targets

She/he rarely guides me to set targets

No, she/he never guides me to set targets
Children need to understand the importance of setting personal goals and striving to achieve them. Teachers play a critical role in teaching a habit of setting targets in school and working hard. Learn from the students whether they resonate with the teacher's guiding method to set personal goals.
Learn more: Sex Education Survey Questions + Sample Questionnaire Template
15. After each test, does your teacher help you in understanding ways to improve your grades?
Marks/grades are a significant part of a student's life at school. A teacher should help students understand where they go wrong while answering, how they can improve their performance after each test etc.
16. Top 3 things that your teacher can improve – There are specific open-ended questions such as this one, leading to accurate feedback. Teachers or management can analyze and collect insights obtained for this question and start working towards improving their class performance.
Steps to conduct a student survey
Follow these steps to gather honest feedback from your students and keep them engaged throughout the student perception survey.
Step 1: Decide the approach and tone of the student survey.
Every teacher has their style of communicating with the students. This communication pattern differs from teacher to teacher. Each teacher can design a student interest survey based on the type of bond they share with their class. The tone of the study will change with the type of information expected from this survey.
Learn more: Depression Survey For Students
Step 2: Send out the student survey
Teachers can send out surveys via convenient mediums. The advantage of using online survey software is that teachers can send surveys via email. For high school and university teachers and professor evaluation, it is very convenient to conduct student perception surveys since the main task they have to do is send an email for the survey. 
Learn more: School Cheating Survey Questions
Step 3: Analyze the collected data
After sending out the survey and receiving responses, teachers can analyze the opinions and feedbacks. What do most of their students have to say? Where do the students need help? How can they change their teaching methods to accommodate the less inclined students? What did most students appreciate? What made most students unhappy? – Answers to such questions can be analyzed using a student interest survey. With online survey software such as QuestionPro, teachers, professors, and management can analyze a central dashboard's response.
Learn more: Depression Survey For Students
Step 4: Take actions
After analyzing the collected information, teachers can contemplate the changes which can be implemented based on that information. You can obtain insights into details such as improvement in teaching methods, attention to weaker students, or fun activities on a specific day of the week.
What are the types of student surveys?
Educational institutes run multiple student surveys to gather feedback about various topics. Here's a list of some popular survey questions for students: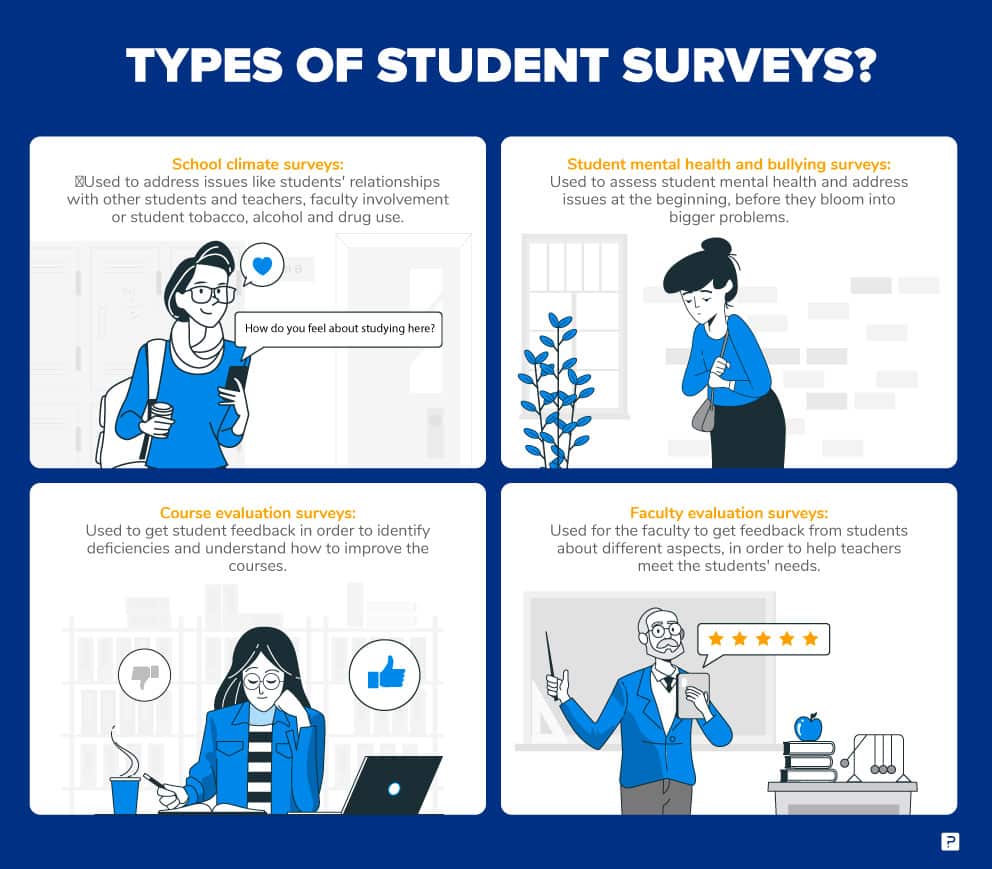 School climate surveys:

These surveys address issues like student-teacher relationships, faculty involvement, student mental health, student tobacco, alcohol, and drug use, and student relationships.

Student mental health and bullying surveys:

It is highly essential to assess student mental health and address issues at the beginning before they bloom into bigger ones. Institutes must run surveys like peer relationship surveys, bullying behaviors, social skills surveys, and substance abuse surveys to identify their mental health.

Course evaluation surveys:

 Student feedback is vital to understanding the shortcomings of courses and identifying gaps that impact learning. As students are the best critics on courses, you must run surveys to capture their feedback about the class to make their learning experience more fun and fruitful.

Faculty evaluation surveys

:

Students and faculty interact almost daily. The faculty must get feedback from students about different aspects like preparedness, subject matter knowledge, problem-solving approach, grading, time management, etc. to name a few. The institute also keeps track of student feedback to help teachers deliver education that suits students' needs the best.
How to create a free student survey in minutes?
Follow these steps to create simple student surveys from scratch:
1. Create a FREE account with QuestionPro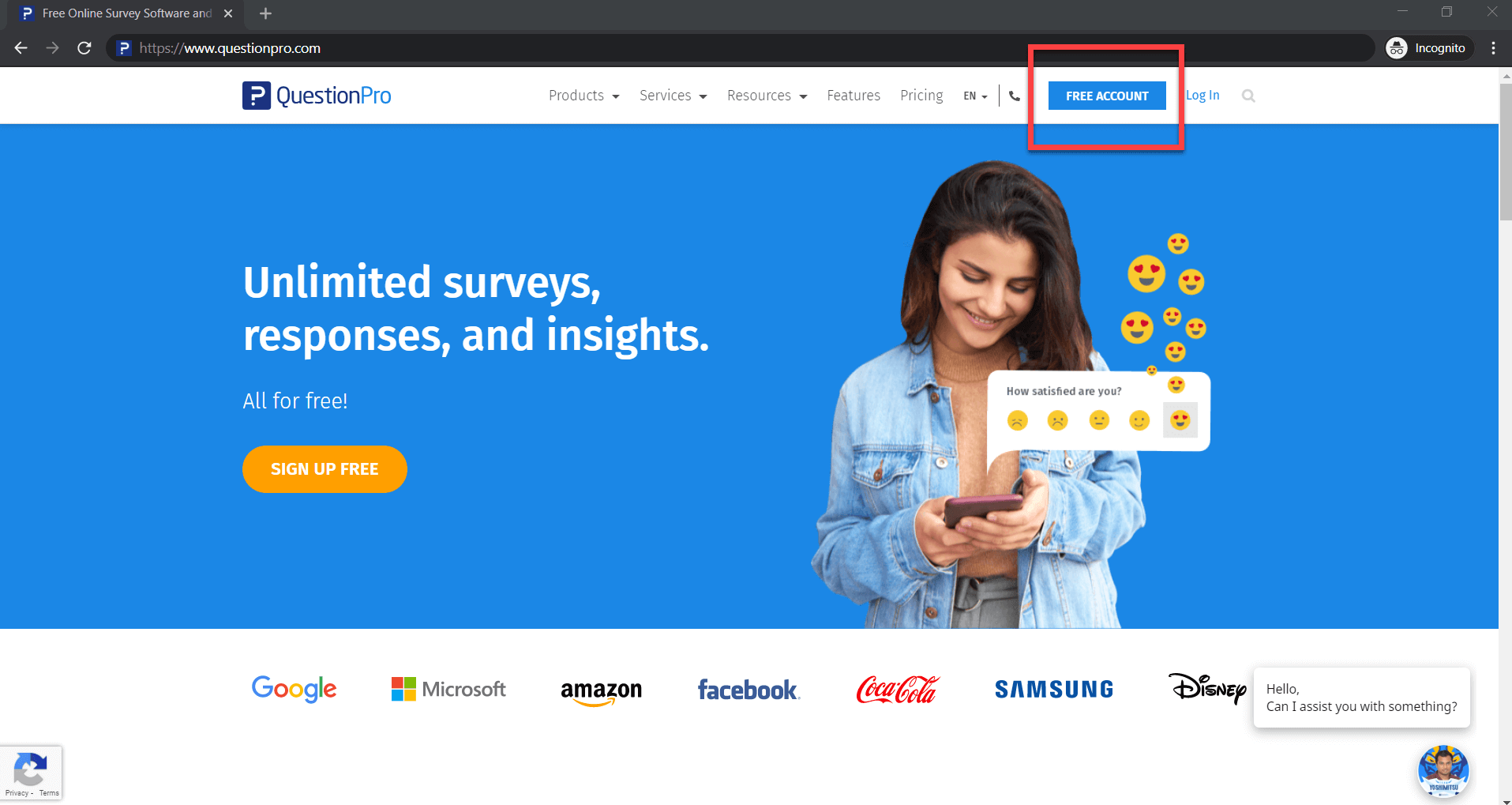 2. Give your survey a name and hit 'Create Survey.'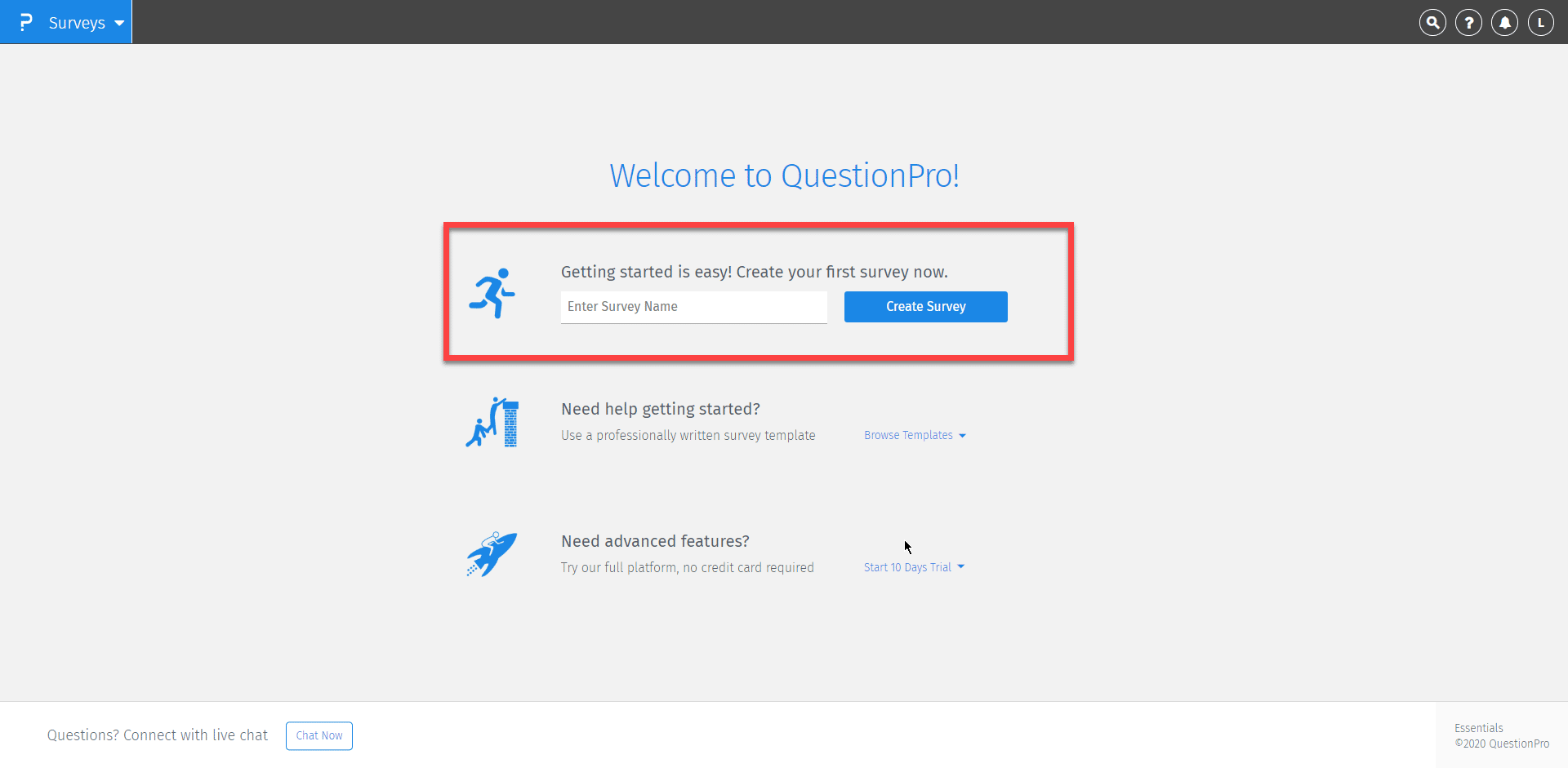 3. Add an intro to introduce the topic of your survey or just start adding questions.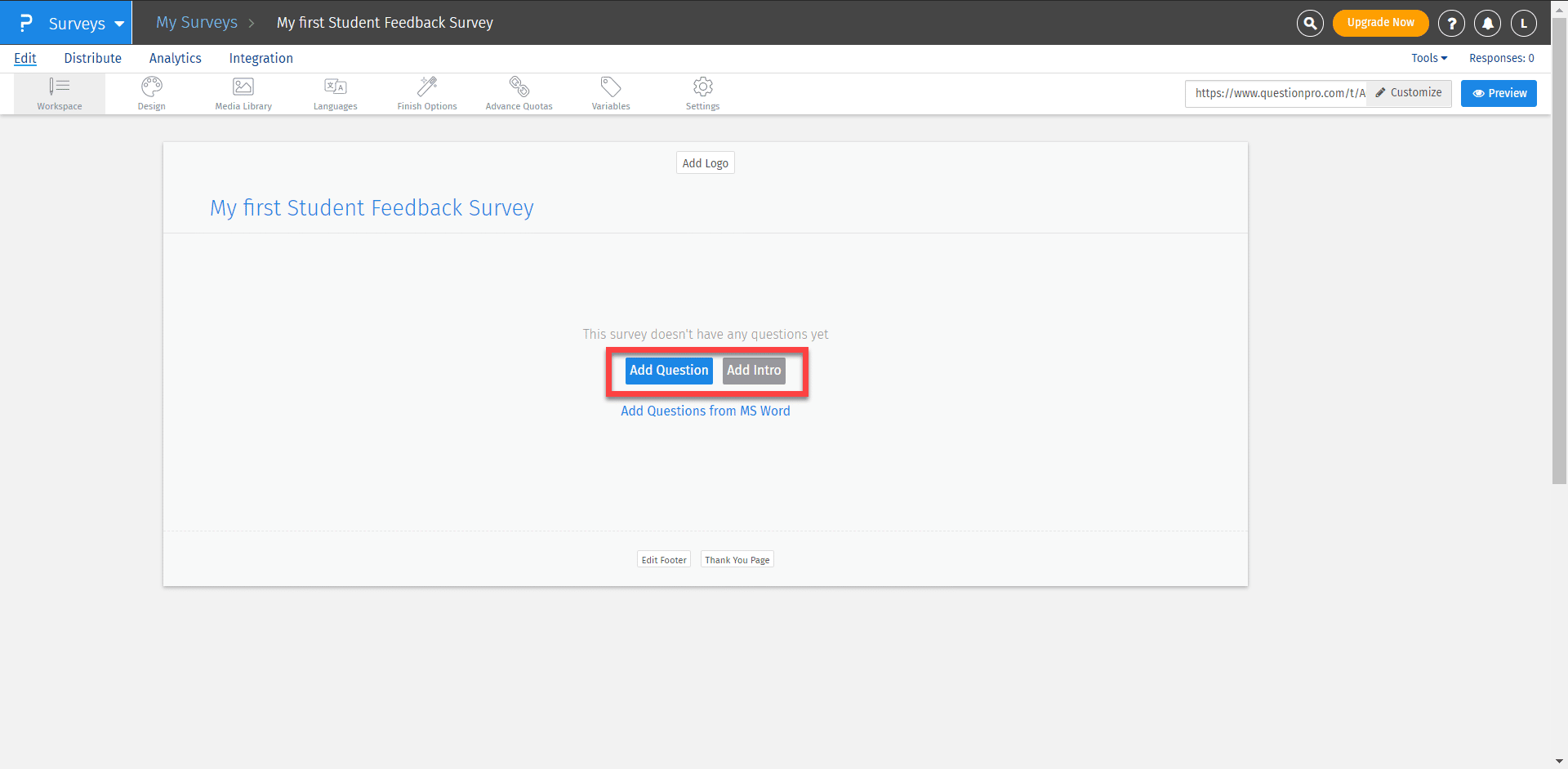 4. Choose from 25+ question types – all for free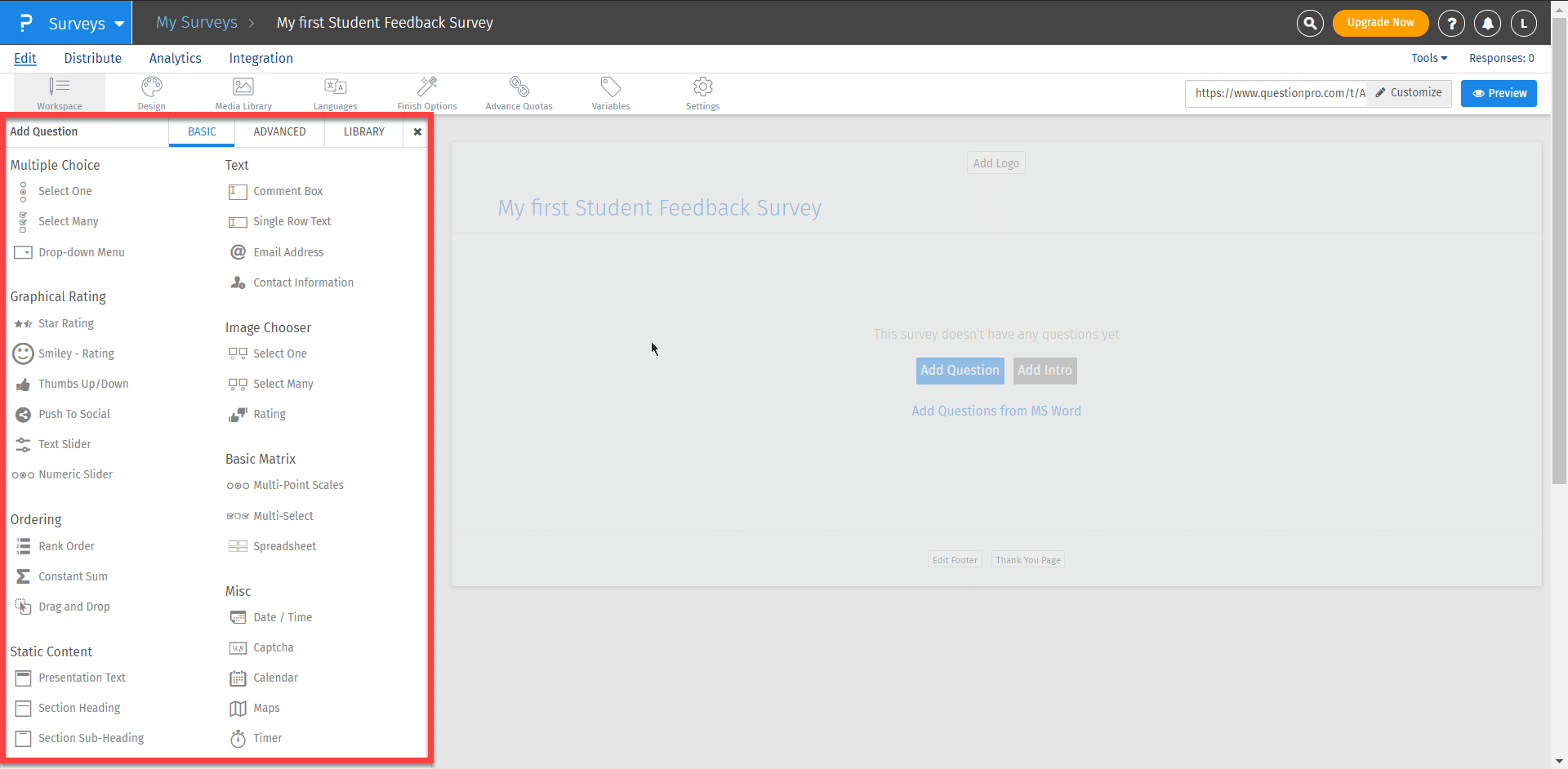 You can also import a Word document or use any of our existing survey templates. A lot of features make QuestionPro stand out as a robust survey partner, between multiple customization options, and an intuitive layout, you can create multiple surveys that fit your many needs.
Example of a good survey for students
Here is a student survey example. This template is free to download.