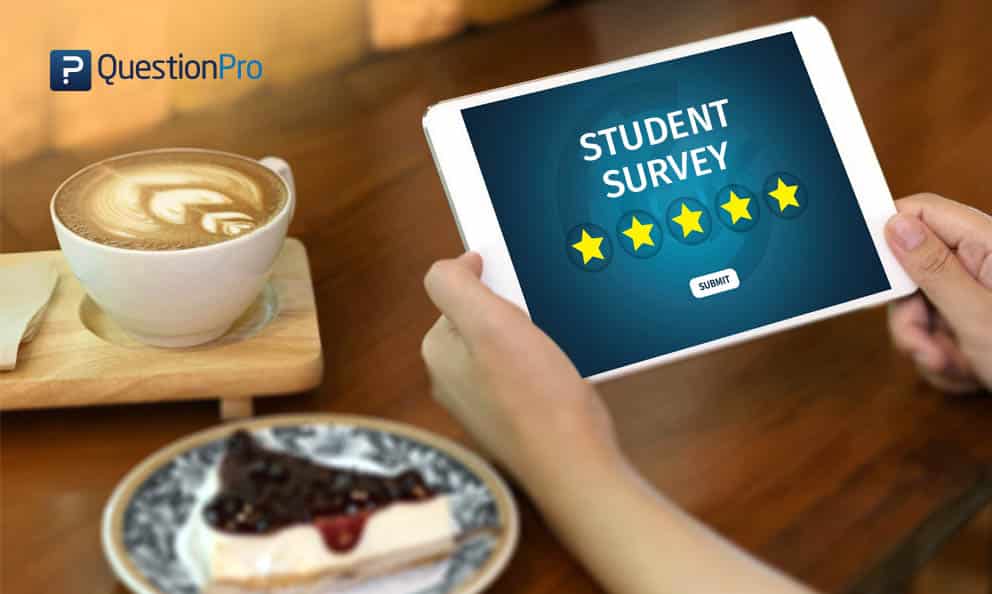 Student surveys are those surveys conducted with an objective to gather actionable students' feedback about an educational institute. Every student survey question has to be framed in a way that the answer to each question can benefit the educational institute in one form or the other. The overall functioning of an educational institute can be improved by analyzing the feedback received for student surveys.
Learn more: Academic Survey Questions
Most researchers recommend that schools, universities, and colleges should conduct student surveys at the beginning, middle and end of every academic year. The management can take corrective measures according to the feedback received for student survey questions on syllabus, teaching system, the difficulties faced by a few academically struggling students etc.
For example, a school survey template for students is an in-depth sample survey that can be used by schools to to evaluate a student's perception about the school. It can be used by schools and educational institutions to collect data about the education provided to the students, collect feedback about other aspects about the educational institution and the referenceability of the school.
Every teacher goes through a growth cycle. It is very essential for teachers to understand what the students opine about their work to advance in this growth cycle. For a teacher to evolve, the feedback received for such student surveys can be instrumental in deciding where to improve and how to improve. For students, student surveys can be the perfect medium to communicate their displeasures and complaints against their teachers and the management too.
Learn more: College Feedback Survey Questions for Students + Sample Questionnaire Template
Primary school teachers will have to read out the survey questions to their class, elementary and secondary school teachers will either have to allot computers or laptops for each of their students to fill out online surveys, use the obsolete pen and paper method or send across the survey via email too. University students can receive the student surveys on a regular basis via email.
Students surveys are essential tools that help schools, colleges, and universities to make data-driven decisions for their betterment. They are effective and reliable sources for performance evaluation as they help in gaining infallible information about students.
There are certain factors which have to be decided before conducting a student survey:
What is the primary objective of the student survey?

How many students will be surveyed?

When will your school/university carry out the student survey?

What methods will be implemented to analyze collected data?

Will the school be reporting the analyzed results?
Learn more: Bullying Survey For Students Questions + Sample Questionnaire Template
Steps to follow in order to conduct a productive student survey
Step 1: Decide the approach and tone of the student survey
Every teacher or the management of the institute has their own style of communicating with the students. This communication pattern will differ from teacher to teacher. Each teacher can design their student survey for a form of teacher evaluation, according to the bond they share with their class and also the primary goal of the survey. The tone of the survey will change with the type of information expected from this survey.
Learn more: Depression Survey For Students
Step 2: Send out the student survey
Teachers can send out the surveys via convenient mediums. The advantage of using online survey softwares is that teachers can send surveys via email. For high school and university teachers and professor evaluation, it is very convenient to conduct student surveys since the main task they have to do is send an email for the survey.  
Learn more: School Cheating Survey Questions
Step 3: Analyze the collected data
After sending out the survey and collecting responses, teachers can analyze the opinions and feedbacks. What do most of their students have to say? Where do the students need help? How can they change their teaching methods to accommodate the less inclined students? What did most students appreciate? What were most students unhappy about? – Answers to such questions can be analyzed using a student survey. With online survey softwares such as QuestionPro, teachers, professors and the management can analyze the response from a central dashboard.
Learn more: Depression Survey For Students
Step 4: Take actions
After analyzing the collected information, teachers can contemplate the changes which can be implemented on the basis of that information. Insights into details such as improvement in teaching methods, special attention to some students of a particular class or inclusion of fun activities on a specific day of the week can be obtained using student surveys.
Learn More: Student Satisfaction Survey Questions
Top 15 Student Survey Questions
Student Survey Questions about the Class
Which activities in the classroom do you enjoy the most?

Fast Facts
Memory
Treasure Hunt
Other

Teachers are generally aware of the most loved classroom activities but knowing it directly from the students is an assurance. An assurance that students enjoy the tasks performed in class.

If you were given one thing you could change in the class, what would that be?

Teaching method
Time taken to complete a chapter
Conducted Activities
Other

A student's opinion is always unadulterated, it always feels like a breath of fresh air in the monotony of teaching. Gain insights about what the students think could be done differently and try to implement that change in the class regularly.

Learn more: Class Survey Questions + Sample Questionnaire Template

Do you have supportive classmates?

Yes, extremely supportive
They are neither supportive or unsupportive
No, extremely unsupportive

Growing up, every child needs a productive ecosystem. Schools and universities are one of the most influential parts of a child's ecosystem and support of classmates/friends matters to each child. Analyze whether the child is having trouble with his/her classmates and whether the lack of support is disrupting their overall growth.

What are you inclined to learning next? – Including this open-ended question in a survey conducted at the beginning of the year can be encouraging to the students and insightful for teachers. Teachers can create their lesson plan according to the response to this question. By including this question in a student survey conducted towards the end of the year can be helpful in boosting a student's confidence in making their own academic decisions. For teachers to maintain continuity for this question, the answer to this question should be passed on to the next teacher.

Ask a lot of questions to the teacher
Complete your assignments in time
Play a sport of two
Other – What tips about your grade are you highly likely to give to your juniors?
Learn more: Reading Interest Survey Questions + Sample Questionnaire Template
Student Survey Questions about the Teacher
On a scale of 0-10, please rate your teacher – This rating scale question is the most basic yet the most essential question for a teacher to know. Ratings reflect the teacher's hard work. In case, the average rating is 8 or above, it indicates that the teacher's work is being appreciated and that it needs to be maintained. In other cases where the ratings are lower, the teacher needs to understand the reason and work towards improvement.
How much time do you spend every day on homework?

<2 Hours
2-3 Hours
3-4 Hours
4-5 Hours
>5 Hours

Homework is something that most students do not enjoy. If a student spends a significant time duration doing homework, there are higher chances that he/she dislikes attending the classes too. Homework often induces stress in students which can lead to health scares and as a class teacher, it is essential to ensure that the students are mentally secure and healthy. Authorities can ask this question so that they can analyze the answers in an attempt to minimize or eliminate the stress of homework.

Learn more: Student Gentrification Survey Questions + Sample Questionnaire Template

What are the achievements you are proud of?

Securing the 1st rank
Participating in an inter-school debate competition
Participating in a culture-exchange program
Representing the school/university at a national level

Each student is special. Their achievements will be different and each of these achievements should be celebrated. It is practically impossible to celebrate them in class after a class test or an activity. Know from the students about what they think are their achievements and create a list. Teachers can reward all the students periodically to maintain student satisfaction and happiness.

Does your teacher encourage you to perform better?

Yes, all the time
Only sometimes
No, not at all

Students need constant encouragement to push their boundaries so that they perform well, academically as well in terms of extracurricular activities. Teachers or the school management can ask this close-ended question to understand whether the students feel encouraged to perform better or not. By evaluating the answers for this question, the management can either prompt teachers to be more encouraging or train them to be more empathetic towards their class.

Please share your agreement with this statement: "My teacher has fair rules for the class and is extremely impartial."

Strongly Agree
Agree
Neutral
Disagree
Strongly Disagree

Teachers are expected to be fair in their judgment towards each and every student. There can be instances where the students may not feel that their teacher is being fair. To learn about a teacher's behavior in class, the management should include this Likert Scale question in their student survey.

Learn more: High School Dropout Questionnaire & Sample Survey Template

Please share your agreement with this statement: "My teachers asks each one of us whether we have understood what she taught and helps us in case we have doubts"

Strongly Agree
Agree
Neutral
Disagree
Strongly Disagree

A classroom is where children learn the most and a teacher is whom each turns to, in case of doubts and troubles. Ask this Likert Scale question to evaluate how good a teacher is at addressing and solving doubts.

Does your teacher appreciate the times when you work hard towards scoring well in a test or performing well in extra-curricular activities?

Yes, she/he always appreciates my hard work
Only sometimes
No, she/he never appreciates my hard work

The primary goal of a teacher should be the overall progress of a student. Learn from the students whether their teacher appreciates their hard work and reassures them to keep working hard or not.

Does your teacher guide you in setting personal targets and developing strategies to achieve that target?

Yes, she/he always guides me to set targets
In most situations, she/he guides me to set targets
She/he rarely guides me to set targets
No, she/he never guides me to set targets

It is essential for children to understand the importance of setting personal goals and striving to achieve them. Teachers play a critical role in inculcating a habit of setting targets in school and working hard towards it. Learn from the students whether they resonate with the teacher's method of guiding to set personal goals or not.

Learn more: Sex Education Survey Questions + Sample Questionnaire Template

After each test, does your teacher help you in understanding ways to improve your grades?

Marks/grades are a major part of a student's life at school. A teacher should help students understand where did they go wrong while answering, how they can improve their performance after each test etc.

Top 3 things that your teacher can improve – There are certain open-ended questions such as this one, which can lead to accurate feedback. Teachers or the management can analyze and collect insights obtained for this question and start working towards improving their performance in class.
Learn more: Campus Climate Survey