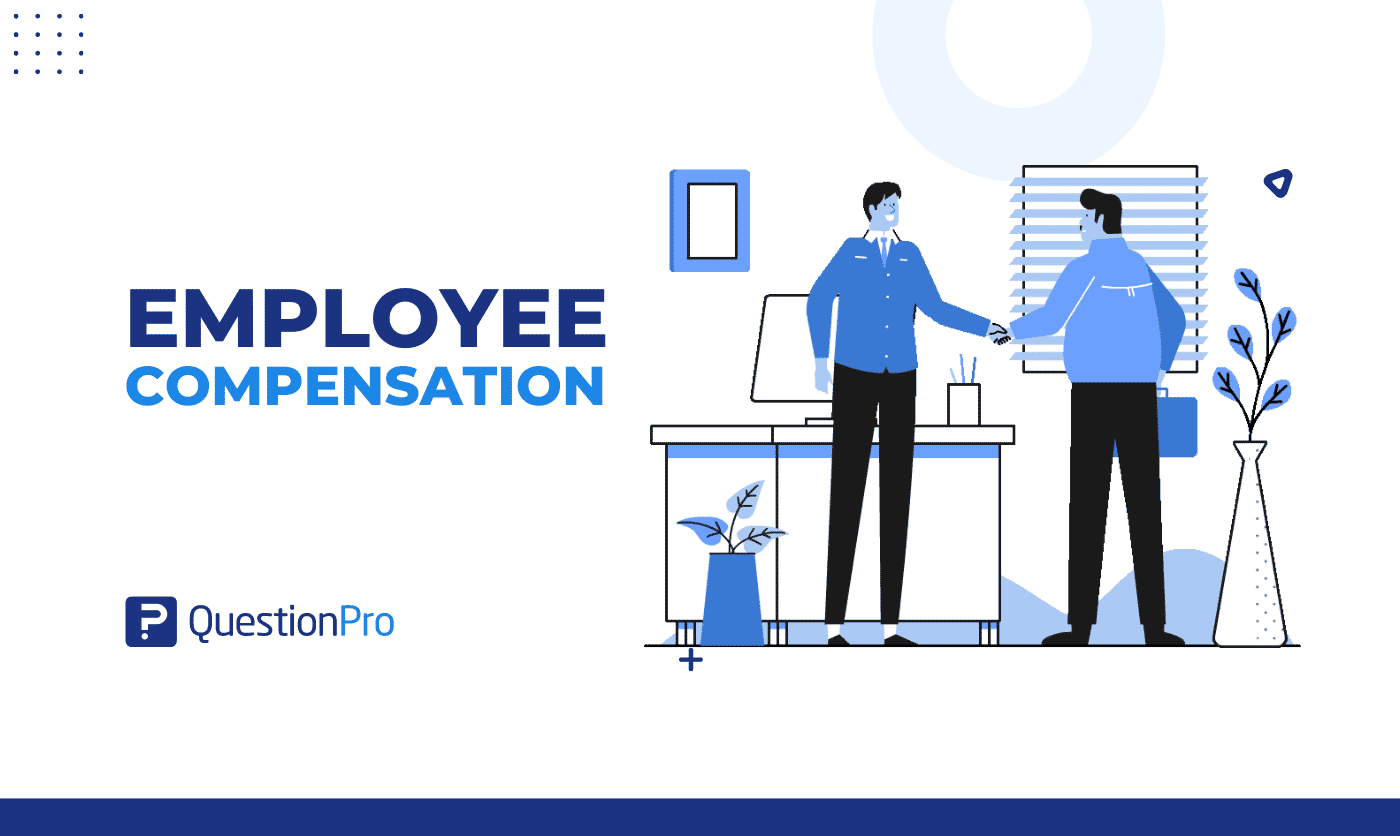 If you run your own business, the benefits and compensation you offer your employees can be a deciding factor for many people who are thinking about working for you. And it's not just about the money. To make your company competitive and appealing to job seekers, you have to pay well above average.
Employee compensation is crucial to your business planning and management if you want to find and keep the best employees.
In this guide, we'll tell you everything you need to know about employee compensation, such as what it is, the different types of it, why it's important, and more. Let's get started.
What is employee compensation?
Employee compensation is what you give each worker in exchange for their work. It is a mix of wages and benefits. A compensation package can include salary, employee benefits, commissions, and stock options, but the right compensation for each employee will depend on several factors.
It's important to offer fair and competitive pay to employees if you want to attract and keep the best ones. That's why it's essential to understand the different types of pay packages.
Employee compensation is important for your organization if you want to stand higher in business. We discuss the definition part of this blog above. We will go through the importance, types, and how it works.
Importance of employee compensation
Even though it's important to stay within your budget, offering competitive and desirable compensation to your employees is important. It is because you can use it to find and hire the best people, make them more loyal to your company, and cut down on employee turnover.
It's also a good idea to look over employees' pay as they work for the company. By giving competitive raises and bonuses for hard work, you can make your employees happier, encourage them to do their best, and improve your company's overall reputation.
Additionally, it can help keep your best employees; you don't want them to leave your company because of their underappreciated feeling.
Various types of employee compensation
There are three main types of compensation:
Fixed incomes,

Variable incomes,

Benefits.
But even within these broad categories, employees may get different compensation.
When a company calls a salary a "base salary," it usually includes both a fixed and variable income. Most jobs that pay a base salary also pay some variable compensation on top of the base salary.
This compensation could be based on how much each employee, each department, or company sells. Base salary is very common in jobs like sales, where the base pay is usually low, and the employee can make more money by making more sales.
LEARN ABOUT: Salary survey
A bonus is a set amount or a certain percentage based on a goal or objective that was met. Individuals could receive bonuses if they completed predetermined objectives. One key distinction between bonuses and commissions is that bonuses are typically added to an employee's base compensation.
Some companies give bonuses based on a percentage of how well the company did. Bonuses based on performance evaluations are common in jobs where the employee can't meet a specific goal. Individual bonuses can also be based on performance, where an employee gets a certain percentage of a bonus based on their annual performance review.
You may also check out this guide to learn how to build your own Customer Journey Map.
Profit-sharing is a type of bonus that employees get based on how well the company did and how much money it made in a year or quarter. Profit-sharing is usually a percentage of the period's profit split among eligible employees.
Each person's bonus from profit sharing will differ when it gets to each employee and is negotiated as part of an employee compensation package.
A commission-based salary is paid to an employee based on some form of activity on the part of the employee, and it is an agreed-upon rate. Sales frequently determine commissions.
For example, An employee could receive a salary of up to 7% of the company's total sales. The action may also be louder at other times. An employee may receive a specific amount of pay based on how many goods they manufacture, sell, or ship.
Employees who work more than 40 hours a week are paid extra. This kind of compensation isn't always popular because it's hard to keep track of workers who aren't paid by the hour.
People who work by the hour have to punch in and out; if they work more than 40 hours, they get paid more. Technically, overtime rules should also apply to salaried employees, but since their time isn't tracked, most salaried workers don't get overtime pay.
Company stock options are one method a business can use to pay its employees. The use of stock options is viewed as a desirable technique to motivate employees to work hard for the benefit of the business without having to hand out cash. Employees may receive specific company stock as compensation if the company is publicly traded.
Stock options can be utilized as compensation in various ways, such as a regular or irregular bonus, commission-based compensation, or a portion of monthly profits.
Learn more about why understanding your Customer Journey transforms your CX program.
How it works
Consider these four steps if you're curious about how employee compensation works:
Step: 1
The first step is to conduct research. To find out how much other companies in your field are paying for similar positions, you can conduct an internet job search, browse open opportunities on rival websites, and read market rate studies.
To find out what current employees in related roles within your company think, you can conduct a poll.
Step: 2
Make a list of the basic benefits that every employee will get, such as extra pay for overtime and health insurance. You can also make a list of standard services for each type of position ( senior manager, director, vice president, C-level executive). Some businesses skip this step, but it's important to set up standard company benefits.
This list of advantages can help you keep your workplace fair and equal. Be careful about what kind of compensation you give, and no matter if an employee asks for it or not, provide the same pay for similar levels of work.
Step: 3
Set up a pay structure with different grades that include the minimum wage requirements and a grade range or step increments. Consider your current compensation budget, financial forecasts, and possible promotions.
Step: 4
Your pay packages should increase as your business grows. If your business makes a lot of money, you might want to change your pay packages to give your team more money and better benefits.
You will also have to keep changing your pay structures to keep up with inflation and the changing needs of the industry.
Conclusion
If you just started a new business, you may be most interested in hiring talented people to work for you. Employee compensation can help your company reach that growth. It can help both you and the employees you hire. Soon, you will be able to get new people to work for your company.
Check out QuestionPro Workforce if you want to start planning employee compensation. It's a culture, employee experience survey, employee benefits survey, and analytics platform that can help you make the best changes by giving relevant metrics and insights about your people.