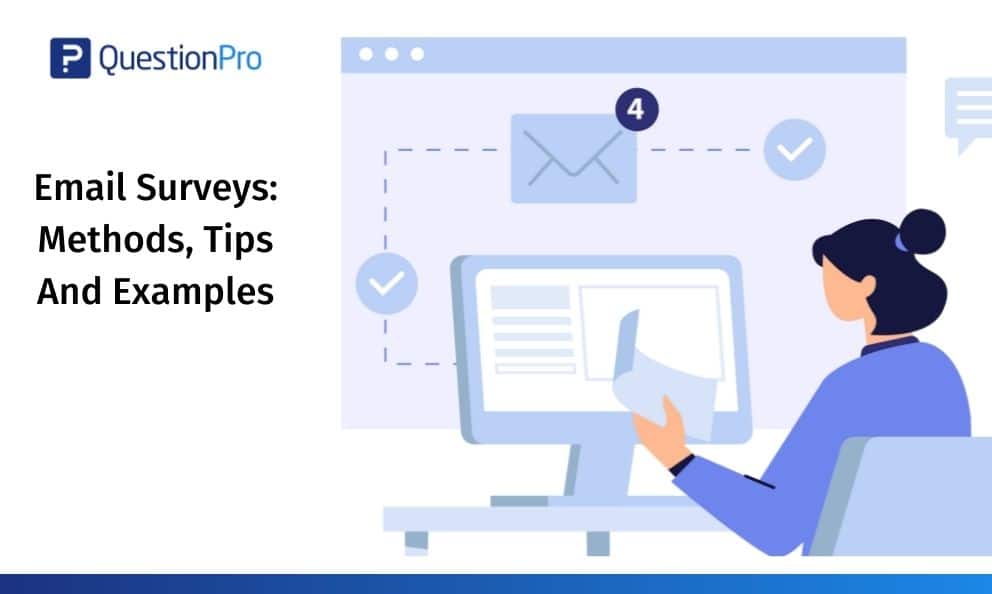 Email surveys are one the most used method of collecting data. Market researchers prefer sending surveys through email feedback as they can be more convenient for their respondents. With email surveys, you can add a message and let the respondents know more about the data collection.
LEARN ABOUT: Survey Mistakes And How to Avoid
Here, we'll talk about the various methods of sending email surveys, their advantages and disadvantages, and how to create an effective online email survey with examples.
Index
Email Surveys
Email Surveys are defined as a data collection method used to collect quantitative data using surveys or questionnaires that are sent to targeted respondents via email. Respondents can then answer these surveys directly in embedded questions or respond over email, depending on the survey delivery method chosen by the researcher.
For example, a fashion brand wants to know customer opinions about the new product launched recently. Customers who made purchases from the brand registered their emails when making the purchase. Since emails are already registered in the organization's system, email survey questions can be sent to the audience who purchased the product. Quick and reliable feedback can be collected from the brand's targeted audience and analyzed later using powerful web survey software.
Email surveys have been in the market for a very long time. Even so, they're still one of the most efficient methods to collect reliable survey data. Almost everyone uses email frequently, with many people checking their accounts using their phones, tablet, or other mobile devices multiple times a day. According to recent research which was conducted to evaluate email marketing, around 72 percent of people prefer getting their promotional content or professional communication over emails. Email surveys are one of the best channels because they allow the integration of multiple options in the email. For instance, an email can include an invoice, a promotional advertisement, and a survey invitation as well. Since email surveys are extremely economical and can be sent to a large audience at the same time, it is one of the most widely used methods for collecting data around the globe.
LEARN ABOUT: telephone survey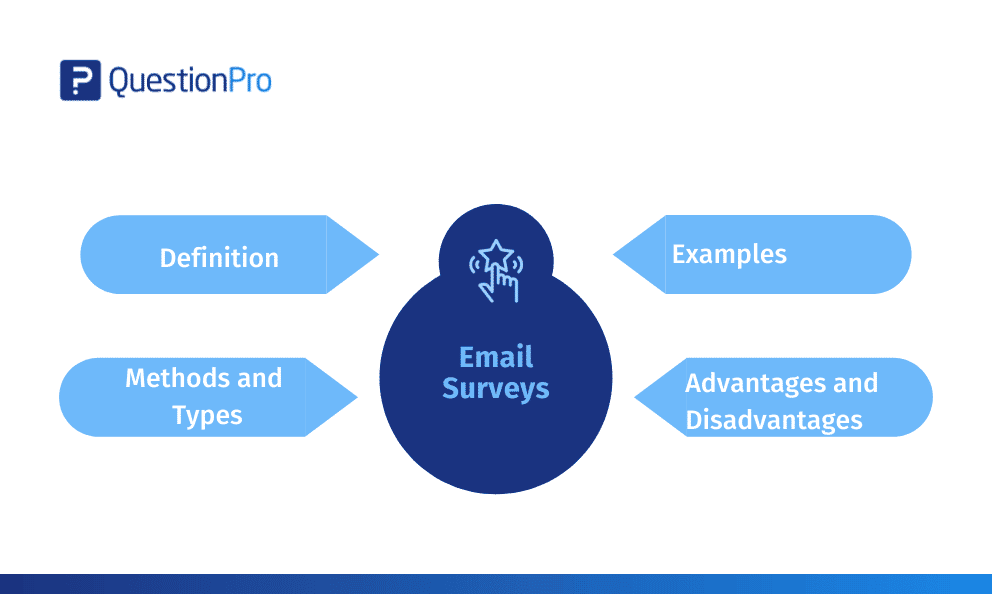 Email Surveys: Methods and Types with Examples
Email survey questions can be shared with the targeted audience in two ways: embedded surveys and redirect surveys.
Embedded email survey
An embedded email survey, also called an email inline survey, is one of the most effective methods to conduct a survey. The survey is embedded in the email itself and the respondent can answer the questions directly in the email body. These surveys are usually short and it is recommended to not make them exhaustive. Respondents are less likely to complete inline surveys that are long, require long-form answers, or have complex questions. Since email providers have different user interfaces, it's best to keep email inline surveys short and to the point so they display similarly across email hosts.
Since the survey cannot be exhaustive, close-ended questions are usually preferred for inline surveys. Some of the most widely used question types in embedded surveys are demographic questions, Net Promoter Score questions, and Matrix type questions. These simple questions are inviting to respondents, giving you a better chance of targeted respondents answering all questions.
One of the best survey email examples for embedded questions is a restaurant that wants to conduct a customer service survey with its existing customers. For a restaurant, it is very important that their customers are well-served and that they are satisfied with all the services provided to them. A customer service survey can be sent as an embedded email survey to these customers. Questions might include asking about the customer's wait times, server disposition, or quality of food. These questions can be "yes/no" or "rating 1-5" satisfaction responses for quick survey completion.
Such a method is non-exhaustive and gets you valuable feedback in no time. Analyzing this data using powerful survey software such as customer satisfaction software can give you actionable insights to keep your customers happy and make them your brand ambassadors.
LEARN ABOUT: How to create online surveys
Email redirect survey
Email redirect surveys are survey invitation links sent to the targeted audience. The respondent can click on this link and be redirected to the survey page. Such a method is usually used when the surveys are longer. It enables the researcher to include open-ended questions, close-ended questions, as well as multiple standard and advanced question types. Being redirected to a page in their internet browser allows many survey respondents to feel less surprised if a survey is slightly longer than an embedded survey.
As another example, a cab services company wants to get feedback from its customers regarding the service that was provided to them. A cab services company is successful only if they are consistent in the quality of service they provide. Hence it is critical that such organizations ask for feedback and suggestions from their customers.
A survey invitation link can be sent to all their customers through email and feedback can be collected. Creating a survey, collecting data, and the analysis of that data can be done using robust survey software such as customer survey software. Email surveys software provides you with powerful insights which can help the organization devise customer-centric strategies.
9 Simple tips to create an effective email survey
The success of email surveys is measured on the basis of response rates. The following are a few tips to conduct an effective email survey and receive good response rates.
Simple and clear subject line

–

Your respondents will be more likely to open emails if the subject line is simple and clear. The subject line should convey what the purpose of the email survey is in a few words. For example, a respondent is more likely to open an email with the subject line "Help us to help you better". Such a subject line showcases that the content of the feedback email is to gather feedback about the customer service that was offered.
Mention your audience portfolio

–

In the content of the email, you also need to mention that the respondent is chosen specially to conduct the survey. This shows your respondents that their opinion matters to you as a company. Creating a sense of importance goes a long way in getting higher responses for your email surveys. For example, "As a loyal customer to us, you have been specially selected to participate in our customer satisfaction survey".
Explain the survey objective

–

It is important to explain what you will do with the data that you are collecting. Points such as how the responses will help make better decisions or provide better service should be included in the content of the email. For example, "your feedback will help us serve you better". Including such a statement assures the respondent that their feedback is important and valuable, thus leading to higher responses to the survey.
Create a sense of urgency

– When sending the email survey, use sentences like "Take the survey now". It creates a sense of urgency and hence avoids delays to complete the survey. An option to take the survey later should also be mentioned in the content, as sometimes the respondent might genuinely be not able to take the survey immediately.

Mention the time taken to complete the survey

–

It is important to mention how long it typically takes to complete the survey, as time is valuable to everyone. Usually, a survey should not take much time to complete as the response rate drops drastically for longer surveys. Consider taking the email survey questions yourself as a practice customer and timing your response. If the survey takes you 10 minutes, you can include this as an estimated time in your email so respondents understand the normal time the survey may take.
Provide Incentives

– When sending the survey invitation, mention what's in it for the respondent. When a respondent is motivated by various types of incentives, the response rates for surveys increase.

For example, a restaurant owner wants feedback from a customer about the quality of food in his restaurant. The owner can provide a 10% discount code to the respondents who complete the survey. This enables higher responses to email surveys.
Utilizing the right survey tool

–

Email surveys can be created, sent, and analyzed using powerful survey software. Choosing the right tool is equally important to conducting effective email surveys as asking relevant questions. Real-time data collection, automated distribution, and powerful analytics can provide you with valuable insights which you can use to serve customers better. For example, email survey software can enable a researcher to conduct effective email surveys and also be able to leverage advanced features such as analytical techniques, multiple questions, ready-made survey email examples, and more.
CAN-SPAM compliance

– When conducting an email survey, it is important to be CAN-SPAM compliant. There are a few points to keep in mind to avoid being tagged as spam. Pointers such as valid "from" name, "reply to" email id, phone number, address and any other information that provides identity should be covered in the email survey.

Thank the respondent

–

It is very important to thank the respondent for sparing some time to complete the survey. A respondent should always be thanked and the email should also mention that the feedback provided or the information they have given has value and makes a difference. Using such content in the email survey enables higher responses and also helps you create a loyal audience required for future surveys as well.
However, these are not the only things required for successful email surveys. A good research design, attractive survey design, and quality content will assure you an effective and successful email survey research.
Popular Online Survey Email Examples
Advantages of email surveys
Email surveys have always been one of the best methods of conducting survey research as they provide higher response rates compared to most other methods.
Email surveys are extremely cost-efficient and require minimum resources.
These surveys have very little margin of error compared to traditional methods as there is no mediator involved in the collection of survey responses.
It gives you the option to create a small survey to get immediate responses or longer surveys that can be redirected to landing pages where much more detailed information can be collected.
Email is a much quicker method to address large quantities of qualified respondents and collect data than most other methods. Also, email surveys can be scheduled using automated schedulers, thus helping you to save the time taken to distribute repeat surveys.
Email surveys can be integrated with a host of tools such as marketing automation tools, survey software tools, or even mailing tools to automatically distribute surveys to a respondent in reaction to a certain action being performed.
Email surveys are much easier to create and use than other forms such as website surveys. Using an email survey platform, you don't need to have specialized website or software coding knowledge to create and send customized surveys. An email survey can be directly created and sent through email or it can be created even faster using ready-made survey templates offered by survey software.
Disadvantages of email Surveys
Data reliability can sometimes be questionable as the responses received cannot always be genuine. For instance, some respondents may answer the survey for the sake of receiving incentives only.
Limited reach may be a concern sometimes, as not everyone in the world has access to email. For instance, a survey conducted to understand the opinion of the general population regarding a greener environment has to be targeted from different geographies, such as rural areas. Access to email in rural areas may not be as prevalent as in urban areas, limiting your survey's ability to reach all demographics.
In order to conduct email surveys, an email ID is required. Getting the email addresses of the targeted audience can be a difficult task at times. In general, you can easily email existing registered customers or subscribers whose email IDs are present in your system.
In order to conduct effective email surveys, basic knowledge of email marketing is required, which some people might not have.
LEARN ABOUT: best time to send out surveys
If you need any help with the online survey email, connect with our team of experts. We can guide you through the process and help you make the most of your data. Create a free account now and connect with us on chat or email us at [email protected].