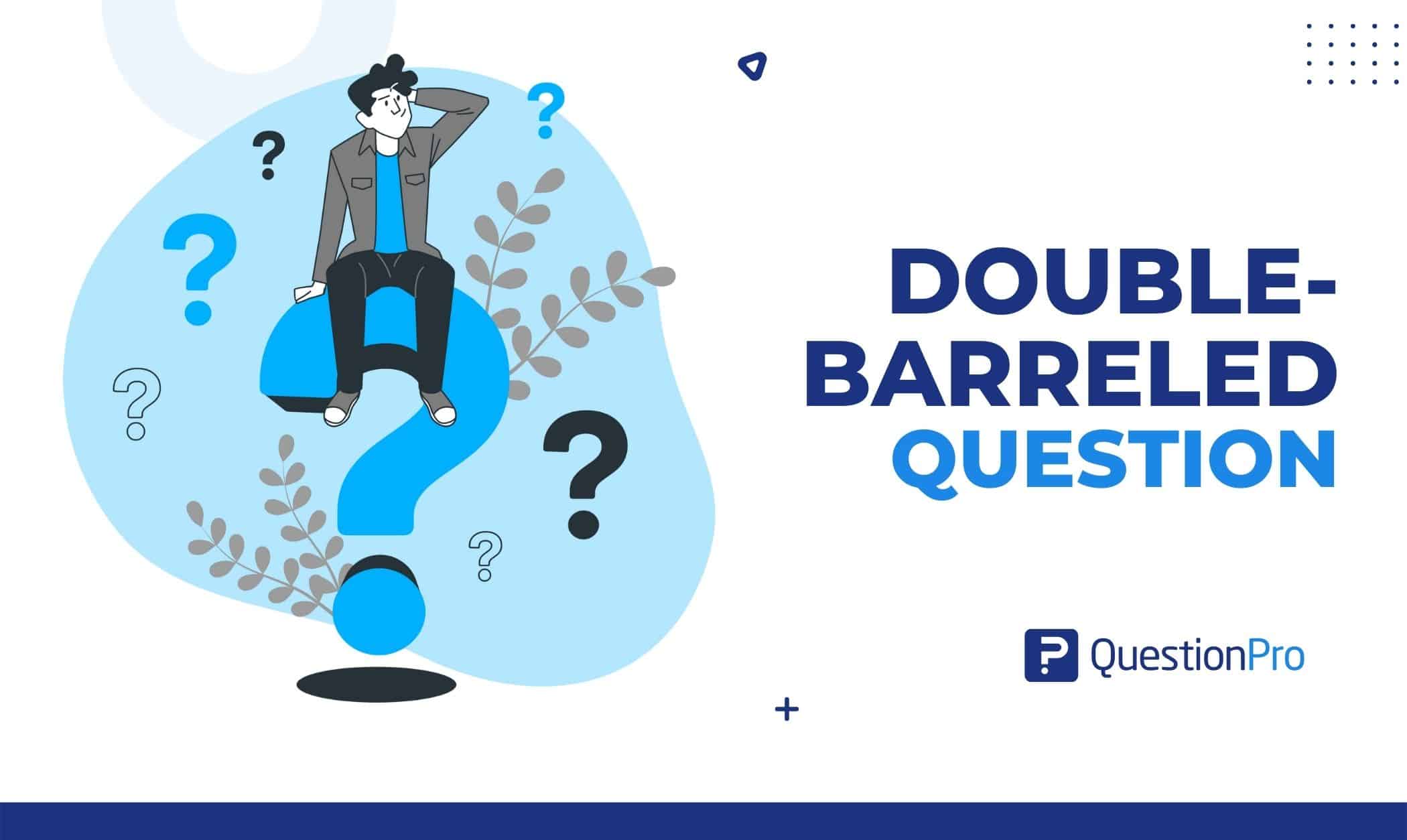 The best way to destroy the accuracy of your survey results is to ask the wrong questions. So, if you want accurate survey results, you need to know how to spot them and not use them. Or, if you're taking a survey, you need to know how to avoid being tricked into giving an answer that might differ from what you think. Let's discuss what a double-barreled question is.
Here is where a double-barreled question hits hard. It's one of the worst survey questions that people often ask. Survey makers are often powerfully told not to use questions with complicated syntax, unclear words, bad answer choices, and –most notably, "double barrels."
But before we get into why it's terrible for your surveys and how to avoid it, let's quickly define a double-barreled question.
What is a double-barreled question?
A double-barreled question is also called a compound question or a double-ended question. It is a question that asks two different things but only has one answer. It can happen accidentally or because someone is careless or didn't check their work. It happened because the people who did the survey wanted to keep it short, so they made questions with two parts.
When you ask a question that touches on two different topics but leaves little room for each person's opinion, there is a chance that it will be misunderstood. A double-sided question sneaks into the survey, making it harder to get accurate results.
Most of the time, a question with two parts will start with "and." It's not the most obvious rule since it can also be used in regular questions. 
Let's look at some examples of double-barreled questions.
Why you should stay away from double-barreled questions
Double-barreled questions can lead to wrong information, which can cause organizations to make decisions based on incorrect assumptions.
So, to get accurate results, you should ask straightforward questions. Keeping this in mind, the best thing to do is make sure you follow a logical path and give simple answer choices.
Also, please carefully review your survey questions before sending them to your sample. In that case, you can ensure reliable results, get quality data, and find ways to improve your products, services, and brand. It's as simple as that.
Examples of a double-barreled question
The examples below are about research.
Example 1: Is this tool interesting and helpful?
There are two parts to this question. Even though being interesting and helpful are good, they are different. Some people who use the tool might find it interesting but it need to be more helpful. But for others, it might be helpful but not interesting. So, we say that it has two barrels. 
But what answer should they give? And, even more important, how can the person doing the survey make sense of these answers?
It's preferable to ask each of these questions individually.
Is the tool interesting?

Does the tool help?
Example 2: How often do you visit the dentist, and how long does each visit take?
This question also has two barrels. When people answer these questions, they will need clarification about how to answer these two questions in one. 
So, the pattern should be like this:
How frequently do you go to the dentist?

How long does a trip to the dentist take?
How to avoid it
Double-barreled questions are the most common misconception in surveys, but they're simple to avoid. The steps are as follows:
Examine your questions carefully
It seems like a no-brainer, but read all your questions carefully and look for places where you're asking more than one thing.
If a question has two or more parts, but the respondent can only give one answer, you should rethink it or split it into two or more questions.
If you can, have someone who wasn't involved in writing the questions look over your survey to see if they can answer questions honestly and finish it without getting confused.
Test your survey first
Send your survey to a few people first to make sure it makes sense based on your questions. Then send it to the rest of your sample. You should review your questions if you have doubts about what the respondent said.
Other kinds of questions to avoid
There has been a discussion of double-barreled questions. Some questions are inappropriate for use in surveys. They are there:
Another area for improvement with surveys is asking leading questions. They assume that the users agree with them and force them to answer, even if they don't. 
For example,  How long have you been driving a car?
Since this question assumes that the respondent has a car, a response from someone who owns a bike or some other type of vehicle might not give the correct survey data.
Using conditional logic is the best way to answer leading questions. When you use conditional logic, questions will be filtered out based on how the user responds.
Questions that are too general and not specific enough are called ambiguous questions. Ambiguous questions slow down respondents because they need to figure out what the question means and can also affect how accurate the answers are.
Make sure your survey questions are clear and specific, and avoid asking questions that might cause users to get confused.
Questions that need to be asked better can be hard to understand. You want your users to be clear about the question, so use clear, correct language to get your point across. If users need clarification, they'll likely quit the survey in the middle.
LEARN ABOUT: This or that questions
Conclusion
Quality survey questions must be written to make it easy for respondents to understand the topic. We hope this blog has helped you figure out what a double-barreled question is. Now that you know what a double-barreled question is and how to avoid it, use these tips to do an excellent survey for your website.
QuestionPro can help you identify survey goals, develop and design a survey to fulfill those goals, and analyze data for better decision-making. 
At QuestionPro, we give researchers tools for gathering data, like our survey software and a library of insights for all kinds of long-term studies. If you want a demo or more information, go to the Insight Hub.