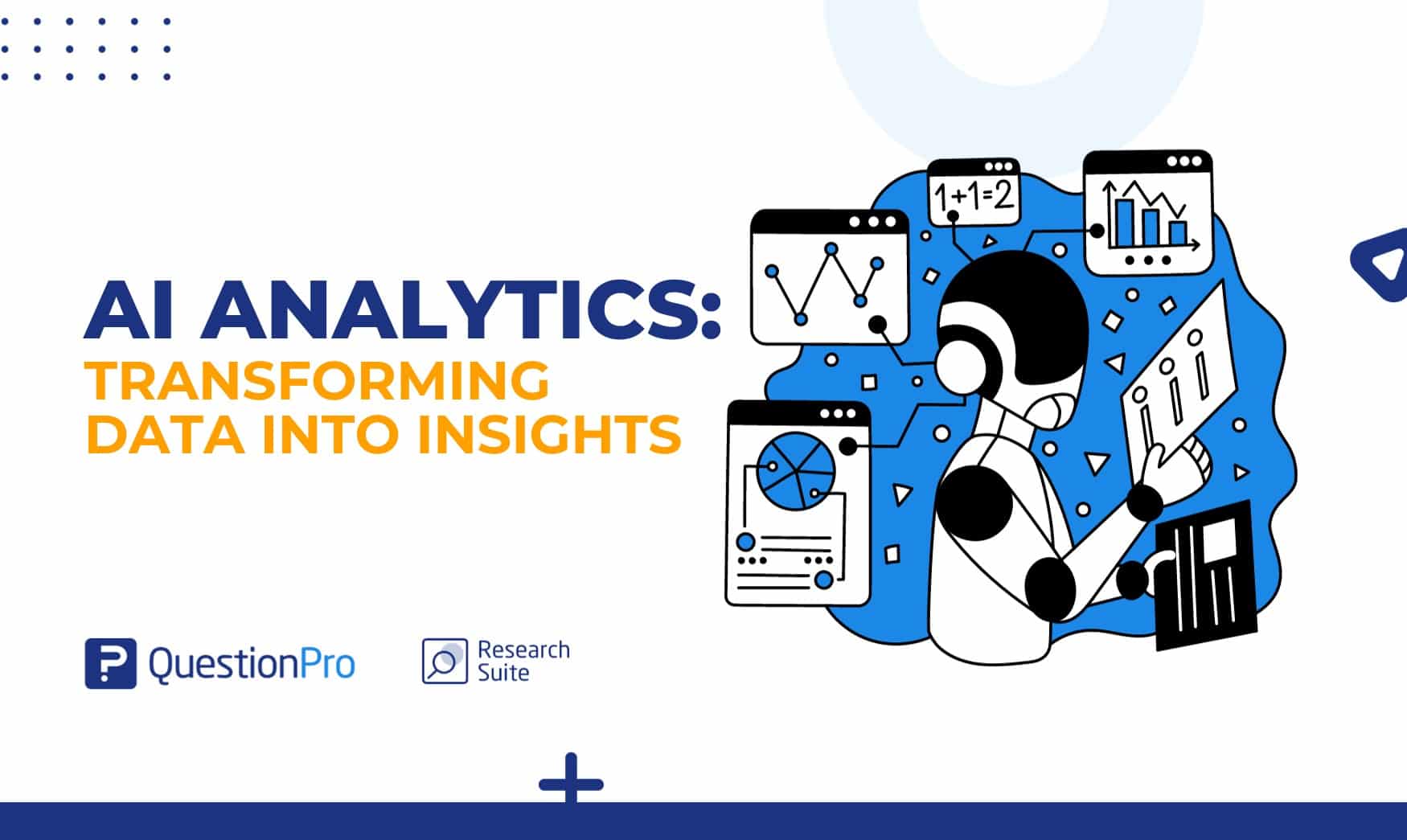 With the rise of Artificial Intelligence (AI), analytics has evolved into a more potent force known as "AI Analytics." This transformative technology has redefined the way businesses extract value from their data, unlocking insights that were once hidden. In this article, we'll delve deep into AI Analytics, exploring its definition, applications, and how it is reshaping the landscape of business analytics.
What is AI Analytics?
AI Analytics, short for Artificial Intelligence Analytics, is the fusion of two cutting-edge fields: Artificial Intelligence and Data Analytics. At its core, AI Analytics leverages advanced machine learning algorithms and AI techniques to process vast datasets swiftly and efficiently, enabling organizations to gain valuable real-time insights, automate decision-making processes, and even predict future trends.
It is a versatile tool that spans various domains, from finance and healthcare to marketing and beyond. It empowers businesses to uncover hidden patterns, detect anomalies, and make data-driven decisions that drive growth and efficiency.
As the volume, variety, and velocity of data continue to grow, Artificial Intelligence Analytics has become a pivotal asset for enterprises seeking to remain competitive in the digital age.
How is AI Being Used in Data Analytics?
The integration of AI into data analytics has given rise to a new era of data processing and interpretation. AI-driven data analytics solutions can sift through massive datasets with lightning speed, extracting meaningful insights that might be elusive to human analysts. Here are some key ways AI is revolutionizing data analytics:
1. Automated Data Preparation:
One of the time-consuming aspects of data analytics is data cleaning and preparation. AI algorithms can automate these processes, reducing the time required to make data ready for analysis.
2. Advanced Predictive Analytics:
AI's predictive capabilities enable organizations to anticipate future trends, customer behaviors, and market shifts. This empowers proactive decision-making and targeted strategies.
3. Natural Language Processing (NLP):
AI-driven NLP techniques can analyze unstructured data sources like text documents, social media conversations, and customer reviews, providing valuable insights into sentiment, opinions, and trends.
4. Anomaly Detection:
AI-powered analytics systems can swiftly identify anomalies and outliers in datasets, helping organizations spot irregularities or potential issues within their operations.
5. Personalized Recommendations:
E-commerce platforms and content providers leverage AI analytics to deliver personalized product recommendations and content suggestions to users, enhancing the customer experience.
These applications represent just a fraction of Artificial Intelligence Analytics' capabilities. Its adaptability makes it a valuable asset across industries, supporting strategic decision-making, process optimization, and the creation of data-driven business models.
As AI continues to advance, its role in data analytics will become increasingly central, reshaping the way organizations leverage data for growth and innovation.
The Role of AI in Business Analytics
Business analytics encompasses a wide array of techniques and processes aimed at extracting actionable insights from data to inform strategic decision-making. AI plays a pivotal role in enhancing business analytics in several ways:
Enhanced Predictive Analytics: AI algorithms can analyze historical data and generate accurate predictions about future trends, enabling businesses to proactively respond to changing market conditions.
Improved Customer Insights: AI-driven analytics can provide a deeper understanding of customer behavior, preferences, and sentiment, helping businesses tailor their products and services for enhanced customer satisfaction.
Streamlined Operations: By automating data processing and analysis, Artificial Intelligence Analytics can identify inefficiencies in operations and suggest improvements, optimizing processes and reducing costs.
Risk Management: AI-powered analytics systems can assess risk factors and provide real-time insights, allowing organizations to make informed decisions regarding financial investments, supply chain management, and more.
Market Segmentation: It can segment a target market based on various parameters, enabling businesses to develop highly targeted marketing campaigns for improved conversion rates.
Resource Allocation: Through data-driven insights, Artificial Intelligence Analytics helps organizations allocate resources more effectively, ensuring that budgets are optimized and investments yield maximum returns.
AI's role in business analytics is instrumental in helping organizations gain a competitive edge in today's fast-paced, data-centric environment. By harnessing AI-driven insights, businesses can make informed decisions, drive innovation, and achieve sustainable growth.
Understanding the Meaning of Analytics and Its Types
Before diving deeper into AI Analytics, it's essential to grasp the fundamental concept of analytics and its various types. At its core, analytics refers to the process of examining data to extract meaningful insights, patterns, and trends that inform decision-making. Here are the primary types of analytics:
Descriptive analytics focuses on summarizing historical data to provide an overview of past events and performance. It answers the question, "What happened?" Descriptive analytics techniques include data visualization, reporting, and dashboarding.
Diagnostic Analytics:
Diagnostic analytics seeks to understand why a particular event or outcome occurred. It delves into the causal factors behind historical data, aiming to answer the question, "Why did it happen?" Root cause analysis and correlation analysis are common diagnostic techniques.
Predictive analytics uses historical data and statistical algorithms to forecast future events or trends. It answers the question, "What is likely to happen in the future?" Machine learning and predictive modeling are key components of predictive analytics.
Prescriptive Analytics:
Prescriptive analytics goes a step further by recommending specific actions or strategies to optimize outcomes. It answers the question, "What should we do about it?" Prescriptive analytics leverages optimization algorithms and decision modeling.
Incorporating AI into these analytics types enhances their capabilities and enables organizations to extract deeper insights and generate more accurate predictions. The fusion of AI and analytics creates a powerful synergy, enabling data-driven decision-making and fostering innovation.
The Difference Between AI Analytics and Traditional Analytics
To appreciate the impact of AI on analytics fully, it's essential to understand the key distinctions between Artificial Intelligence Analytics and traditional analytics. Here's a comparative overview:
| Aspect | Traditional Analytics | AI Analytics |
| --- | --- | --- |
| Data Processing Speed | Relatively slower, especially for large datasets. | Rapid processing, even for massive datasets. |
| Data Volume | It may require substantial resources to scale for big data. | Handles big data effortlessly; excels with large volumes. |
| Insights | Human-driven insights based on predefined rules and queries. | AI-driven insights using machine learning and data mining. |
| Predictive Capabilities | Limited predictive abilities; relies on historical data. | A high degree of automation automates data preparation and analysis. |
| Automation | Limited automation; heavily reliant on manual data processing. | Advanced predictive analytics can forecast future trends with precision. |
| Scalability | A high degree of automation; automates data preparation and analysis. | Scalable for big data without significant resource constraints. |
| Decision Support | Provides data for decision-making, but decisions are human-driven. | Offers data-driven recommendations and automated decision support. |
| Real-time Insights | Limited real-time capabilities; often generates batch reports. | Provides real-time insights and instant access to data. |
AI Analytics may outperform traditional analytics in terms of processing speed, handling large datasets, and delivering predictive capabilities. By automating many aspects of data analysis and offering real-time insights, Artificial Intelligence Analytics empowers organizations to make data-driven decisions that drive business success.
What are AI Analytics Capabilities?
AI Analytics encompasses a wide range of capabilities that leverage artificial intelligence and machine learning to unlock the full potential of data. Some key capabilities include:
Predictive Modeling: Artificial Intelligence Analytics employs advanced predictive modeling techniques to forecast future trends, identify potential risks, and opportunities.
Natural Language Processing (NLP): By using NLP, it can analyze unstructured text data, such as social media comments and customer reviews, to extract valuable insights about sentiment and opinions.
Machine Learning Algorithms: It relies on machine learning algorithms to process vast datasets and detect patterns and anomalies that may be imperceptible to human analysts.
Automation: Automation is a central capability streamlining data processing, reporting, and decision-making processes.
Real-time Analytics: It provides real-time insights, allowing organizations to respond swiftly to changing conditions and make informed decisions at the moment.
Personalization: In customer-centric industries, Artificial Intelligence Analytics enables personalized marketing and product recommendations based on individual customer behavior and preferences.
Anomaly Detection: It excels at identifying anomalies and outliers in data, which is crucial for fraud detection and quality control.
Prescriptive Analytics: Artificial Intelligence Analytics can not only predict future outcomes but also recommend specific actions to optimize those outcomes.
These capabilities collectively empower organizations to harness the full potential of their data, drive innovation, and gain a competitive advantage in their respective markets.
Conclusion
AI Analytics represents a transformative force in the world of data analytics, offering unprecedented capabilities for processing, analyzing, and deriving insights from vast datasets. As AI continues to advance, its role in business analytics will become increasingly prominent, enabling organizations to make data-driven decisions with greater speed and precision.
By understanding the meaning and capabilities of Artificial Intelligence Analytics, businesses can harness this technology to unlock new opportunities, enhance customer experiences, and achieve sustainable growth in an era defined by data.
Are you ready to gain deeper insights into your business? Unlock the potential of advanced analytics with QuestionPro's Research Suite. Elevate your decision-making, enhance customer experiences, and drive business growth.